When Will Eliud Kipchoge Slow Down? 
As Eliud Kipchoge announces he'll run the 2023 Berlin Marathon, what we can learn from the world's greatest distance runner of all-time while he's still in his prime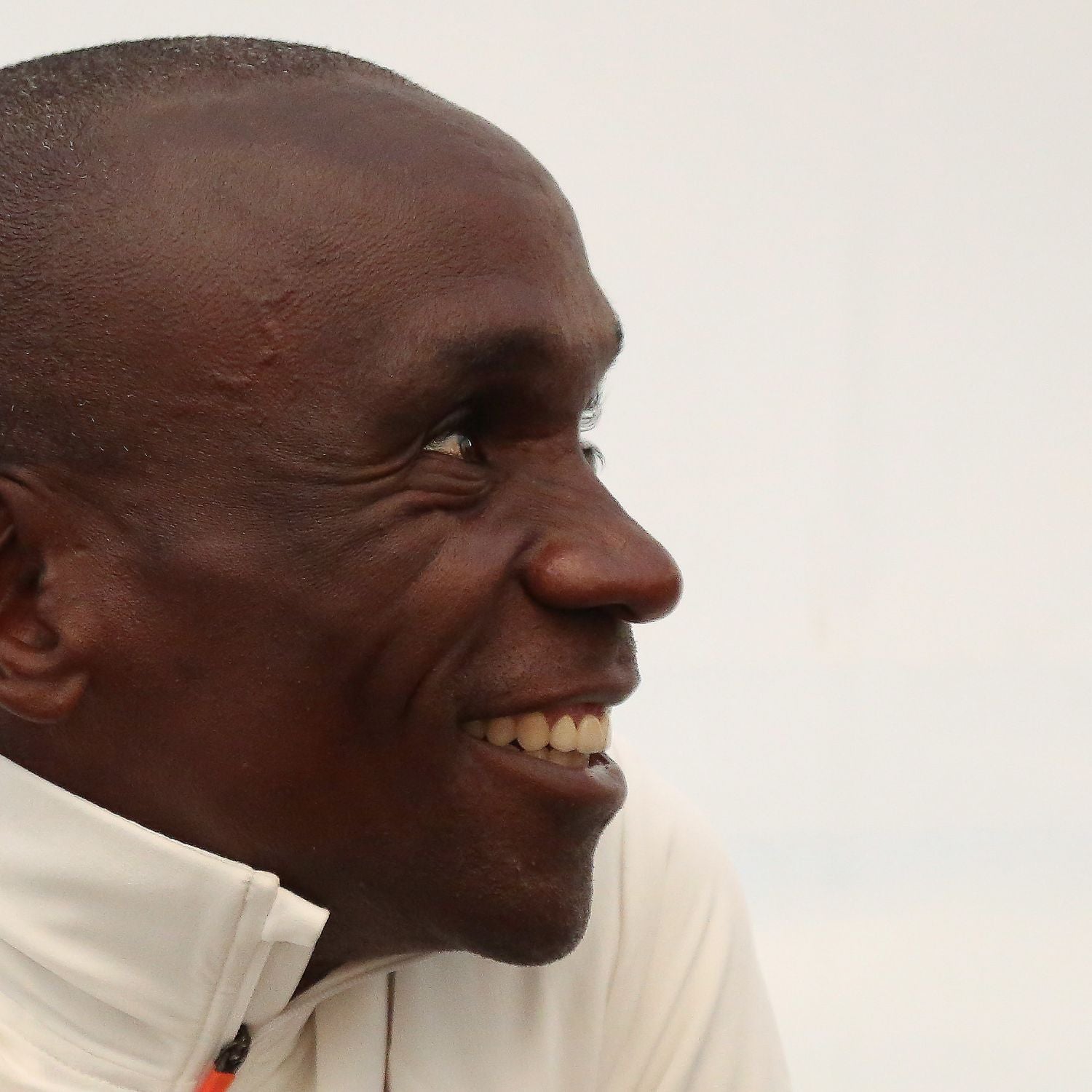 Adam Berry/Getty Images
Heading out the door? Read this article on the new Outside+ app available now on iOS devices for members! Download the app.
Eliud Kipchoge has expanded the universe of what's humanly possible in the marathon, and he will forever remain a legend in the sport of long-distance running.
Not only for himself, but especially for those who have come after him. That includes everyone, both elite and recreational runners, who are preparing a marathon this fall or some distant point in the future. His current 2:01:09 world record and his barrier-breaking 1:59:40 time-trial effort in 2019 are legendary feats, both for the current generation of runners and for all time.
The 38-year-old Kenyan marathoner is a once-in-a-lifetime athlete, but time waits for no one, and especially not a long-distance runner. Like all elite athletes, his time at the top is limited, but fortunately, there is still time to immerse in the inspirational examples he's providing.
Kipchoge recently announced he'll return to the 2023 Berlin Marathon on September 24, where, last year, he won the race for the fourth time and lowered the world record for the second time. It is most likely what will be the beginning of a grand denouement as he goes for another gold medal at the 2024 Olympics next summer in Paris.
Given that he won his first global medal in the City of Light—when, at the age of 18, he outran Moroccan legend Hicham El Guerrouj and Ethiopian legend-in-the-making Kenenisa Bekele to win the 5,000-meter run at the 2003 world championships—it would certainly be one of the greatest stories ever told if he could win the Olympic marathon there next year when he's nearly 40.
RELATED: Eliud Kipchoge Is the GOAT. What Makes Him So Good?
Certainly he'll run a few more races after the Olympics—and maybe through the 2028 Olympics in Los Angeles—but, realistically, it is the start of a farewell tour for a runner who will never be forgotten.
Don't get me wrong: I'm not at all writing Kipchoge off. In fact, I am excited to see him run in Berlin and can't wait to watch next year's Olympic marathon unfold. But just as we've watched Michael Jordan, Tiger Woods, Serena Williams, Shalane Flanagan, Usain Bolt, Allyson Felix, and other elite athletes succumb to the sunsetting of their peak performance level, so too will Kipchoge eventually suffer the same fate.
What I'm saying here is that we still have time to watch and appreciate Kipchoge eloquently working his magic and continue to be inspired in our own running and other pursuits in life. Remember how we marveled at Michael Jordan's greatest in "The Last Dance" more than 20 years after his heyday? This is the start of the last dance for Kipchoge, who, like Jordan, is much, much more than a generational talent; he's an all-time great whose legacy will transcend time.
Running has seen many extraordinary stars in the past 50 years who have become iconic figures— Frank Shorter, Joan Benoit Samuelson, Ted Corbitt, Carl Lewis, Steve Jones, Paul Tergat,  Catherine Ndereba, Paula Radcliffe, Haile Gebrselassie, Kenenisa Bekele, Mary Keitany, Brigid Kosgei, and Kilian Jornet, to name a few—but none have come close to the body of work and global influence of Kipchoge.
Not only is Kipchoge one of the first African athletes to become a household name and truly command a global audience, but he's done more than other running champions because of he's been able to take advantage of this advanced age of digital media to deliberately push positive messages and inspiring content to anyone who is willing to receive it.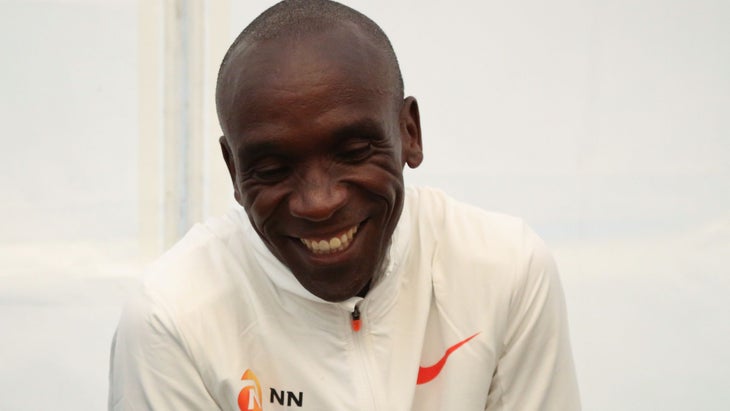 Kipchoge has won two Olympic gold medals, set two world records, and won 17 of the 19 marathons he entered, but he's so much less about the stats and bling and more sharing—to runners and non-runners alike—that "no human is limited" and also that, despite our differences, we're all human beings faced with a lot of the same challenges in life and, ultimately, hard work and kindness are what put us on the path to success.
How can an average runner who works a nine-to-five job and juggles dozens of other things in daily life be inspired by an elite aerobic machine like Kipchoge?
He is supremely talented, no doubt, but many elite runners have a similar aerobic capacity to allow them to compete on the world stage. What Kipchoge uniquely possesses—and why he's become the greatest of all-time—is the awareness and ability to be relentless in his pursuit of excellence, and the presence and good will of how beneficial it is to share it.
If you haven't been following Kipchoge or heard him speak at press conferences or sponsor events, he's full of genuine wisdom and encouragement that can inspire you in your own  running or challenging situation in life. His words come across much more powerfully than most other elite athletes or run-of-the-mill social media influencers, not only because he's achieved at a higher level than anyone ever has, but because of his genuine interest in sharing the notion that it's the simplest values—discipline, hard work, consistency, and selflessness—that make the difference in any endeavor.
This is not a suggestion to idolize Kipchoge, but instead to apply his wisdom and determination into the things that challenge you.
"If you want to break through, your mind should be able to control your body. Your mind should be a part of your fitness."
"Only the disciplined ones in life are free. If you are undisciplined, you are a slave to your moods and your passions."
"If you believe in something and put it in your mind and heart, it can be realized."
"The best time to plant a tree was 25 years ago. The second-best time to plant a tree is today."
Those are among the many simple messages that Kipchoge has lived by, but he also openly professess to giving himself grace to take time for mental and physical rest and recovery. It's a simple recipe to follow, if you're chasing your first or fastest marathon, or any tall task in life.
Kipchoge seems to defy age, but his sixth-place finish in the Boston Marathon in April proved he's human. As much as it was painful to watch him falter, it was oddly refreshing and relatable to see him be something less than exceptional, and especially now that he's tuning up for Berlin. He has nothing left to prove—to himself, to runners, to the world—but he's bound to keep doing so just by following the same simple, undaunted regimen he always has.
RELATED: Why We Have No Choice But to Root for Eliud Kipchoge, the Marathon King
There will be other young runners who will rise and run faster than Kipchoge and probably very soon. Fellow Kenyan Kelvin Kiptum—who has run  2:01:53 (Valencia) and 2:01:25 (London) in his first two marathons since December—seems to be next in line for Kipchoge's throne of the world's greatest runner. But even after that happens, Kipchoge's name will go down in history alongside the likes of Paavo Nurmi, Abebe Bikila, Emil Zátopek, Grete Waitz, Shorter and Samuelson because of how he changed running and how he gave us a lens to view running without limits.
Berlin is definitely not the end of Kipchoge's amazing career  as the world's greatest long-distance runner. I fully expect him to win again in an unfathomable time. But the sunset is imminent and, no matter if you are or have ever been an aspiring elite athlete at any level, a committed recreational runner, or just an occasional jogger trying to reap the fruits of consistent exercise, his example is still very tangible and something to behold.
Lead Photo: Adam Berry/Getty Images
Trending on Outside Online