Why Cam Levins Is North America's Most Promising Marathoner 
After running faster than Khalid Khannouchi and Galen Rupp, Canada's fastest marathoner is riding the wave to the Paris 2024 Olympics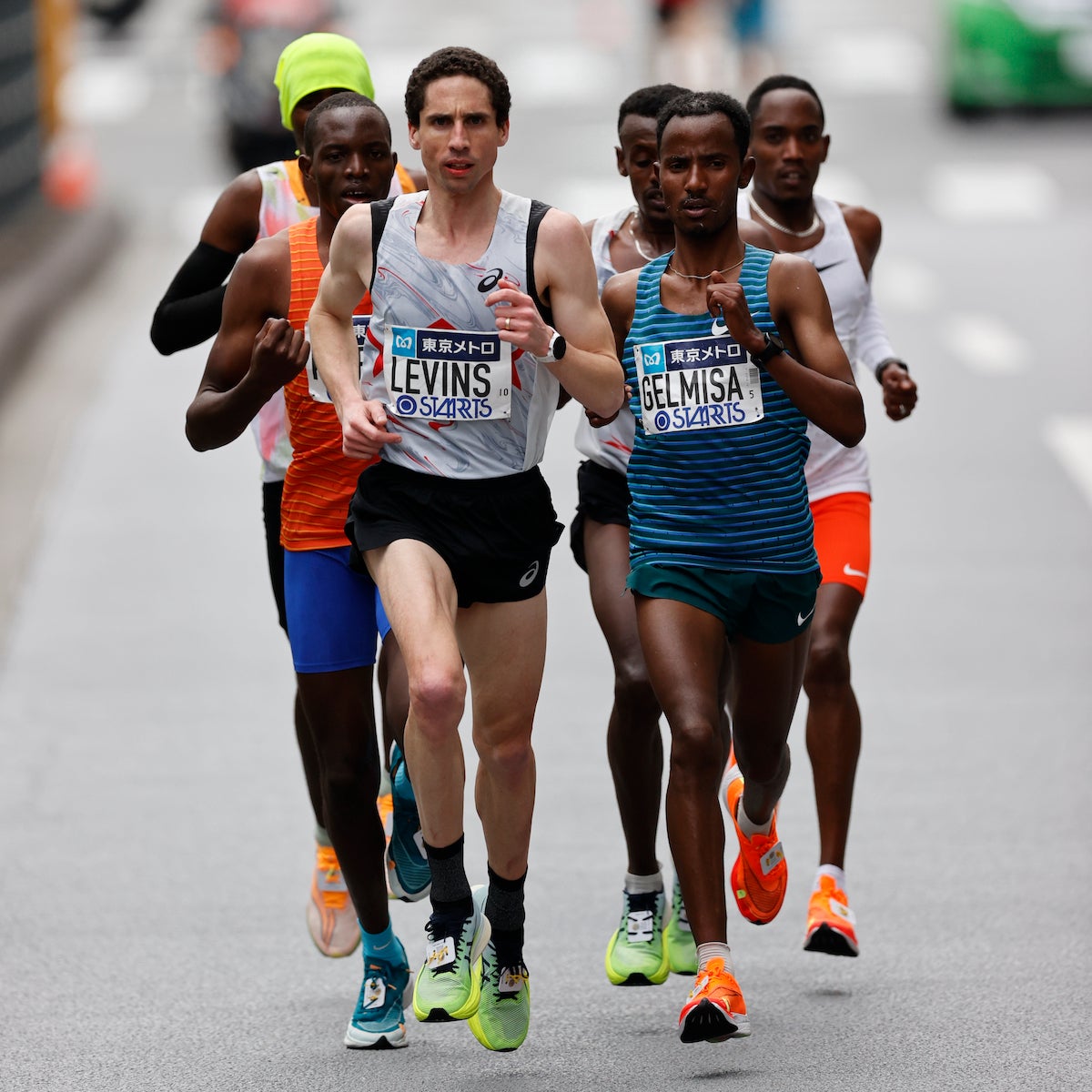 Agence SHOT
Heading out the door? Read this article on the new Outside+ app available now on iOS devices for members! Download the app.
When Cam Levins passed under the Tokyo Marathon finish line clock on March 5, the clock read 2:05:36.
Not only had he lowered his personal best by a minute and a half, but the time was a new Canadian record and, as he would discover in the post-race doping control room, the fastest time ever run by a North American—two seconds under Khalid Khannouchi's 21-year-old mark and faster than Galen Rupp, Meb Keflezighi, or Ryan Hall on a record-eligible course.
Moreover, battling with the leaders into the last mile and winding up fifth in Tokyo's World Marathon Major field also validated—for the second time in eight months—that he could legitimately call himself a world-class marathoner, something he had been working toward for the better part of a decade.
The first validation that Levins had turned a corner in his career came last July when he finished fourth in the world championships in Eugene, Oregon, with a then-Canadian record of 2:07:09. That performance was a real surprise to anyone who had witnessed his dreadful 71st place finish at the 2021 Olympics.
"Tokyo was an improvement over Eugene," Levins said. "I was very close to the win, and I think that was probably my biggest takeaway. Being competitive until the very end in a very high profile marathon is a big step forward again."
Levin's road to these results wound through surgeries on two stress fractures and a heel spur, coaching changes, being dropped by his sponsor before the 2021 world championships, and a generous dose of self-doubt. Now he eyes the 2024 Paris Olympics.
Fast-Tracked to Oregon
Levins grew up in Black Creek, British Columbia, a small town on Vancouver Island. He mostly ran by himself, always heeding his mother's warnings to avoid the forest trails when cougar and bear sightings were posted. A couple of third-place finishes in the B.C. high school championship cross country attracted a scholarship offer from Southern Utah University (SUU).
Under coach Eric Houle's tutelage, he piled on the mileage, sometimes running three times a day and regularly exceeding 160 miles a week. The altitude of Cedar City, Utah, also agreed with him, and he went on to complete his collegiate career, winning both the 5,000m and 10,000m at the 2012 NCAA championships. That achievement earned him the acclaimed Bowerman Award as the NCAA's top male track athlete of the year.
In the spring of 2013, Levins received an invitation to join the prestigious Nike Oregon Project (NOP) in Portland, under coach Alberto Salazar. Nike supported this select group with money and science; it was a dream come true. But Levins knew he would miss the close relationship he'd had with coach Houle at SUU, who advised him on both running and personal matters.
"They come in as young people; they leave almost as partners," Houle says of student runners at SUU like Levins. "It is sometimes tough to let go but, that being said, when you have that kind of relationship you can really talk about anything."
Training with Britain's Mo Farah, already a double Olympic champion (5,000m/10,000m), and Galen Rupp (2012 Olympic 10,000m silver medalist) appealed to Levins, but it was his wife's career that ultimately proved the catalyst for his move to Portland, when she got accepted into pharmacy school at Pacific University. "Honestly, if she hadn't managed to get into pharmacy school, it probably wouldn't have worked out with the NOP," Levins says.
Once on the team in Oregon, Salazar reduced Levins's training volume and increased the intensity. Improvements came quickly, with personal bests at 1,500m (3:36:88), 5,000m (13:15:19), and 10,000m (27:07:15).
But all was not rosy. Whereas Houle invited input when planning training sessions, Salazar was more dictatorial, and Levins found some of his methods extraordinary. Occasionally, the NOP athletes would follow a race with an intense workout. Sometimes they'd wear "sauna suits"  for easy runs to mimic humidity. And at the 2013 World Championships in Moscow, Levins showed up with his head completely shaved because Salazar told him it would help him deal with humidity better. It didn't. He finished 14th in the 10,000m.
Two years later, he ran a Canadian 10,000m record (27:07:15), while finishing behind his NOP teammates Farah and Rupp at the 2015 Prefontaine Classic. That ranked him fourth fastest in the world ahead of the world championships, but he failed to deliver in Beijing, finishing 14th in the 10,000m once again. Doubts surfaced—about himself, and his place in the program.
"There's a lot of experience to gain by training with guys like Galen and Mo. Obviously, they were a couple of the best athletes in the world at that time," Levins says. "I had some success here and there. But at this point it's not something I look back as a super positive point in my career. Obviously there was some improvement, but I was not particularly happy at that time. I was not much of a priority to the coaches there."
His time with the NOP ended with surgery and, he says, "Some neglect leading to that point." If he draws satisfaction that his marathon personal best is now faster than Galen Rupp's, and just 22 seconds slower than Farah's British record, he won't show it. "I think it's a good contrast to what I have now," Levins says. "I am in a much more positive situation. For me it is all water under the bridge at this point."
In 2017, after four years with NOP, Levins sought Eric Houle's guidance again. A year later, Levins beat the 43-year–old Canadian record in his marathon debut, running 2:09:25 at the 2018 Toronto Waterfront Marathon, and Houle was at the finish line alongside Lizzy and Levins's parents. The prize money included a $32,500 Canadian record bonus which Levins used for a down payment on their Portland house.
Then came some lean years. Three attempts at the Olympic qualifying standard saw him squeak onto the Canadian team for Tokyo, but then came that devastating 71st-place finish, a debacle most likely due to it being his fourth marathon in ten months. Fatigue, both emotional and physical, took its toll.
Distraught, he considered retirement. "After the Olympic cycle, it's a reasonable thought to have," he concedes. "It's like 'do I want to keep doing this or not?' I felt I had more. But I'd certainly been struggling."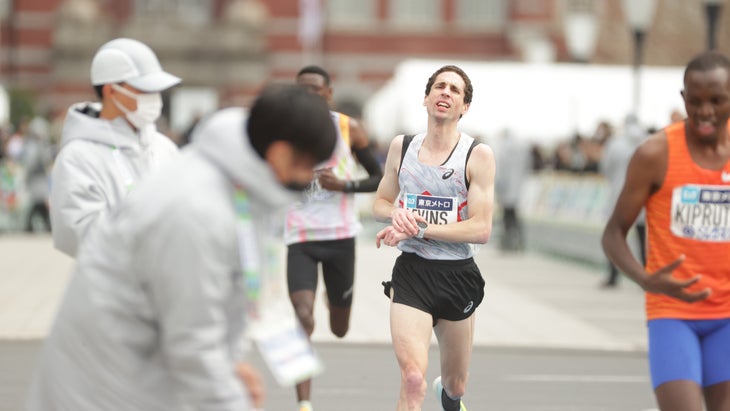 New Coach, New Approach
After talking things over with family, he decided he had fallen short of his potential and wanted to keep moving forward. Last November, he signed a contract with Asics, while training under a new coach, fellow Canadian Jim Finlayson. The partnership appears to be working well.
"Jim has been exactly what I want in a coach," Levins says. "I am not afraid to give him feedback. I am very good at buying into a training program, but having someone who respects my opinion as well is also very important. I haven't always had that."
Finlayson, who represented Canada at three world cross country championships, took on Levins at a very low point, but quickly established trust. He soon realized what Coach Houle had also discovered—Levins is a sensitive and introverted person. "Cam puts a lot of emotion into running, so when the races don't go well it's a pretty big knock to him," says Finlayson. "But there doesn't ever seem to be any doubt that he is going to keep pursuing the results he is capable of."
Levins has set up a treadmill inside an altitude tent at his house in Portland. In addition to running on roads and trails around Portland, he also puts in between 70 and 80 minutes daily at altitude on that treadmill. By his reckoning, he can get in more than 170 miles a week during a marathon buildup. He also sleeps in an altitude canopy, which covers just the top half of his body.
"I am able to get in some pretty fast workouts and, getting the altitude component in, I don't feel the need to go to an altitude training camp," he says. "Honestly, I have always felt more comfortable just being home training anyway."
His Tokyo performance went a long way toward erasing self-doubt, and he now looks forward to another Olympics, where a medal might be a tangible goal. Levins has already worn the Canadian vest for two Olympics—he finished eleventh in the 2012 London Games 10,000m in addition to his unfortunate Tokyo Games.
His 2:05 is well under the automatic qualifying mark (2:08:10) for the 2024 Olympic Games in Paris, removing that stress from his buildup. "I have more or less taken care of my qualifying for the Paris Olympics," he says. "I have never really done that early in any other qualifying window. That's a very big relief."
Levins will be 35 at the time of the Paris Olympics, a year younger than Eliud Kipchoge was when he claimed his second Olympic marathon title in 2021. Finlayson says that every decision the pair now makes is designed to have the best possible result in Paris. Next up for Levins is the Canadian 10K championships on May 27.
"I have at least a couple of Olympics in me," Levins declares. "I feel that I will be finished when I am ready to finish and don't want to do this anymore. I have no idea when that will be."
Lead Photo: Agence SHOT