Will the "Impossible Record" Running up Pikes Peak Ever Be Broken?
Swiss runner Rémi Bonnet leads a world-class field in this weekend's Pikes Peak Ascent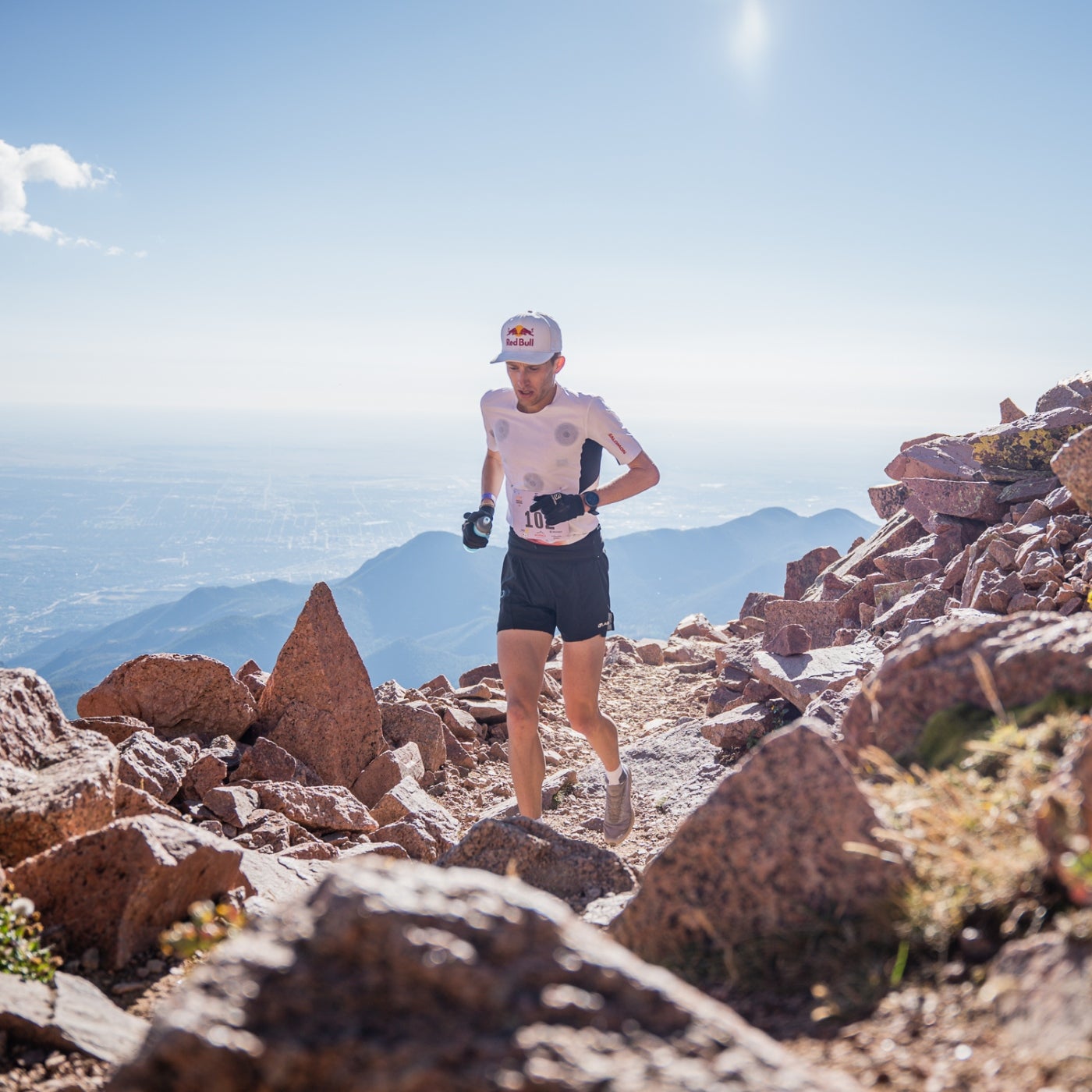 Philipp Reiter / Golden Trail Series
Heading out the door? Read this article on the new Outside+ app available now on iOS devices for members! Download the app.
Rémi Bonnet is an optimist who believes in possibility. When it comes to maneuvering up steep mountains, the 28-year-old Swiss trail runner and ski-mo racer has proved his mettle on challenging ascents around the world since he was a teenager. But when it comes to chasing the course record of the Pikes Peak Ascent in Manitou Springs, Colorado, history isn't necessarily on his side.
And for this year's edition of the 13.32-mile race up the 14,115-foot mountain on September 16, the snowy weather conditions might not be either.
Yet Bonnet, who won the Ascent last year, is imminently intrigued about chasing what for several years has been called "the impossible record." That record is the astounding 2:01:06 time that legendary American mountain runner Matt Carpenter set in 1993. It's one of the longest-held men's marks in the running record books—considerably longer, for example, than the mile record of 3:43.13 set by Morocco's Hicham El Guerrouj.
Over the past 30 years only Carpenter (2:08:27 in 2006 at the age of 42), two-time mountain running world champion Joe Gray of Colorado Springs (2:05:28 in 2016) and Bonnet have gotten remotely close to it. Last year, Bonnet ran up the mountain in a respectable 2:07:02 en route to his victory, but even that effort left him more than a half mile behind the pace of Carpenter's monumental feat.
In an effort to up the ante, the Pikes Peak race organizers have, for several years, attached a large prize bonus to the men's and women's course records. (The women's course record is 2:24:58, set by Kim Dobson in 2012.) However, the bounty has been adjusted slightly in recent years, so to earn the $10,000 prize a runner has to greatly exceed the records by breaking 2:00 (or 2:21 for women).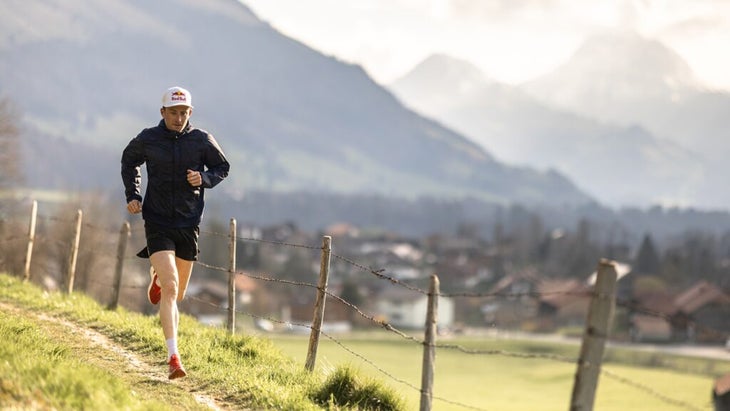 Bonnet, who won the Pikes Peak Marathon in 2017 as a 20-year-old, spent the past several weeks training on a treadmill in an altitude chamber in Switzerland. He arrived in Colorado on September 6 and spent a week running up steep mountains in and around Breckenridge.
"I don't care about the money. For me, it's more that it's a historic record, so just to try to put my name on it is my only goal," said Bonnet, a professional athlete sponsored by Salomon and Red Bull. "I think it's possible because last year, the only part that I lost time to Matt Carpenter was the highest part between (12,000 and 14,100 feet). And I think now, with all the training I have done at this altitude, and some test runs this week, I think I am ready to try it."
A Stacked Field of Uphill Runners
The Pikes Peak Ascent isn't your typical half marathon. It starts in the center of Manitou Springs at an elevation of about 6,300 feet above sea level and sends runners on a 7,800-foot lung- and leg-burning journey to the summit of Pikes Peak, the 30th highest point among Colorado's 58 "14ers" that tower above 14,000 feet. Although it was named after U.S. explorer Zebulon Pike in the late 19th century, it has been known as Tavá Kaavi—the Sun Mountain—by indigenous people long before European immigrants arrived in the area.
After a 1.5-mile beginning section up a paved road through Ruxton Canyon, the rest of the race is run on the rolling dirt and rock route of Barr Trail. Carpenter's record breaks down to 9:15 per mile, but it's more about running fast in the thin air of the increasingly higher altitude.
This year's Pikes Peak Ascent is once again a key event in the Golden Trail World Series, an international circuit of grueling mountain running races in the U.S. and Europe. That means there will be plenty of world-class runners pushing the pace along with Bonnet, including Kenyans Philemon Ombogo and Patrick Kipngeno, Spain's Daniel Osanz and Americans Eli Hemming and Gray, a five-time Ascent winner who will be competing despite breaking a bone in his hand recently.
Over the past week, Bonnet ran up several high peaks, including 13,690-foot Mount Baldy and 14,272-foot Quandary Peak near Breckenridge.
"It will be a good battle," Bonnet said. "It's good that they are here, that they will push me. I will go at the same pace as last year in the first part, not faster. But I think I will be able to push on the second half because I am more acclimatized this year."
The women's field is also extremely competitive, even though the two top runners from last year—Switzerland's Nienke Brinkman and Maude Mathys—aren't competing this year. Leading the way is Sophia Laukli, a 23-year-old American who finished third (2:34:34) in the women's race in 2022. Laukli, who is also an Olympic cross country skier who recently moved to Norway, won the Mont Blanc Marathon in Chamonix, France, in June, and the historic 19.6-mile Siere-Zinal mountain race a month ago in Switzerland.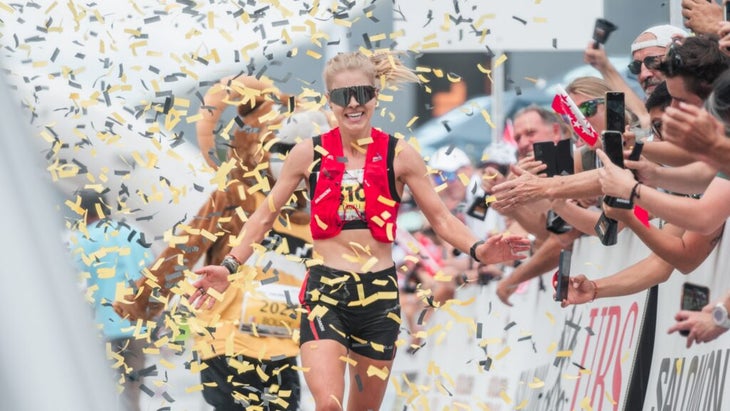 She'll be pushed by Switzerland's Judith Wyder and Spanish runners Sara Alonso and Malen Osa, who have each won big races on the European circuit this summer. Other top runners in the field are American Allie McLaughlin, a two-time Pikes Peak Ascent champion from Colorado Springs, France's Élise Poncet and Finland's Anna-Stiina Erkkilä.
The Pikes Peak Marathon and Ascent offer one of the most lucrative trail running prize purses in the U.S. Aside from the possible $10,000 time bonuses, the Pikes Peak Ascent will pay out $20,400 to the top 10 men's and women's finishers, including $3,000 for the winners, while the Pikes Peak Marathon, which isn't part of the Golden Trail series, has an additional purse of $10,500 for the top five men's and women's finishers.
The Golden Trail circuit continues with the Mammoth 26K race on September 21 in Mammoth Lakes, California, and the two-day Golden Trail Championship on October 19-20 in Italy.
RELATED: How American Sophia Laukli Won Switzerland's Sierre-Zinal Mountain Race
A Nearly Unbeatable Legend
Carpenter had a glorious run competing in the Pikes Peak races, winning 18 times in the two races during a 24-year span that began in 1987—including 15 straight victories from 1993 until the point he retired after winning the 2011 Pikes Peak Marathon. What's especially astounding about Carpenter's Ascent record is that he did it as a halfway split during an epic duel with Mexico's Ricardo Mejia in the Pikes Peak Marathon. His winning marathon time from that year—3:16.39—also remains a seemingly untouchable mark, too. (Spain's Kilian Jornet has come the closest with his 3:27:28 victory in 2019.)What made Carpenter successful was his high-level of fitness, his knowledge of the course and his analytical analysis of the split times for each of the segments.
"He's a legend," said Ryan Linder, the assistant race director of the Pikes Peak Marathon and Ascent. "He was such a fanatic. You realize when you talk to him why he was such a good runner."
Carpenter, 59, is still an active runner who lives locally in Manitou Springs, but he hasn't competed since his final victory a dozen years ago. Since then he's been the proprietor of the popular Colorado Custard Company ice cream shop, located in downtown Manitou Springs not far from the starting line of the races. He politely declines interviews and doesn't openly talk about the races, mostly because he no longer identifies as a competitive runner and he doesn't want to take away attention from the current crop of elite runners.
As for the records, even though he's held them for more than half of his life, Carpenter doesn't get caught up in the hype tied to any record as being unattainable.
"They're not impossible," Carpenter told Outside this week. "All records are eventually broken."
Indeed they are, and there are signs that Carpenter's records will eventually fall, too. In 2012, Dobson's 2:24:58 effort broke Lynn Bjorkland's seemingly unreachable women's Pikes Peak Ascent record (2:33:31) that had stood for 31 years. Meanwhile, Gray has broken several of Carpenter's uphill splits on the lower half of the Ascent course, and Dakota Jones took two minutes off Carpenter's downhill record with a 1:13:53 split en route to winning the Pikes Peak Marathon that year.
Bonnet is primed and ready to give it a shot, even though the end-of-the-week rain will likely add to the dusting of new snow that fell on the top of the mountain last weekend. If this isn't the year, Bonnet insists he'll be back to keep trying.
"I think it's gonna take someone like Rémi, dedicating some time to the course and to the record," Linder said. "And it sounds like he's really done his homework and he's really prepared for it this year. We'll see how the snow could impact that though."
Lead Photo: Philipp Reiter / Golden Trail Series
Trending on Outside Online