Meet the Rucky Chucky Raft Crew of Western States 100
The boat people volunteers who shuttle runners across the American River at mile 78 on the Western States 100 Mile Endurance Run have seen it all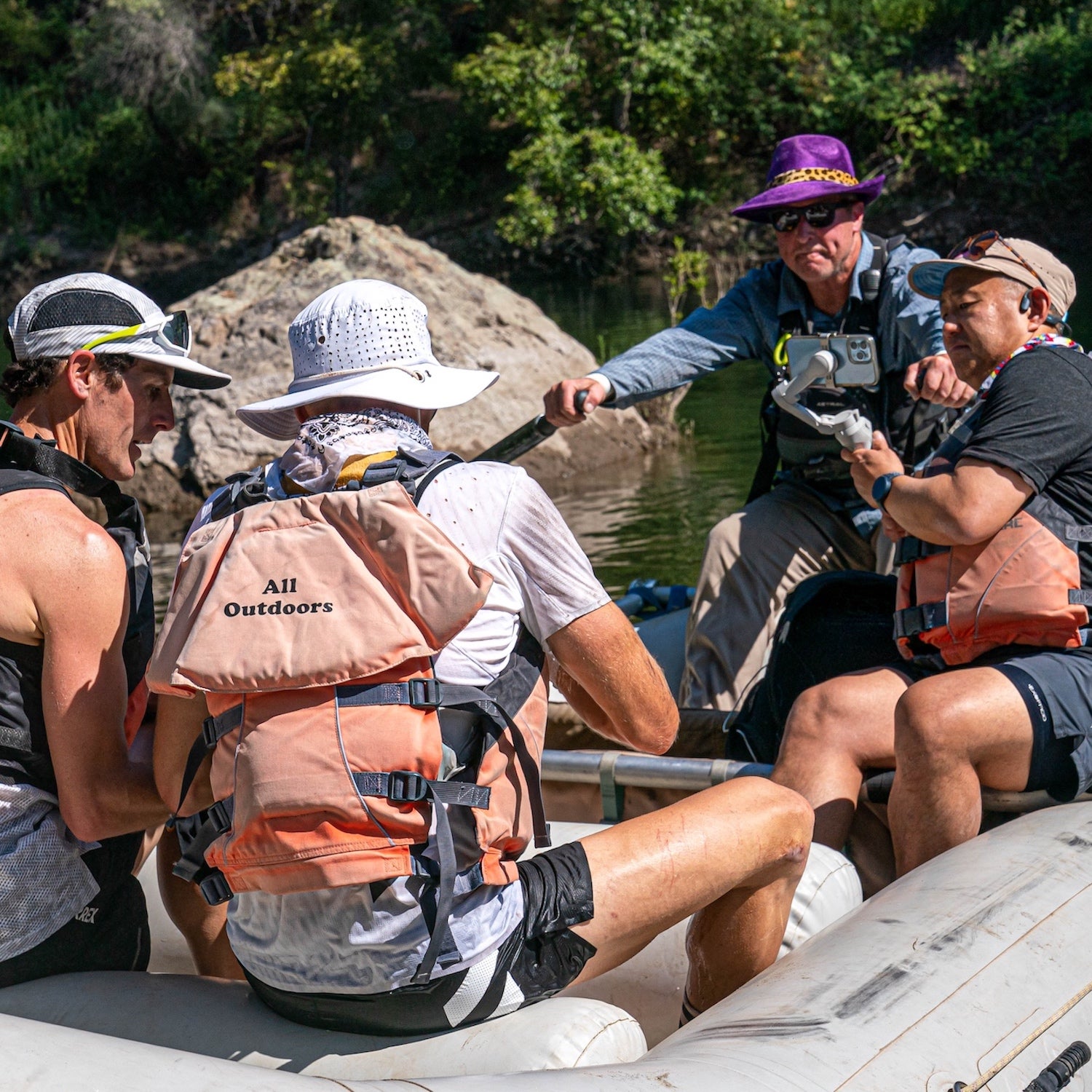 Peter Maksimow
Heading out the door? Read this article on the new Outside+ app available now on iOS devices for members! Download the app.
The Western States Endurance Run is billed as the world's oldest "official" 100-mile trail race. And to put such an event on, year after year, takes a lot of people and a lot of attention to detail. One of the most popular spots on the epic run from Olympic Valley, California, to Auburn's Placer High School stadium, is the Rucky Chucky checkpoint, at mile 78, where the trail crosses the American River just below class 6 rapids.
After a season with low snow, water flow rates can be controlled through retention at an upstream dam. When the water levels can be lowered, runners cross the river on foot, with cables and volunteers to help. But for years like 2023, after epic snow in the Sierra Nevada mountains, flow goes over the dam and cannot be controlled.
This year, like other big snowmelt-induced, high river flow years on the American, rafts were required to transport runners across. Chris Thornley, the younger brother of race director Craig Thornley, is in charge of all things that have to do with the river crossing.
"Since Craig took over 10 or so years ago, he put me in charge of river crossing safety," Chris says. On race weekend, Chris uses his own personal raft, and then they rent additional rafts and hire guides from a local commercial rafting company to float runners across the river.
Craig and Chris might know the course and the area better than anyone else. In 1978, when they were 14 and 8, the two boys set out on a solo camping trip along the American River. That year they woke to runners shuffling by on their way to the mile 85 aid station. "We saw this guy come up running, he was super dirty, and he was asking if we knew how close the aid station was. We had no idea what he was talking about," Chris said. But the moment stuck with both brothers as a kind of magical thing.
"Craig and I didn't talk about that experience until much later," Chris said. "We both remember it being an important moment—witnessing the headspace that someone was in after running more than 80 miles. We both felt the same way." Chris and Craig's family went on to volunteer at aid stations for years. Both brothers experienced every inch of the course and have since understood what those first runners they saw as kids were going through.
Besides running, Chris has also been rafting and boating his whole life. He now has an expert level of water rescue experience. "[For Western States 100] we run four rafts at the peak times, starting at about 10 P.M. through about 4 A.M. And we're just running four rafts in an egg beater fashion so we have a constant flow."
Chris ran Western States in 2006, and recalls that being a raft year as well. "I had to wait 40 minutes or more for a raft, and I was at the back of the pack so it wasn't really about racing, but I was thinking, I have to get in under 30," he says, referencing the 30-hour cutoff time for the race. When runners exit the water they have 22 miles left to the finish.
"So when I became responsible for the river crossing, I told Craig it's really worth the extra money to have more rafts. This year the longest anyone had to wait to get in a raft was maybe one minute." The whole raft crossing only takes two minutes, so it's very efficient these days.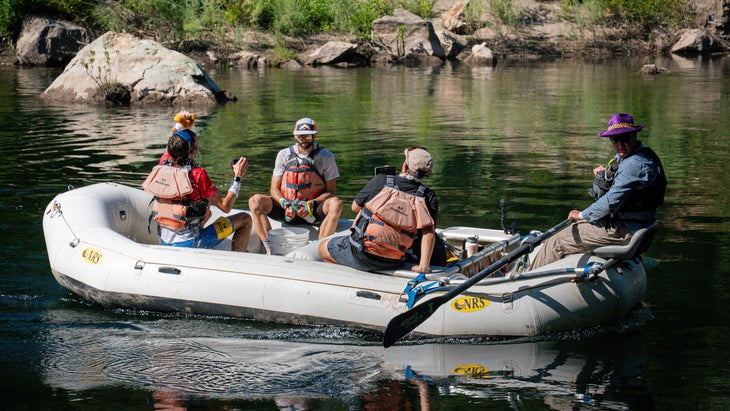 What's More Popular: Raft or Rope?
The first time a boat was used to cross the river was in 1980. "It was an old aluminum fishing boat," Chris said. "The captain of the boat in 1980 was Bob Suter. And since then we've used boats about 12 times."
After his many years stationed at the river, Chris thinks there's a pretty even split among runners who would rather cross the river on their own versus being in a raft, and it usually has a lot to do with the weather and the time that they're crossing. During a hot year, the leaders might prefer to cool their core down and fully immerse in the river. But if you're crossing in the dark, when things have cooled down significantly, being completely wet even for a few minutes might take a lot of energy and leave you chilled during the ensuing miles.
RELATED: This Packraft Weighs Less than a Pineapple and Is Perfect for Summer Adventures
Athletes also have to think about chafing—if they get completely wet, they often lose all of the benefits of their lube. In addition to being a raft and water safety guy, Chris Thornley and his wife Stacy are the founders of Squirrel's Nut Butter, an anti-chafing and skin restoration salve company.
"For the leaders, in general, they don't really care about being sopping wet or having wet shoes," Chris said. "It's more those later in the day and further back in the pack that are kind of happy to keep their feet dry." Regardless of whether it's a raft year or an in-the-water year, Chris always has a stash of Nut Butter on both sides of the river.
Enjoying the Ride
During this year's race on June 24-25, Chris noticed that many athletes seemed happy about the raft ride. "It was a cooler weather year, and I had a bucket in the raft full of river water, so they could cool down with that. For a lot of runners, I think they felt like it was very cool that a boat took them across the river."
Chris usually films his raft action with a GoPro, which he did this year as well, but he was also featured in the first ever live-feed of the race on YouTube. Although in previous years he's seen some athletes in dark places by the time they reach the river, this year seemed generally very positive, with runners in good spirits and happy to be there. Thornley forgot to wear his GPS watch to track how many trips he made, but says it seems like at least 100 crossings.
"Courtney [Dauwalter] was by far the most present and coherent and happy and bubbly," Chris says. "A lot of times, especially with the leaders, they're grinding so hard. But Courtney stood out. She was obviously in the zone but so able to show her appreciation. And not just for the cameras. It's a genuine appreciation. And it is magic. Everybody can see it."
RELATED: Courtney Dauwalter Sets Back-to-Back Course Records at Hardrock and Western States
When Things Go Wrong
In 2016, Jim Walmsley notoriously "took a swim" while crossing the river. When he arrived at the river it was impossible to keep feet on the rocks, so he opted to swim without the aid of the cable. And he ended up being swept a short distance downstream and exited on his own. At the time, there was some discussion as to whether Walmsley would be disqualified if he had been helped out of the water. (He would not have been.)
But that was a rare and never repeated instance, partly due to how fast Walmsley arrived at the river. Two years ago the race signed an agreement with the state that the water would be lowered early enough so that runners would all have the same experience. Previously, the water flow had been left high enough for recreational users to have a full day on the river, and then the water would be lowered in the evening, around the time that most runners arrived. But Walmsley ran so fast that when he arrived in 2016, the water was still raging.
"We signed a 40-year agreement that says lowering the base flow will happen way earlier [in the day] to allow those 14-hour folks that are crossing at four o'clock in the afternoon to have a much safer crossing," Chris said. And in years when the flow can't be controlled, Chris is on raft duty.
The Future of the Crossing
While this was a record-breaking year for California snowpack, could an even bigger snow year change the river crossing entirely? What happens if the river flow is so heavy that Chris and the other rafters can't possibly row across?
"​​If we had needed to do the crossing in conditions like they were on our Memorial Day training weekend, that would be very difficult," he says. "The flow was significantly higher—for sure double if not triple what it was for the race—and that actually would have been very challenging."
In such a situation, Chris says they would have to come up with a new system for getting across the river. "We most likely would have to go to some sort of tethered highline system, with a tether on the raft, because otherwise you'd be pushed downstream." Chris said that because the race is well into the season he's not worried about that kind of thing happening. "This was a record-breaking snow year, so it would take something even beyond that."
Climate change is prompting more and more intense versions of all different kinds of weather, so big snow seasons probably won't be rare, but for now, the runners at Western States are lucky to have Chris Thornley making sure they make it to the other side.
Lead Photo: Peter Maksimow
Trending on Outside Online