How Rémi Bonnet Toppled a 30-Year-Old Record on Pikes Peak
Other highlights at the Pikes Peak Ascent included American Sophia Laukli being crowned the world's top mountain runner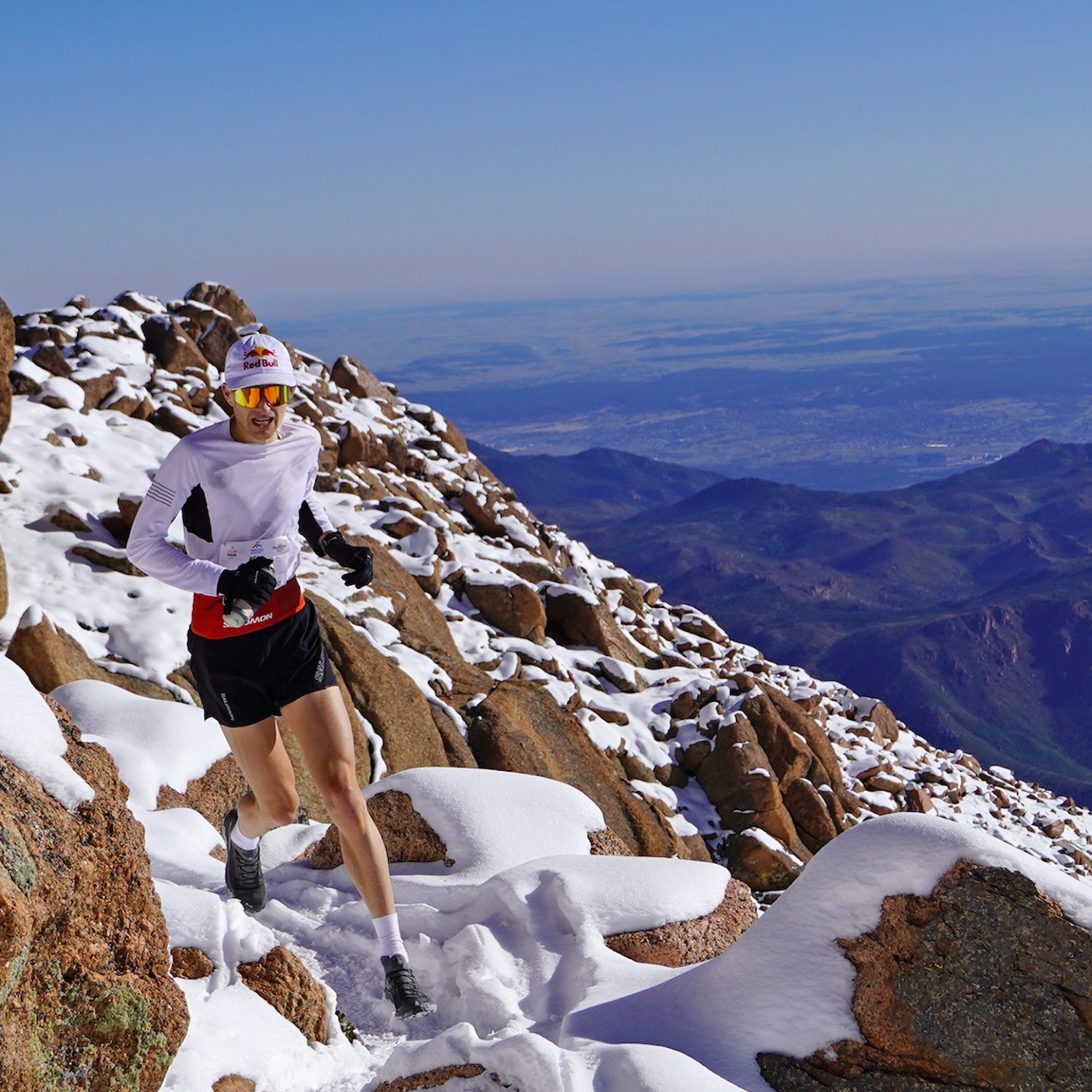 Brian Metzler
Heading out the door? Read this article on the new Outside+ app available now on iOS devices for members! Download the app.
Last week, Rémi Bonnet visited the Colorado Custard Company in the quirky tourist town of Manitou Springs, Colorado, at the base of Pikes Peak and ordered a small cup of premium ice cream.
The 28-year-old Swiss trail runner and ski-mo racer doesn't necessarily have a sweet tooth, but Bonnet wasn't there for the sweet treat as much as he was there for a bit of positive encouragement from shop proprietor Matt Carpenter.
For the past year, Bonnet had set his sights on becoming the fastest person to run to the 14,110-foot summit of Pikes Peak. A year after winning the Pikes Peak Ascent race—a daunting 13.3-mile race that climbs 7,800 feet—Bonnet was back to win again on September 16 and this time took aim at breaking one of the most untouchable records in the history of the sport: Carpenter's 30-year-old course record. He figured a few supportive words from the long-heralded king of the mountain would be the cherry on top of his considerable training efforts.
"The Impossible Record"
On Saturday morning, Bonnet made it look relatively easy. Aided by strong competition early in the race, a layer of newly fallen snow that blanketed the last 1,000 feet of the trail, and Carpenter's blessing, he reached the top in 2 hours and 20 seconds, slicing 46 seconds off of the previous mark that had become known as "the impossible record" in recent years.
Bonnet averaged 9:15 per mile, which is astounding when you consider how much the oxygen levels thin out going up the course. Because he missed the $10,000 course-record bonus—which is tied to breaking two hours—Bonnet said he will return next year to run even faster.
"I had asked Matt if he thought I could do it, and he said, 'yes, you can do it,'" Bonnet said. "So I wanted to come here and break the record, but I wanted to honor Matt, too, because of the long tradition he had running here. The ground was nice and stable and not slippery, so it was perfect for running fast up Pikes Peak."
RELATED: Is This the Nuttiest FKT…Ever?
Although he said he didn't feel very good on the lower portion of the race course along Barr Trail, Bonnet, who wore a pair of Salomon S-Lab Pulsar Soft Ground shoes, looked exceptional as ran solo up the upper half of the course above 10,000 feet. Above 14,000 feet, he pranced through the snow-covered "16 Golden Stairs" section of trail before sprinting to the finish.
Runner-up Patrick Kipngeno of Kenya ran an impressive race as well, even though he finished more than three and a half minutes behind Bonnet in 2:04:09—the fourth-fastest time on the course. American Eli Hemming, who lives in Kremmling, Colorado, was third in 2:07:40, a mark that ranks No. 11 all-time.
Long Live the King
Carpenter was the undisputed—and nearly undefeated—king of the Pikes Peak races, winning the Ascent six times and the next day's Pikes Peak Marathon 12 times in 23 total races during a 24-year span that began in 1987. That included 15 straight victories from 1993 until the point he retired after winning the 2011 Pikes Peak Marathon.
But since Carpenter retired from racing, a lot of his time has been focused on running the ice cream shop that he bought in late 2011. He still runs everyday—in fact, he's run at least an hour every single day for the past 12 years—but he's pulled back from the local running scene, including the race organization and the Incline Club training group he once led.
However, although he turns down media interviews, he's still keenly interested in the races and how local and elite athletes fare every year.  He is willing to chit-chat with visiting runners who show up while he's dishing out custard concoctions from the walk-up service window of the shop. Carpenter, 59, was so genuinely thrilled that Bonnet broke the record, he showed up at the race's award ceremony on Saturday evening to present Bonnet with the $3,000 winner's prize and plaque.
Bonnet won last year in 2:07:02, but he struggled above 12,000 feet and his finishing time was still nearly six minutes off Carpenter's heralded mark. Over the past 30 years, only Carpenter (2:08:27 in 2006 at the age of 42) and two-time mountain running world champion Joe Gray of Colorado Springs (2:05:28 in 2016) had run faster.
"For 30 years, I have been telling anybody who would listen that it is breakable," said Carpenter, who had set the uphill course record in 2:01:06 as a halfway split en route to a record-setting victory in the 1993 Pikes Peak Marathon. "It takes a special person. Somebody who has a setback like Remi did last year and makes some changes, not excuses, and he did it. He trained and he trained and did more at altitude. And most importantly, for the other 30 years, I heard people saying, 'it can't be done,' but he had to ignore that. He believed in himself and he killed it."
"I Knew the Altitude Was the Crux"
With his sight set on the record, Bonnet trained more diligently all year, including several weeks running on a treadmill in a hypoxic chamber in Switzerland and then 10 days running high peaks in and around Breckenridge, Colorado.
"I knew the altitude was the crux," Bonnet said. "I trained and slept in a hypoxia chamber for 20 days before coming here, and today I suffered much less from the effects of altitude. I'm really pleased to have beaten this record. People thought it was impossible, but I did it and I'm really proud to show who the world's best climber is. Now I need to come back and go under the 2-hour barrier!"
The Pikes Peak Ascent was a stop on the Golden Trail World Series (GTWS), a circuit of challenging high-profile races in the U.S. and Europe. As the series continues at the Mammoth 26K on September 22 in Mammoth Lakes, California, Bonnet leads the season standings with 566 points.
The 2023 Golden Trail World Series Championship will be held as a two-part event (a 5K prologue and a 25K race) in conjunction with the Il Golfo Dell'Isola Trail Race on October 20-22 in Ligura, Italy.
American Sophia Laukli On Top of the World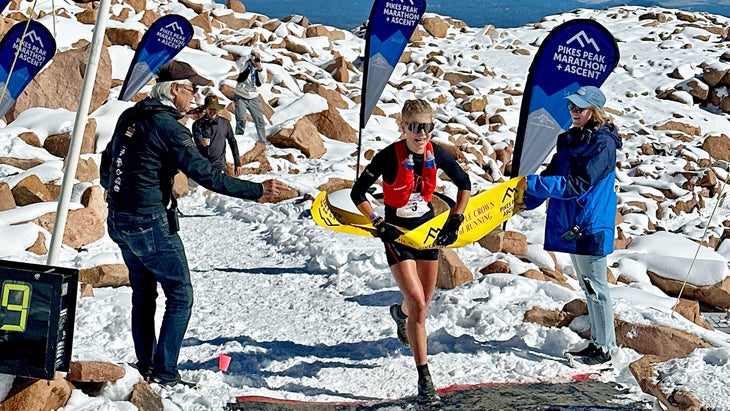 American runner Sophia Laulki admitted the day before the race that she was nervous to run up the mountain, especially because of the snow. Although she's an elite-level cross country skier and a 2022 U.S. Olympian, she's only been trail running competitively for the past three years.
Still, Laukli, 23, has shown all summer that her fitness and fast-improving trail skills are nearly unmatched among the women's best runners. Prior to arriving in Manitou Springs, Laukli won the 42K Mont Blanc Marathon on June 25 in Chamonix, France, placed a close second in the DoloMyths 22K race on July 15 in Canazei, Italy, and won the 31K (19.2-mile) Sierre-Zinal mountain race in Switzerland.
After taking third in the Pikes Peak Ascent last year in 2:34:30, Laukli was the co-favorite coming into the race with Switzerland's Judith Wyder.
Unlike the men's race, the women's race remained competitive near the front through the halfway point. Laukli and Wyder traded the lead back and forth as the course zig-zagged above treeline (11,700 feet), but then Laukli surged ahead on the increasingly steep final three miles to secure the win in 2:35:54 and the $3,000 winner's check. Wyder was a distant second in 2:39:35, followed by first-year American pro Anna Gibson (2:43:59).
After five of the six Golden Trail World Series regular season races, she leads the women's GTWS rankings with 600 points over China's Miao Yao and can't be overtaken heading into the Mammoth race so she earned the $16,000 overall prize purse, too.
"At Sierre-Zinal, I was thrilled to have been able to run a tactical race, but here I started stressing out when Judith overtook me," said Laukli, who will be living in Norway this winter to trail for the World Cup Nordic skiing season. "I managed to stay calm and gave a shot at being tactical again by waiting for the final three miles to attack, and it worked, so I'm really happy. It's my first Golden Trail Series victory on home ground in the USA."
In Sunday's Pikes Peak Marathon—which is not part of the Golden Trail Series, Colorado Springs runners Jonathan Aziz (3:43:45) and Kristina Mascarenas (4:31:30) repeated as champions as they each replicated their dominant victories from 2022. But one of the most impressive results of the weekend was the dynamic double of Colorado's Seth Demoor, who was fourth in the Ascent (2:09:47) and second in the marathon (3:51:12).
Lead Photo: Brian Metzler
Trending on Outside Online