Running in Prison Changed Everything
An inmate serving a sentence in Ohio turns setback into opportunity from within, joining a running club and raising money for student school supplies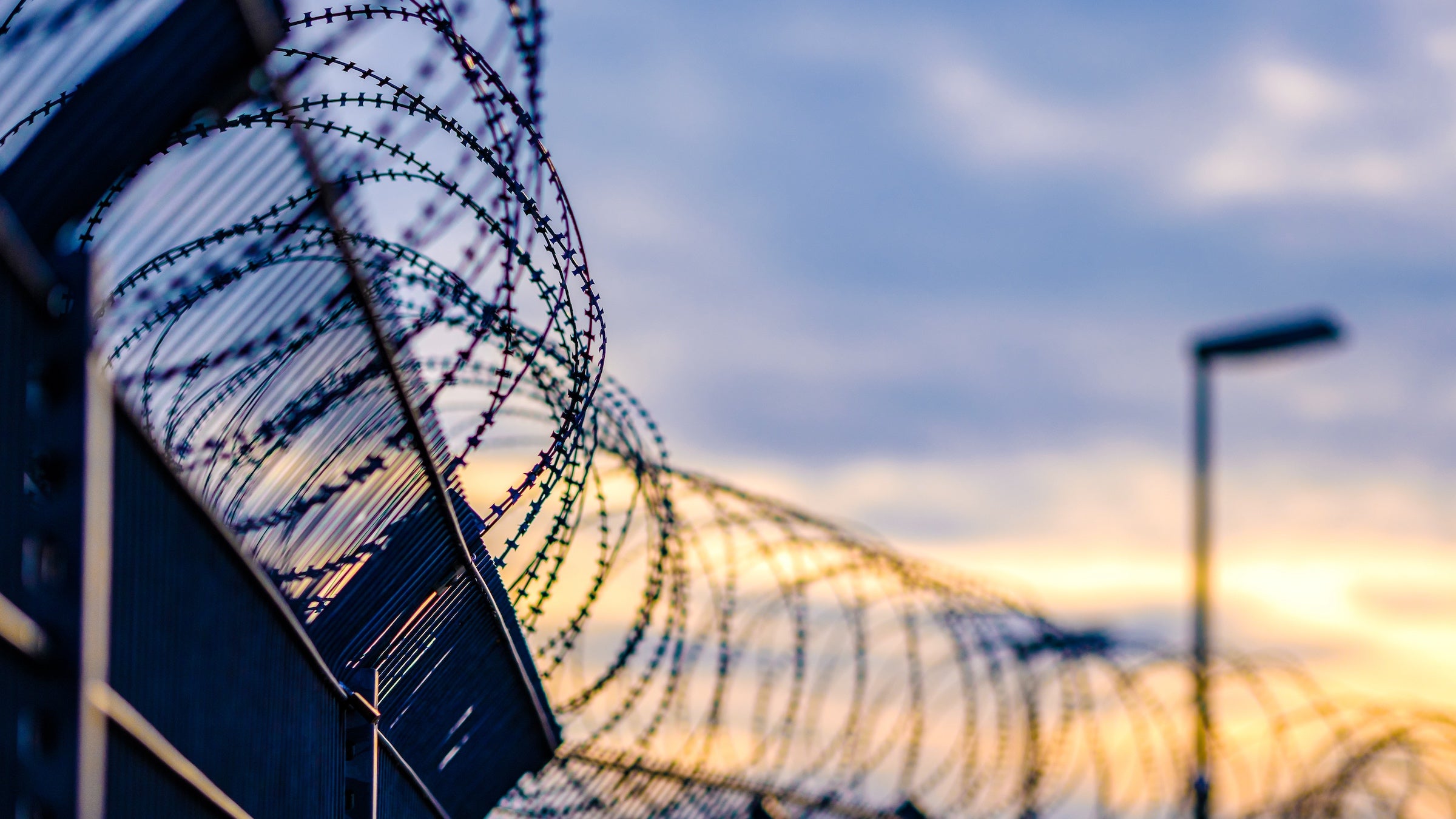 FooTToo/Getty
Heading out the door? Read this article on the new Outside+ app available now on iOS devices for members! Download the app.
Editor's Note: Alex Gold started a running program at a medium-security prison in Lebanon, Ohio, north of Cincinnati. The purpose of the program is to give incarcerated people the opportunity—through supporting their running goals—to prove to their families, communities, future employers, and themselves that they are capable of doing great things. 
The program is called the "Ohio to Erie Club" (named after a 326-mile route from Cincinnati north to Cleveland/Lake Erie). Once runners complete the 326 miles (which equates to 815 laps of the prison yard), they get to raise money with our help for a charity of their choice. 
One of the Club's members is Jamie McLaughlin, or "Clutch." Clutch was the first person to complete the Ohio to Erie Challenge, and the group has since had one other who finished in 2022. Clutch wrote the following story about his experience as an incarcerated person, about getting into running for the first time, and spreading his love for running to hundreds of runners within the prison. Though the author cannot accept payment for this published work, Outside Run will donate contributor fees to McLaughlin's selected charity.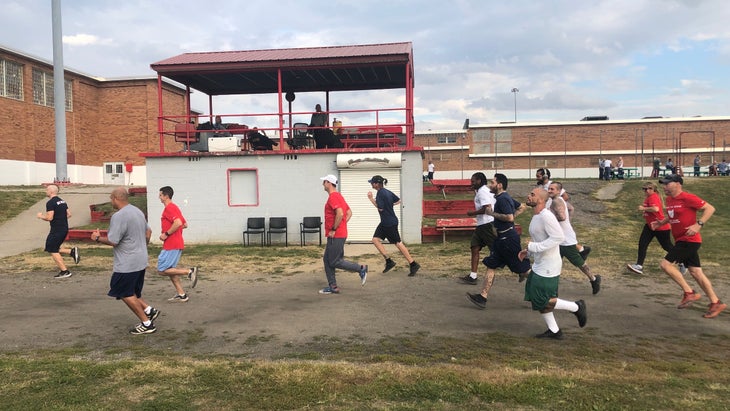 I stood in the dappled sunlight pouring through the forest canopy, surrounded by luscious greenery and carrying my precious three-and-a-half-year-old daughter Evelyn on my hip.
"I want a leaf, Daddy," she said. I hoisted her up and closer to some nearby foliage so she could select one. "No, you have to pick it, Daddy."
I lowered her back to my hip and began to consider the leaves, intent on choosing a special one for my special little girl. As I reached out to pick her leaf, our serenity was shattered by a metallic click-clack that rang 200 feet to our right. Oh no. The sound repeated once-per-second, each one closer to us, then the last one as the cell doors popped open in sequence at 6:30 A.M.
"Evie, I have to go now," I said. "I love you." Click-clack!
My own door popped open with the hiss of hydraulics, the clang of the metal actuator, and the rumble of a heavy steel door rolling on its track. I opened my eyes as Evelyn dissolved in my arms.
Welcome to another morning in Lebanon Correctional Institution.
"I Never Expected to Fall in Love with Running"
Lebanon is a level three security prison, meaning inmate movement is much more restricted than in level two and level one facilities. Unique among Ohio's prisons, Lebanon is known as a "historical prison." For much of its history it has had a reputation as a very dangerous place for both inmates and staff, and while administrative changes in recent years have improved the atmosphere, it's still no picnic. In fact, many have given up on this place, as well as the men who live here.
In the spring of 2022, professional coach and runner Alex Gold decided to take a chance on us. Despite a lifelong enjoyment of anaerobic exercise, I'd never managed to extend that enjoyment to its aerobic counterpart, so when I saw the flier for Alex's running class, I didn't sign up at first.
After a guy in my meditation class raved about how cool the first meeting was and encouraged me to join, I messaged Alex's staff liaison Mr. Krabbe and requested to be added. My goal? To lower my resting heart rate from 60 bpm to 50 bpm, in order to protect myself from America's number one killer—heart disease.
I never expected to fall in love with running.
RELATED: Why I Run in Prison
Alex's love for running is infectious, and his friends who show up to help coach us are really cool. I discovered with pleasant surprise that running is actually awesome! Each week Alex and his friends shared stories of ultra runs of impossible distances through unspeakably beautiful wilderness, of raising money for worthy causes, of the satisfaction of working hard toward a goal and achieving it, of a diverse and supportive community of runners and—I was hooked.
From the beginning, Alex laid down an inspirational challenge: He wanted us to accumulate 326 training miles, the entire length of the Ohio-to-Erie Trail, our club's namesake. To a new runner, this seemed an unfathomable amount of miles, but his casual delivery and confidence that we were capable of achieving this had me accepting his challenge before I'd ever even managed a three-mile run.
Each week, I strove to increase mileage, but quickly reached a point where the lack of training opportunities held me back—that heavily restricted movement I mentioned earlier. I missed most of my cell block's yard rec sessions, thanks to my classic prison job of making Ohio's license plates, so I was only able to train two to three times per week.
Seeking more training opportunities, I reached out to our Recreation Director Mr. Zilenski, to explain my dilemma, and he responded by offering me the chance to train in the evenings every day of the week, but with a catch: It would be as part of an inmate-led running club, and I would be leading it! I wasn't expecting that, but whatever it took to be able to run more was worth it—I was never going to hit 326 miles with only six- to ten-mile weeks.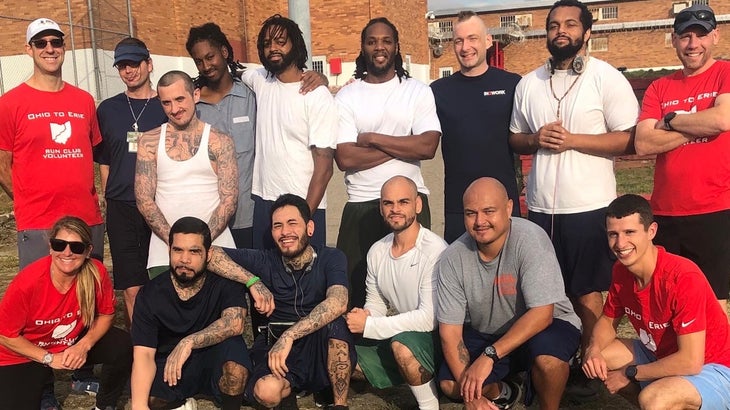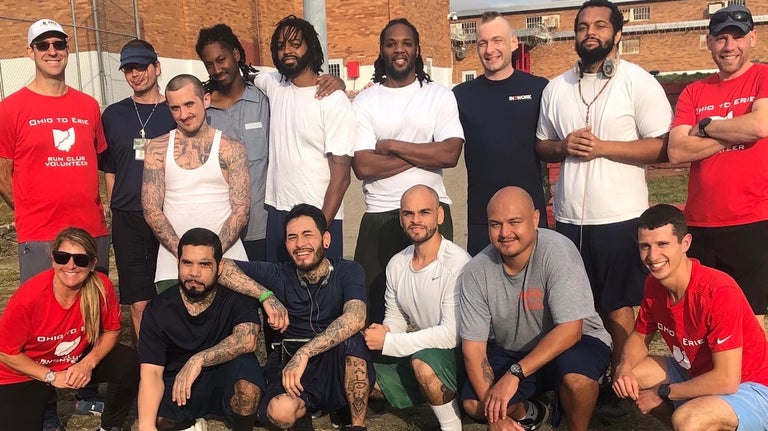 The inmate-led program turned out to be hugely popular. I counted over 100 names on our latest roster. I passed on the lessons I learned from Alex and his crew, "The 40 Percent Rule." I also learned from David Goggins's book I found in the library, "The 10 Percent Rule," of gradually increasing mileage, the injury prevention benefits of stretches, warm-ups, and strength training. I share my issues of UltraRunner, Runner's World, and Trail Runner magazine with my runners after I read them, and they love them. Soon we are going to hold a mile race with prizes awarded to those who have improved the most on their original mile time.
Running for Crayons to Computers
Oh, and yes. I'm getting those miles in. In fact, as I write this, I just set a new weekly mileage PR of 26.5 miles, and I am now only 23.5 miles away from my goal of 326 miles. The best part is that, to reward us for meeting his challenge, Alex is donating $100 of the club money to the charity of our choice, and he's using the club's social media to solicit additional donations.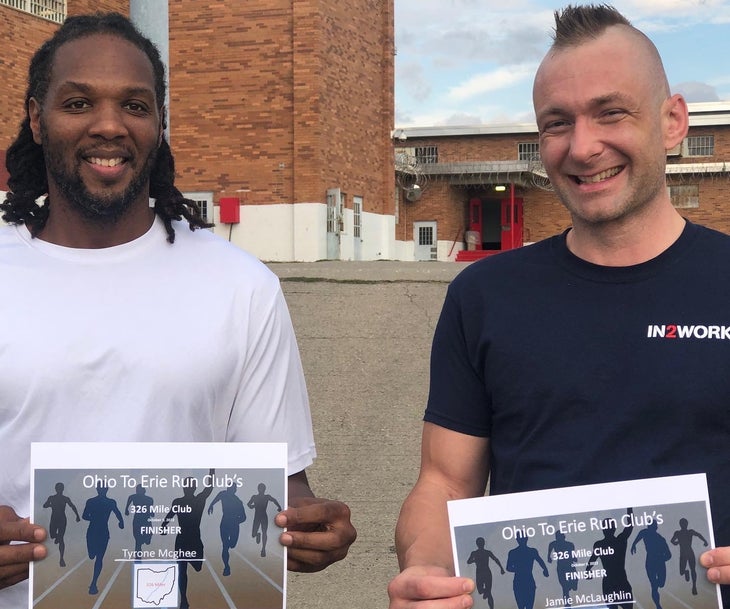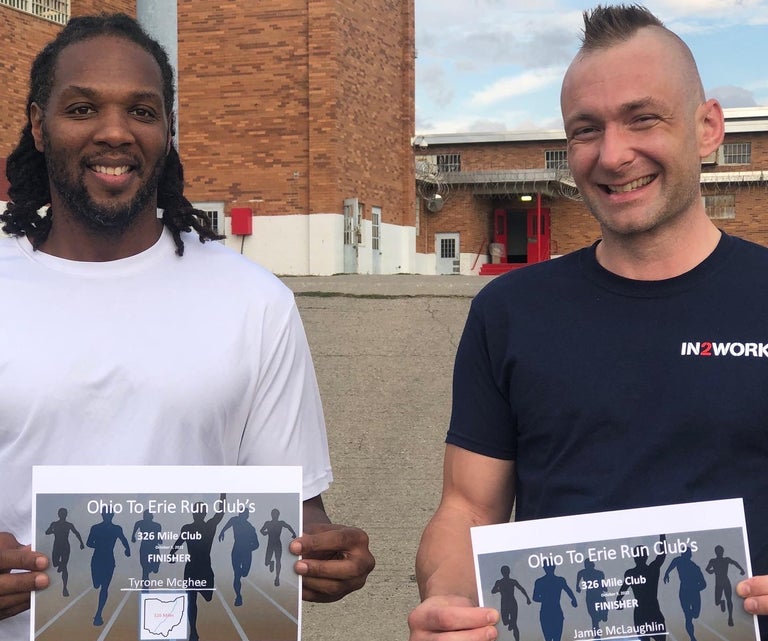 I'm choosing Crayons to Computers, a local charity who provides educational materials for disadvantaged school children, and for whom I've logged hundreds of volunteer hours through their Crafts with Conviction program, one that uses inmates at Lebanon to assemble educational materials like counting games, flash cards, and hand puppets. Ms. Sears, who runs the program, was thrilled when I shared the news with her.
Over the past six months, I have made a lot of progress in my running. I placed third in our first mile race (6:46) and third in our first 5K (22:42). I set a new single run distance PR this week of 7.2 miles. My current one-mile PR of 6:33 is ripe to be beaten, as I set it nearly two months ago. My resting heart rate, my original reason for running, is now down 8 rpm to 52 bpm.
But the most meaningful rewards have been helping spread the love of running to other inmates, and to have the opportunity to help raise money for Crayons to Computers. Today, I timed a guy on his mile who went from 11:30 to 10:27 to 9:12, and today, to 8:31! As he was on the ground gasping for air, pounding the dirt with his fist in celebration of meeting his goal time, he said to me:
"I just kept, I just kept thinkin' bout what you said."
"What do you mean, what I said?" I asked.
"About the 40 percent!" he said. "'Cause I was done back there." He was referring to two laps of the two-and-a-half laps needed to run a mile on our prison yard loo. "But I remembered what you said," referring to Goggins's talk I gave many weeks ago.
This moment was as satisfying to me, having coached him, as it was for him smashing his PR. And it wouldn't have happened if not for Alex. He believed in me, so did I, and I was able to do the same for not just this man, but for dozens of others. Thus is the power of running. I give my deepest and most sincere thanks to Alex, Nikki, Mo, Joe, Steve, Chad, and Jessie for sharing it with me.
(Editor's note: After this article was written, Clutch completed the challenge and raised $530 for Crayons to Computers. He has chosen to donate the proceeds from this article to the charity as well. Alongside another finisher, they have raised $1170 for charity.)
Lead Photo: FooTToo/Getty
Trending on Outside Online