In Stride
Shelby Houlihan Is Ruffling Feathers During Her Doping Ban
Houlihan has been throwing down impressive times this summer, despite being suspended from her sport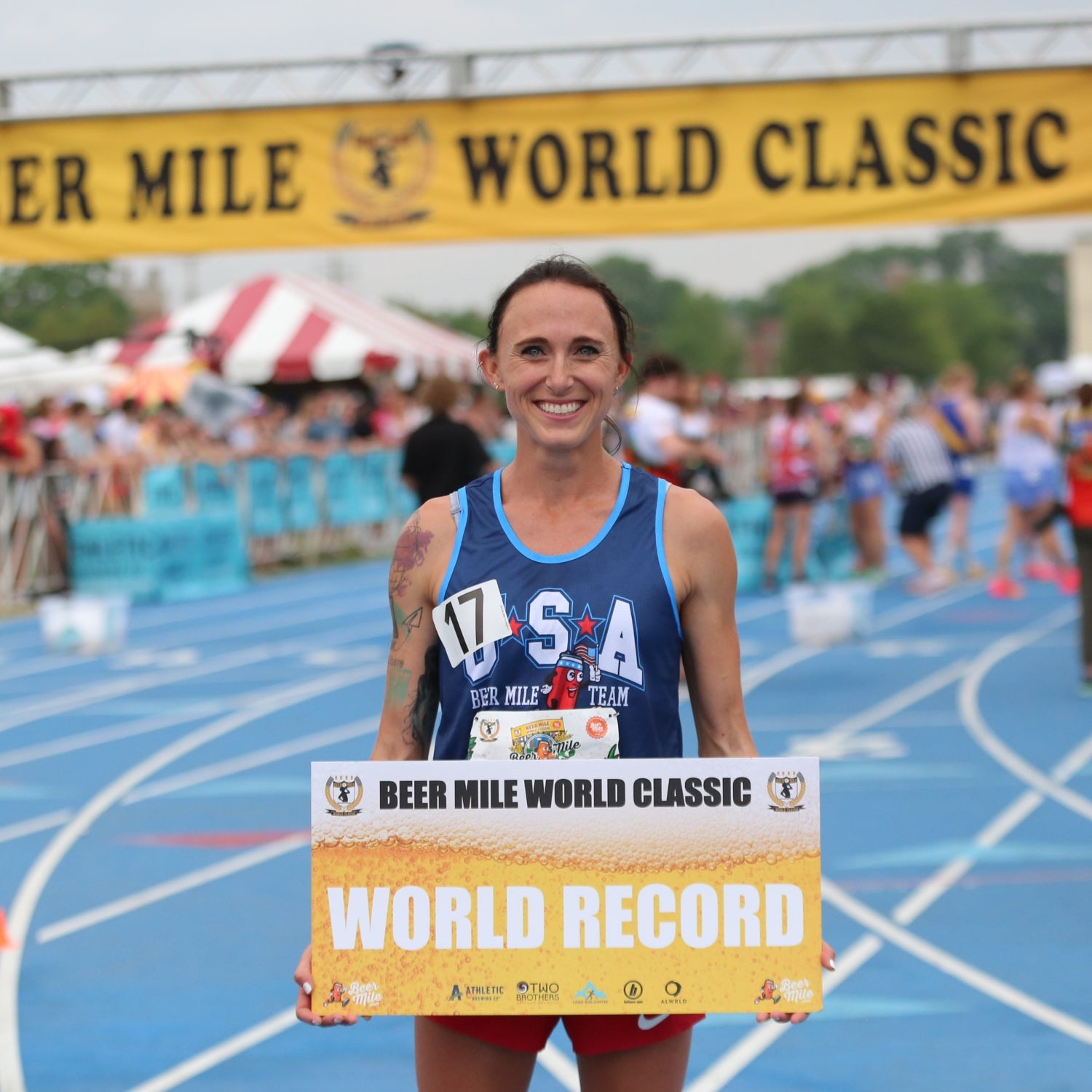 Courtesy beermile.com
Heading out the door? Read this article on the new Outside+ app available now on iOS devices for members! Download the app.
When it comes to sports controversies, beer mile competitions aren't usually the first thing that springs to mind. Unless you're a neo-prohibitionist, the spectacle of seeing a bunch of loonies chugging beers and running laps around a track is unlikely to offend your sense of decency. However, the Beer Mile World Classic earlier this month ended up evoking strong feelings among participants and fans alike for allowing the suspended world-class miler Shelby Houlihan to take part. Houlihan is roughly two and a half years into a four-year ban for testing positive for the banned steroid nandrolone—a violation she has famously attributed to a bad burrito—but the terms of her suspension only apply to official USATF and World Athletics-sanctioned events. Since the Beer Mile World Classic doesn't fall under this jurisdiction, it was up to event organizers to figure out what to do when the American record-holder in the 1,500-meters expressed an interest in competing. In the end, the World Classic decided that Houlihan would not be allowed to take part in the women's championships, but that she could still run in the "Legends and Elites" division, the de facto "B" race of the men's championships. Houlihan ended up drinking four beers and running a mile in five minutes and 43 seconds—a new women's world record. Depending on your point of view, the performance either helped elevate the profile of the obscure sport of beer miling, or stained its reputation.
"We got a lot of emails from both sides," says Chris Robertson, the co-founder of beermile.com and a co-producer of the World Classic. "People who loved seeing Shelby race and thought it was amazing and people who hated us for it. We knew that any tough decision is going to lead to pros and cons. I can't tell you how many phone calls we had discussing this and all the different angles of it."
Initially, Robertson was in favor of letting Houlihan compete in the women's championships. Her celebrity would "bring more eyeballs" to the event and there was nothing in the rules that made her ineligible. What's more, and as Robertson pointed out to me, it seemed exclusionary to bar Houlihan from competing on the basis of a doping suspension when none of the other athletes are subject to drug testing. However, after a number of women in the championship heat expressed concerns about racing against a suspended athlete, the organizers of the Beer Mile World Classic decided against letting Houlihan vie for the women's title.
Among the women who raised the issue with the organizers was Elizabeth Laseter, the eventual 2023 Beer Mile World Classic champion, whose personal best of 6:03.75 is now second only to Houlihan's performance on the all-time list."We found out just a few weeks before the event and it didn't feel quite right in our heads," Laseter told me. "It was nothing personal against Shelby, but we wanted to make sure that the needs of the athletes were being prioritized—that that aspect didn't fall away in the interest of trying to grow the sport."
Both Laseter and Robertson agree that it is a little contradictory to leave Houlihan out of the women's championship race while still officially recognizing her world record. It was a compromise that was brought about by an unprecedented situation and, like any good compromise, it left all parties slightly dissatisfied. The plan is that future beer mile championships will have some kind of policy in place for athletes with doping suspensions even if, as Robertson stressed to me, the beer mile and regular track and field are "two entirely different sports." (It's worth mentioning that, at least in a professional context, the "different sport" defense might be irrelevant. According to article 10.14.1 of the WADA code, a suspended athlete is prohibited from taking part in any competition organized by a professional league or government-funded entity.)
Things are perhaps more complicated when we're talking about the same sport. Last year, there was backlash when Houlihan won the University of Okoboji Homecoming Half Marathon, an unsanctioned, low-key road race in her home state of Iowa, and received $500 for her efforts. Houlihan donated her winnings, yet there was admittedly something perverse about a banned athlete cleaning up against hobbyjoggers and getting a check. As sports columnist Alan Abrahamson argued at the time, it wasn't great for the image of American running, especially since we tend to be pretty smug about rampant doping abuses in other countries. We would be up in arms, Abrahamson suggested, if a suspended Russian athlete competed in a race in Russia.
Two weeks after her record-setting beer mile, Houlihan once again ran a University of Okoboji Homecoming race. This year, she ran the 10K and won in 30:47, a time that was more than four minutes faster than the second place finisher and five seconds faster than Shalane Flanagan's 2016 American record for a road 10K. Since the Okoboji course is not USATF-certified (and likely a little short), Houlihan's performance wouldn't have been record-eligible regardless of her ban. Still: a 30:47 solo performance from a suspended athlete is kind of hard to ignore. (By contrast, she ran 1:16 in last year's half marathon—an unremarkable time by elite standards.)
Last week, on Letsrun.com's podcast Jonathan Gault, an erstwhile advocate of Houlihan's innocence, said that he didn't feel comfortable with the fact that she was racing. "I guess it's not violating the conditions of her ban, but I would say it's violating the spirit of her ban," Gault said.
For her part, Houlihan says she took part in these races because she "needed running to feel fun again" and wanted a way to "take a small step back into the running community." Houlihan, who remains adamant that she is being punished for something that she did not do, told me that the Okoboji races and the beer mile were the only events she has taken part in during her suspension and that she had checked with relevant authorities to ensure that this was in compliance with the rules. She says that she didn't think competing in these races would be a big deal, and admits that that might have been a little naive on her part. "I do completely understand where people are coming from and why they would feel that way," Houlihan says of those who don't think she should be racing at all. "Before having been in the position that I'm in now, I probably would have felt the same. Having experienced what I have now though, I have a different opinion on it . . . I think small, unsanctioned races like these are important for finding some happiness and ways to move forward."
On the one hand, it feels rather excessive to demand that suspended athletes also abstain from unsanctioned events. Pretty much every race of consequence is going to be off limits anyway. In his column, Abrahamson refers to the fact that Houlihan was allowed to compete in the Okoboji race as an ignominious "loophole" in our national anti-doping system. I think that's overstating it. It would be a loophole if Houlihan was able to maneuver her way into a race that she would have wanted to compete in if she weren't suspended, as when her team cynically tried to get her into the U.S. Olympic Trials on the basis that she was still trying to appeal her ban. But the University of Okoboji 10K? (I also don't think it's very likely that the U.S. running community would be particularly distraught if a banned Russian runner would jog their way to victory in a Vladivostok fun run.)
That said, and as Laseter's case illustrates, fringe events still have a right to their own standards of athletic integrity. The question of who should enforce them, however, is another matter. I don't think we should aspire to a system where USADA can adjudicate who is allowed to roll up at every small town turkey trot. But such races are certainly well within their right to develop their own rules about who can officially compete. The beer mile already has strict rules and codes of conduct for other aspects of the competition; for example, all beers need to have an alcohol content of at least 5 percent and pukers need to run a penalty lap.
"People who do this at an elite level do take it very seriously. It is a fun event, but at the end of the day I think we shouldn't have to make exceptions for a sport like the beer mile," Laseter says of the participation of suspended athletes. "I just don't think it's fair for someone else to define what the beer mile is."
Corrections:
(07/31/2023) This story has been updated to correct the spelling of Elizabeth Laseter's last name. Outside regrets the error.
Lead Photo: Courtesy beermile.com
Trending on Outside Online