The Endurance Race Called Life
In his new book, 'A Mile at a Time,' endurance athlete Travis Macy offers key insights about helping his dad endure Alzheimer's disease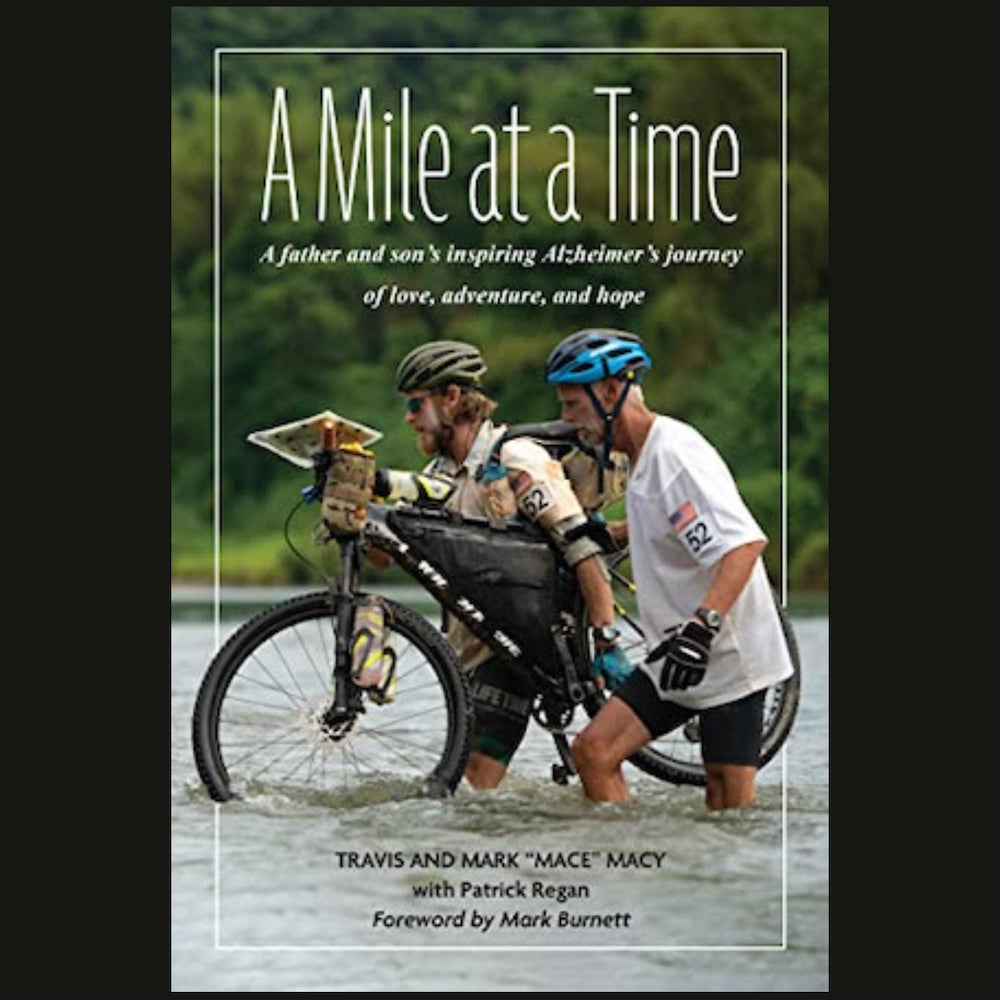 Courtesy Travis Macy
Heading out the door? Read this article on the new Outside+ app available now on iOS devices for members! Download the app.
Mark Macy recently got a tattoo on his right arm that depicts many of the grueling endurance events he's tackled in his life.
If you don't know Macy, a 69-year-old retired attorney from Evergreen, Colorado, the ink on his arm will tell you that he's a tenacious ultra-distance athlete who's been there and done that. But the sincerity of his smile, his deep blue eyes, and gregarious laugh tell you everything you need to know about him.
The tattoo, which is a collage of names and symbols from Eco-Challenge, Ironman, Badwater, Iditasport, Spartan Race, and the Leadville 100, represents his rigorous race resume dating back to the late 1980s. "Mace," as he's been known by friends, family, colleagues, and training partners, is one of only a handful of people in the world who have completed at least eight of the ten Eco-Challenge multisport adventure races since the first one in 1995.
But the tattoo isn't a showy gesture by any means. He was never a podium finisher at any of those events, and besides, he doesn't have a boastful bone in his body anyway. It was just a fun thing to do and, perhaps, a way to keep it all top of mind, now that he's facing the biggest endurance event of his life.
Mace was diagnosed four and a half years ago with early onset Alzheimer's disease and, despite remaining very physically and mentally active, it has continued to advance beyond the early stage of mild memory loss.
"You know he's proud of the new tattoo, and, while doesn't always remember what's on it, he kind of remembers it's there and he has fun showing it to other people," says his son, Travis Macy, 40, who, not only followed in his father's passionate life-affirming footsteps for endurance sports but turned it into a career as a professional athlete, coach, author, speaker and podcaster.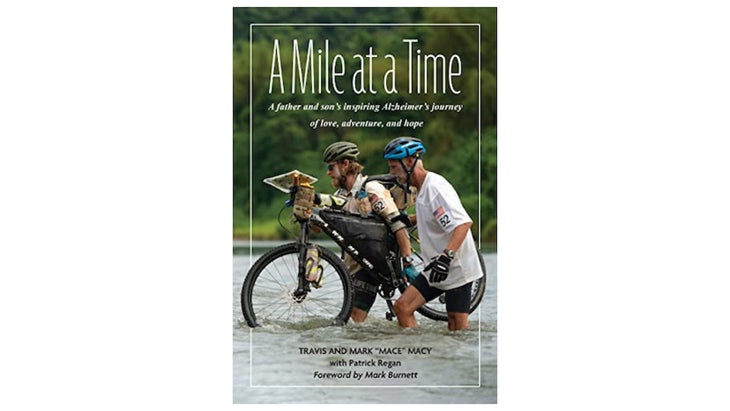 Mace's heartfelt story is captured in a powerful new father-son memoir centered on the demanding journey Mace and Travis endured during the 2019 Eco-Challenge race in Fiji. Jointly written by the Macys and Patrick Reagan, A Mile at a Time: A Father and Son's Inspiring Alzheimer's Journey of Love, Adventure, and Hope, which hit bookstores in March, depicts Mace's full life as an endurance sports participant, respected defense attorney, and devoted family man. Most importantly, because of the inclusion of Mace's candid journal entries to start each chapter, it tells a touching story about how he has continued living and thriving amid the slow but cruel progress of the disease.
Enduring Dementia
According to the Centers of Disease Control, more than 5.8 million Americans are living with Alzheimer's disease, the most common form of dementia. Although there are some medications that can help reduce or control some cognitive and behavioral symptoms, scientists do not yet fully understand what causes the disease, and there is no cure.
When Mace was initially diagnosed in October 2018, his family, led by his wife, Pam, and their three children were immediately aligned in the need to keep him mentally sharp and physically active as he headed into what was suddenly a more cloudy future. Included in that collective effort was the family decision to have Travis captain a four-person team of adventure athletes—including Mace—that would take on the challenge of hiking, mountain biking, paddling, climbing, and rappelling more than 400 miles during the seven-day Eco-Challenge, an event producer Mark Burnett was bringing back in 2019 after a 17-year hiatus.
They knew it would be an opportunity for Mace to race one final time, but being a part of the aptly named Team Endure was also part of the bigger family strategy to keep him engaged in the sports that  defined him for so long, while also raising money to find a cure for Alzheimer's. They made it through the race that was later broadcast as a 10-part series on Amazon Prime, but the story in the book tells more about the transcendent power of love between families, friends, and the endurance sports community.
Despite the worsening of the disease, Mace continued to hike, trail run, and ride bikes with Travis, Pam, and other close friends, including adventure legend and longtime adventure racing teammate Marshall Ulrich. Sometimes Mace would occasionally forget what he was doing in the middle of a hike, get lost on familiar terrain, or uncharacteristically get depleted of energy, but the positives of being active in the outdoors far outweighed the negatives.
"In Mace's story—and that of his family—I have found an inspiring reminder that with love, determination, and teamwork, the most formidable challenges can be overcome," Burnett writes in the foreword of the book. "Living the life you love is always worth the risk."
Travis made his dad a co-host of his podcast, The Travis Macy Show, for a while, and the father-son duo chatted with numerous endurance sports athletes, coaches, event organizers, and health professionals in conversations about training, competition, fueling, sports psychology, aging, and more, recalling a wide range of stories in Mace's athletic career and dispensing nuggets of wisdom along the way.
However, amid the joy of those moments and the continued family immersion (especially with his grandkids), Mace has still been at the mercy of the disease as it has been persistent. He remains as active as possible and still has good friends who pick him up occasionally so he can join them for trail runs and hikes. But he can no longer safely ride a bike because of declining spatial awareness, and he needs more help on a daily basis. Travis admits it was a sad day when he and his mom agreed recently it was time to pick up Mace's mountain bike and take it away.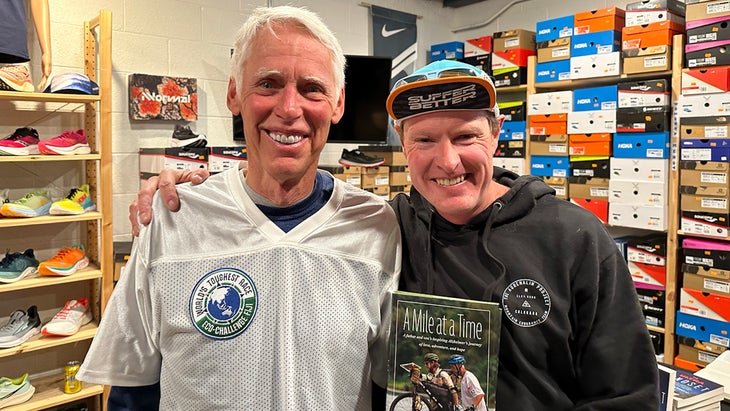 Travis is grateful to have his dad with him at the first Colorado stops of the book tour, and that they'll have the opportunity to be the featured speakers at the sixth annual Memories Matter fundraising event, on April 19, at the American Museum of Natural History in New York City. While Travis led the sometimes emotional discussion at a book talk at Berkeley Park Running Company near Denver on April 5, Mace contributed where he could with his warm smile, witty humor and a candid defiance to beat the disease.
"When the book went up for presale last August, I didn't know, looking ahead to right now, when the book would be released, if Dad would be able to do any of these in-person events," Travis said recently. "But, thankfully, the answer is yes, he can. It looks a little different, because he's not going to be leading the conversation or anything. But he can still contribute to stories, and he's genuinely happy to be there, shaking people's hands and smiling and taking a picture with them. And those are meaningful moments."
Travis believes there's a distinct parallel in Mace's long history of enduring physical and mental fatigue in endurance sports and his ability to remain strong and positive amid what he knows is a declining condition. At the bottom of Mace's new tattoo, the phrase "Don't Quit"—one of his commonly repeated endurance sports mantras—is emblazoned on a purple-hued ribbon over the words "End Alz."
For now, Mace is still out there doing what he can, even if more limited than ever. A few times  a week, he ventures down to the end of his driveway alone and runs hill repeats up and down an adjacent dirt road.
"Once he's out there, he's pushing himself, and he's enjoying it," Travis says. "And, you know, he can't count the hill repeats and he can't track how long it's been or anything, but he stays out there as long as he wants. And my mom knows right where he is, and so if it's been too long or something, she just walks out there and brings him back home. But it's really important, because it gives him something to do and the ability for him to do his thing. It's still really what he looks forward to. It's an essential part of his life."
"It's All Good Training"
Mace's recent tattoo is actually the second one he's gotten in recent years. The other one on his right forearm states, "It's all good training," a reminder that even the smallest efforts—whatever you might be capable of on any given day—are good catalysts to keep thriving in the game of life.
And to that point, life is no longer about enduring hardcore endurance events for Mace, but instead it's about simply getting outdoors on a regular basis to move his body, take in the views, and soak up deep breaths of fresh air in the company of family and friends.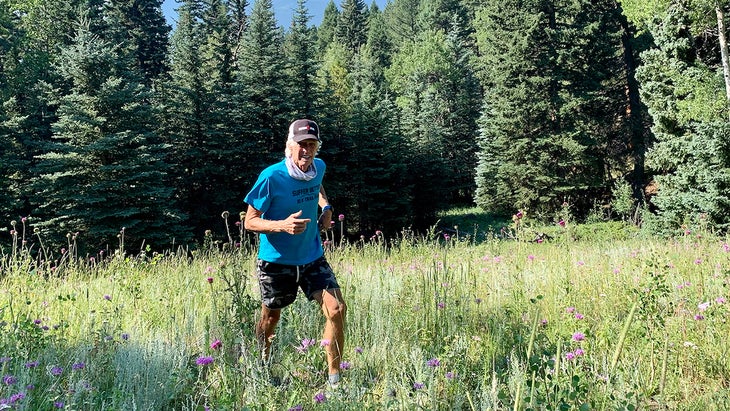 And maybe, Travis says, that's what it's always been about for his dad. It's the ultimate life lesson that Mace has passed on, in various ways, to his son and two daughters and five grandkids.
"One thing I observed before as he was getting older, but long before he had Alzheimer's, was that it was a lot less about trying to conquer the course or the competitors and more about just being there, being there with nature, and being there with the community of people you care about," Travis says. "That's something that I've adopted, too. Competing still feels good because that can be a part of the fun. But as I look at my whole purpose, it's a lot more about being with nature and being with other people, because we're all doing this together."
Purchase your copy of A Mile at a Time: A Father and Son's Inspiring Alzheimer's Journey of Love, Adventure, and Hope at your local, independent bookstore, or online here. 
Lead Photo: Courtesy Travis Macy