The Year of Running
Sponsor Content: Under Armour
Pro Tips for Embracing Cold-Weather Runs
Three professional runners on how to make the most of the winter training season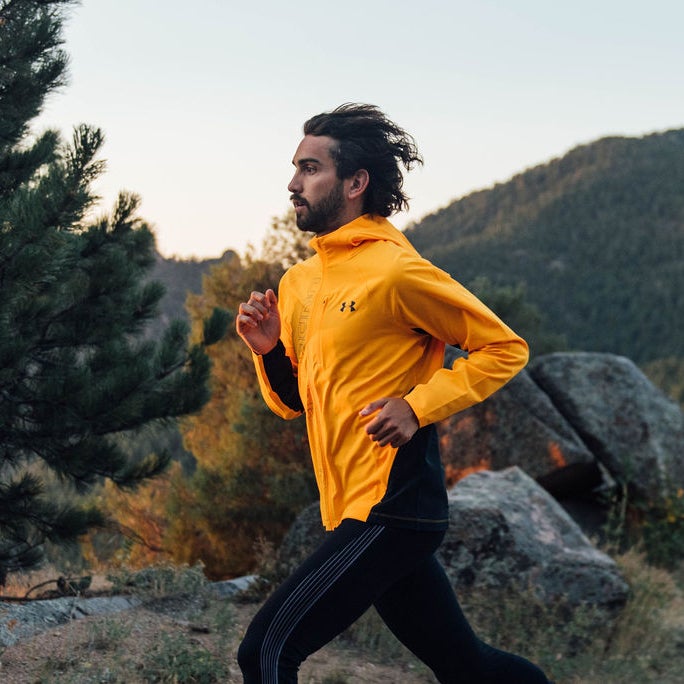 Congratulations! You powered through summer heatwaves and humidity. You maximized workouts during the fleeting, oh-so-enjoyable temps of autumn. Now it's time to keep that momentum going. If short days and colder temperatures feel like roadblocks to you, we have good news: with the right gear, attitude, and approach, you can emerge next spring a better, stronger runner. Don't believe us? Here's how three professional runners make the most of winter.
Dress for Versatility—and Visibility
Thoughtful layering is key any time of year. But Under Armour pro runner Morgan McDonald says its importance can't be overstated in winter. His philosophy: when in doubt, wear that extra layer. "You can always take a piece off and wrap it around your waist," explains McDonald, who, originally from Australia, cut his teeth running in frigid weather at the University of Wisconsin.
McDonald's go-to kit is Rush Stamina tights (infused with minerals to trap and recycle body heat), the super-breathable and soft Breeze long-sleeved top, and the wind- and water-resistant Qualifier Outrun the Storm jacket. On the coldest days, McDonald also wears a knit hat and convertible gloves.
You also need to see and be seen if you're heading out in the dark—much more likely during winter's shorter days. Even if it wouldn't be your personal style for streetwear, pick colors that pop and items with reflective accents. And if you frequent unlit roads or paths, don't forget a headlamp (200 lumens or brighter) to light the road in front of you—and give cars a bright signal that you're there.
Warm Up Right
"You really need to get warm and loose before you head out to prevent injury," says McDonald. "A few key moves can take only about five minutes, and then you're ready to go." Bottom line: there's no excuse for starting a run cold. Thankfully, McDonald's daily routine—a few reps of both forward and backward lunges and leg swings—is as simple as it is quick. See the video below for complete details.
Set Realistic Expectations
You're more than likely going to find that you run slower in the winter. That's OK! You might have to contend with slick surfaces, the dark, and the wind—all of which will affect your speed. The two most important factors in winter are consistency and positivity. "With an open mind, you can learn to love the process," says Minnesota-based runner and coach Breanna Sieracki. "And you develop mental toughness out there, which can carry over to racing next spring."
Speaking of mental toughness, Alison Staples, a running coach out of Baltimore, advises an attitude adjustment when it comes to foul weather: "Try to look at the outdoors as your playground and embrace it," she says. "Winter running can be magical; it gives you a chance to escape from the long months of being primarily indoors."
Treat Yourself Post-Run
In winter, hanging out in your cold, wet clothes can only lead to a stout case of the chills. "As soon as I'm back inside, I get out of my running clothes," says Staples.
A warm cup of coffee or tea, a hot shower, and cozy, insulating clothes after will leave you ready to function and get on with the day. McDonald agrees: after a chilling run, he's straight into his UA Recover Joggers, which are cut with mineral-infused fabric to help aid your body's natural recovery processes. It really is that simple: with the right gear, mindset, and routine, wintertime can come to be your favorite running season.
---
Under Armour is a leading athletic performance apparel, footwear, and accessories brand. Powered by one of the world's largest digitally connected fitness and wellness communities, including MyFitnessPal™ and MapMyRun™, Under Armour's innovative products and experiences are designed to help advance human performance, making all athletes better. Learn more and shop at underarmour.com.