10 Important Takeaways from the 2023 Boston Marathon
Reflecting on key moments from the biggest weekend in running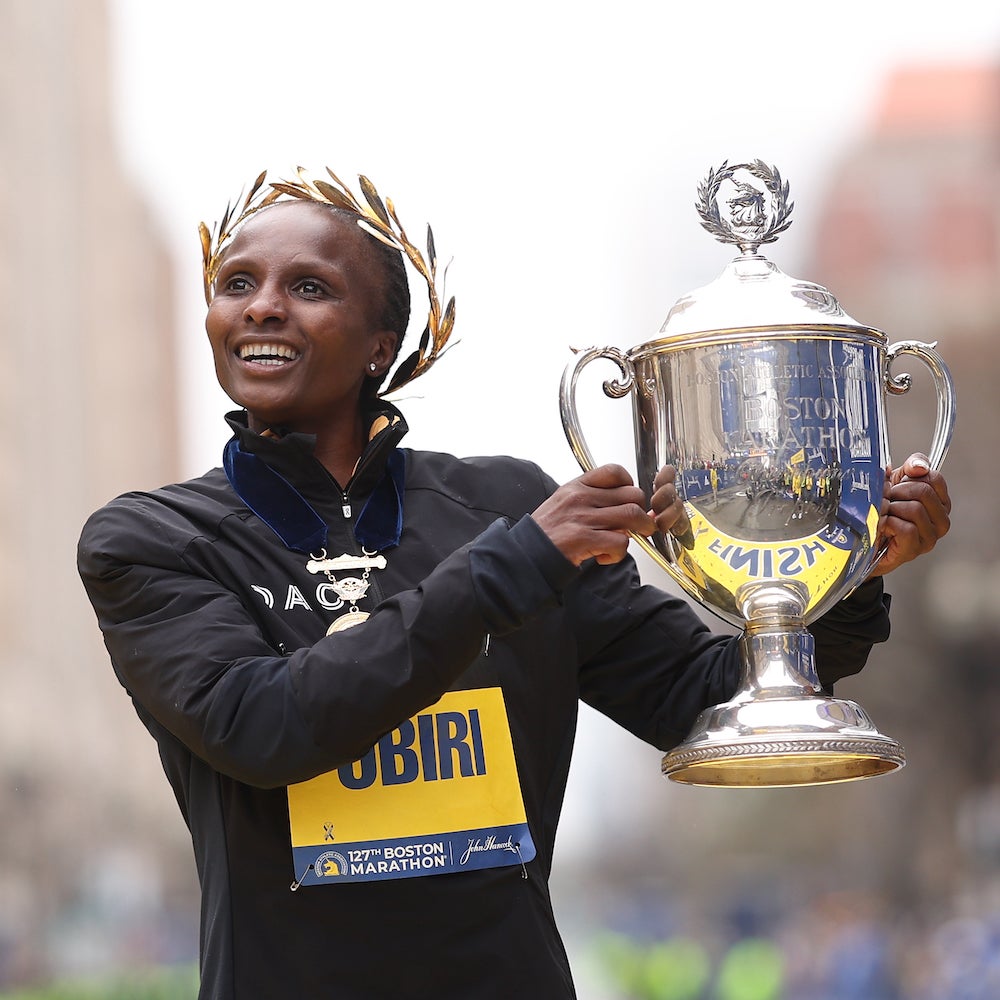 Maddie Meyer/Getty
Heading out the door? Read this article on the new Outside+ app available now on iOS devices for members! Download the app.
This article is part of Outside Run's complete 2023 Boston Marathon race coverage.
After the rain and clouds cleared on April 17, in Boston, the 127th running of the Boston Marathon was hailed by many participants, spectators, and observers as one of the best ever. Not only did it produce two of the most memorable professional races in history, it also honored the victims, survivors, and first responders of the horrific 2013 terrorist bombing incidents. But it wasn't all sunshine and roses, after a disturbing yet-unresolved incident between race supporters and police emerged during the latter half of the race.
Here are 10 key stories that are resonating in the days after the race.
1. The Policing of the Pioneers Run Club Cheer Squad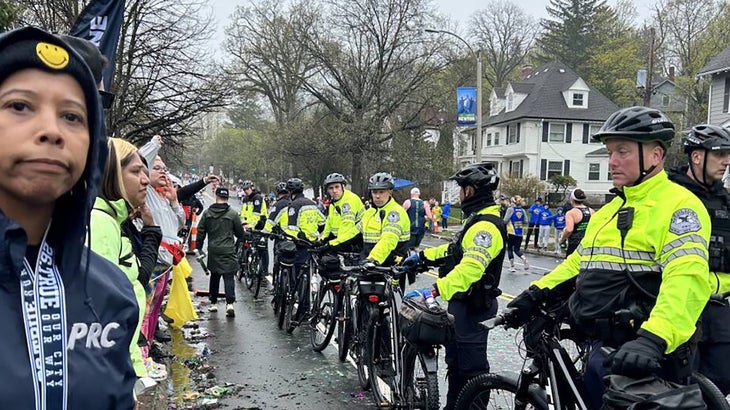 Immediately after the race, social media exploded with angst and displeasure about how police surrounded a run support crew near the 21-mile mark adjacent to Heartbreak Hill. The Massachusetts-based Pioneers Run Crew has been supporting runners from that spot with spirited, high-energy enthusiasm for the past five years. This year, the group was joined by the TrailblazHers Run Co., a Boston-based all-women's running group aimed at creating space for BIPOC women in running. Social media videos show a DJ spinning tracks and supporters cheering, dancing, firing confetti cannons, and occasionally giving high-fives to oncoming runners as they ran over Heartbreak Hill.
But by 11:15 A.M., police arrived on bikes while responding to three complaints about spectators encroaching on the course. Within the next hour or so, there were more than a dozen police officers on bikes creating a human barricade between the race course and the supporters, plus numerous police officers on motorcycles observing on the adjacent road behind the run crew.
"We were having so much fun," said Mike Remy, a member of the Pioneers Run Crew. "And that all kind of came to an abrupt stop."
While the Newton Police Department said it was doing its civic duty in a respectful manner, thousands of people have commented on social media posts in the ensuing days, most of which decrying the excessive police presence as being unnecessary and blatantly racist. If nothing else, it's indicative of racial biases, disparities, and tensions in recreational running.
"There just aren't a lot of Black and brown people into the sport," Remy said. "It just doesn't feel like a coincidence that the cheer zone that was policed is the cheer zone that was organized by Black and Brown people."
The Boston Athletic Association (B.A.A.) met with Pioneers Run Crew and TrailblazHers Run Co. last night. Today, Jack Fleming, President and CEO of the BAA, released a statement to the media.
View this post on Instagram
"We know what the Boston Marathon means to our communities; it is very personal to so many of you. We know that everyone who participates loves to celebrate the excitement of the race, whether you are an athlete, volunteer, spectator or supporter.. However, this year, we know that we did not deliver on our promise to make it a great day for everyone.  We met with two groups last night, who the B.A.A. proudly supports in their running activities, their members and their mission—Pioneers Run Crew and TrailblazHers Run Co.—two of Boston's premier clubs for BIPOC runners. They expressed to us their deep concerns that they were not given the chance to enjoy the day and celebrate their friends, families and all participants as they approached Heartbreak Hill—that is on us. It is our job, and we need to do better to create an environment that is welcoming and supportive of the BIPOC communities at the marathon.
"We appreciate and rely on the support and services of the eight cities and towns that make up the Boston Marathon course. We could not do it without the first responders and law enforcement agencies across 26.2 miles that is necessary at an event of this scale. We ask for everyone's support as we move forward to improve the event for generations to come."
While the incident was peaceful and some said respectful, an outcry about disproportionate and racist policing continues to broil. Black marathon runner Thomas Bailey, who is known as the digital creator Tommie Runz, said in an Instagram Live session on April 19 that he saw numerous cheer squads and fans occasionally stepping into the road to support runners, without being so heavily policed—including people who were handing out beer and shots of alcohol.
He said he looked forward to and appreciated the support of the Pioneers Run Crew and TrailblazHers Run Co. as he ran his way to a new personal best time of 2:46, and he suggested the smart solution would be to create that space as an official Boston Athletic Association cheering space led by the Pioneers Run Crew.
"What I'm suggesting to the B.A.A. is just make it official, that it can be an official B.A.A. cheer squad zone led by Pioneers Run Club and TrailblazHers. Because every runner in this race wants to have a cheer squad at Heartbreak Hill, the worst part of the race, the most epic point of the race, the last hill. Put it on the map, and make it official."
2. Eliud Kipchoge Proved He's Human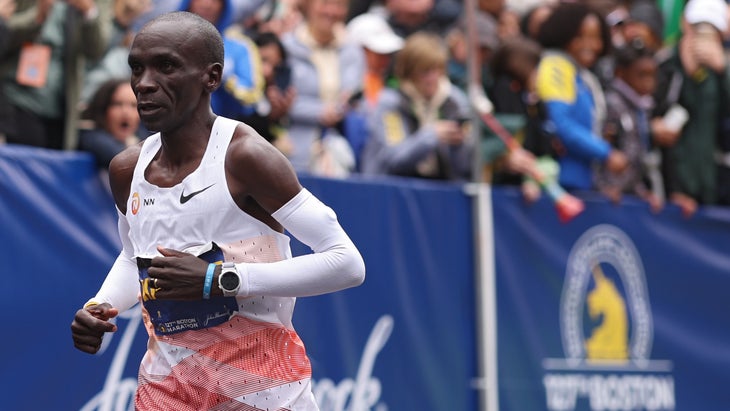 The Boston Marathon was one of the few races where Kenyan marathon legend Eliud Kipchoge came up short. Having won 15 of the 17 marathons he had run and twice lowering the world record, he entered the race as an overwhelming favorite. But as good as he's been, the marathon is still one of the most difficult challenges in all of sport, and winning on Boston's notoriously hilly course requires a unique combination of fitness, tenacity, and strategy. Was it the hills? Was is that he missed one of his Maurten fueling bottles? Was it his gait irregularity? Or was it just the gritty running of several other runners eager to beat him? In the end, Evans Chebet ran superbly to secure his second straight win in 2:05:54, while Kipchoge held on for sixth place in 2:09:23, the slowest marathon of his career. Nonetheless, Kipchoge was gracious and conciliatory in defeat.
"I live for the moments where I get to challenge the limits. It's never guaranteed, it's never easy. Today was a tough day for me," Kipchoge said. "I pushed myself as hard as I could but sometimes, we must accept that today wasn't the day to push the barrier to a greater height. I want to congratulate my competitors and thank everyone in Boston and from home for the incredible support I am so humbled to receive. In sports you win and you lose and there is always tomorrow to set a new challenge. Excited for what's ahead."
3. Adidas Dominated the Shoe Count
Based on a review of the top 25 men's and women's finishers, Adidas was the most popular brand among the elites, and its Adizero Adios Pro 3 was the most dominant shoe in the race. Led by Chebet, top four runners in the men's race (and six of the top 10) wore that model, while eight of the top 25 women ran in that shoe, including runner-up Amane Beriso of Ethiopia. Unlike other marathon racing super shoes with carbon-fiber plates embedded in its midsoles, the Adizero Adios Pro incorporates a skeleton of carbon-fiber energy rods to maximize energy return.
The second most popular shoe among the top 25 runners in the men's and women's fields was the Asics Metaspeed Sky+. Eight runners ran in the standard off-the-shelf version or the new World Athletics-approved prototype that American Emma Bates wore in her run to her personal best time (2:22:10). Nike was the second most popular brand among those top finishers, with 14 runners wearing some variation of its top-tier Vaporfly or Alphafly models.
But the most compelling shoe of the day was the On CloudTri 1 on the feet of women's champion Hellen Obiri, a hyper-responsive World Athletics-approved prototype shoe designed for marathoners and long-distance triathletes. Although it's still a relative newcomer compared to Nike, Adidas, Asics, and Brooks, On has continued to advance its high-performance shoes in recent years. Obiri's win in Boston follows after the brand's shoes played a role in Gustav Iden's victory at the 2022 Ironman World Championships, Ollie Hoare's gold medal in the 2022 Commonwealth Games 1,500-meter run, and Alicia Monson's recent American record in the 10,000-meter run.
4. Erika Kemp's Amazing Debut Marathon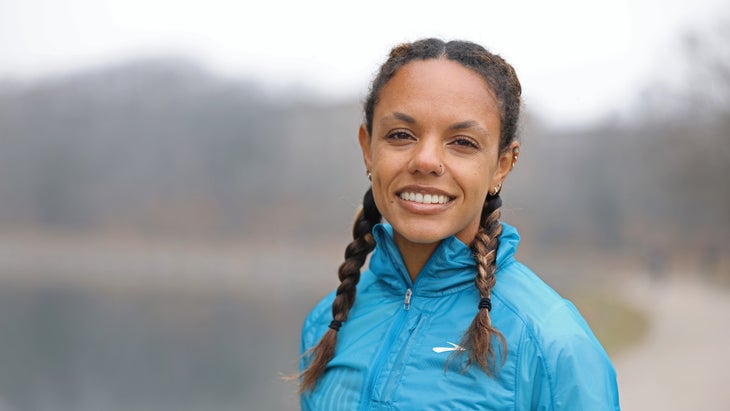 Erika Kemp ran a sterling race in her marathon debut. Although she was never expected to be a contender in the race, her 28th place, 2:33:57 finish was still a solid effort worth noting because it's the fastest marathon time ever for an American-born Black woman.
Kemp has racked up numerous running accolades during her pro career—including winning U.S. national titles at the 15K and 20K—and had already qualified for the 2024 U.S. Olympic Trials Marathon, with a seventh-place 1:10:14 finish at the Houston Half Marathon in January. Her pursuit of the marathon is important, considering that only 28 U.S.-born black women have ever broken 3 hours for 26.2 miles. Kemp surpassed the previous mark of Ariane Hendrix-Roach, who ran 2:35:39 last December at the California International Marathon.
"WOW they weren't lying when they said that course is TOUGH," Kemp said in an Instagram post after the race. "But they also weren't lying when they said there's something magical about this race. Hard as it may have been, I have no regrets on my first marathon! Coming away with soooooo many lessons learned, maybe even all of them, a hunger for more and most importantly body and spirit intact."
5. Celebrities Reach the Finish Line
Renowned New York City chef and former pro cyclist Daniel Humm was the fastest of the celebrities running in this year's Boston Marathon field, finishing in 2:58:53. Retired tennis star Monica Rakitt (nee Puig) covered the course in 3:49:47, mostly with her husband, Nathan (4:05:12), while former Boston Bruins hockey star Zdeno Chára finished in 3:38:23 while running in support of the Hoyt Foundation. Former Boston College and NFL quarterback Doug Flutie ran for the Flutie Foundation (5:28:34) and former Boston Red Sox players Ryan Dempster (4:42:11 for the Lingzi Foundation), Brock Holt (5:46:57 for the Jimmy Fund Clinic), and Mike Myers (5:59:31 for the Angel Fund) also ran for charities.
Chara, a former 6-foot-9 defenseman who helped the Bruins win the 2011 Stanley Cup, was one of the tallest runners in the race. He wore bib number 3333 in honor of the No. 33 jersey he wore for 14 years with the Bruins.
"I'm proud to be a Bostonian," Chara told WCVB-TV shortly after he crossed the finish line. "It's a great feeling. I'm so honored to be sharing this moment with so many runners and fans and the City of Boston, and basically the whole community. It's something I always wanted to do."
6. Trail Runners Hit the Roads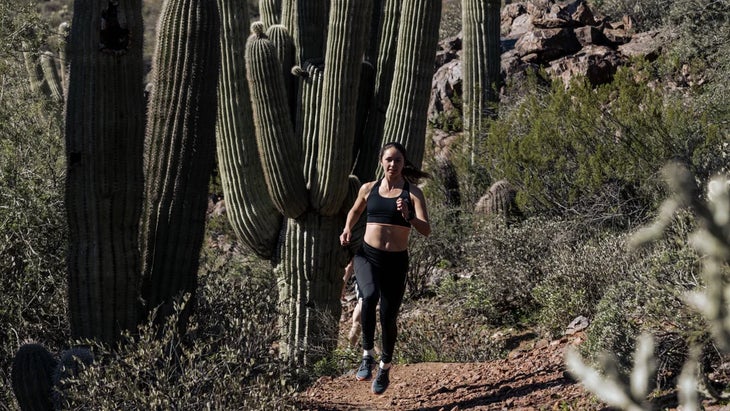 Dutch runner Nienke Brinkman ran a strong race and finished 15th in 2:24:58, continuing her string of solid performances while alternating between road races and trail races. She set the Dutch national marathon record (2:22:51) in Rotterdam last April and then earned the bronze medal in the marathon at the European Championships in Munich (2:28:52) last August. From there, the Nike-sponsored athlete switched back to the trails and won the 13.3-mile Pikes Peak Ascent in Colorado and the Flagstaff Sky Peaks 26K in Arizona in September, and later claimed the women's title of the 2022 Golden Trail World Series. (Interestingly, Brinkman ran in a special makeup pair of Nike Vapofly3 shoes with the Nike Trail logo, a design that points toward the forthcoming Nike ZoomX Ultrafly Trail shoe that comes out this summer.)
Running in her debut marathon, American trail runner Dani Moreno finished 36th among women in Boston in 2:38:23. The two-time U.S. trail running champion, and the first-ever American woman to podium at UTMB's OCC 50K with her third-place finish last summer in Chamonix, France, just missed the 2024 U.S. Olympic Trials qualifying standard of 2:37:00.
The best American trail runner of the day was Chad Hall, who most recently won both the 2.75-mile Dragon's Back Ascent and the 50K race at the Mammoth Trail Fest last September in California. The younger brother of retired American marathon ace Ryan Hall, Chad placed 20th in Boston in 2:14:13, to surpass the men's qualifying standard for next February's U.S. Olympic Trials race in Orlando, Florida.
7. Hall, Cabada Earn Masters Titles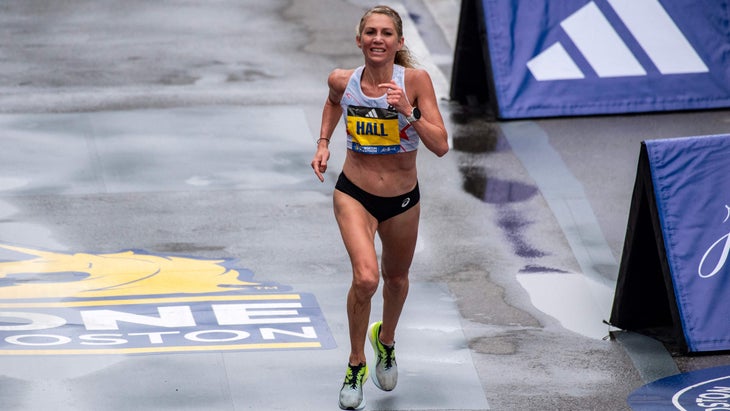 Sara Hall has been a top American distance runner for more than 20 years, running competitively in track and field, road racing, and cross country events. At Monday's Boston Marathon, two days after turning 40, she earned the masters division title after placing 17th in the women's division (and 82nd overall) in 2:25:48. Edna Kiplagat, 43, the women's overall champion in 2017 and 2021, was the masters division runner-up with a 31st-place, 2:34:40 finish, while Sweden's Hannah Lindholm, 43, was third (39th among women) in 2:39:16.
Fernando Cabada, a 41-year-old runner and coach from Denver, was the men's masters champion in 2:23:01. The two-time U.S. marathon champion outran runner-up Anthony Bruns, 40, of Denver, (2:23:39, 53rd among men) and Prescott Leach, 40, of Waltham, Massachusetts, (2:23:44, 54th among men) for the title.
Hall said she was pleased with her race, especially following a lingering IT-band injury that took her out of marathon racing since she placed fifth at the 2022 World Athletics Championships marathon last summer in Eugene, Oregon. She wasn't sure what to expect in Boston, but she said she smiled a lot and enjoyed the race.
"I'm actually really happy with that race, until I heard I was 17th, and then the competitor in me doesn't like that at all," Hall told Women's Running. "To run 2:25, especially running a lot of the race alone, that's a really good, best-case scenario."
8. Kae Ravichandran Won the Nonbinary Division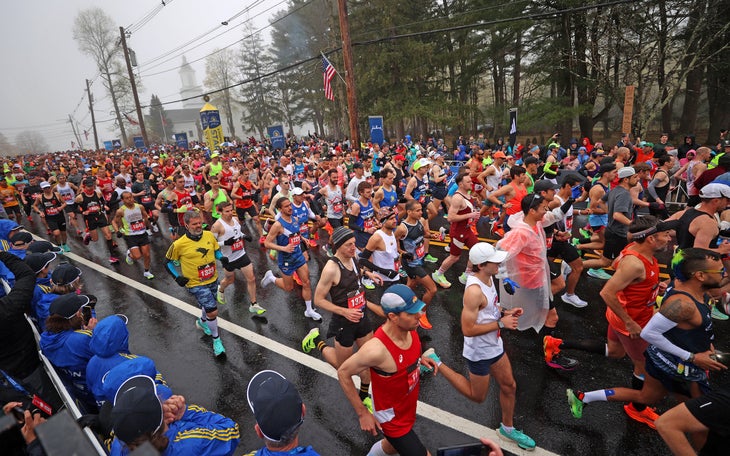 For the first time in 2023, the Boston Marathon had a nonbinary division in the race. Out of nearly 30,000 runners, 27 people registered in the new category. University of Vermont medical student Kae Ravichandran was the division's first official champion, covering the course in 2:38:57 to outrun the rest of the nonbinary field by more than 12 minutes while finishing 568th place overall. Cal Calamia of San Francisco finished second in 2:51:00, while Matthew Powers, of Burlington, Vermont, was third in 2:54:54.
Five of the six World Marathon Majors races now offer a non-binary registration division. The Tokyo Marathon is the only one that requires runners to register as either male or female.
When it announced the new division last September, the B.A.A. said it didn't have sufficient data to set qualifying times, so it used the times of the women's division as benchmarks. The 2023 Boston Marathon qualifying time for nonbinary racers between 18 and 34 was 3:30.
Danielle Bishop, a 28-year-old former Boston University student who works as a team lead at New Balance, was the only nonbinary runner from Boston.
"It really makes a difference to everyone that's able to participate," said Bishop, who finished in 3:32:29 to place 18th among nonbinary runners. "It looks like everyone did awesome who participated in the category, and I know that we're all really thankful to have that option."
9. Parallel Performances on Patriots' Day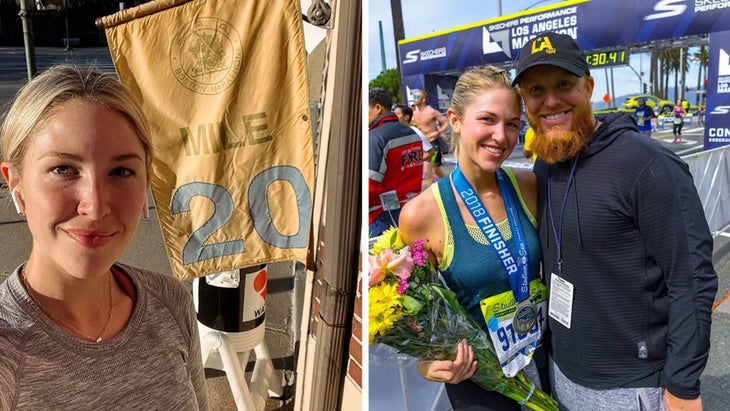 Just a month after running the Los Angeles Marathon, Kourtney Turner ran the Boston Marathon for the Boston Red Sox Foundation. She's married to Boston Red Sox third baseman Justin Turner, who was playing for the Red Sox in a game against the Anaheim Angels. It was a rare morning game that was supposed to start at 11:10 A.M. ET, as part of the Patriots' Day statewide holiday—just after she had started the race. Their hope was that the game would conclude with enough time for Justin to meet her at the finish line. However, the start of the game was delayed because of rain, so Kourtney ran within a stone's throw of Fenway Park near the 25-mile mark of the race as the game was still going on and went on to finish in a new personal best of 5:25. Although Justin hit his first home run of the year in a Red Sox win on Sunday, the Sox lost the Marathon Monday game 5-4.
10. They Keep on Showing Up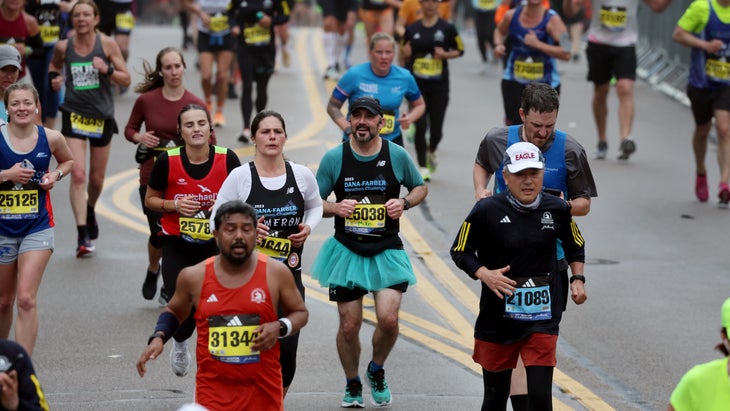 California runner Patty Hung set a Boston Marathon record on Monday after she crossed the finish line in 5:40. It was the 37th straight finish for the 77-year-old Hung, setting a new women's record for consecutive finishes. Her amazing streak dates back to 1987.
To make the race more meaningful and personal for her, Hung says she made a list of 26 special people in her life and ran one mile in honor of each person. "It gives me joy. It gives me purpose and time to be with my family," says Hung, who grew up in the Boston area but moved to California in the 1980s.
Dave McGillivray also continued his streak of consecutive finishes, albeit after his work was completed that day. The marathon's course director crossed the finish line at 7:28 P.M. on Monday evening, marking his 51st consecutive completion of the Boston Marathon and the 36th of which he has completed at night after seeing to his race day duties. McGillivray, 68, completed his first Boston Marathon in 1973.
"It doesn't feel so long ago that I was 18 years old, sitting on the curb at mile 21, wondering if I would ever get a chance to finish the Boston Marathon. If I could go back and tell my younger self that he goes on to finish that day and 50 more editions, I can't imagine his reaction," McGillivray said. "I'm grateful for the more than a dozen friends and colleagues who joined me on the journey to the finish line today. I had to dream big to get to this moment, and I couldn't do it without my community and my family that support me every step of the way."
Lead Photo: Maddie Meyer/Getty
Trending on Outside Online