10 Things to Get Excited About in the U.S. Track and Field Championships
The biggest names of track and field, from Sha'Carri Richardson to Sydney McLaughlin-Levrone, are headed to Oregon to decide who will compete in the 2023 World Athletics Championships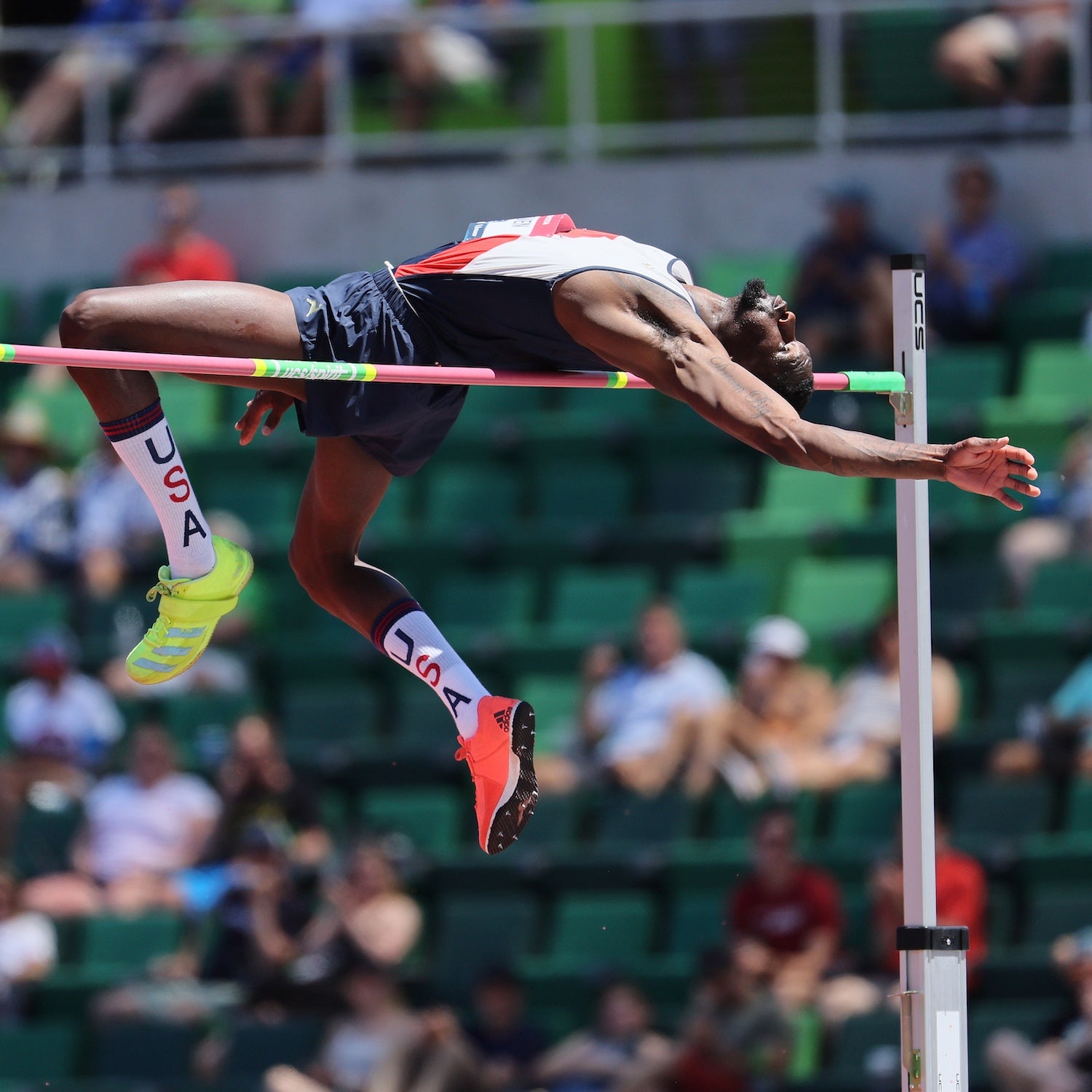 Andy Lyons/Getty Images
Heading out the door? Read this article on the new Outside+ app available now on iOS devices for members! Download the app.
At this weekend's U.S. track and field championships in Eugene, Oregon, top American stars Sha'Carri Richardson, Fred Kerley, Sydney McLaughlin-Levrone, and Ryan Crouser will be tearing up the Hayward Field track stadium as they try to earn a spot on the U.S. team that will be heading to the World Athletics Championships next month in Budapest, Hungary.
But for the first time since 2005, the four-day 2023 USATF Outdoor Championships won't be broadcast live on NBC Sports. The vast depth of American track and field still will be on full display via a mix of live coverage on CNBC, the USATF.TV pay-per-view platform, and NBC's Peacock subscription service. The finals of the high-profile track and field events are typically held on Saturday and Sunday between 4-6 P.M. ET, but this year they're slated for 9-11 P.M. (NBC is broadcasting the U.S. Open women's golf tournament on Saturday and Sunday afternoon, hoping to repeat the strong viewership it received last year.)
While many top athletes, including Richardson, feel slighted by the broadcast changes and have called for an athletes-only meeting  in Eugene to strategize ways to become more involved in key business decisions—an ongoing power struggle in the sport since the 1970s—the running, jumping and throwing action at Hayward Field will still be second-to-none.
Regardless of coverage, here are 10 compelling stories that should play out at this weekend's championships in Eugene, a.k.a., Track Town USA.
1. Will Sha'Carri Richardson take the next steps in her career?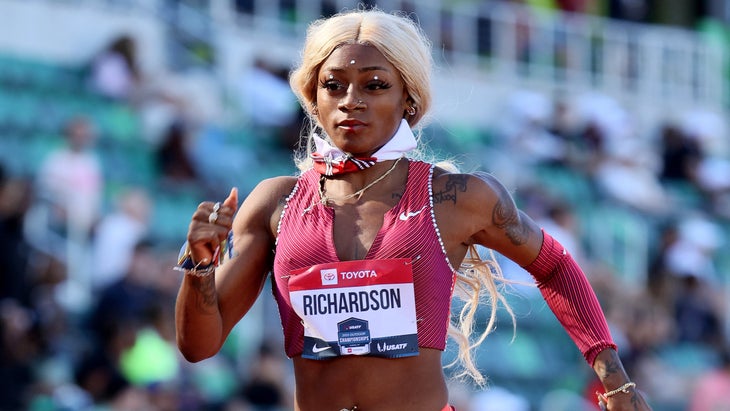 Sha'Carri Richardson is undoubtedly one of the world's top sprinting talents and one who could eventually threaten the 100-meter dash 10.49 world record of Florence Griffith Joyner set way back in 1988. But despite being one of the world's best for three years, she's yet to win a global medal. Will this be the year she puts it all together?
Because her 2021 U.S. Olympic Trials 100-meter title was revoked because of her subsequent suspension for testing positive for marijuana, she has never even won a U.S. championship. The remarkable 10.76 she posted on May 5 in Doha (she also ran an eye-popping 10.57 with an over-the-limit tailwind on April 9 in Florida) has only been surpassed by Marie-Josée Ta Lou of the Ivory Coast (10.75). Although Americans Aleia Hobbs (10.81), Twanisha Terry (10.83), Tamari Davis (10.89), and high schooler Shawnti Jackson (10.89) are all stout competitors, Richardson should win the U.S. title. (She hasn't raced since May 27 USATF Los Angeles Grand Prix, where she ran a 10.90 in the prelims but skipped the final.)
2. Anna Hall is one of the best female athletes in the U.S.—in any sport.
Unless you're a track fan, you probably haven't heard the name Anna Hall yet. But you will, no doubt, especially with the 2024 Paris Olympics and 2028 Los Angeles Olympics on the horizon.
What event does she compete in, you ask? Just about all of them, it seems. Hall specializes in the heptathlon—the two-day, seven-event competition that combines the high jump, 100-meter hurdles, shot put, long jump, javelin, 200-meter dash, and 800-meter run. It's the ultimate test of speed, endurance, power, and agility, all of which Hall possesses in spades.
RELATED: 10 Reasons to Start Following Track and Field This Year
She won the event at the NCAA Championships last year while competing for the University of Florida, then parlayed her vast talents into a bronze medal at last summer's world championships in Eugene. In March, she won U.S. indoor championships in both the 400-meter dash and the heptathlon, and since then has won an international heptathlon in Austria with a world-leading 6988 points, the fifth-highest score in history. It's perhaps inaccurate to call her the second coming of American legend Jackie Joyner-Kersee, the two-time world and Olympic champion in the event, because Hall is soaring on her own vector and the sky's the limit.
3. Cordell Tinch has finally emerged as a world-class talent.
Although he bounced around during his college career from the University of Kansas to Coffeyville Community College to Pittsburg State, Cordell Tinch might be the best all-around male athlete on the track in Eugene. After he ran another blazing time in the 110-meter hurdles in late June—a world-leading 12.96—the 22-year-old Tinch turned pro last week.
During the 2023 college track season for Pittsburg State, a small school in Kansas, Tinch won the 60-meter hurdles (7.51) and the high jump (7 feet, 1.75 inches) at the NCAA Division II Indoor Championships in March, then at the outdoor championships he won the high jump (7-3), long jump (26 feet, 9¼ inches) and 110 hurdles in a wind-aided 12.87, the fastest time under any conditions in collegiate history and equals the fourth-fastest performance in world history. Tinch will compete at the U.S. championships in the long jump and the hurdles,where he'll face off with Grant Holloway (12.98), the two-time world champion, and Devon Allen (13.04), the Philadelphia Eagles wide receiver who might be the NFL's fastest athlete.
4. Fred Kerley's lights-out speed will be on display in the 200.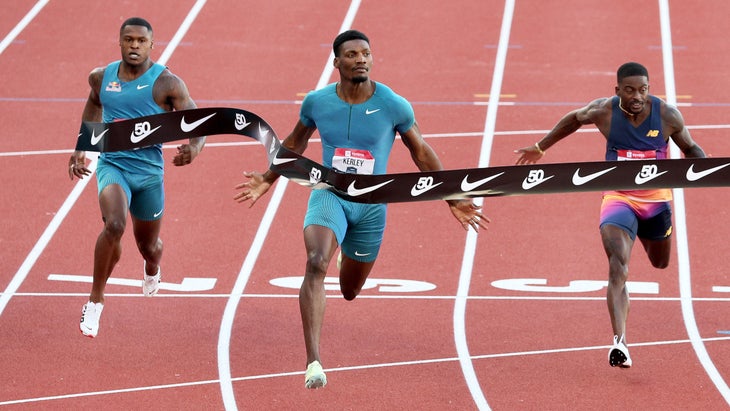 Fred Kerley has proven doubters wrong by dropping from the 400 meters to the 100 meters in recent years, but he wants more—namely another world title, next year's Olympic title, and Usain Bolt's 9.58 world record.
But because he's the defending world champion, he has an automatic entry into the world championships, so despite being ranked third in the world with a 9.88 clocking, he'll only be running the slightly less glamorous (but equally tantalizing) 200-meter dash. That means the U.S. title is up for grabs in the 100. The favorite is the resurgent Christian Coleman, the 2019 world champion who was banned in 2021 for a doping violation. Still the quickest starter in the world, he's run 9.91 and looks like he's back in top form.
The field also includes Marvin Bracy-Williams (9.93), Noah Lyles (9.95), a two-time 200-meter world champion, and Trayvon Bromell (10.09), last year's world championships 100-meter bronze medalist, as well as collegiate phenoms Pjai Austin (9.89) and Courtney Lindsey (9.89). But no matter which three Americans join Kerley on Team USA, Kerley will likely still be the favorite to win in Budapest.
5. Can Sydney McLaughlin-Levrone be the golden girl of the 400?
Sydney McLaughlin-Levrone has been one of the world's best 400-meter hurdlers in the world since she was a teenager back in 2016 and won the event at last year's world championships in a world record 50.68. At this weekend's national championships, McLaughlin-Levrone will be running the open 400—one lap around the track sans hurdles—against some of the best sprinters in the U.S.
She hasn't run her specialty event at all this year, and there's a good chance she will just focus on going for gold in the open 400 at the world championships—and possibly the 38-year-old world record of 47.60 later this year. McLaughlin-Levrone is ranked fourth in the world in the 400 so far this year with a personal best of 49.51 on June 24 in New York City, but there are plenty of indications that she's capable of running much faster as soon as Saturday evening's U.S. championship final.
6. Britton Wilson is just getting started.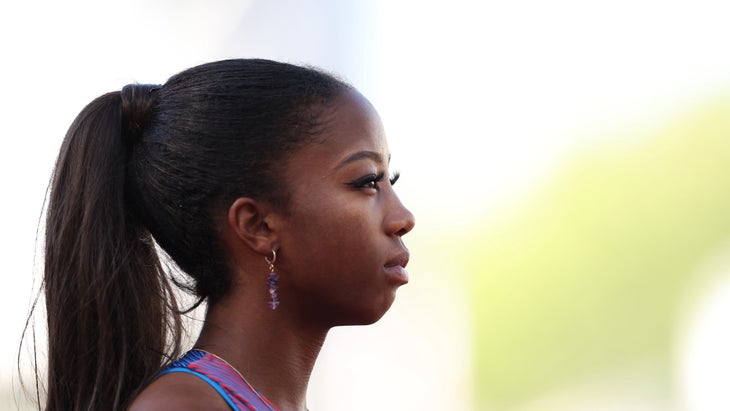 If it wasn't for McLaughlin-Levrone, Britton Wilson might be one of the headliners of the U.S. championships. The 22-year-old University of Arkansas junior sits atop the U.S. rankings in both the 400-meter dash (49.13) and the 400-meter hurdles (53.23) and could conceivably win (or at least finish among the top three) in either event this weekend and qualify for the world championships. But, like McLaughlin-Levrone, she's opting to run only the open 400. (It's now one of the deepest events in the U.S., with 14 runners under 51 seconds so far this year.)
Wilson was the top-ranked collegiate runner in each event this spring and attempted the unprecedented feat of trying to win both events at the June 10 NCAA championship meet in Austin, Texas, even though they were 25 minutes apart. She wound up second in the 400 and seventh in the 400 hurdles, but she's still one of the brightest young American stars in the sport.
7. Ryan Crouser is already the world's best shot-putter. Ever.
Ryan Crouser has been the best shot-putter in the world for several years, having won gold at the 2016 and 2021 Olympics, as well as the 2022 World Athletics Championships in Eugene. But now that he's reinvented how he winds up to throw the 16-pound steel ball, there's no telling how far he might be able to heave it.
During the offseason, Crouser changed his technique—replacing the typical stepping movement most athletes use to a slide motion at the start of his rotation—and the results have been phenomenal. At his season-opening meet at the USATF Los Angeles Grand Prix on May 27, Crouser broke his own world record by more than seven inches by tossing the shot 77 feet, 3.75 inches (23.56 meters). He's won all four of his competitions this year and typically throws his best in front of the vociferous crowd at Hayward Field. Crouser is already a legend in the sport, but his new technique could do for shot putting what Dick Fosbury's Fosbury Flop did for the high jump.
8. There's elite-level depth in the men's 5,000 and 10,000.
For the first time in history, the U.S. has five men in the 10,000-meter run with personal bests under 27:20. American record holder Grant Fisher (26:33.84) leads the way and has proven to be the best of the bunch, but Woody Kincaid (27:06.37), Joe Klecker (27:07.57), Paul Chelimo (27:12.73), Sean McGorty (27:18.15), and Conner Mantz (27:25.23) will be in a dog fight for the three spots that earn a ticket to Budapest.
RELATED: Why Are Runners Suddenly So Fast?
Although Chelimo is a few years older than the others at 32, he owns three global medals in the 5,000-meter run and, like McGorty and Mantz, still needs to run a fast pace to get under the world championship qualifying standard. All five of those athletes are also signed up for the 5,000-meter race two days later, so there should be some serious racing for the top three spots in each event, especially Abdihamid Nur (13:05.17), Morgan Beadlescomb (13:08.82), and potentially Cooper Tear (13:12.73) also in the mix.
9. Will Sumner and Katelyn Tuohy are young stars in the making.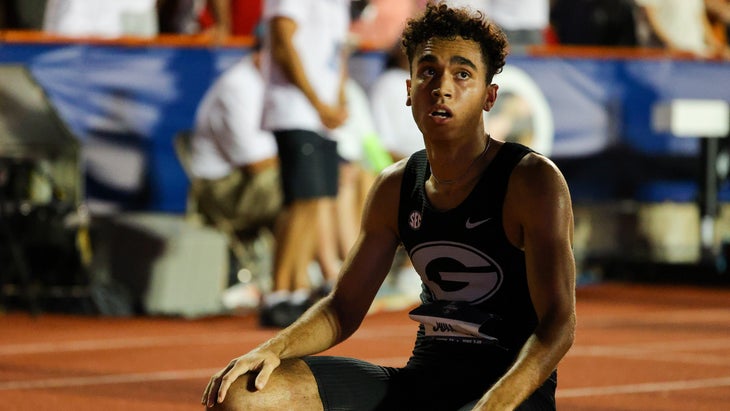 Although he's only 19 and a year out of high school, Will Sumner is already one of the 800-meter runners in the U.S. right now. With respect to established pros Bryce Hoppel (1:44.55), Clayton Murphy (1:44.75), and Isaiah Jewett (1:45:10), Sumner (1:44.26) has exceptional genes (his parents were both NCAA champion athletes) and he has been a quick study under Bulldogs' assistant coach Pat Henner.
The University of Georgia freshman just won the event at the NCAA Championships with negative splits (faster in the second 400-meter lap than the first one), ran the fifth-fastest time in NCAA history, and has a good shot to earn a podium finish in Eugene. Meanwhile, Tuohy, a North Carolina State junior, has already made her mark at the NCAA level, with three national championships on the track and another in cross country during the past two school years. She's entered in the 5,000 at the U.S. championships, and although her 15:03.12 seed time ranks her only 10th (behind nine professional runners), she's shown a gritty competitiveness and will likely find herself among the top five.
10. How fast can Athing Mu run the 1,500?
As one of the world's best runners in the 400- and 800-meter events, Athing Mu has been nearly unbeatable on the track since 2019—she's finished first in 52 of her past 54 races— but he's only raced once since last summer's world championships. That was a solid win in the 800 meters (1:58.73) at the USATF NYC Grand Prix on June 24.
Because she's the defending world champion in the 800, she has an automatic entry into this year's World Athletics Championships in Budapest, but at this weekend's U.S. championships, she's running the 1,500 (a.k.a. the metric mile).The 21-year-old Mu has only run that event once in recent years—a 4:16:06 effort during her only season at Texas A&M in 2021, but she also ran a 4:37.99 mile early during the 2022 indoor season. She should be able to advance to the finals Saturday evening, but finishing on the podium against a deep field that includes Heather MacLean (3:58.76), Elise Cranny (3:59.06), Cory McGee (4:00.61), Sinclair Johnson (4:00.77) and Nikki Hiltz (4:01.42) could be a tall order—unless it winds up being a slower kind of race that will play into Mu's closing sprint speed.
Lead Photo: Andy Lyons/Getty Images
Trending on Outside Online