The 2023 Western States 100 Endurance Run Preview
After 50 years, America's most cherished 100-mile footrace might be showcasing the deepest field ever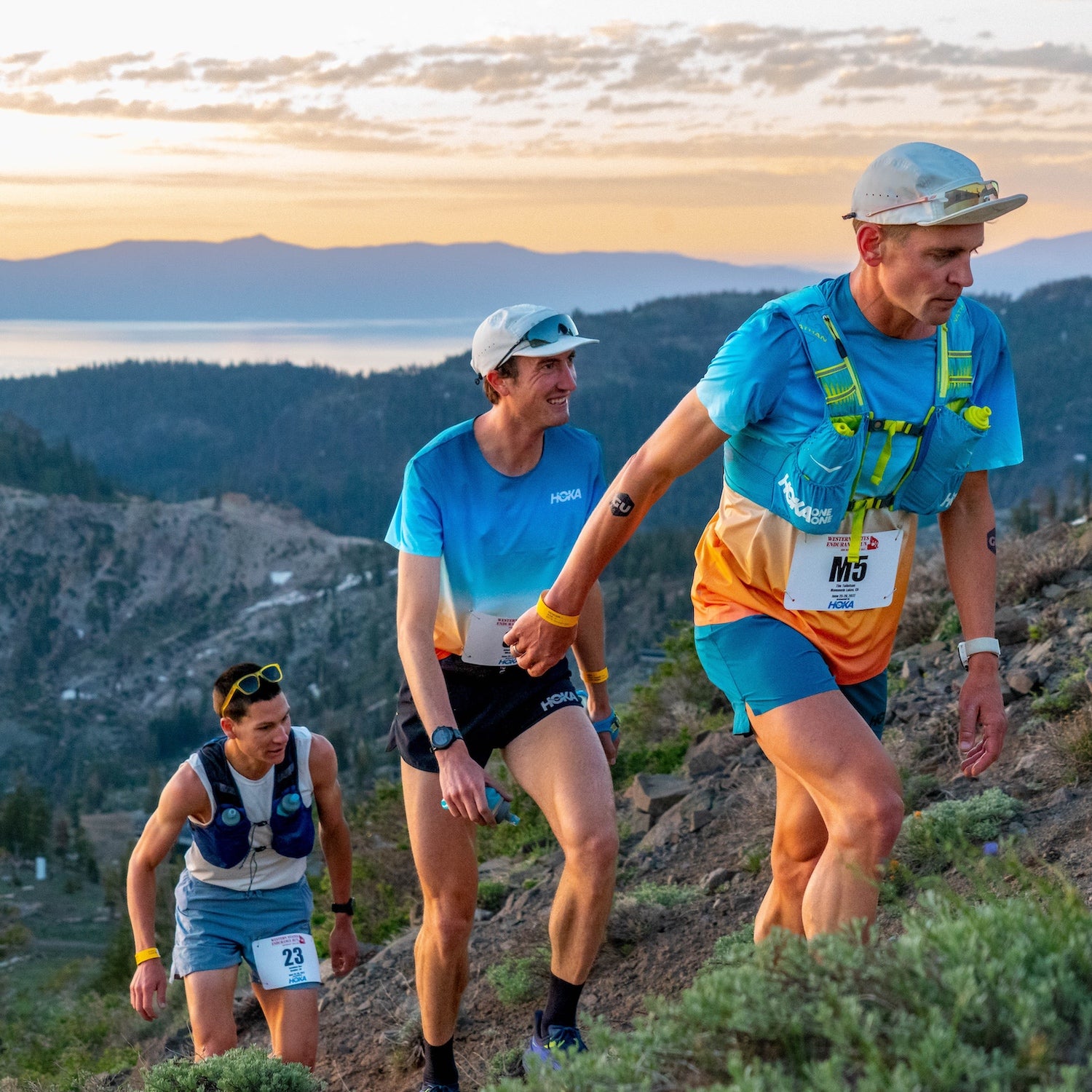 Peter Maksimow
Heading out the door? Read this article on the new Outside+ app available now on iOS devices for members! Download the app.
Where would ultra-distance trail running be without Gordy Ainsleigh? Probably not on the verge of celebrating 50 years of a 100-mile trail race from Olympic Valley to Auburn, California.
But thanks to Ainsleigh—and, of course, thousands of others that followed in his footsteps—the 50th Western States Endurance Run (a.k.a. the Western States 100) will get underway just before sunrise on June 24.
With a legacy tied to Ainsleigh's legendary effort 49 years ago this summer, the 2023 Western States 100 will send 381 runners on a 100.2-mile journey from the base of the Palisades Tahoe ski slopes on its legendary 100-mile route to the Placer High School track down in Auburn. It's not the oldest ultra-distance trail race of modern times, but it's one of the most prestigious because it really put the ultra-trail discipline and the 100-mile race distance on the map.
If you haven't heard the story, Ainsleigh had participated in the regionally popular 24-hour Tevis Cup horseback riding event a few times in the early 1970s, but in 1973 his horse went lame and he intended to buy another horse to compete in the next year's event. But, he says, he "never got around to it," and so he decided to try to run the entire length of the course.
See Trail Runner's Full Collection of Western States Coverage
Already known for his running prowess at a time when recreational running had started to boom across the U.S, Ainsleigh, then 27, set out early on the morning of August 3, 1974, to try to run the route. While many of the other equestrian participants encouraged him, many thought he was crazy.
It got tough after the halfway point, but he kept on chugging along, and in doing so, went a long way in defining the sport of ultra-trail running that now spans the globe.
"I just wasn't willing to quit because I wanted to be a part of that experience," Ainsleigh said. "It was really clear I was going to hit bottom really soon. And I knew I couldn't finish, but I came to the point where I said, 'well, I can still take one more step.' And so I decided to keep taking one more step until I could no longer take one more step."
When Ainsleigh jogged his way over the finish line in 23 hours and 42 minutes, he proved that it was, in fact, possible to cover 100 miles over dusty trails in less than a day.
The official race didn't begin until 1977, when 16 runners started and only three finished—Andy Gonzales, Peter Mattei, and Ralph Paffenbarger. But Ainsleigh, who would go on to finish the race 22 times, has always been credited as being the first official finisher.
It was after those initial efforts that the concept of earning a silver belt buckle for finishing a 100-mile race in 24 hours (and a bronze buckle for a 30-hour finish) first originated.
Although Ainsleigh hasn't run Western States in years, he's still trail running at age 76 and will be around for this year's event. He ran the Lake Sonoma Marathon last year and completed his most recent 100-miler in 2020 at the age of 72.
Ainsleigh last finished Western States in 2007 at the age of 60, but he's been given a special bib "0" in the ensuing years, even though he hasn't run it.
"Gordy is still around and kicking," Western States race director Craig Thornley said recently. "Fifty years is a long time in our sport, but it's still pretty young if you consider he's still around and still running."
Here's a rundown of runners to watch and other details of the 2023 Western States 100. The race will be broadcast via livestream on the event's YouTube channel beginning at about 4 A.M. PDT on June 24, one hour before the start of the race.
RELATED: Yes, Western States Is Worth the Hype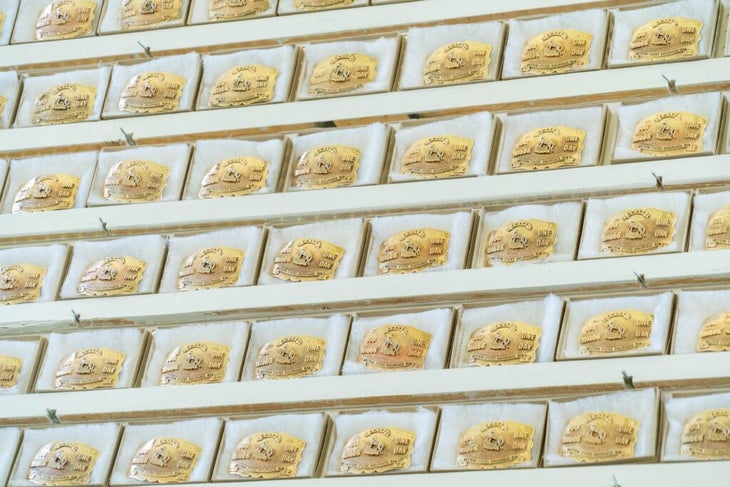 Women to Watch
This year's women's field is one of the deepest in the history of the race. (See the complete 2023 Western States 100 entrants list at this link.) Seven of the top 10 women finishers are returning from last year's race, led by Canadian runner Marianne Hogan, 32, who was third at Western States last year (18:05) and then two months later was second at UTMB in Chamonix, France.
Also returning are Zimbabwe's Emily Hawgood, 27, who was fifth in 18:16, Americans Leah Yingling, 32, (sixth, 18:32), Taylor Nowlin, 32, (seventh, 18:46), Camille Herron, 41, (eighth, 18:51), and Katie Asmuth, 37, (ninth, 19:30), as well as French runner Camille Bruyas, 31, (10th, 19:34). Herron, who set a new world record for running 435.33K (or 270.5 miles) in 48 hours back in March, is intending on doubling back to run the Leadville 100 on August 19, in Colorado.
RELATED: Katie Asmuth's Long Trail Back to Western States
In most years, that would be just about as deep as it gets, but accomplished Americans Katie Schide, Courtney Dauwalter, Keely Henninger, Riley Brady (Brady identifies as non-binary and competes in the women's award category), and Kaci Lickteig are also in the field, as well as 100-mile debutante Heather Jackson, 39, formerly an elite pro-Ironman triathlete from Bend, Oregon, who has switched her focus to gravel biking and ultrarunning.
Schide, 31, who grew up in Maine but has lived in France for several years while working on a Ph.D., won both UTMB, Val d'Aran 101K, last year as well as the Eco Trail de Paris 80K race in April. Dauwalter, 38, the 2018 Western States champion who lives at 10,000 feet in Leadville, Colorado, is back after winning Hardrock last year and now has set her sights on doing the unthinkable double of Western States and Hardrock just three weeks apart.
"Trying to bring my best self to both this summer," Dauwalter said recently. "100-mile races are fun because there are so many variables in play. Let's see what happens! My main goal? Leave it all out there in each race, and finish both." (Note: Devon Yanko announced on Monday, June 19th that she would not be running WSER due to rebound COVID.)
Oregon's Henninger, 31, and Brady, 28, are both Hoka Golden Ticket winners who have deep 100K and 100-mile race resumes, while Lickteig, 36, who hails from Omaha, Nebraska, is the 2016 Western States champion who returned last year after having surgery to repair a serious hamstring injury. Other top international runners include Canadian Jenny Quilty, 34, the winner of the 2022 UTMB Thailand, New Zealand's Nancy Jiang, 32, the winner of 2023 Tarawera 100K, and Sweden's Ida Nilsson, 42, the winner of 2023 Canyons UTMB 100K.
RELATED: What Strava Data Can Tell Us About How to Run a Fast 100-Miler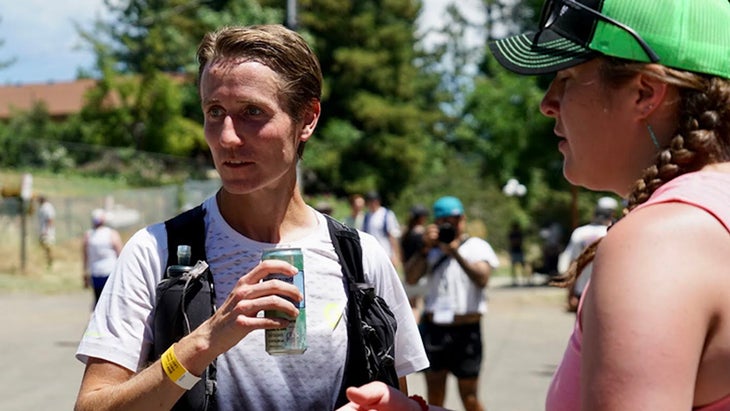 Men to Watch
Eight of last year's top 10 men's finishers are back in the field this year, with the only exception being last year's winner Adam Peterman, who is out with a sacral stress fracture. Last year's Western States runner-up (15:47) and eighth-place finisher in 2021, Hayden Hawks, 32, moved his family to Boulder, Colorado, after winning the Tarawera 100K in February with the intent of getting more mountain training under his belt with some of the elite ultra-trail runners who live there, including Drew Holmen, 30, who was fifth at WS100 last year (16:09) and the winner of this year's Lake Sonoma 50-miler; Jonathan Rea, 31, who was 16th at Western States last year (18:52); and Adam Merry, 32, who placed second at the Canyons 100K in April to earn a slot at Western States for the first time.
Other top returnees include: Ohio's Arlen Glick, 30, who has won nine of his previous 13 100-milers and placed third at WS100 last year (15:56), has been training on the course since late May; Oregon's Tyler Green, 39, who was fourth at Western States last year (15:57) after placing second in 2021; French runner Ludovic Pommeret, 47, who was sixth last year (16:20) and then went to Chamonix and won the UTMB TDS 145K; Colorado's Alex Nichols, 38, who has three top-10 WS100 finishes under belt, including eighth last year (16:28); Idaho's Cody Lind, 28, who was ninth last year (16:29) and is shooting for his third straight top-10 finish; and Massachusetts' Scott Traer, 42, a Beast Coast runner who won the Javelina 100 last fall after placing 10th (16:35) at WS100 last year.
RELATED: How to Run the Western States 100
Colorado-bred Dakota Jones, 32, third at Hardrock last year and the winner of the Javelina 100, is one of the more interesting stories after riding a steel-framed gravel bike 600 miles from his home near Salt Lake City to Olympic Valley last week, in the name of doing work to fight climate change with the Footprints Running organization he founded.
Canadian runner Matheiu Blanchard, 35, is a first-time Western States runner this year after a solid runner-up finish at UTMB last August and a third-place showing at the Marathon des Sables in Morocco in April. British runner Tom Evans, 31, returns after finishing third at WS100 in 2019 and second at Arizona's Black Canyons 100K in February, while Colorado's Jeffrey Colt, 32, continues to ascend the ranks after placing 11th at WS100 last year, finishing 14th in the 80K race at the 2022 World Championships and winning this year's Bandera 100K in January.
Among the other intriguing runners who shouldn't be overlooked include 2:18 marathoner Cole Watson, 31, who lives 20 minutes from the WS100 finish line Auburn, who was 14th (17:56) at WS100 last year and won the Canyons 100K in April; Utah's Anthony Costales, 34, won won the Black Canyon 100K in February; China's Jia-Ju Zhao, 29, who won Thailand by UTMB 100K last December and has won 21 other ultra races since 2018; and New Zealand's Daniel Jones, 31, a 2:16 marathoner who placed second at the Tarawera 100K and won the Lake Sonoma 100K this year.
RELATED: Yes, Western States Is Worth The Hype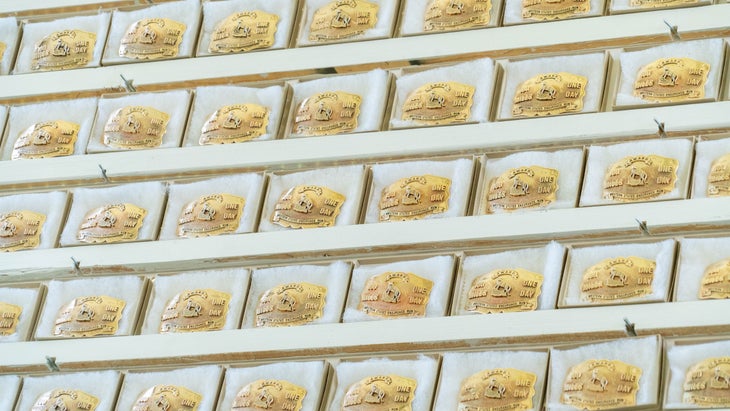 Running Through Snow and Fire Damage
Some of the massive snowfall that hit the Sierra Nevada mountain range over the winter and spring is still hanging around. It's melting fast, but it should be one of the snowier Western States 100 races in the history of the race as runners will encounter significant snow on the course for much of the first 35 miles of the course. The first couple of miles out of Palisades Tahoe resort will be dry, but then runners will likely be on snow most of the way to the Red Star Ridge aid station at the 16-mile point of the race.
They'll then run on dry terrain through Duncan Canyon, but then they'll encounter a few more miles of snow beginning at Robinson Flat near the 30-mile mark. After that, the route will be dry for most of the rest of the way, except for, of course, the Rucky Chucky American River crossing near mile 78. It will be mandatory that runners cross the river in boats this year, Thornley has said. Trekking poles are prohibited in the Western States 100 and the only traction allowed are shoes with built-in spikes. Strap-on crampon devices and shoes with screws drilled into the outsole are not allowed.
Runners will also encounter a lot of burned-out damage from last September's Mosquito Fire, which burned 16 miles of the Western States Trail between the Swinging Bridge, about one mile east of Devil's Thumb aid station, to about two miles west of the Cal-1 Aid Station. Crews of race officials, volunteers, the U.S. Forest Service, and other land agencies have worked hard to clear the trail of debris.
RELATED: 7 Quick-Hitter Takeaways from the 2022 Western States 100
Western States Weekend
While some runners, race crew, volunteers, and race officials have been hanging around Palisades Tahoe since this past weekend's Broken Arrow Skyrace trail running festival, Western States weekend officially kicks off at 10 A.M. on June 22 with a six-mile round trip hike from the starting line to High Camp and back. That afternoon, the race will host several seminars about crewing, ultrarunning research, representation and diversity, equity, and inclusion, as well as a book-signing event with author John Trent, who recently wrote Second Sunrise: Five Decades of History at the Western States Endurance Run. At 6 P.M., Hoka will present a "Legends of Western States" panel with several runners and race officials with long connections to the race. On Friday, Hoka's Uphill Challenge at 10 A.M. will provide an opportunity to run the first three miles of the course.
Fingers crossed, but the weather forecast for this year's race looks OK for now. Cool temperatures in the mid-30s are predicted for Saturday morning's 5 A.M. start at Palisades Tahoe resort and are expected to reach the low-40s on the first part of the climb toward the Lyon Ridge aid station at the 10.3-mile mark. But temperatures could rise into the upper 50s by the time runners reach the Red Star Ridge aid station (mile 15.8) and into the low-60s when runners start to hit the Robinson Flat aid station (mile 30.3) by mid-morning.
However, there is a 50 percent chance of mid-morning rain showers. But after that the weather is expected to clear up and get sunny, possibly rising to the mid-70s by Michigan Bluff (mile 55.7) and peaking in the low 80s by the time the first runners pass through Foresthill (mile 62) on Saturday afternoon before cooling on final miles to the finish line on the Placer High School track in Auburn. There's also a 60 percent chance of rain expected in Auburn in the wee hours of the morning on Sunday.
Lead Photo: Peter Maksimow
Trending on Outside Online