In Stride
Adidas Has a New "Illegal" Shoe. But Who Is It For?
Due to stack height regulations, pros can't race in the new Adizero Prime X. But it's fair game for amateur runners—we asked a few of them how they'd feel about competing in it.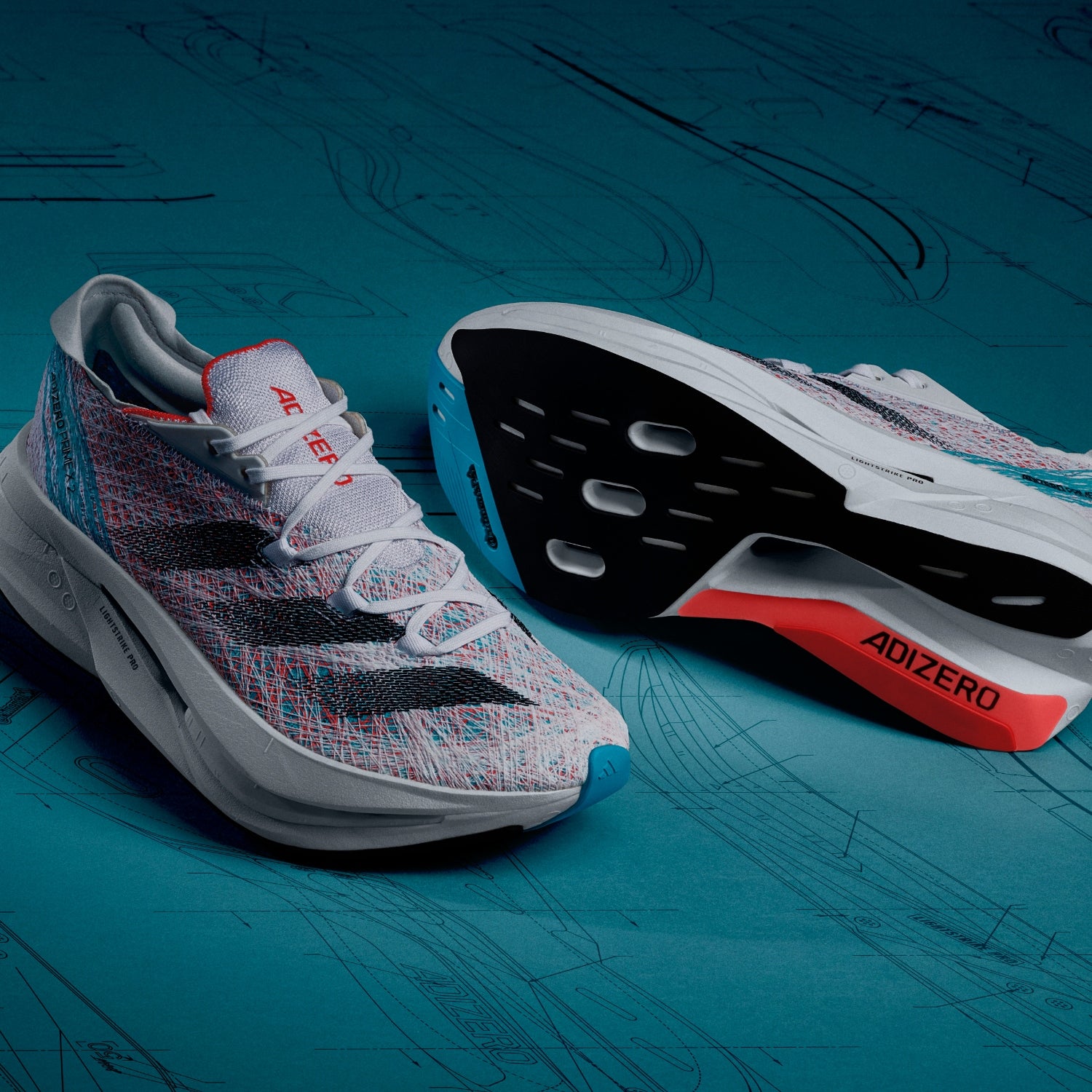 Courtesy Adidas
Heading out the door? Read this article on the new Outside+ app available now on iOS devices for members! Download the app.
Two years ago, the Ethiopian distance runner Derara Hurisa had his victory in the Vienna City Marathon annulled because he was wearing shoes that were one centimeter too thick. By all accounts it was an innocent mistake; Hurisa had been using Adidas's "Adizero Prime X" shoe in training and wasn't aware that its 50-millimeter stack height rendered it ineligible for professional competition. (World Athletics shoe regulations have set the limit at 40 millimeters for road races.) At the time, there was some discussion in running forums about whether or not this mini scandal would play out in Adidas's favor. On the one hand, an athlete had been disqualified for using their product. But the incident also gave the Prime X worldwide publicity and, arguably, a certain illicit allure. Whether Adidas would attempt to cash in on the shoe's notoriety remained to be seen.
That question now appears to have been answered. This week, Adidas is launching the second iteration of the Prime X. The press release for the Adizero Prime X 2 Strung, which will retail for $300, touts the shoe as "illegally fast" and notes that the shoe's designers were able to "unleash their full creative capabilities" since they didn't have to worry about regulatory constraints. As a result, the Prime X has not one, but two carbon fiber plates—another feature prohibited by World Athletics rules. (The stack height is still 50 millimeters.) But who is this shoe intended for? According to the press release, the new Prime X, while illegal for elites, "is permitted for ambitious runners aiming to smash their personal bests."
If you "smash your personal best" with extra super super shoes, did you really smash your personal best? It's one of the urgent philosophical questions of our time—at least for those among us who have terrorized our non-runner friends with granular explanations of why Pebax foam is superior to EVA. Running obsessives have been debating the significance of shoe-tech enabled PBs ever since the mass market arrival of super shoes in 2017 upended the sport by severing our ties with performances past. But most super shoes are legal for all runners to compete in. The prohibited status of the Prime X adds another dimension to the conversation.
Unlike Hurisa, I'm not at risk of having my big city marathon victory canceled after the fact. And yet, I wouldn't race in the Prime X. I'm not sure why I feel the need to adhere to standards set for professional athletes. (Especially since the rollout of those standards by World Athletics seemed more like reactive damage control than conscious policy-making at the time.) Maybe it's out of some ill-defined fealty to the running gods. Or maybe I have delusions of grandeur. I reached out to other amateur runners to get their opinion. Would they race in the Prime X if they felt the shoe gave them some competitive advantage?
Ann Mazur, who qualified for the 2020 Olympic Trials in the marathon and has since founded an apparel brand called Relay Active, told me that "anybody who takes running fast seriously really should take their footwear seriously too." For that reason, she would feel no guilt about vanquishing a rival who, for whatever reason, hadn't yet embraced the super shoe revolution. But for Mazur, this sentiment didn't extend to shoes that were explicitly prohibited, even if the rules don't officially include non-pros. "Since the stack height and carbon plate rules are already in place, I don't think anybody should wear them in a race," Mazur says of the Prime X.
Nicholas Thompson, an accomplished amateur marathoner and the CEO of The Atlantic—and an occasional training partner of mine who has always seemed annoyingly immune to effects of aging—told me that there was "no way," would he race in the Prime X. "If they're banned in the Olympics, I'm not using them in the Dash for Donuts 5K," Thompson told me. "The only records that count are the ones where we've all followed the same rules." I heard something very similar from Mario Fraioli, the man behind the Morning Shakeout podcast and newsletter. While Fraioli thought it likely that some ambitious amateurs might use the shoe to improve their PBs, for him personally, adhering to the same stack height regulations as the pros was the way to go: "While technology will continue to advance, you've got to draw the line somewhere, and for me and my peace of mind that's 40 millimeters."
Fraioli's answer alludes to the arbitrariness of the 40-millimeter threshold, which could conceivably be used as a justification for proponents of the Prime X. After all, when World Athletics updated its regulations in response to the super shoe revolution, it never tried to make the case that there was some specific reason for setting the stack height limit at exactly 40 millimeters—that everything under this magical threshold was fine and everything over it was an affront to the sanctity of the world's most elemental sport.
But the fact that many (if not most) sports rules are arbitrary doesn't make them any less relevant in defining the parameters of a given activity. My colleague Alex Hutchinson, a former national-level runner for Canada who writes Outside's Sweat Science column, told me that he was uneasy about racing in the Nike Vaporfly (the original super shoe) until World Athletics formally updated its rules, which settled the issue as far as he was concerned. There was never any ambiguity surrounding the legality of the Prime X, however. For Hutchinson at least, that makes it an easy decision not to race in them. As he put it to me: "What are the rules of the game? Whatever the people who make the rules say they are. If you don't abide by those rules, you're playing a different game."
Of course, not everyone is going to hold themselves to such a strict standard. Jeremy Rellosa, a former Outside gear editor and self-avowed Prime X enthusiast, told me that he regarded the shoe as a viable way to cut down his 10K and half-marathon times. Rellosa says he never had any qualms about the ethics of racing in an illegal shoe, because, as he puts it, "I'm not elite, and don't plan on ever reaching the levels of the elite runners who might actually get a real competitive edge from the crazy stack height and features of the Prime X 2."
When it comes to the fevered super shoe discourse, it's worth pointing out that there is, at least nominally, a difference between wearing premium footwear to maximize performance in a purely individualistic sense ("smash your person best") and wearing it to gain a competitive advantage against your fellow runners (or at least not be at a disadvantage). Obviously, there is some overlap between these respective motivations, but a shoe like the Prime X is a reminder that one is more subjective than the other.
"When super shoes came out, we all had to grapple with questions about what, exactly, we're pursuing when we line up for our non-professional races," Hutchinson says. "We all thought we were engaged in the lofty pursuit of self-knowledge, but super shoe sales suggest that we really just wanted to beat our rivals and training partners."
Lead Photo: Courtesy Adidas
Trending on Outside Online