The Best Post-Race Beer and Food in Boston
Your guide to the best bars, parties, and brews following the Boston Marathon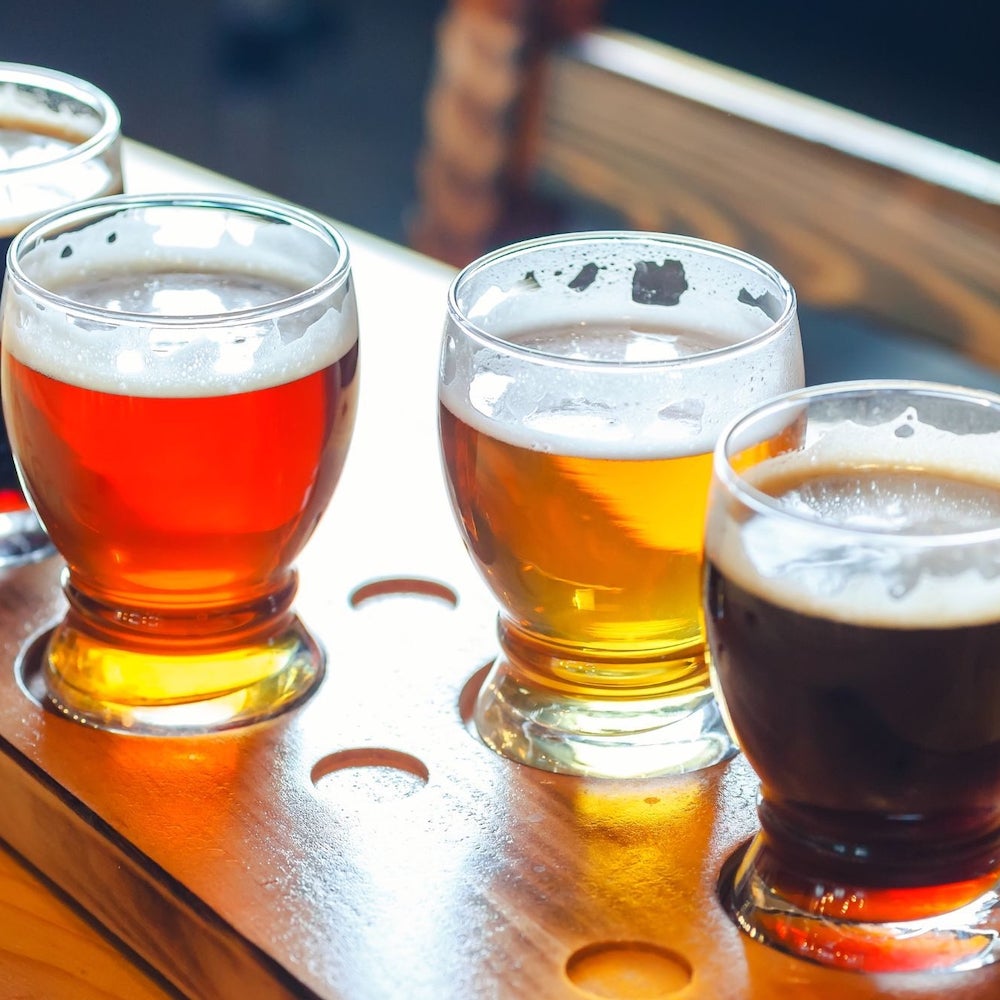 Getty Images
Heading out the door? Read this article on the new Outside+ app available now on iOS devices for members! Download the app.
This article is part of Outside Run's complete 2023 Boston Marathon race coverage.
Running 26.2 miles is wicked fah!
If you run from Hopkinton, Massachusetts, all the way to Copley Square in Boston, you'll definitely work up a good appetite and earn your beverage of choice.
It's too bad the late Tommy Leonard can't serve you a cold draft at the old Eliot Lounge. Located three-quarters of a mile from the Boston Marathon finish line, the erstwhile Massachusetts Avenue bar was a runner's hangout for two decades before it closed in 1996. That was largely due to Leonard, once the marathon's official greeter, who had also been voted Boston's best bartender—even though, legend has it, he was never known to serve anything more than a shot and a beer.
With a nod to Leonard and an assist from local runner Natalie Obssuth, lead Run Concierge at The Westin Copley Place, Boston, we present the best post-race hangouts within a few miles of the finish line, plus some notable post-race parties and a few of the best beers brewed in Boston.
Best Local Hangouts
The Publick House
1648 Beacon Street, Brookline
This family-owned bar and restaurant serves up good pub food and Belgian, German, and American artisanal beers. It's been voted the best beer bar in Boston several times and is known for its legendary mac and cheese. "The Publick House is a dive located right around Mile 23 and serves up craft brews and carb-loading dishes that are ideal for a post-marathon celebratory moment," Obssuth says.
ArtBar
40 Edwin H Land Boulevard, Cambridge
Known for its creative seasonal cuisine from chef Dave Mahady, ArtBar, located at the Royal Sonesta Hotel in Cambridge, is a warm, intimate retreat for food, wine, art lovers, and runners interested in relaxing on its famous patios. "ArtBar is one of the most popular places to go for post-marathon celebrations, and it's one that I always try to pop into when I'm in town," Obssuth says. "On Marathon Monday, the restaurant offers a curated Marathon 26.2 menu—for runners, friends, families, and fans."
Joe's on Newbury
181 Newbury Street, Boston
Located on Boston's historic Newbury Street, Joe's has been a classic hangout of the Back Bay community for years. It has an extensive beverage list and serves New England steak and seafood classics, seasonally inspired dishes and made-from-scratch comfort food you'll crave after running a marathon. (Hint: You must try the braised short rib meatloaf!)
"Joe's American Bar & Grill encourages marathoners to stop by and fuel up before the race, and celebrates those runners who come back when they finish," Obssuth says. "They also have a 'Thank You Mural' for first responders working throughout the race."
High Street Place Food Hall
100 High Street, Boston
High Street Place dates back to 1930, when it was originally built for the United Shoe Machinery Corporation headquarters and became Boston's first skyscraper. Nowadays, it features 19 food and beverage options, including Wheelhouse (voted Boston's best burger), Fuji as HSP (one of the best sushi restaurants), Alewives Taproom (craft beers), Dive Bar (seafood and raw bar), and Bubble Bath (champagne and wine bar).
"High Street Place Food Hall is one of my favorite places to fuel up in the days leading up to the race," Obssuth says. "They serve a wide array of choices—including locally sourced options and healthy alternatives. You'll always spot other runners out and about here, which makes for an electric energy leading up to the race."
Post-Race Gatherings
Boston Marathon Mile 27 Post-Race Party
Fenway Park, 4 Jersey Street, Boston
The Boston Marathon's official post-race party presented by Samuel Adams returns to Fenway Park this year for the first time since 2019. The event will feature live entertainment, a presentation of champions, concessions, and access to the edge of the outfield to take photos. All participants were emailed a notice about buying tickets, which are $5 for runners and $15 for guests, and can be purchased online. (Kids 12 and under are free, but they must be accompanied by an adult.)
Brooks Running Finisher Celebration
Brooks Hyperion House, 137 Newbury Street, Boston
The Hyperion House will be hosting pre-race events all weekend, but once the race is over, it will serve cold beers and be giving away limited-edition finisher scarves, while supplies last, from noon to 6 P.M.. on Marathon Monday.
Harpoon Brewery Marathon Celebration
Harpoon Beer Hall, 306 Northern Avenue, Boston
Head down to Boston's Seaport District to visit one of the city's most popular local brewpubs, as it hosts a post-race party from noon to 8 P.M. on Marathon Monday. The event will feature deals on drinks and food, and the first 75 runners who show their finisher's medal will receive a commemorative pink glass. If that's not enough, massage chairs will be available for reservations from 4 to 6 P.M.
Marathon Weekend Celebrations
Samuel Adams Downtown Boston Taproom, 60 State Street, Boston
In addition to brewing its 26.2 Brew Gose style ale, in partnership with the Boston Athletic Association, Samuel Adams will be celebrating Marathon Monday with runners and local band Brick Park performing down from 3:30-6:30 P.M. The next day, (a.k.a. Marathon Tuesday), Des Linden will drop in to sign her new book, Choosing to Run, from 1 to 3 P.M.
Tracksmith After Party
Tracksmith Trackhouse, 285 Newbury Street, Boston
Every year since 2017, this Boston-based running apparel and footwear brand recreates a little Eliot Lounge magic to celebrate marathon finishers at its Trackhouse. This makeshift Eliot Lounge is flanked with throwback running paraphernalia—a nod to the adornments of the original—with cold beer on tap from noon to 7 P.M. on Marathon Monday.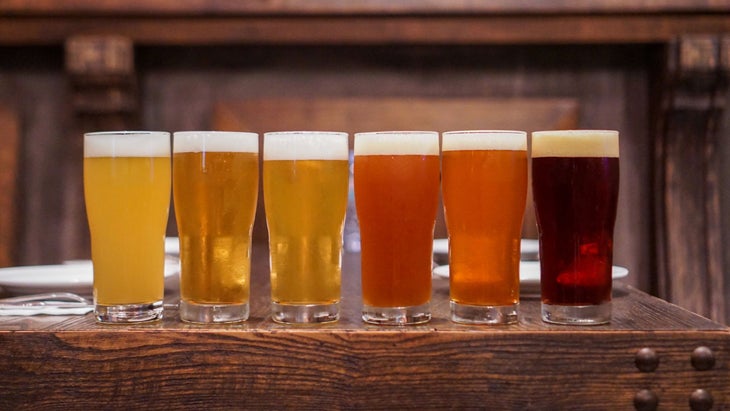 Five Refreshing Boston Beers
26.2 Brew – Samuel Adams
A beer list for marathoners must include this easy-drinking Boston Marathon-themed golden beer.  The 26.2 Brew is a light-bodied, refreshing Gose-style ale with 4 percent ABV. It might not be Gatorade for adults (which is how the brewery refers to it), but it goes down easy if your intent is to rehydrate with beer.
Whirlpool – Night Shift Brewing Company
You might be craving a hot tub to soothe your legs, but this Whirlpool will quench your thirst. This mild New England Pale Ale has notes of peaches and citrus fruits, which makes it a favorite for runners who are looking for refreshment over staunch flavor. It's hazy, juicy, and extensively hopped, but also flavorful and easy to drink (4.5 percent ABV) with the post-race meal of your choice.
Goody Two Shoes – Exhibit 'A' Brewing Company
Clearly the name of this beer is a reference to your carbon fiber-plated marathon racing shoes! This crisp Kölsch-style ale (4.5 percent ABV) brings the vibe of Cologne, Germany, to the streets of Boston. Brewmaster Matthew Steinberg, who founded Exhibit 'A' in 2016, studied the brewing craft in Europe to create this refined, light-bodied, effervescent brew with a lemony zeal.
Rec. League – Harpoon Brewery
While the Boston Marathon isn't exactly the rec league of running, this hop-forward hazy pale ale (4 percent ABV) is a refreshing, crushable brew that Harpoon says is the perfect way to celebrate life's victories—like crossing the finishing line on Boylston Street. It's brewed with buckwheat kasha, chia seeds, and sea salt, so there are rejuvenating qualities to go along with its refreshing tropical notes.
Boat Under Train Under Car Under Plane – Trillium Brewing Company
If you've run the Paul Dudley White Bike Path along the Charles River, then you know the name of this beer—colloquially known as "BuTuCuP"—is a reference to a spot along the Charles where rowers (or runners) can pass under a railroad bridge that crossed the river under the Boston University Bridge, which, of course, is under a sky filled with planes coming in and out of Logan. While this tart and fruity American pale ale (5.5 percent ABV) evolved out of a love of rowing, Boston-based Trillium Brewing Company loves runners, too—so much it sponsors the Spring 5K race in early May in Canton, Massachusetts.
Lead Photo: Getty Images
Trending on Outside Online