Camille Herron Sets New Women's 48-Hour Running World Record
The American ultrarunner set a new women's world record on Saturday after logging 270.505 miles at the Sri Chinmoy 48-Hour Festival in Canberra, Australia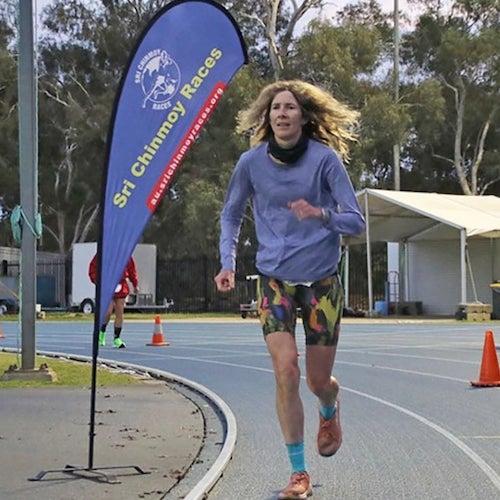 Courtesy Camille Herron
Heading out the door? Read this article on the new Outside+ app available now on iOS devices for members! Download the app.
Camille Herron has always said that the longer she runs, the better she gets.
The American ultrarunner proved that by setting a new women's world record on Saturday after logging 435.336K (or 270.505 miles) in 48 hours at Sri Chinmoy 48-Hour Festival in Canberra, Australia
While running through both dry and rainy conditions during the two-day event on the track, the 41-year-old runner from Warr Acres, Oklahoma, broke the existing women's world record of 411.458 (255.668 miles) set by UK runner Joasia Zakrzewski last month at the Taipei Ultramarathon and also surpassed the all-time American record of 421.939K (262.181 miles) previously set by Olivier LeBlond in 2017.
In surpassing LeBlond's mark, Herron became the first female athlete ever to hold an overall American record at any distance.
How far is 435K or 270.5 miles on a standard 400-meter track? That's 1,088 laps. There were several points in which runners changed direction, and Herron took a few breaks to eat and take brief naps.
Herron's effort makes her the third fastest human in the 48-hour category, behind only Greek legend Yiannis Kouros (473.495K or 294.216 miles) and narrowly trailing Ukrainian runner Andrii Tkachuk (435.446K or 270.573 miles).
Amazing – World Record set at AIS track, with @runcamille completing massive 435.3k (1,088 laps) in 48hrs…also 3rd fastest human ever! #WomenAreWarriors #runsweatinspire #SriChinmoy pic.twitter.com/MuObPbDb5j

— Rob de Castella (@deek207) March 26, 2023
"I really want to keep going and keep pushing," Herron told Outside in February. "I think that we're going to continue to see barriers being broken and bars raised. I want to see how close I can get to the men's world records, or even exceed a men's world record. I really think the future is about being able to go longer and to find out what's possible for women."
RELATED: Camille Herron's Advice For Ultra Athletes: Skip the Long Run
Herron is the current world record holder for 50 miles (5:38:41), 100 miles (12:41:11), and 24 hours (262.192K or 162.919 miles). She also became the first athlete to win all three of the road IAU World Championships for 50K, 100K, and 24 Hours.
She also owns a 2:37:14 personal best in the marathon and is a three-time U.S. Olympic Trials qualifier (2008, 2012, 2016) but hasn't focused on the marathon since moving up to ultra-distance events in 2011.
Coming up next, Herron will be gearing up for both the Western States 100 in California, June 24, and the Leadville 100 in Colorado, August 19, a daunting double that American running legend Ann Trason claimed tandem victories on three occasions from the late 1980s to the mid-1990s when ultrarunning was in its infancy. After two Western States DNFs and a 26th-place finish in 2021, Herron finished eighth at Western States in 2022.
Herron ran 239.6K (or 148.88 miles) in 24 hours, earning a qualifying spot for the U.S. team that will compete in the IAU 24-Hour World Championships on December 2-3, in Taipei, Taiwan. The 24-hour world championships wasn't held in 2021 because of COVID-19, so she'll be defending the world title she won in 2019.
Lead Photo: Courtesy Camille Herron
Trending on Outside Online