CJ Albertson Reclaims the 50K World Record
The elite marathoner ran 5:07 mile pace for over 31 miles to reclaim a record he'd already set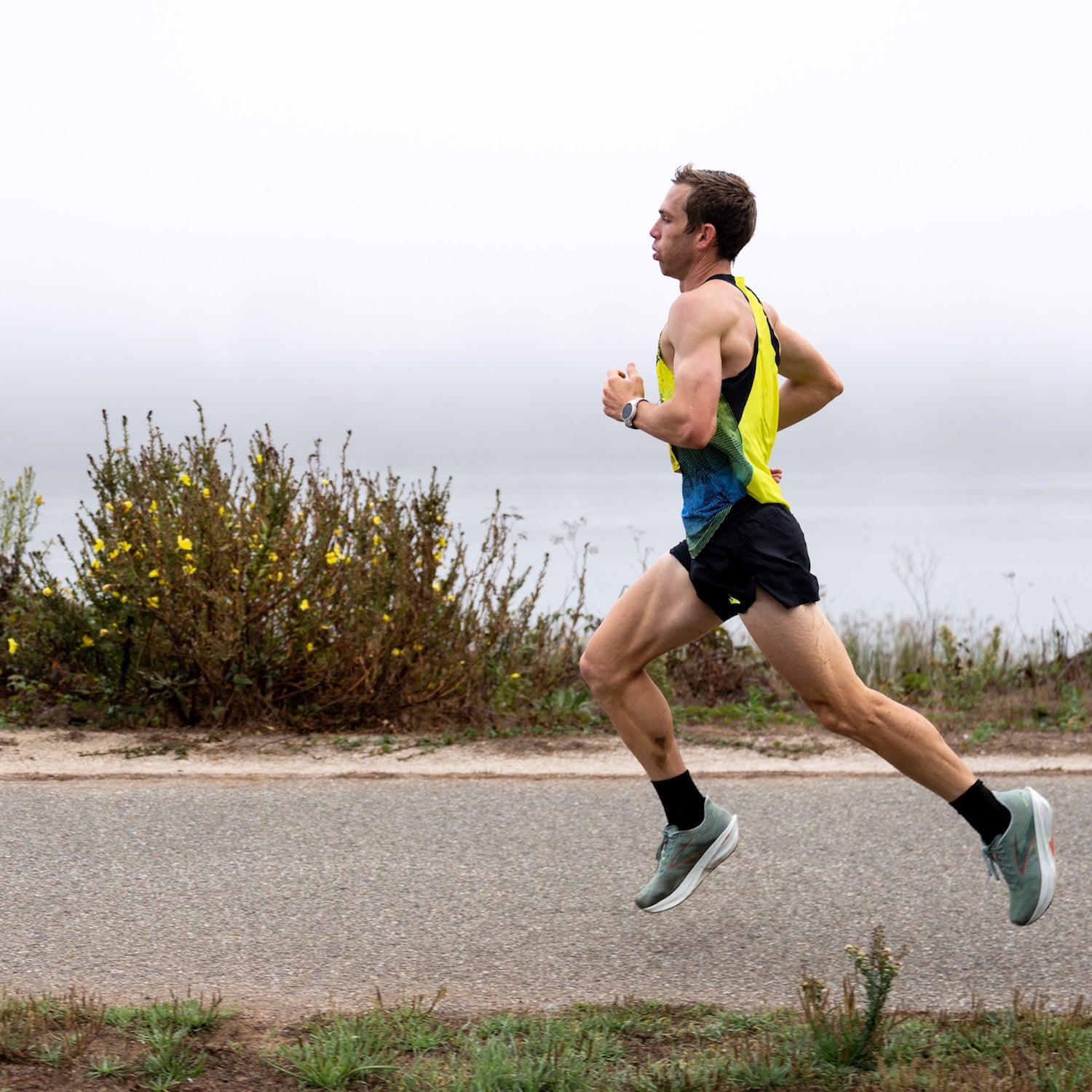 Tony DiPasquale
Heading out the door? Read this article on the new Outside+ app available now on iOS devices for members! Download the app.
After CJ Albertson finished coaching his college cross country team last Friday afternoon, he drove three hours to San Francisco, checked out the course of the 35th Annual Ruth Anderson Memorial Run, got a few hours of sleep, woke up on Saturday, and ran a new all-surfaces 50-kilometer world record.
The 28-year-old professional marathoner covered the 31.07-mile course on a 4.5-mile (7.24 km) loop in 2:38:44. That's a 5:07 mile pace, or the equivalent of running a 2:14:03 marathon and then an additional 4.87 miles at the same pace.
"Really glad to see someone with talent who's willing to actually commit 100% to this game!" Colorado ultrarunner Anthony Kunkel said on Instagram. "Props to CJ Albertson."
"It definitely felt pretty encouraging for a training effort."
For Albertson, it felt like a good effort – for a training run. The record-setting effort was a purposeful part of his build-up for the Valencia Marathon on December 4, 2022, in Spain.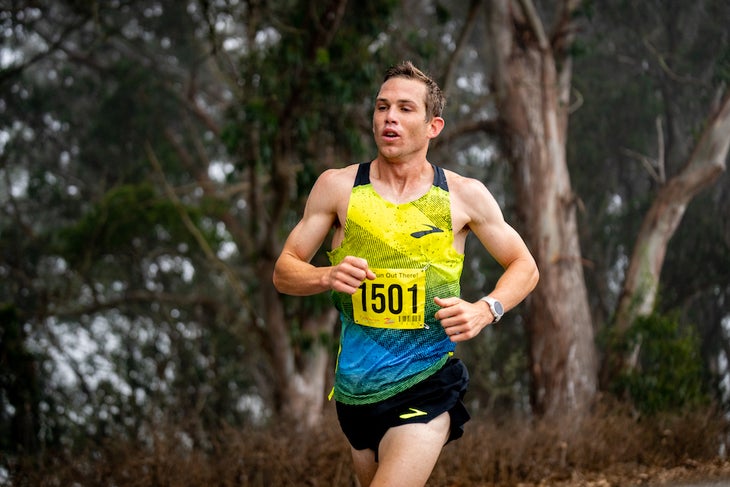 "It definitely felt pretty encouraging for a training effort," said Albertson, who teaches physical education and coaches track and cross country at Clovis Community College in Fresno. "Maybe I'm in a little bit better shape than I felt like I was in my training. Before this, my training has felt kind of average. Nothing has really stood out, nothing really impressive. But this felt good because the first 10 miles were faster than anything I have done in training for a while. The last 15 miles I backed off to make sure I got the record."
Since running a 2:13:40 personal best at the California International Marathon in 2019, Albertson has been one of the best marathoners in the U.S., not to mention one of the most prolific. He's run seven marathons since then, five of which were 2:11:49 or faster.
In April, he lowered his PB to 2:10:23, en route to finishing 13th place at the Boston Marathon. Then he came back two months later and posted a 2:10:52 while finishing fifth at Grandma's Marathon in Duluth, Minnesota.
His first big breakthrough came at the U.S. Olympic Trials Marathon on February 29, 2020, in Atlanta, where he finished seventh in 2:11:49 on a hilly course with windy conditions. He entered that race as an unsung, unsponsored runner, but signed a sponsorship contract with Brooks soon after. But then COVID-19 struck and running races were postponed.
Although Albertson had a great high school career, he admits he wasn't a very good collegiate runner at Arizona State. He broke 14 minutes for the 5,000m on the track a couple of times, but he never made it to the NCAA Championships in cross country or track. But that's often the case with postcollegiate runners who find success in the marathon in their late 20s.
Brian Sell was another runner of similar credentials who, despite modest college times, famously earned a chance to represent the U.S. in the marathon at the 2008 Olympics, in Beijing. It was a similar story for Colin Mickow, too, who earned a Team USA slot at last summer's World Athletics Championships in Eugene, Oregon, after lowering his marathon PB to 2:11:22 at age 30.
Consistent and Relentless Pursuit of Goals
Albertson's continued progression has mostly been the result of consistent training and being relentless in the pursuit of his goals. He's focused more on all-body strength workouts this year and has been running a lot of faster workouts at 4:40 mile pace or faster. His weekly mileage has been in the 120- to 130-mile range during the peak part of his marathon buildups and will continue that for the next six weeks or so.
"I do a lot of reps between 1,200 meters and a mile," he said. "I never really have super specific workouts. I run the volume that feels good on that day. I'm always going to do about 10K worth of training. It just depends on my time and energy. Sometimes I'll do 5-6 miles of intervals in the morning and then the same in the afternoon, so then I get about 10 miles of quality intervals in a day but it's broken up into two sessions."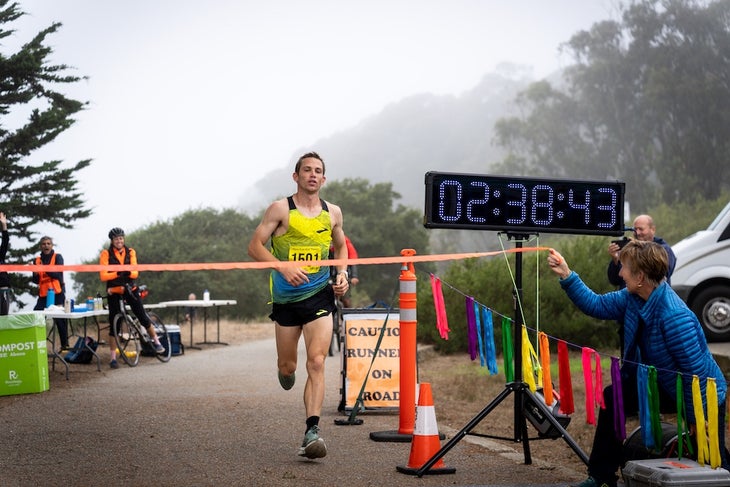 Last week's new 50K mark is actually the third world record set by Albertson in the past three years. In 2019, he broke the indoor marathon world record on the 200-meter track at The Armory in New York City with a time of 2:17:59.
As a lead-up to The Marathon Project race in December 2020 in Chandler, Arizona, Brooks helped Albertson set up a 50K world record attempt on a track in Fresno in early November. Running 125 laps around the 400-meter oval at 5:14 mile pace (or about 78.5 seconds per lap), Albertson set his first world record of 2:42:30 that day. It was an integral part of his training, en route to lowering his marathon PB to 2:11:18 a few weeks later.
That record was later broken a couple of times—most recently by South Africa's Stephen Mokoka, who ran 2:40:13 earlier this year—so Albertson figured he'd give it another attempt, as part of his buildup to Valencia. When he found out about the race, Albertson thought it would be an ideal time because it was about eight weeks away from his marathon.
Albertson purposely ran the first 8 miles between 4:40 and 4:55 pace before averaging about 4:55-5:05 for 12 miles, 5:12, and then backing off to 5:05-5:17 for the final 11. He passed the 26.2-mile point in 2:11:30.
He now hopes for a big breakthrough in Valencia in his third marathon of 2022.
"I don't feel like I have had that breakout race like I feel I can do," he said. "I know it's there and have seen some things in training. I think I can run in the 2:07 range on a fast course like Valencia. In the long-term, I want to get down to the 2:05-2:06 range to kind of be more competitive. It seems like I am a long way from there because my PR is 2:10, but I think not everything is aligned in a race yet. I'm eager for that day to happen."
Lead Photo: Tony DiPasquale
Trending on Outside Online