Don't Miss These 10 Events at the Track and Field World Championships
The 2023 World Athletics Championships are must-see TV and here's why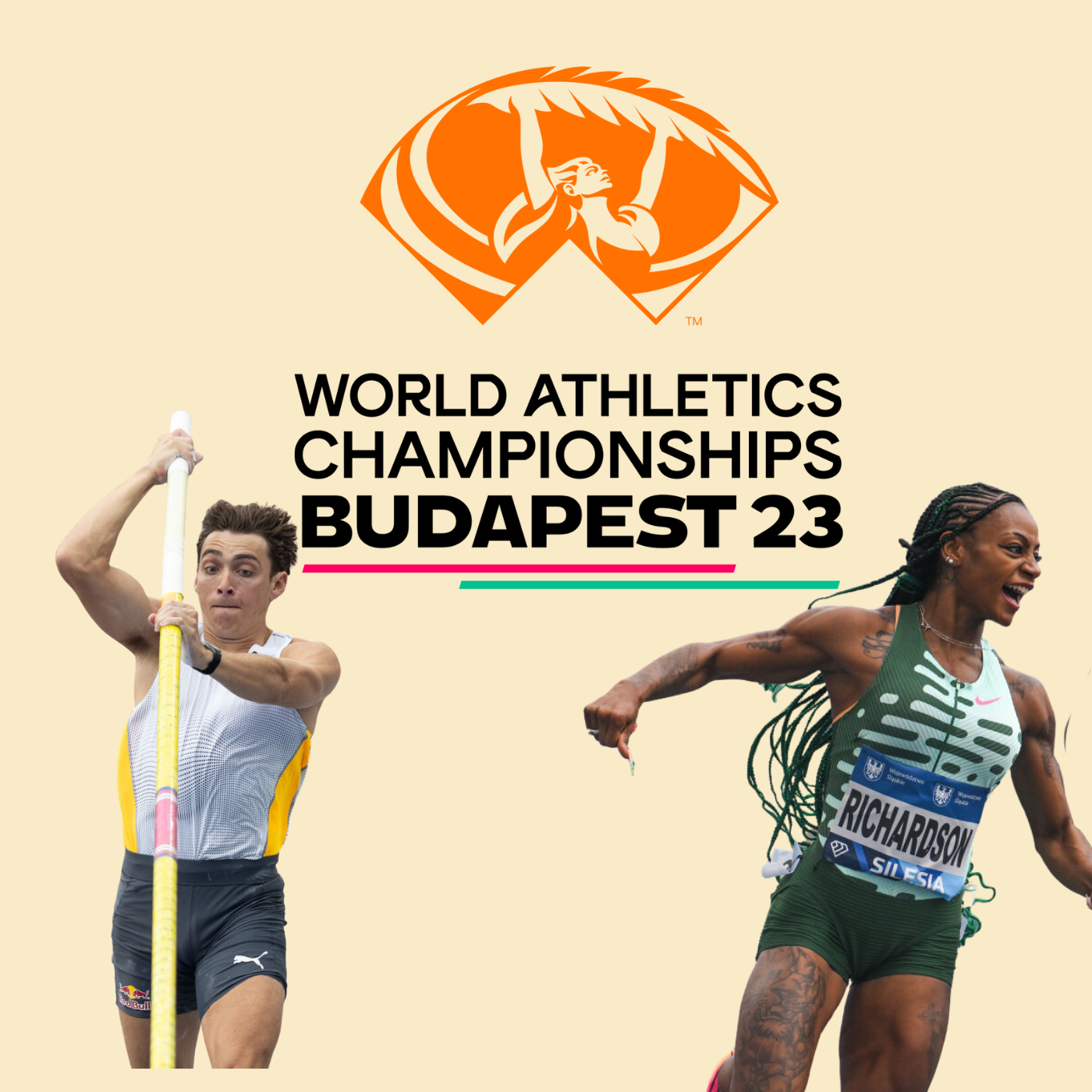 Getty
Heading out the door? Read this article on the new Outside+ app available now on iOS devices for members! Download the app.
Track and field is about to interrupt the dog days of summer. Are you ready to be gripped with excitement? 
In what might be the world's most multifaceted, diverse, and exhilarating event in all of sports, the World Athletics Championships—a.k.a. the track and field world championships—is about to push the boundaries of speed, strength, agility, and endurance. OK, yes, I'm a track nerd, so there might be a twinge of geeky exuberance in my tone. But the bottom line is that the August 19-27 competition at the brand new National Athletics Center in Budapest, Hungary will feature 2,200 athletes from 202 countries serving up advanced levels of high-performance running, throwing, and jumping, while serving as a preview for the 2024 Olympics in Paris. And everybody loves watching the Olympics, right? 
Here's a rundown on the most awe-inspiring athletes and events on display over the coming week.
1. USA's Sha'Carri Richardson Versus Jamaica's Shericka Jackson
This 100-meter battle is what the world has been waiting for since 2021. American Sha'Carri Richardson and Jamaican Shericka Jackson have been two of the top sprinters in the world since then, but they have only raced each other three times—all last year, but not in championship races. In one race early last season, they tied at 10.92 seconds behind Jamaica's Elaine Thompson-Herah, who blazed the field with a 10.79 clocking, and two other times late in the season Jackson narrowly got the best of Richarson. 
Yes, Richardson famously got suspended for marijuana and missed the chance to run in the Tokyo Olympics, but that was then, this is now, and this is going to be an epic showdown. While 36-year-old Shelly-Ann Fraser-Pryce, a five-time world champion and two-time Olympic champion, is still a viable contender and still considered the G.O.A.T., it's Jackson and Richardson who have been running the fastest this year and are deservedly getting most of the hype. 
The 29-year-old Jackson was the silver medalist in last year's world championships and owns the world's fastest time, a 10.65 effort that she ran in Jamaica's national championships in Kingston. That was the day after the 23-year-old Richardson ran a career-best 10.71 in the prelims of the USATF Championships in Eugene, Oregon. Richardson won her first U.S. title the next day in 10.82 (after ditching her orange wig at the start line), and by then the buzz for this showdown was already through the roof. 
Fraser-Pryce showed she's still got plenty of zip in her legs when she ran 10.82 and 10.83 efforts two nights apart at meets in Switzerland and Spain in late July. There are other fast runners who will be in the mix—Marie-Josée Ta Lou of the Ivory Coast (10.75), Julien Alfred of Saint Lucia (10.82), and Tamari Brown of the U.S. (10.89)—but the championship finals on August 21 should be a mad dash for all the marbles (and a $70,000 winner's prize!) between Jackson and Richardson, and hopefully, a built-in rematch next summer in Paris.
2. Who Will Become the New World's Fastest Man?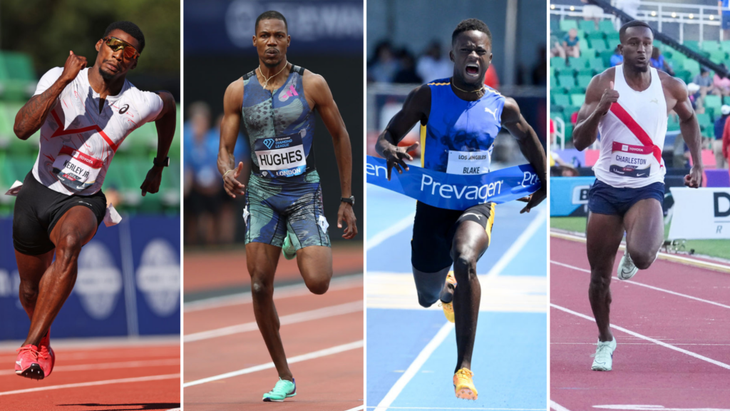 It's odd to enter a championship meet with so little certainty in the men's field of the 100 meters. It's the race that will determine who is the fastest human on the planet, even though retired Jamaican star Usain Bolt still holds the world record at 9.58 seconds. 
There are at least eight competitors who could win it. Can American Fred Kerley repeat his 9.86-second gold medal effort from 2022? The 28-year-old Texan is ranked third in the world with the 9.88 he ran back in May. He's run four times since then, all in the 9.90s, winning three and finishing a one-hundredth of a second behind South Africa's Akani Simbine (9.97) at a Diamond League meet on July 16 in Poland. 
Or will it be rising British star Zharnel Hughes, who tops the world list with the 9.83 he ran in New York City on June 24? Or will it be Kenya's Ferdinand Omanyala (9.84), who not only beat Kerley last summer at a meet in Nairobi, but won the Kenyan championships in 9.85 on July 8? 
There are plenty of other contenders—Jamaica's fast but inconsistent Ackeem Blake (9.89), who won the 100 at the USATF Los Angeles Grand Prix in late May; Nigeria's Godson Oghenebrume (9.90), the NCAA runner-up this spring while competing for LSU, and a trio of Americans: unsung Cravont Charleston (9.90), who won this year's U.S. championships on support from Tracksmith's Amateur Support Program, 2019 world champion Christian Coleman (9.91), and two-time 200-meter world champion Noah Lyles (9.94). Who's the favorite? Who knows? It's going to be a run for the ages and the winner will become a superstar heading into Paris next summer.
RELATED: 10 Things To Know About the World's Fastest Man
3. Femke Bol Could Surpass the Legendary Sydney McLaughlin-Levrone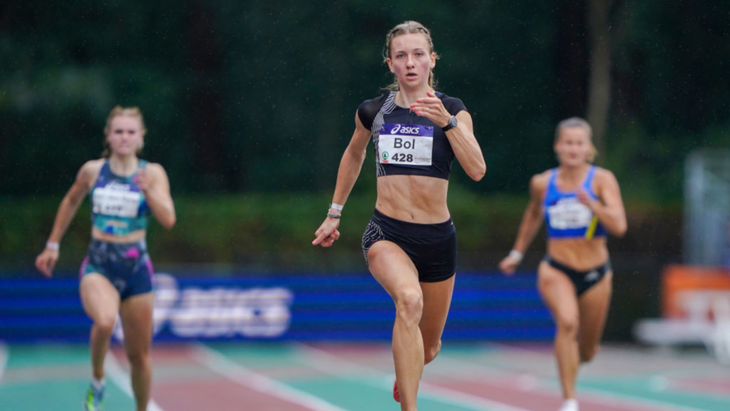 Unfortunately, Sydney McLaughlin-Levrone, arguably the world's top track star, is going to miss this year's world championships because of a minor knee injury. But her 2022 world record (50.68 seconds) in the 400-meter hurdles might not survive Budapest, either. That's because Femke Bol, a 23-year-old Dutch athlete, is on the same trajectory that McLaughlin-Levrone was on the last two years. 
Bol, who earned a bronze medal in the event at the Tokyo Olympics and a silver medal at last summer's world championships, has been tearing up the track this summer. She clocked a 51.45—the second-fastest time in history—at a Diamond League meet in London in late July. That's one-hundredth of a second faster than McLaughlin-Levrone ran en route to winning the event at the Tokyo Olympics, so if she's following the same trend a sub-51-second time could be possible in the world championship finals.
4. The Men's 'Metric Mile' Will Be a Historic Race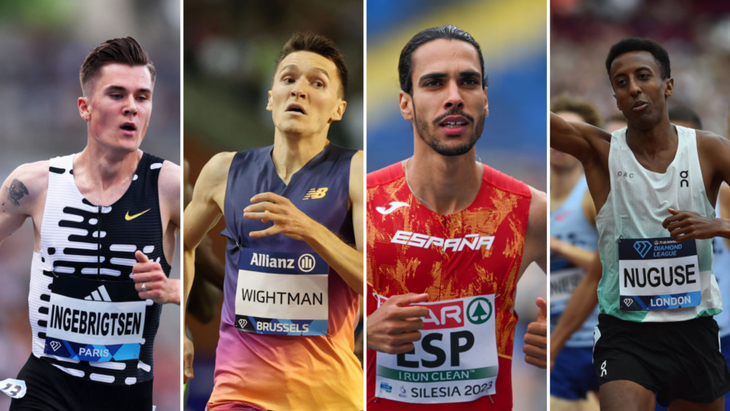 A mile race on the track is the ultimate event, an ideal mix of endurance, speed, patience, and suspense. It's long enough to require both strategy and instincts, but short enough to serve up edge-of-your-seat excitement. Same goes for the 1,500-meter race, which is considered the metric equivalent of the mile, even though it's 109 meters short of the traditional four-lap imperial race. 
This year's men's 1,500-meter field is one of the deepest in history; so far this year a record 11 guys from nine countries have broken 3:30, which is the equivalent of a 3:46 mile. It's rare that a 1,500-meter championship race is run all-out like that, but instead most races start relatively slow and quickly crescendo into a fast sprint to the finish. 
The 1,500-meter championships record is 3:27.65 from the legendary 1999 race (that was won by world-record holder Hicham El Guerrouj), but there's a good reason to believe that will be challenged this year. The favorite in this year's race is Jakob Ingebrigtsen, a brash, bold, and very talented 22-year-old Norwegian who has run a world-leading 3:27:14 this year. But Ingebrigtsen learned his lesson last year by letting unsung British runner Jake Wightman get loose and win the world championship race in 3:29.23, a mistake he certainly won't let happen again. With rising elite talents Mohamed Katir of Spain (3:28.89) and American Yared Nuguse (3:29.02) also in the field amping up the competition, it has all the makings of an all-time race.
5. Anna Hall Is a Next-Level Athlete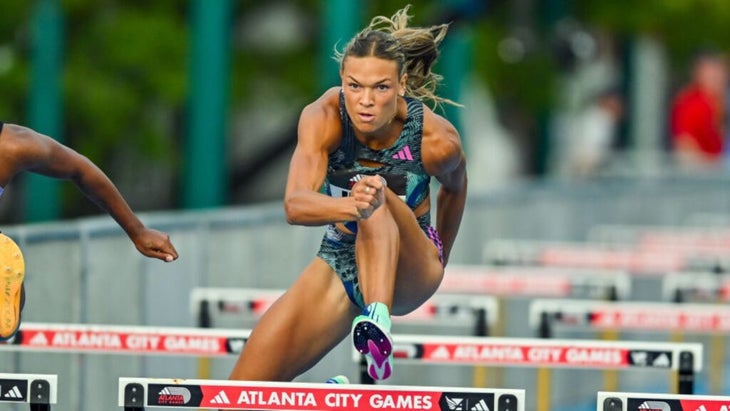 Anna Hall might be the best all-around athlete in the U.S. right now and appears to be on a trajectory to even greater things. In short, Hall can do it all. Although she's only 22, Hall is  talented enough to compete on an international level in a diverse range of events (400-meter hurdles, 400-meter dash, 100-meter hurdles, 800-meter run, high jump), but she's already the world's best in the heptathlon. What is the heptathlon? It's a seven event, two-day competition that includes the 100-meter hurdles, high jump, shot put, 200-meter dash, long jump, javelin throw, and 800-meter run—a demanding test requiring equal parts speed, strength, power, endurance and dexterity. 
Just a year ago, Hall was the NCAA heptathlon champion (and 400-meter hurdles runner-up) while competing for the University of Florida. She parlayed that into a third-place finish at the world championships last year, quickly bursting onto the international stage. This year, Hall has elevated her stature even more after setting a world-best mark of 6,988 points at a meet in Austria in late May— the No. 5 performance of all-time—and winning her first U.S. title with 6,677 points in July. It probably won't be long—and maybe as soon as next week—before she'll approach the legendary world record of 7,291 points set by American legend Jackie Jooyner-Kersee while winning the first of two Olympic gold medals in 1988.
6. Norway's Karsten Warholm Is a One-of-a-Kind Hurdler (and Lego Enthusiast)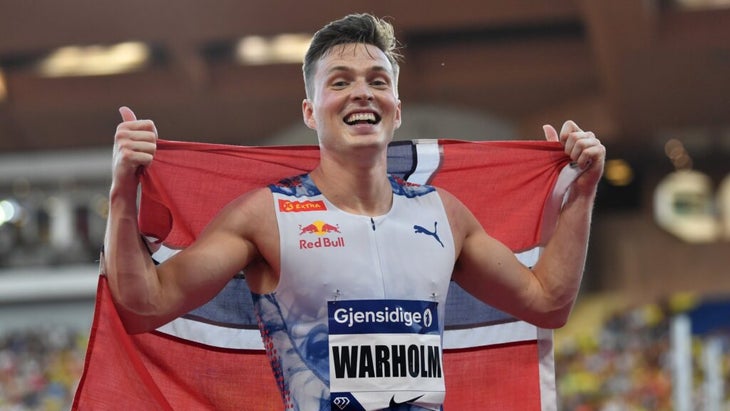 While Sydney McLaughlin-Levrone took the women's 400-meter hurdles to new heights, Norway's 27-year-old Karsten Warholm has taken the event to beyond the stratosphere. Already the 2017 and 2019 world champion, in 2021 he broke the event's 29-year-old world record and then won the gold medal at the Tokyo Olympics in a mid-blowing 45.94 seconds, famously ripped off his running top like Clark Kent morphing into Superman when he crossed the finish line. That's a fast time for running a 400 without hurdles! 
Already a Norwegian national hero—an estimated 25 percent of the country's population watched him win the 2019 world championship race in Doha—he became a celebrity known for building massive structures out of Legos, funny TV spots, and even playing (and losing) a round of the "Streetfighter" video game against prime minister Erna Solberg. Although he missed last year's world championships with a hamstring injury, he's come back with a vengeance this year. He's undefeated in four 400-meter hurdle races in 2023, running three of the six fastest times in history, including a world-leading 46.51 last month in Monaco.
7. Kenyan Superstar Faith Kipyegon Is the G.O.A.T.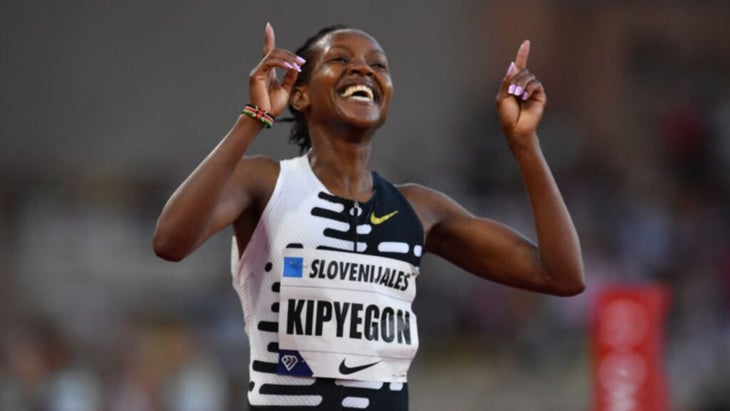 Faith Kipyegon is a 29-year-old Kenyan middle-distance runner and mother of a five-year-old daughter who has re-written a good chunk of the women's record book this summer. Already a two-time world champion and two-time Olympic champion, Kipyegon has been on a tear this summer, breaking world records for the 1,500 (3:49.11), mile (4:07.64), and 5,000 (14:05.20). 
What's most impressive about Kipyegon is that she's become the world's greatest female runner in an era when the depth of competition has never been better. She'll be the favorite in the 1,500-meter and 5,000-meter that will start and finish the championships, though she'll likely be  challenged by Letesenbet Gidney, Kenya's Beatrice Chebet, and Ethiopian-born Dutch runner Sifan Hassan in the longer race.
RELATED: Olympian Faith Kipyegon Just Broke Three World Records. She's Not Slowing Down
8. Keira D'Amato, a 38-Year-Old Mother of Two, Is a Medal Contender in the Marathon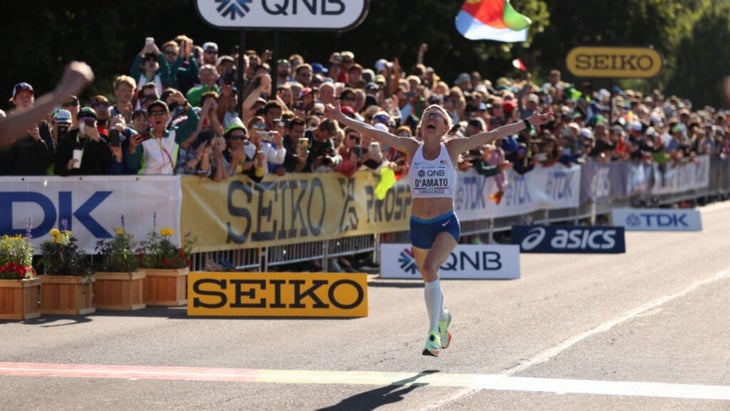 The women's marathon will be stacked with talented young runners who have run under 2:20, but among them will be 38-year-old American Keira D'Amato, who continues to break the mold of what's possible for female athletes after choosing to start a family and a career in her early 20s, instead of pursuing competitive running. After a 10-year hiatus from racing, D'Amato, a mother of two young sons, has become the Nike-sponsored world-class marathon runner she had always dreamed she would be. After setting an American record in 2022 (2:19.12, later broken by Emily Sisson), she went on to place eighth at the world championships (2:23.34), sixth at the Berlin Marathon (2:21.48), and 15th in the New York City Marathon (2:31.31). She's in the best shape of her life heading to Budapest, having set a new American record at the Gold Coast Half Marathon (1:06:39) in Australia on July 1 and placing third at the TD Beach to Beacon 10K (31:58) on August 5 in Maine. Expect D'Amato to be in the thick of it and have the chance to fight for a medal.
RELATED: How U.S. Record Holder Alicia Monson Prepares for a World Title Run
9. Ryan Crouser, Armand Duplantis, Mutaz Essa Barshim, and Paweł Fajdek Are Clutch Performers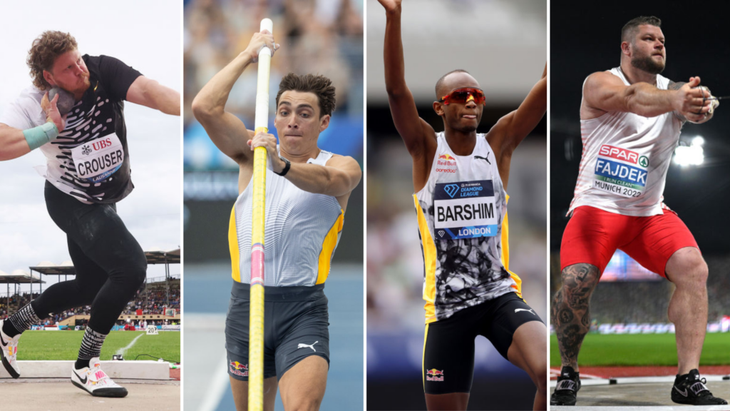 Four of the most dominant athletes in the meet are athletes you've probably never heard of but absolute masters of their craft. American shot-putter Ryan Crouser has been the best in the world for several years, having won gold at the 2016 and 2021 Olympics, as well as the 2022 World Athletics Championships in Eugene. He retooled his form in a new technique called the "Crouser slide" and, in May, broke his own world record by more than seven inches by tossing the shot 77 feet, 3.75 inches (23.56 meters). Since first breaking the pole vault world record three years ago, Armand "Mondo" Duplantis, a 23-year-old Louisiana-born American pole vaulter who competes for his mother's native Sweden, has improved the mark by a centimeter five more times. It now stands at 6.22 meters (or 20 feet, 4.75 inches), which means he could vault himself onto the roof of a second story building. 
Meanwhile, Qatar's Mutaz Essa Barshim is the second-best high jumper in history and has won gold in the last four major competitions, including famously tying for gold with Italy's Gianmarco Tamberi at the Tokyo Olympics two years ago. Nicknamed "The Falcon," the 32-year-old Barshim could challenge the 30-year-old world record of 2.45 meters (or 8 feet, 1⁄4 inches) set by Cuba's Javier Sotomayor in 1993. Lastly, Pawel Fajdek, a 34-year-old Polish hammer thrower, is aiming for his sixth straight world title. If he wins again, he would match retired Ukrainian pole vaulter Sergey Bubka, who won six world titles between 1983 to 1997, with the most world gold medals in an individual event.
10. American Women Could Vault to New Heights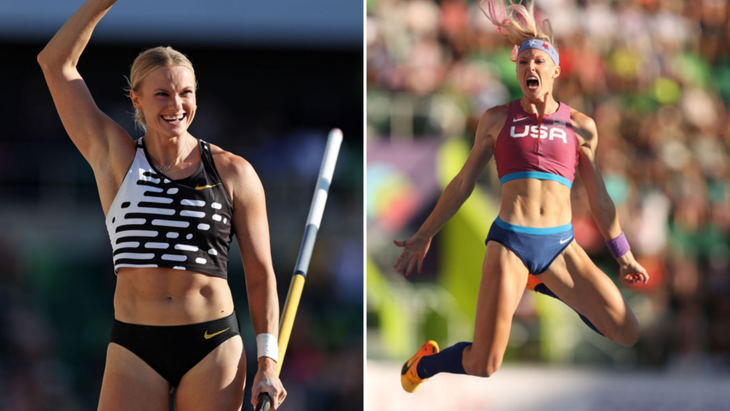 Americans Katie Moon and Sandi Morris are both all-time greats and gold medal contenders in the pole vault, a discipline that's only been contested by women at international championships since 2000. Moon, 32, is the reigning Olympic and world champion and the number one-ranked pole vaulter in the world based on the winning 4.90-meter vault (16-feet-⅞ inches) she achieved at the USATF Championships. Morris, 31, meanwhile, owns silver medals from the past three world championships (2017, 2019, 2022) and the 2021 Olympics and her 2016 personal best (5.0 meters or 16-feet, 5 inches) remains as the American record. 
But the next generation will be there too, as 18-year-old sensation Hana Moll vaulted to a new personal best of 4.61 meters (15-feet-1.5 inches) to place third in her first USATF Championships in July to earn her first chance to compete for Team USA. As one half of the pole vaulting Moll twins of Olympia, Washington (her sister, Amanda, is also an accomplished pole vaulter), she won the junior world championships last year and this year won the Washington state high school meet by more than two feet. 
You can watch the 2023 World Athletics Championships live on Peacock TV, CNBC, NBC, and the USA Network. For live updates on the championships schedule, click here.
Lead Photo: Getty
Trending on Outside Online