Evans Chebet, Hellen Obiri Win the 2023 Boston Marathon
Pre-race favorite Eliud Kipchoge falters, fades to sixth place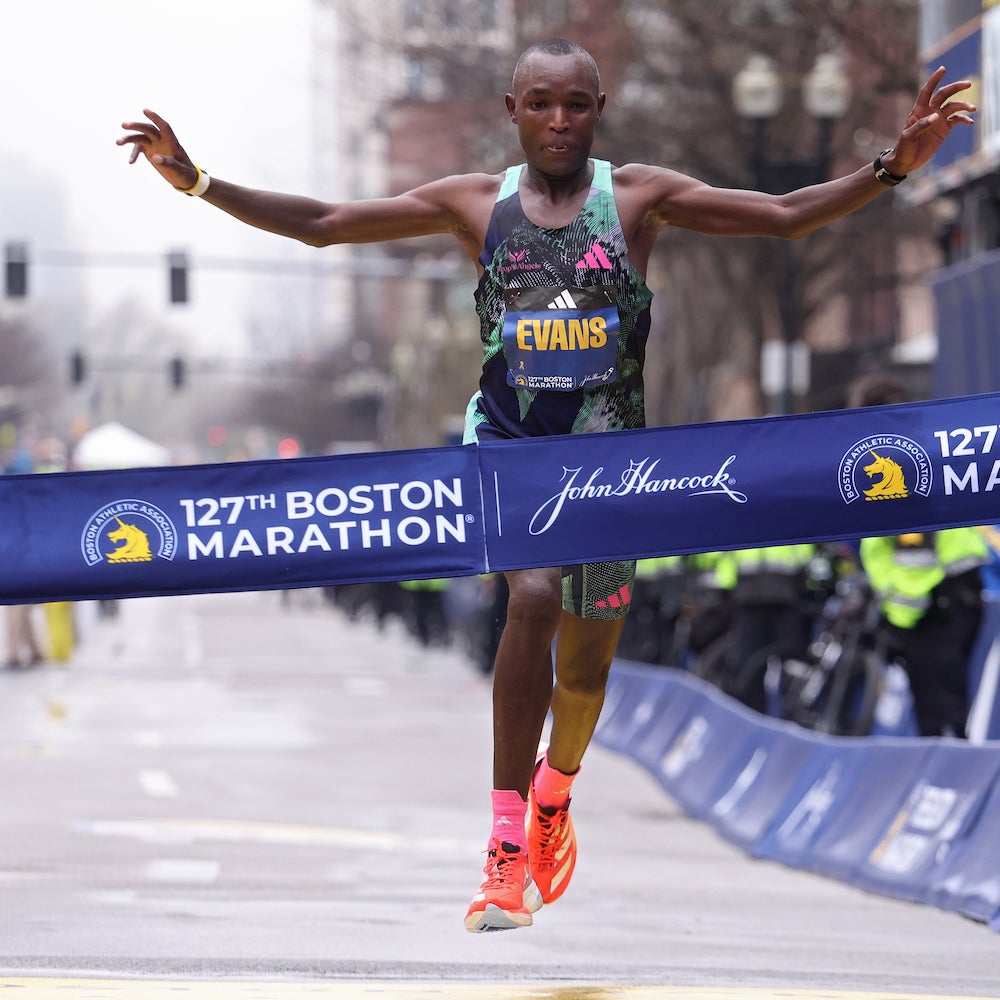 Maddie Meyer/Getty Images)
Heading out the door? Read this article on the new Outside+ app available now on iOS devices for members! Download the app.
This article is part of Outside Run's complete 2023 Boston Marathon race coverage.
Kenyans Evans Chebet and Hellen Obiri stole the show at the Boston Marathon on Monday morning.
After breaking away from training partner Benson Kipruto and Tanzania's Gabriel Geay at the 24-mile mark, Chebet surged down Boylston Street to win the race in 2:05:54 and become the sixth man to repeat as the Boston Marathon champion.
Meanwhile, Obiri, running in just her second marathon, outran a deep women's field to win in 2:21:38—the 10th fastest time in Boston history. The 32-year-old Kenyan and mother of a 7-year-old daughter who just moved to Boulder, Colorado, outran pre-race favorite Amane Beriso of Ethiopia, who placed second in 2:21:50. Israel's Lonah Salpeter finished third in 2:21:57.
Obiri ran her debut marathon in New York last fall, but struggled in the final miles and finished sixth in 2:25:49. That left such a bad taste in her mouth, she was on the verge just sticking with half marathons. But after getting settled in Boulder and undergoing improved training under coach Dathan Ritzenhein with the On Athletics Club, she was changed her tune.
"I was feeling like my body was ready," Obiri said. "I believed in myself."
Although Chebet's stunning win might have been unexpected, it shouldn't be a total surprise. The 34-year-old Kenyan won Boston (2:06:51) and New York City (2:08:41) last year and was the top challenger to marathon legend Eliud Kipchoge. Geay finished second in 2:06:04, followed by Kipruto in third in 2:06:06.
Chebet wore Adidas Adizero Adios Pro 3 shoes, while Obiri ran in a pair of On CloudTri 1.
It wasn't the race that most people expected as Kipchoge, the pre-race favorite, world record holder, and all-time marathon G.O.A.T., faltered and finished sixth in 2:09:23, but it turned out to be one of the most compelling races in Boston Marathon history.
Kipchoge, the 38-year-old Kenyan marathon legend, had won 15 of the 18 marathons he'd entered in his career, including the 2016 and 2020 Olympic races. He looked comfortable and in control for the first half of the race, but he missed the chance to grab one of his Maurten fueling bottles midway through the race and wasn't able to stay with the lead pack through the Newton Hills.
Kipchoge was gracious in defeat, although he opted not to answer questions from the media after the race.
"I live for the moments where I get to challenge the limits," Kipchoge said in a statement after the race. "It's never guaranteed, it's never easy. Today was a tough day for me. I pushed myself as hard as I could but sometimes we must accept that today wasn't the day to push the barrier to a greater height. In sports, you win and you lose and there is always tomorrow to set a new challenge. Excited for what's ahead."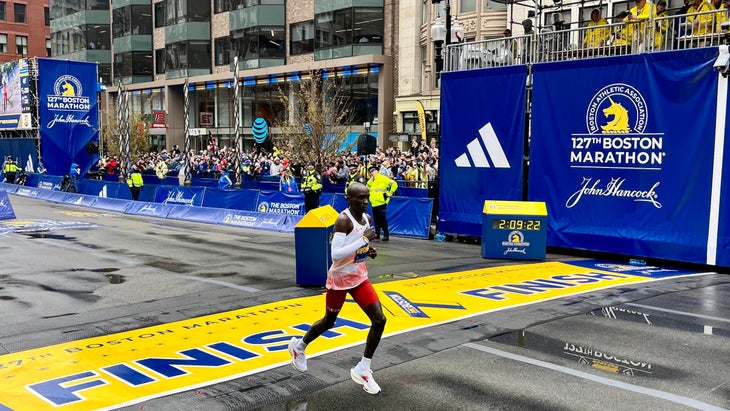 After a disruptive surge from Geay near the 19-mile mark split the men's lead pack of seven runners apart, Chebet and training partner Kipruto continued to push the pace after the Newton Hills with Geay. After a 4:37 mile through the 22-mile mark, Chebet, Kipruto, and Geay engaged in an epic battle over the final three miles to the finish.
"26.2 miles is 26.2 miles, but in Boston the course is different," 2014 champion Meb Keflezighi said during the ESPN broadcast. "When you run 4:37 miles back to back to back to back at the start of the downhill miles, that's going to have a big impact on your legs."
In the women's race, there was a large pack of women running stride for stride late in the race. American Emma Bates emerged as one of the leaders in the Newton Hills and was still among the women's pack of five through 24 miles, but she faded as the pace surged up front and wound up fifth in a new personal best of 2:22:10—the second fastest American women's time in Boston. It's the latest in a strong of strong marathon performances for Bates. She finished second at the 2021 Chicago Marathon and seventh in the 2022 world championships in Eugene, Oregon, last summer.
"The goal was to win, but I took fifth, so again, there's always something to shoot for. But to be top American at the Boston Marathon and to run the second fastest time on the Boston course of all-time…that's special," Bates said.
Scott Fauble was the top American in the men's race, finishing seventh in 2:09:44. It's the third time since 2019 that Fauble has finished seventh in Boston. Fellow American Matt McDonald, a local Boston runner, placed 10th in 2:10:17. American Conner Mantz ran with the lead back through about 17 miles, but fell off the pace in the middle of the Newton Hills and wound up 11th in 2:10:25.
Switzerland's Marcel Hug won the men's wheelchair race in a new course record of 1:17:06, his sixth Boston Marathon title and his third course record. American Susannah Scaroni, twice a runner-up in the women's wheelchair race, won her first Boston title in 1:41:45.
RELATED: Hellen Obiri Sets Her Sights on Boston
Fast Early Pace for Men
The men's race started out hot, with Kipchoge, Evans, and Mantz leading a group of 11 runners blazing through three downhill miles in 13:49 (4:36 mile pace). They kept running hard through six miles in 27:53 (4:42 pace) when the course flattered out a bit.
Even as the pace settled down a bit, Kipchoge looked calm and in control. The men's lead pack still had 11 runners running in Kipchoge's wake as they reached the 10-mile mark in 47:18 (4:56 mile pace). Mantz and CJ Albertson were still in the lead group when they reached the halfway point in 1:02:19, but then the pace started to pick up again and by mile 16 the lead pack had dwindled to just seven runners after the leaders ripped off a 4:23 downhill mile.
Slow Start for Women
The women's race started slow with a 6:09 opening mile and a modest 17:14 split through three miles. It was still a sizable pack of more than 20 runners that went through the 6-mile mark together in 33:39. But things got spicy shortly after that as Beriso started to push the pace off the front. By the 9-mile mark (49:05), the women's lead group was down to eight runners briefly after the pace had quickened with three straight miles in the 5:09-5:10 range.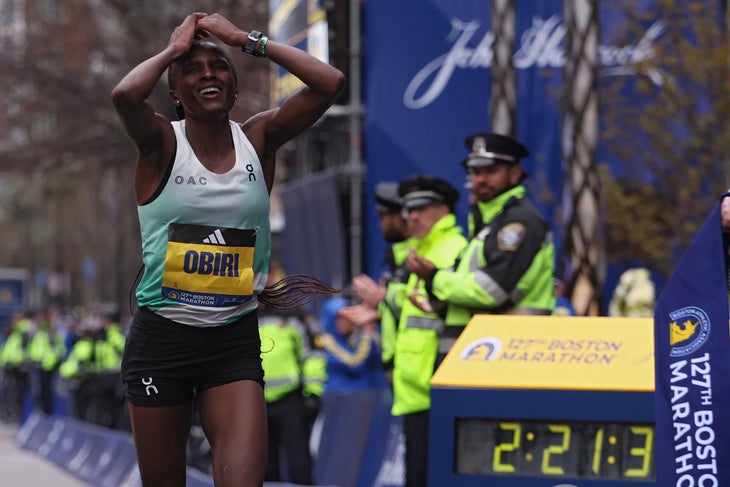 But then the pace slowed slightly and the women's lead pack was back to 11 runners as they came through 10 miles in 54:41. That group remained together until after the Newton Hills, when Bates and Obiri helped push the pace after mile 21.
RELATED: Six Key Storylines in the 2023 Boston Marathon
This story will be updated with more information as the event unfolds. 
Lead Photo: Maddie Meyer/Getty Images)
Trending on Outside Online