WTF Is the World Athletics Championships and Why Should I Care?  
A beginner's guide to the biggest event in track and field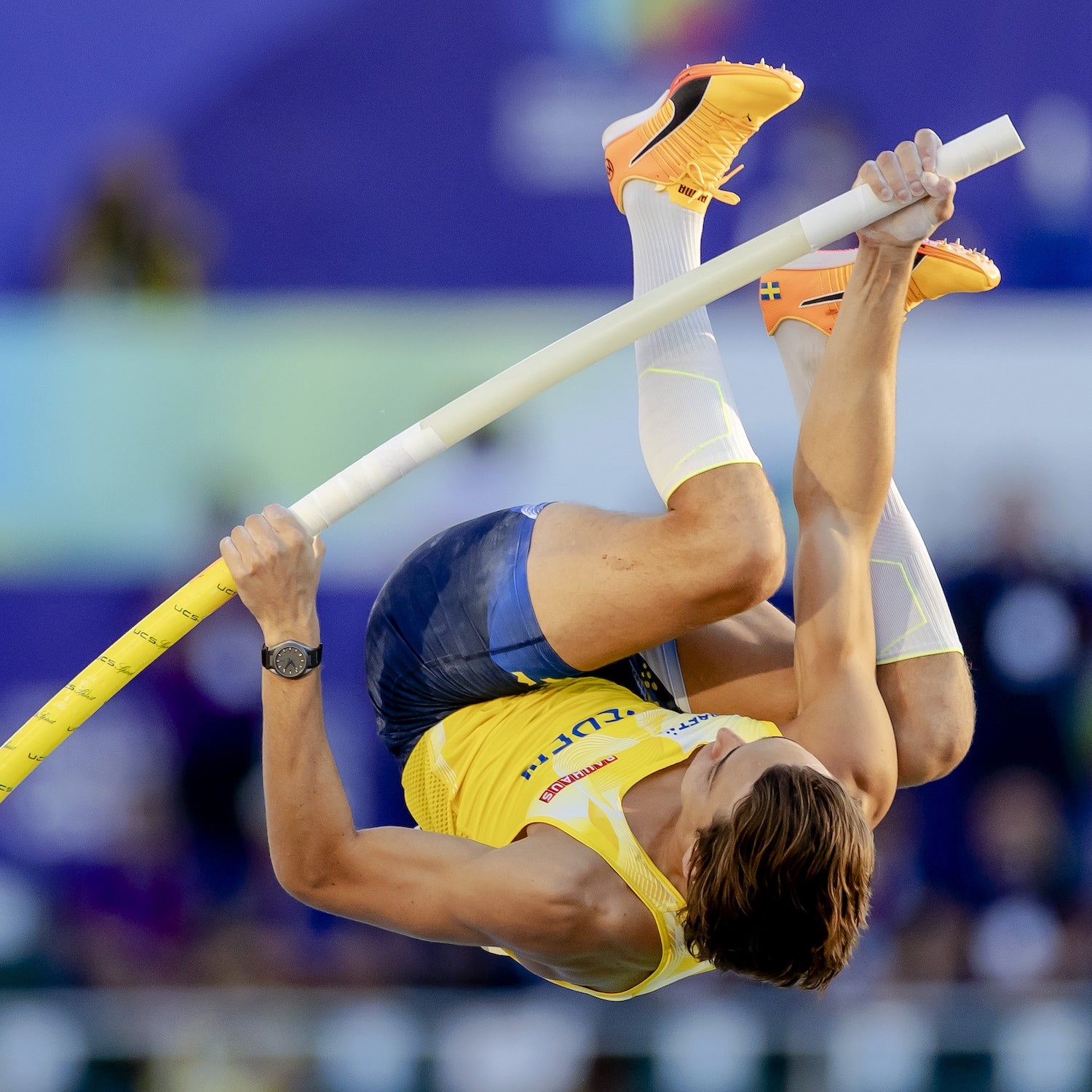 Getty Images
Heading out the door? Read this article on the new Outside+ app available now on iOS devices for members! Download the app.
Last year, everything changed. I turned into a fan of track and field after following the 2022 World Athletic Championships in Eugene, Oregon. Partially it was because of all the buzz, but also it was a result of being held in the U.S, at Hayward Field. The athletes felt like superheroes, larger-than-life personalities with performances that lived so far from what any "normal" athlete could perform. The specificity! The chest-pumping celebrations! The finish line kick!
When I learned that the 2023 World Athletics Championships were taking place in Budapest, Hungary, on August 19-27, I wanted to learn everything I could about the event's inner workings: why it exists, its special relationship to the Olympic Games, and how I might follow the action.
For those who are veterans to the wonderfully complicated world of track and field, I salute you. But those of us who don't understand its allure, I see you. Here's a primer to get you up to speed.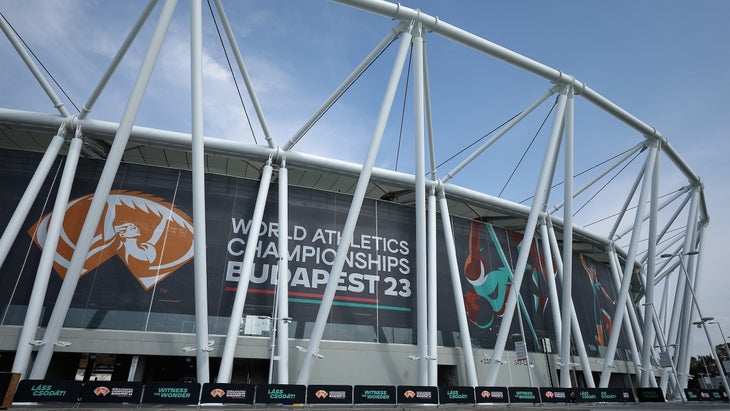 What Are the World Athletics Championships?
The whole enterprise of track and field has come a long way since flexing our human might for Zeus and the gods at the first Olympic games three thousand years ago, even though several of the original disciplines remain in today's track and field meets. At its most basic, track and field lumps together a slew of athletic disciplines, both of strength and endurance, to demonstrate the full continuum of human potential. In ancient Greece, the events were to impress the gods. These days, track and field events are more a secular pursuit of glory. Even speed walking.
In fact, we have the unusual and extraordinary sport of speed walking to thank for the birth of the World Athletics Championships (otherwise known as "Worlds." Also, "Athletics" is a word more commonly used instead of track and field in Britain, New Zealand, and Australia). Sure, you might not take speed walking seriously, but could you walk a mile in five and a half minutes?
In 1976, the International Olympic Committee dropped the sport of race walking, so a body called the International Association of Athletics Federations (IAAF) started World Athletics to continue, well, walking fast. (Speedy competitive walking was the only event at the first limited Worlds in 1976.)
Luckily, more events expressed an interest in joining the party and, in 1983, IAAF held the first official World Athletics Championships in Helsinki, Finland, with a full roster of disciplines. What this also did was keep track and field on people's radars, from the Summer Olympics once-every-four-years event to a full-fledged sport. The response was overwhelming. About 1,333 athletes from 153 countries showed up. Not bad, right?
What's the Difference Between Worlds and the Summer Olympic Games?
Because the Summer Olympic Games happen every four years, the World Athletics Championships are established as a biennial every two years. Unlike the Olympics, countries and their sport federations, like the USA Track and Field (USATF), can hold their own national championships.
Of course, the Summer Olympics showcases far more events across multiple sports over more days. (The 2024 Summer Olympics, for example, will take place in Paris and include 139 events—including breakdancing!—over 18 days.)
What's really compelling about the World Athletics Championships is that it can offer a strong preview for what to see the following year in the Summer Olympics. You might think of Worlds as a practice round for the greatest track and field athletes to battle it out before they get to the Olympics, but that's not exactly right, as Worlds can offer some of the fastest and most dynamic performances ever seen on the track.
RELATED: 10 Things to Know About the World's Fastest Man
Because of this, you'll always see two records in track and field. Perhaps you've wondered about it on the screen while watching track and field on TV: the Olympic Record (OR) and the World Record (WR). World records are all-time bests and can be set in the Olympics or any sanctioned event around the world, whereas Olympic records are the best marks ever recorded in Olympic competition. Both coexist and reinforce each other, with Worlds offering top-shelf credibility within the sport, while the Olympics bear the prestige of medals and international glory. Imagine watching your all-time favorite band play at a small downtown venue, up close and personal, and then, months later, seeing them headline at Madison Square Gardens.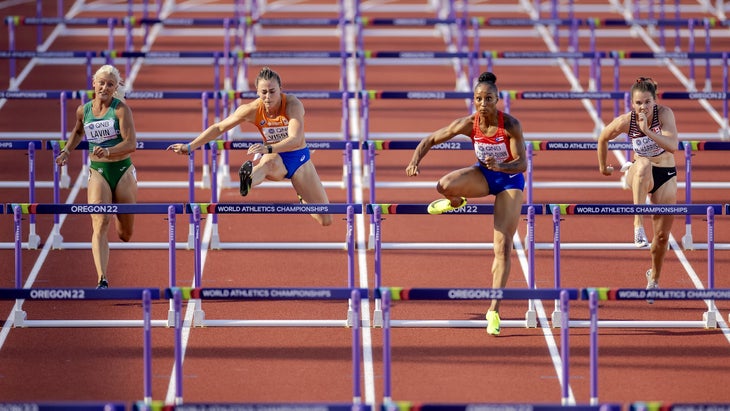 Eugene 2022 Worlds: The Most-Viewed Track and Field Event Ever
You might remember a ton of buzz last year over running events in Eugene, Oregon, Track Town U.S.A. That was because the World Athletics Championships was held at Hayward Field, with every national broadcasting channel serving up regular updates. Never had there previously been such a craze in the United States about track. An estimated 18.7 million viewers watched the 2022 World Athletics Championships, making it the most-watched world track and field championships ever.
The 2022 World Athletic Championships was electric. We saw pole vaulter Armand Duplantis pole vault a world-record setting 6.21 meters, which is over 20 feet, the height of two NBA basketball hoops stacked atop of each other. We watched as the two-time Olympian Faith Kipyegon dominated the 1,500 meters. And we cheered as the charismatic, 25-year-old former Stanford University track star Grant Fisher pushed his limits of what's possible in the finals of the 5K.
The World Athletics Championships is the third-largest sporting event on the planet, in terms of athletes participating, trailing only the FIFA World Cup and the Summer Olympic Games. The event is so large that it has its own mascot, which changes with each edition and host city. This year, in Budapest, it's Youhuu the Sheep. Youhuu is a racka sheep, a beloved animal found all over Hungary. (The country boasts 1.3 million sheep.) Youhuu comes alongside a standing tradition of mascots for Worlds including, in Eugene 2022, Legend the Bigfoot, Falah in Qatar 2022, and Hero the Hedgehog for London Worlds in 2017 (who proved to have difficulty on a hurdle).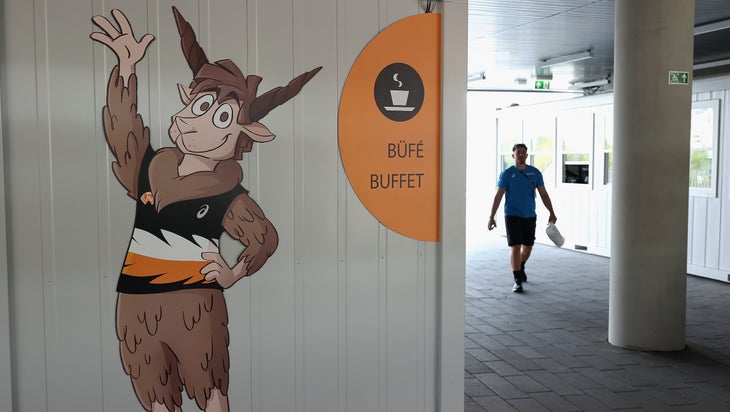 Just like the International Olympic Committee is behind the Olympic Games, it's World Athletics (formerly IAAF) that's behind the World Athletics Championships, along with several other events through the year, including the the Diamond League, a series of more than a dozen one-day track and field events set around the world, replete with 32 disciplines. Those who win at the Diamond League Finals receive a trophy, a cash prize, and a wild card entry to the next Worlds.
Looking forward, we'll see the 20th edition of World Athletics next year in Tokyo, Japan. It's anyone's guess what the mascot will be, but, based on the past several choices, expect something furry, toothy, and goofy.
What Events Are Included in the World Athletics Championships?
The 2023 edition will happen from August 19 to August 27. That's nine days jam-packed with 49 track and field events: 24 events for men and 24 events for women, with one mixed-gender relay event. Nearly 2,000 athletes will be representing 180 countries. That's a lot of events. It makes it sound like a state fair or something.
In addition to the aforementioned race walk category, one way to wrap your head around the nine-day, 49-event bonanza is to think of Worlds in three main buckets: Run, Jump, and Throw.
Run: Expect electricity. Expect flag-wagging. Expect vomit. For many, sprints and hurdles are some of the most exciting, most dynamic events to watch, while the longer events can squeeze every last drop of endurance out of the runners that'll leave you, and them, breathless.
"Sprints" – 100-, 200-, and 400-meter races, both flat and with hurdles
"Middle distance" – 800- and 1500-meter races
"Long distance" – 3K steeplechase (which involves four fixed barriers and a water jump for each lap), 5K, 10K, and marathon
Jump: Here, you'll find the long jump, high jump, triple jump, and pole vault. You may not have much of a relationship with these niche events, but damn are they fun to watch.
Throw: Javelin. Shot put. Discus. Hammer. Each throwing event demands a different, highly specific and trained technique. Don't miss these events, as so often they feel as though throwing disciplines will throw you back in time, to some deep history reverie of Greek sport.
Lastly, there's the overachievers, the ones who combine all three categories: the all-mighty decathlon (men), competing in 10 events, and the seven-event heptathlon (women), both over two days. To combine speed, strength, agility, and power into a two-day bender of high performance is something earmarked not for mere mortals but for superheroes. These elites are such fun to marvel at their overall aptitude, to wonder at how in the hell they have time to train for such myriad specialties, and, most importantly, what they eat—more than Wheaties, I'll bet.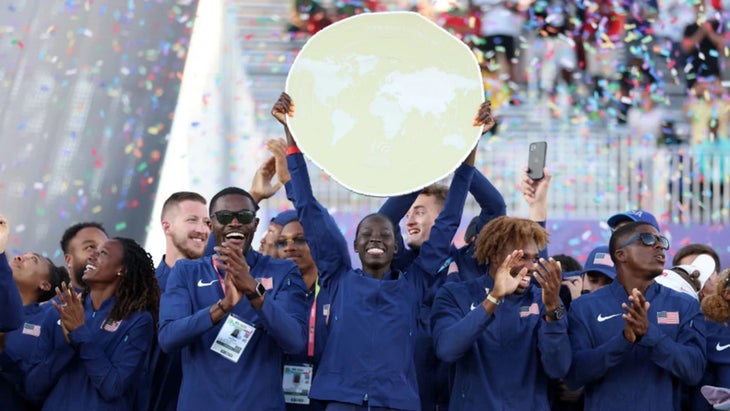 Who to Follow from Team USA?
The U.S. is sending 139 athletes, nine of whom are previous world champions. The U.S. just announced its team for the World Athletics Championships, which you can view here.
RELATED: How U.S. Record Holder Alicia Monson Prepares for a World Title Run
How Can I Watch This Year's World Athletics Championships?
If you are a lucky dog and currently in Europe, catch a cheap flight or train to Budapest and be sure and spectate—you'll be glad you did. Each day is essentially chunked up into two halves, morning sessions and evening sessions. For about $50 per session, you can watch a combination of events, and, for $500, you can have access to every event for all nine days. Not bad!
But I'm guessing you're not on a European holiday. (Here's me, daydreaming.) If you're not planning to be in Budapest anytime soon, be sure and watch or stream the 2023 World Athletics Championships live on Peacock TV, CNBC, NBC, and the USA Network. For live updates on the championships schedule, click here.
Lead Photo: Getty Images