In Stride
How Maegan Krifchin Ran Three Marathons in a Month
What the rest of us can learn from the wildly durable Atlanta Track Club runner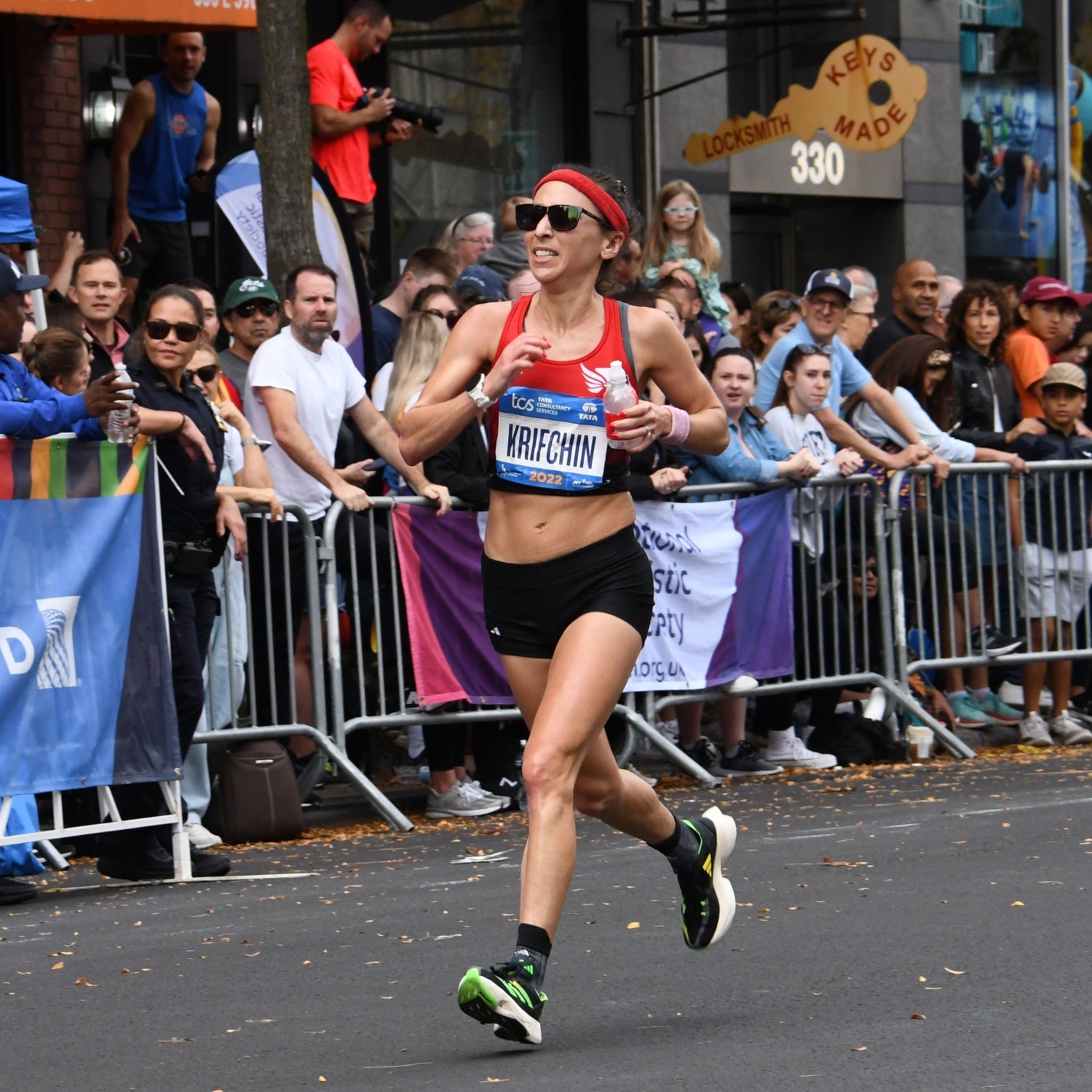 Karen Mitchell, Runner's Gazette
Heading out the door? Read this article on the new Outside+ app available now on iOS devices for members! Download the app.
In the simplest terms, marathon training is about maintaining a balance between hard workouts and recovery. A successful build-up depends on managing those two ends of the spectrum. But getting it right can be tricky. While a 22-mile progression run is a marathon training staple, few if any coaches would recommend racing a full marathon as a way of preparing for another. So where is that magic threshold that separates a hard-yet-beneficial long run from the kind of effort that does more harm than good? At what point does sheer physical attrition outweigh any fitness gains?
There are no one-size-fits-all answers to these questions. Occasionally, though, we witness athletic feats that fly in the face of conventional wisdom. Case in point: this fall, Maegan Krifchin, a 34-year-old occupational therapist who also competes professionally for the Atlanta Track Club, ran three marathons in one month. After being dissatisfied with her race at the New York City Marathon on November 6, where she ran 2:40:52 in miserably warm conditions, Krifchin doubled back to run the Philadelphia Marathon two weeks later. In Philly, she missed out on the win by a mere six seconds, clocking 2:31:42 for second place. After a performance like that, most people would have called it a season. Not Krifchin. Something about coming so close to the win and sensing that she hadn't exhausted her potential inspired her to sign up for the California International Marathon on December 4. She finished in 2:29:21 for a new personal best.
Here's how she pulled it off. While racing three marathons in a month is something most of us should probably not attempt, Krifchin has some advice for those of us with more modest ambitions.
Don't Race Again Until You've Recovered
Krifchin is an outlier when it comes to bouncing back from a marathon. She has been racing marathons since 2015 and she's usually felt "more or less fine" the next day. (Other than the 2016 Olympic Trials in Los Angeles where, despite an impressive seventh place finish, the heat took its toll.) She says her marathon efforts mostly feel like hard long runs with a few more blisters. After running the Chicago Marathon last year, she flew east to spectate at the one-off fall edition of the Boston Marathon the next day and spent hours running around the course. It's safe to say that this is fairly unusual day-after-the-marathon behavior. Krifchin doesn't mention this as a humblebrag, but rather to stress that she never would have run her fall marathon trifecta if her body didn't feel up to it. "I want to be clear: I wouldn't recommend doing this," Krifchin says. "I'm not writing the three-marathons-in-30-days training plan."
Take the Pressure Off
Krifchin hadn't planned to run three marathons this fall. Philly and CIM were both last-minute decisions. She still felt healthy and fit, so why not take another swing at it? Since she didn't quite know how the races would pan out, she had the mental edge of effectively viewing them as bonuses. New York had been her focus. Everything else was just gravy: "I was really fit for New York, it just didn't pan out," she says. "So all the nerves were for that race. With the next two, there was no pressure because it was more about seeing what my body could handle. I was just really appreciative of the opportunity, more full of gratitude."
Embrace the Supershoe Revolution
While Krifchin says that she already fared pretty well, recovery-wise, in the pre-super shoe era, the recent industry-wide pivot to maximally cushioned models have benefitted her as well. "I definitely think they're helpful," Krifchin says. "One hundred percent. I think it allows us to bounce back from workouts and races and feel pretty fresh."
Krifchin trains and races in Adidas, her club's official sponsor. While she does most of her harder workouts in the brand's signature supershoe, the Adizero Adios Pro, she prefers something more low-key for moderate-effort long runs: "I actually prefer to roll with a heavier model on easy long runs—just to see how well I can pick up the pace without any help from the shoe."
Don't Neglect the Weights
Despite her natural resilience, Krifchin bolsters her weekly mileage (which, during a marathon cycle can get up to between 115 and 130 miles) with a weightlifting routine prescribed by her coach, Amy Yoder Begley. Two to three times a week, she combines core exercises with light Olympic lifts. Here, too, Krifchin is cautious about when she does her harder efforts. "I would never do weights the night before a workout."
Short, Quick Workouts Are Best for Recycling Fitness
With only two weeks to recover between her second and third fall marathons, Krifchin didn't have time to improve her fitness. It was more about maintaining the edge she had coming into New York. To pull this off, Krifchin did a mini cycle after the New York City Marathon, which she then repeated after Philly. Six days after her marathon, she did a 4×1-mile workout followed by a few quicker strides. On the Monday of race week, she ran a 15-mile easy long run, followed by an abbreviated tuneup workout  on Thursday: 4×800 meters at slightly faster than her marathon race pace. Krifchin says that for her, the key to a quick-turnaround marathon double is getting in a short workout to get the legs turning over. She maintains, however, that the best case scenario is still not needing to double back at all: "Ideally, you just want to crush your marathon the first time around. You sign up for one. You train for it. You hit your goal. And that's a reason not to do one for another six months."
Lead Photo: Karen Mitchell, Runner's Gazette
Trending on Outside Online