10 Remarkable Moments of the Prefontaine Classic
Mondo Duplantis and Gudaf Tsegay broke world records and 19 national records were rewritten over the weekend at the 2023 Diamond League final in Eugene
Ali Gradischer, Getty
Heading out the door? Read this article on the new Outside+ app available now on iOS devices for members! Download the app.
The world's best track and field athletes came to Eugene, Oregon, on September 16-17 for Hayward Magic (and perhaps money, with $2 million dollars of prize money spread evenly across 34 events). Their elite-level performances at the Prefontaine Classic marked the grand finale of the year's competitive season, performing in front of 12,355 spectators. For reigning world champions, the Diamond League Finals offered two concentrated days of competition before well-deserved rest. For other athletes, the event represented something deeper: a final opportunity at redemption and a chance to conclude their season in victory. 
The event played out like an orchestrated musical composition. Held at the same venue as last year's world championships, dramatic performances rose through octaves in Hayward Field. Athletes' efforts coordinated and contrasted before the final note. 
While the remarkable 2023 track season has come to an end, here's a look at the weekend's highlights as we await next year's Paris Olympics. 
1. Sha'Carri Richardson cares about sisterhood as much as success.
From Eugene to Budapest to Zurich back to Eugene, American sprinter Sha'Carri Richardson's 2023 performances have validated her sentiment: she's not back, she's better. Richardson claimed her first 100-meter title at this year's U.S championships and secured the world championship win with a record-setting time of 10.65, putting her tied as the fifth-fastest female sprinter of all-time. However on Saturday in Eugene, she proved she is also better at losing. 
"I am not mad at all about the time that I did today," the 23-year-old said, explaining a performance that was competitive but ultimately disappointing. Richardson placed fourth in 10.80 but still embraced her competitors after the finish.  
Her rival Shericka Jackson won the Diamond League trophy handily, with a time of 10.70, marking her first win over Richardson in four 100-meter races this year. "Today was amazing, a great end to the season," said Jackson, who already boasts five Olympic medals. 
Marie-Josee of Côte d'Ivoire took second place with a time of 10.75, matching her season's best, while five-time Olympic champion Elaine Thompson Herah placed third in 10.79, also a season's best.
Richardson expressed her commitment to fostering a sisterhood among the sprinters, a goal she once thought was unattainable. That could be a key component to bringing next-level exposure to the top women sprinters heading to Paris next summer. "We got fresh, beautiful women and that's gonna take over the entire game," she said. "Watch."
2. Appreciation for Jakob Ingebritsen's A+ pacing.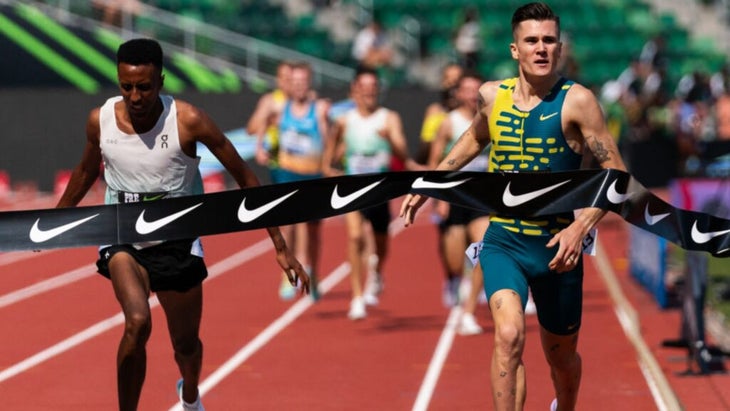 "Just stick to me as long as you can, and we'll get you there," quipped Norway's Jakob Ingebritsen to American competitor Yared Nuguse during the pre-race press conference before Saturday's Bowerman Mile. While the comment might have seemed patronizing, it was more likely playful banter between two amicable rivals who have pushed each other all season. 
Ingebritsen is known for his brash personality, often portrayed as the caricature of a champion—covered in confidence and stick-and-poke tattoos. On the other hand, Nuguse is a humble, self-deprecating, and loveable everyman—who seemingly cares more about going to a Taylor Swift concert than his own popularity. Despite these differences, these young middle-distance stars came to appreciate one another through one thing: their desire to break records. 
"I pushed myself for a fast time against the clock," explained Ingribritsen, who assumed the role of race leader with 700 meters to go after American pacer Eric Sowinski rabbited the race through 900 meters. "To see what I'm capable of in the mile." Although the mile is only 109 meters longer than its European equivalent, Ingebritsen secured the win more handily than his attempts at previous world championship 1500-meter finals, winning from the front with a time of 3:43.73. Ingebritsen's time was a little more than half a second shy of the world record of 3:43.13, set by Hicham El Guerrouj of Morocco in 1999, but affirmed it's "not just." Nuguse closed on Ingebritsen's shadow, finishing second and smashing the 16-year-old American record by three seconds.
"I ran 3:43. How the hell did I do that?" wondered the now 24-year-old Nuguse about his time of 3:43.97. (It's worth noting that Nuguse was only eight years old when Alan Webb set the previous American record of 3:46.91 in 2007.) Although Nuguse had run an American indoor record of 3:47.38 in February, his previous fastest outdoor mile, recorded last August, was ten seconds slower at 3:53.34. Yet he attributed his success at Prefontaine to the bold execution of Ingebritsen, saying he elevated the entire field and pushed them to achieve things they hadn't thought possible. "I have this constant self doubt at all times," Nuguse confessed. "I have goals that I think are achievable and think, 'Oh no!'" But in Nugese's rookie year for OAC he exceeded all expectations—he ran the second-fastest indoor mile in the world in February, finished fifth in the 1500m at the world championships last month, and made his last performance of the season his best one. 
While Ingebritsen had a world-class 3000-meter race waiting for him on Sunday, he went to the  well in the mile and shattered several records: the Norwegian record, European record, Diamond League record, and meet record, and, of course, this season's world-leading time and his own personal best (3:46.46) set last year. Nevertheless, Ingebritsen insisted this mile was not the race of his life. 
It certainly was for many others. Eight men posted personal bests, including American Cole Hocker, who clocked the fourth-fastest time in U.S. history at 3:48.08. Four other athletes set national records. "There's too much disrespect in this sport," Ingribritsen dryly remarked about the lack of appreciation from the field for the self-elected position. "No one is thanking the main pacer." 
3. Rai Benjamin reminds everyone he is a winner.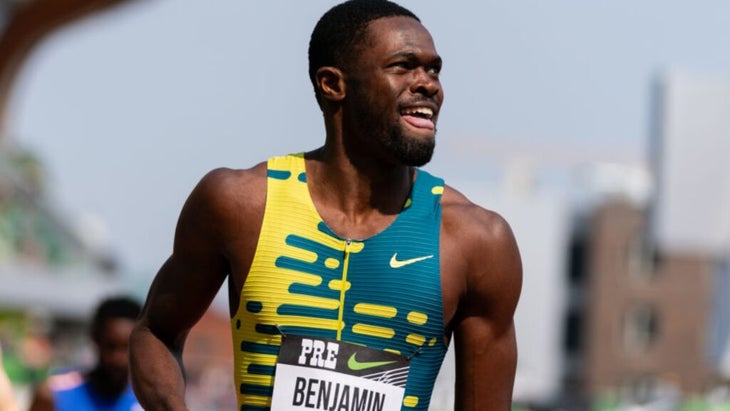 American Rai Benjamin left Budapest with low spirits after finishing a disappointing third in the 400-meter hurdles at last month's world championships. Upon his arrival in Eugene, the demeanor of the Tokyo Olympics silver medalist shifted dramatically. "I'm dangerous," declared the 26-year old after Saturday's race, sporting his yellow and green Nike speed suit. "I came out here in hunting gear today." 
In the 400-meter hurdles, athletes launch from staggered starts—usually leaving spectators in suspense about the leader until the last 100 meters. On the home stretch Benjamin hit his target and caught Olympic gold medalist, three-time world champion and world record holder Karsten Warholm of Norway with 50 meters to go. He crossed the line in a world-leading time of 46.17, the fourth-fastest time in history and obliterated his own meet record of 47.19 from 2019. 
"I need to perform when it matters," Benjamin said after his resurgent, season-ending race. "This is just a drop in the bucket before Paris." 
Warholm started the race with the world's top time of 46.51, but ended 0.14 of a second behind, with a time of 46.53. For those who might question the Hayward Magic, Benjamin's victory solidified his 2-0 record against Warholm at this venue, in contrast to his 0-for-4 outcome elsewhere. 
"No one is going to remember a Diamond League champion," the sprinter from Mount Vernon, New York commented regarding his victory, humbly putting his win into perspective. But when the difference between being a Diamond League champion and second place amounts to $18,000, it's unlikely that Warholm's wallet will soon forget.  
4. Chase Ealey writes her name on the American record book.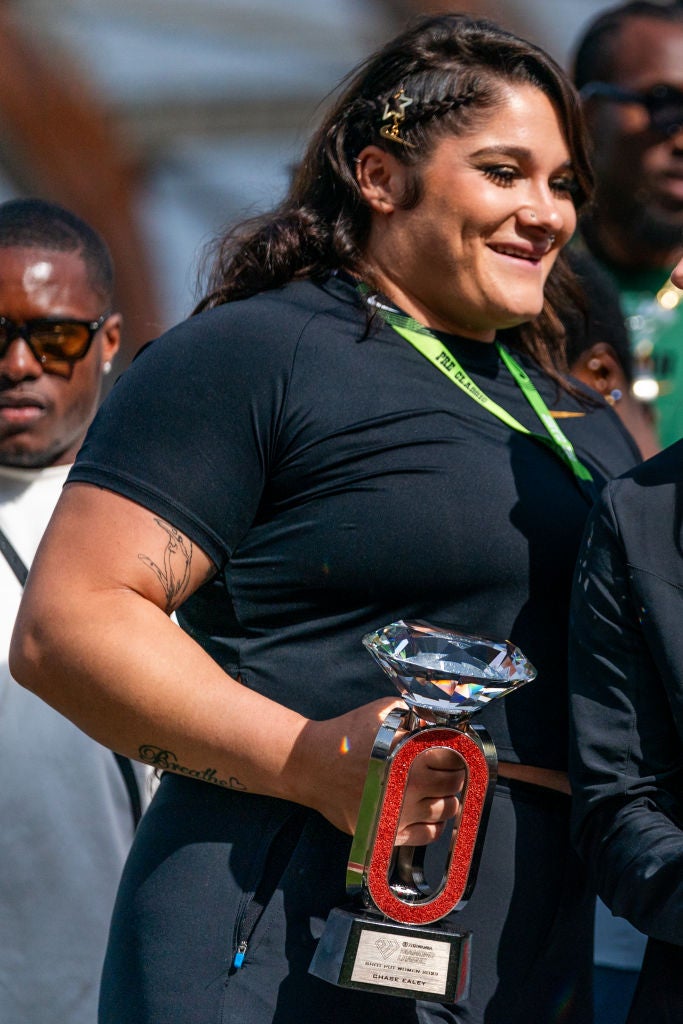 Chase Ealey, fresh off winning her second straight shot put world title, served as an inspiration to all, demonstrating that a season isn't truly over until you decide it's over. Despite her prolonged absence from competitive circuits due to rehabbing a rib muscle injury, she refined her technique to come out on top when it mattered the most. 
"I have good people around me and I think that's really important," Ealey said. "It's really made my throwing a lot better and everything better as a whole. I can go through the lows and not feel so bad." 
The 29-year-old from Los Alamos, New Mexico, concluded her season with fireworks by throwing 20.76 meters (roughly 68 feet, 1-¼ inches), not only breaking the American record but setting a meet record and clinching a $30,000 Diamond League trophy. "There's something about this stadium that brings it out of me," Ealey said. "I love this stadium. It kind of feels good to do it here and bring it home all the time." 
Ealey's achievement surpassed the previous national record of 20.63m held by Michelle Carter, the 2016 Olympic gold medalist. "To [break the record] in the last meet, I've been wanting to do it all season," she reflected. "I told my coach I was gonna do it here." 
Canada's Sarah Milton placed second, throwing 19.94m. Auriol Dingo of Portugal secured third with a personal-best throw of 19.92m. 
5. Christian Coleman shocks the field and himself: "I'm really like that."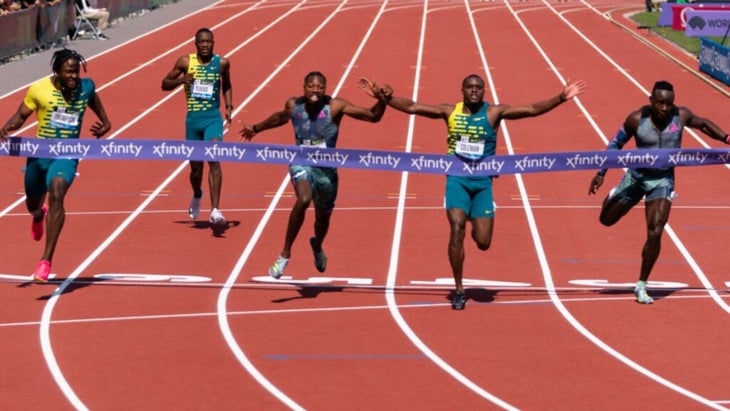 The men's 100-meter dash started out with a bang. And then two more bangs. Unfortunately Ackeem Blake's race came to an abrupt end before the Jamaican sprinter could even leave the starting blocks. This false-start blunder gave way to the remaining competition to aim for a higher place (potentially earning more prize money) and end on, well, another type of bang.  
"I didn't perform the way I wanted to [earlier this season], now I'm finding my stride," American Christian Coleman said. 
Coleman, the 2019 world champion, managed to hold off the reigning world champion Noah Lyles and world silver medalist Letslie Tebgoo to secure victory by a narrow margin of two hundredths in 9.83. This time equaled the world's best time for the year. Coleman—the world's fastest man in the previous Olympic cycle—missed the Tokyo Games due to suspension for missing (though not failing) drug tests. After a fifth-place finish at the world championships and a runner-up spot at the U.S. championships, he said this victory meant a lot to him. 
"I'm really like that," the 27-year-old Coleman said to broadcaster Tee Williams about what he would lean on for his buildup to next summer's Olympics. He found his stride, but is aware that several other sprinters have found theirs too. In 2023, three men clocked 9.83s: Coleman, Lyles, and Great Britain's Zharnel Hughes all shared the world leading time. Notably, the top four finishers in Saturday's race ran in the 9.8s. 
Noah Lyles, a rising star on and off the track, looked anything but disappointed about his second-place finish in 9.85. The reigning world champion—currently owning the title "world's fastest man"—approached the Diamond League final like it was a PR event. "I'm out here to show my face," said Lyles, 26, who was taking pride in his home soil to show up for his supporters. "I'm a U.S. athlete." 
The 26-year-old Lyles also believed every race after the world championships was like a victory lap. On Saturday, he demonstrated this by completing a very real victory lap at Hayward, high fiving fans around the oval. "Even when I don't win, I win," he said, with a big smile on his face and a Five Guys salted caramel milkshake in his hand (a gift from NBC track analyst Lewis Johnson). He still left with $12,000 of prize money. 
"I'm just here to have fun." Then Lyles took a big slurp of his milkshake. 
6. Faith Kipyegon takes another victory lap.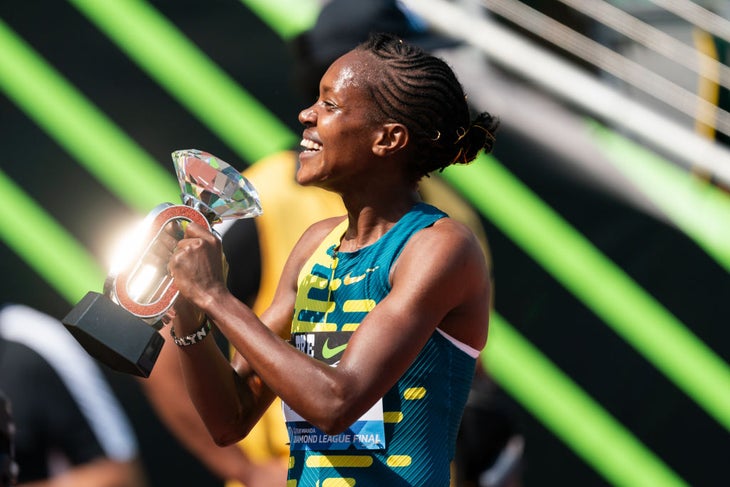 It's not every day you watch greatness unfold, but every day Faith Kipyegon steps to the line it feels like greatness is inevitable. She stood beside several other Nike athletes at the start of the women's 1,500-meter run, all dressed in a striking combination of pine green and school bus-colored yellow. Yet this distracting uniform had no bearing on the 29-year-old Kenyan, who took charge right from the gun and never looked back. 
While the crowd argued whether the kit's color was green or blue, Olympic and world champion Kipyegon remained focused on herself. "I didn't watch the clock," she said. "I didn't worry about anything, I was just going… just go to the tape and see what I was going to run." 
Kipyegon indeed delivered, clocking in at 3:50.72, and marked the fifth-fastest women's 1500m in history. She entered the race as the undisputed favorite and has maintained her unbeaten streak in the 1,500 for more than two years. Kipyegon ended her Diamond League season with an undefeated record across all distances this year, including world records in the 1,500, mile, and 5,000m. Her last lap was an astonishing 56.63 seconds. 
Clearly Kipyegon is in a league of her own but her pace pushed the field to achieve remarkable times themselves. Ethiopia's Diribe Welteji of Ethiopia secured second place in a personal best of 3:53.93 while Great Britain's Laura Muir claimed third with a season's best of 3:55.16, her second-fastest time ever. In any other race, they would have made the headline. Nine women broke four minutes. American Corey McGee was close but ultimately missed the mark in 4:01.28, hanging her head exhausted with unmet expectations. 
7. Mondo Duplantis sets the bar higher, breaks his world record.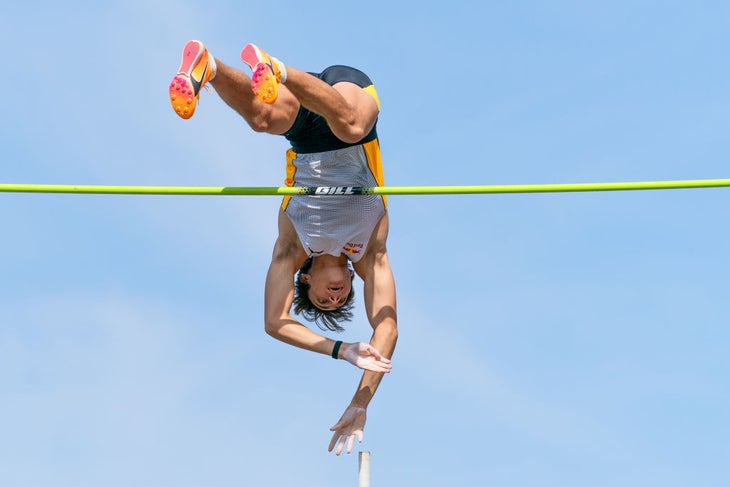 Armand Duplantis, a U.S. athlete who grew up in Louisiana but competes for Sweden based on his mother's heritage, broke his own world record in pole vault, clearing 6.23 meters—roughly 20 feet, 5-¼ inches— in his first attempt at this height. The reigning world champ marked a one centimeter improvement over his previous record of 6.22 meters which he had set in France in February. 
"The limit is very high," said Duplantis, who, although only 23, claimed his third Diamond League trophy to go along with his two world championships and an Olympic title since 2021. "I hope I can continue to jump well and keep jumping higher than I did today but for now I'm not really thinking about anything except enjoying this moment and enjoying what I just did."
The showman rushed into the crowd, beating his fist in the air and stood triumphantly on the barrier between himself and the fans to celebrate. "I don't remember the jump. I'm dead serious," he confessed during his televised interview. "I just knew that it was going to be really close." 
Duplantis has proven his mettle in Hayward yet again, going two for two on world records in Eugene. "It has the history, it has the modern touch," he said. "The track is really fast, the crowd and energy is fantastic. Everything [was] just building up to what I need to be able to break the world record.
EJ Obiena of the Philippines finished second with a height of 5.82 meters while American Sam Kendricks claimed third with a jump of 5.72 meters.
8. Ingebrigtsen rolls over the finish to victory.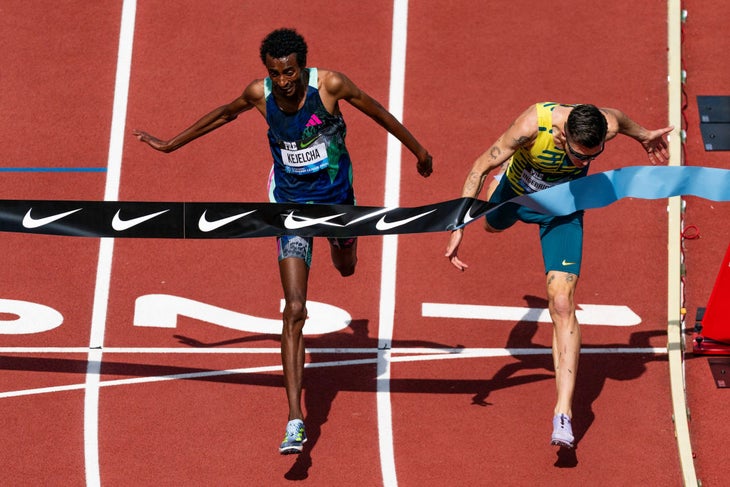 Jakob Ingebrigtsen is on a lifelong mission to earn every world record from the 1,500 to marathon, including the steeplechase. On Sunday he fell less than three seconds short from checking one the outdoor 3,000 meters from his list. Ingebrigtsen admitted he "didn't feel extremely good" after the first couple laps considering his legs had run 3:43 in the mile a day earlier. Yet he knew where to spend his energy: the end. 
"I'm a very smart guy," he said. "I collect as much info as I can about the direction of the wind and the conditions." 
With 1,000 meters remaining, Ingebrigtsen seized control of the field but saved his somersault for the finish. He won in 7:23.63, setting a national record, a Diamond League record, a meet record, a world lead, and a personal best. "It's better than coming in second," he said with bloody elbows. 
Of course, no victory can fully compensate for what he missed in Budapest. His goal for the season—a gold medal in the 1,500 meter world championships—remained unfulfilled. However this loss appeared to intensify his determination to win on Sunday. 
"You wouldn't be stupid but you'd be ignorant if you don't do double thresholds," he remarked about the training that led him to this point. "But there are a lot of roads to becoming a good runner." As for his potential to earn another world record in the marathon one day, he replied: "I don't really enjoy talking about what could be. I would rather just do it." 
The outdoor 3,000 is run less often than its untamed sibling with the barriers but many athletes took advantage of this late-season race. Yomif Kejelcha came in second in 7:23.64 breaking the Ethiopian national record and earning a new personal best. American Grant Fisher closed hard down the homestretch to place third in 7:25.47, breaking his own national record and setting a new personal best. 
"Getting hurt midseason made me a better athlete today," said the 26-year-old Fisher in a calm stoicism. "In the final 100, I had a pretty good bounce. This is about as well as I could have expected… [but] I was still third today." Fisher, a Stanford graduate, set an American record in Duck colors on the Duck's track. "I like to think of them more as Australian colors."
9. Gudaf Tsegay outpaces world record lights to run 14:00.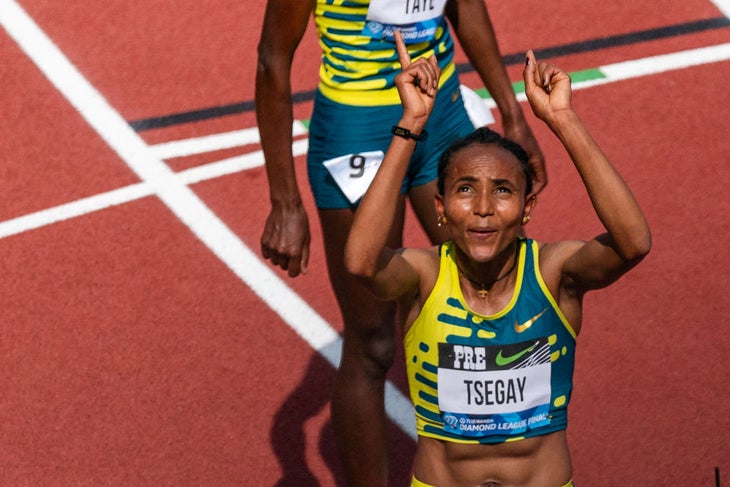 Gudaf Tsegay arrived in Eugene with one ambition: to break the 5,000-meter world record. 
"I was really angry to not bring back two medals from the world championships, but I knew from our training I had a lot of potential to do something with my fitness," said Tsegay, who finished 13th in the 5,000 final in Budapest after winning her 10,000-meter title. "Even though the conditions weren't perfect [in Eugene], we thought we could do it." 
The American duo Sinclaire Johnson and Elise Cranny paced the field through 1,000 meters in 2:48 and the next 2,000 meters in 5:37, respectively. Then Tsegay's Ethiopian compatriot Birke Haylom took the lead, passing 3,000 meters in 8:26.03 and ahead of world record pace. As Tsegay reached the 4,000-meter mark in 11:16.89, Kenya's Beatrice Chebet trailed closely behind. With two laps to go, Tsegay showed her dominance as if this race was solely against the lights.  
With the crowd on their feet, Tsegay powered to the finish line with perfect form. She earned the world record and broke Faith Kipyegon's world-leading time, clocking 14:00.21, before collapsing to the ground. Hayward's standing ovation was a fitting tribute to Tsegay, the 2022 world champion in the 5,000 meters at the same venue and now the proud world record holder. 
Kenya's Beatrice Chebet secured second place with a time of 14:05.92, while Ethiopia's Taye Ejayehu finished third in 14:21. American Alicia Monson ended her stellar season with a sixth-place finish in a time of 14:45.98. 
10. Without expectations, Athing Mu resets her American record.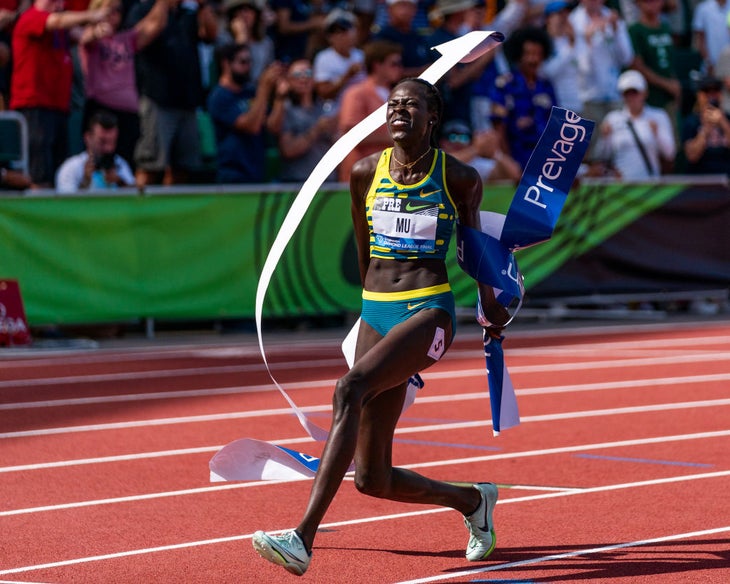 It has been "will she, won't she," whether or not the Tokyo Olympic gold medalist and 2022 world champion competes. After a third-place finish at the world championships in Budapest, she believed her season was over. However, thanks to a host-country wild card exemption, she found herself in the final. At just 21-years-old, Mu proved her expertise on Sunday. 
 "I felt really new and refreshed, and I'm just happy," said Mu. "I wasn't even hoping for the American record, I was just hoping for a PR, but I knew I could do something fast if I could just relax and compete." 
Mu hit the tape with a win in 1:54.97, a new American record, meet record, world lead and personal best. Her victory was hard fought, with rival Keely Hodgkinson on her heels, finishing in 1:55.19, setting a new national record for Great Britain and a personal best. Natoya Goule-Toppin placed third in 1:55.96, a national record for Jamaica and personal best. The reigning world champion Mary Moraa of Kenya placed fourth in 1:57.42
Hodgkinson collected her share of silver this summer, also coming in second at worlds in Budapest but disagreed this position was bittersweet. "Wins are for a reason and I broke the national record twice in one season," she said. 
"It's a really good way to end the season."
Lead Photo: Ali Gradischer, Getty
Trending on Outside Online