Who to Watch at the 2022 U.S. Track and Field Outdoor Championships
To make the World Athletics Championships team, American athletes must finish in the top three at one of the most competitive meets ever held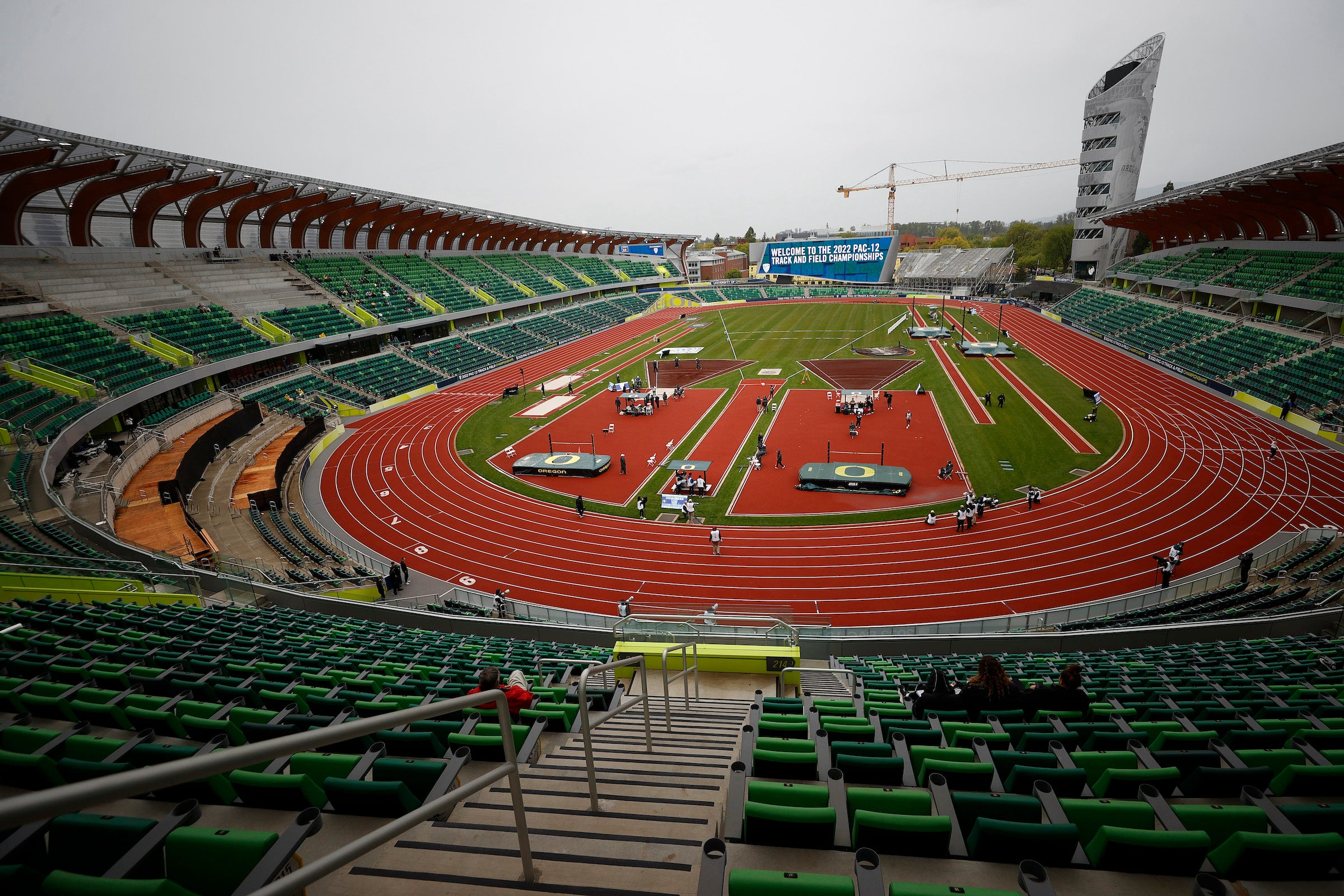 Getty
Heading out the door? Read this article on the new Outside+ app available now on iOS devices for members! Download the app.
The 2022 World Athletics Championships, the world championships of track and field, will be held on U.S. soil for the first time from July 15 to 24 at Hayward Field in Eugene, Oregon. It will be a historic opportunity for U.S. athletes, but qualifying for the event will be no small task.
To make the team, American athletes must finish in the top three in the June 23 to 26 USA Track & Field Outdoor Championships at Hayward Field, one of the most competitive meets ever held based on the unprecedented American depth in almost every event. Among the approximately 400 competitors are 25 athletes who brought home medals from last year's Olympics in Tokyo, 18 hmm in in American record-holders, and three world record-holders.
(Competitors in the marathon, 10,000m, decathlon, and heptathlon have already been selected for the U.S. team.)
Event finals and selected prelims will be broadcast June 24-26 on NBC, CNBC, Peacock and USATF.TV, while all field events will be shown via livestream feeds.
Here are 12 compelling stories to follow at this weekend's championships.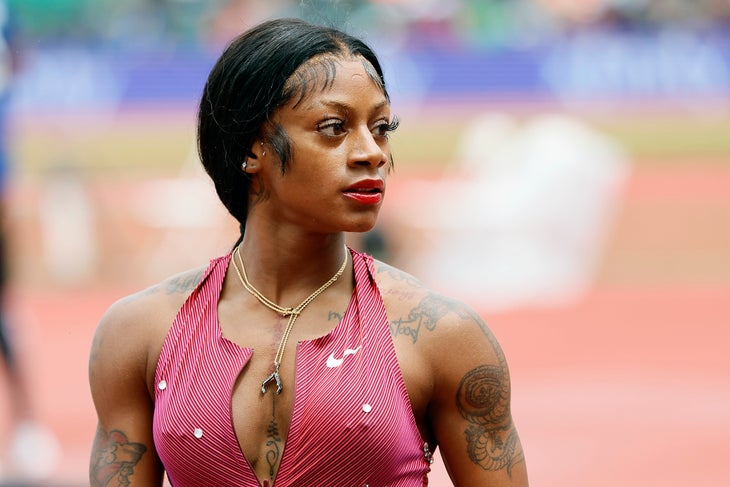 Women's 100 Meters
Will Sha'Carri Richardson Own the Track?
There might not be a bigger story in U.S. track than 100-meter dash vixen Sha'Carri Richardson. The 22-year-old sprinter was infamously left off the U.S. Olympic team last summer despite winning the 100 at the U.S. Olympic Team Trials because she tested positive for cannabis and received a 30-day suspension from the U.S. Anti-Doping Agency. She's back with something to prove, but she'll be challenged by Aleia Hobbs, who narrowly beat her on June 12 at the New York City Grand Prix. Hobbs (10.83), Richardson (10.85), and Cambrea Sturgis (10.87) own the fastest times entering the meet, but collegiate stars Melissa Jefferson (10.88) or Abby Steiner (10.90) could break into the top three. Richardson seems like a sure-bet to make the team, but what's even more of a guarantee is that she'll be racing down the track with an on-point look.
Men's 100 Meters
Could Shake Out a Number of Ways
Fred Kerley turned heads last year when he dropped down from the 400m to the 100m and earned the silver medal at the Tokyo Olympics with a 9.84 personal best. Inconsistent and oft-injured Trayvon Bromell has shown he can still be one of the best in the world, as has 2019 world champion Christian Coleman, who missed last season while serving an 18-month suspension for missing a drug test. Each enters the U.S. championships with a season-best 9.92 clocking, but rarely do 100m finals go as predicted by seed times. Breakout collegiate stars Micah Williams (9.86) or Matthew Boling (9.98) could sneak into the top three if they can rebound from their disappointing NCAA championships.
Women's 800 Meters
A Race Overflowing with Talent
Once-in-a-generation talent Athing Mu, the Tokyo Olympic champion and American record-holder in the 800m, owns the world-leading time (1:57.01) in this two-lap race after a dominant win at a recent Diamond League victory in Rome. But 2022 world indoor champion Ajee' Wilson (1:58.06), unsung Allie Wilson (1:58.18), and Tokyo bronze medalist Raevyn Rogers (1:58.44) are all ranked among the world's top 10. Then there's Nia Akins (1:58.82) and Sage Hurta (1:59.59), rising young pros who figure into the dogfight for second and third place. The biggest challenge to finishing in the top three is having fresh legs after running two prelims and the final over a five-day span.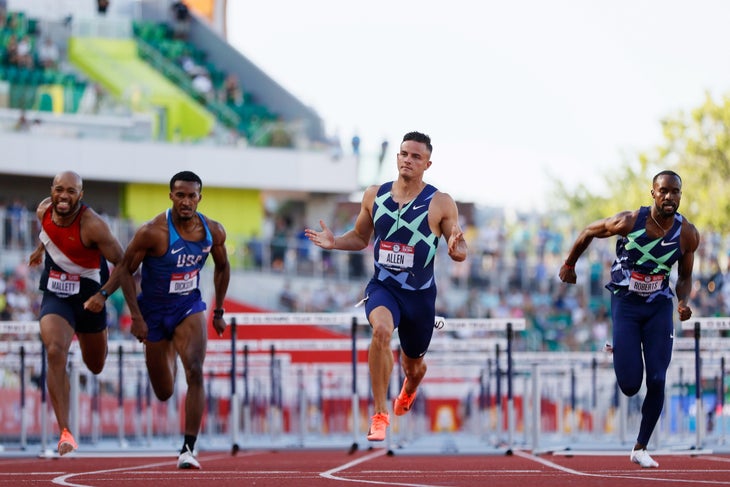 Men's 110 Meter High Hurdles
Devon Allen Is Back with NFL Strength in His Stride
Devon Allen, Trey Cunningham, and Grant Holloway rank 1-2-3 on the world list, but Allen, a three-time U.S. champion, is the big story here. After finishing fifth and fourth, respectively, in the past two Olympics, Allen made a surprise return to football after running a 4.35-second 40-yard dash for pro scouts and then getting signed by the Philadelphia Eagles this spring. His increased strength training for football has only made him faster, as he came within a few ticks of the world record in his 12.84 win at the New York City Grand Prix on June 12. Allen appears to be the favorite, but Holloway (13.06) is the 2019 world champion and 2020 Olympic silver medalist and Cunningham (13.00) is the freshly crowned NCAA champion.
Women's 3,000 Meter Steeplechase
Always Wild to Watch
In what is the quirkiest event in track—a 1.8-mile race with 28 fixed barriers and seven water jumps—the U.S. is loaded with talent on the women's side. Courtney Frerichs is the American record-holder (8:57.77) who is coming off a silver-medal performance at last year's Olympics. Nine-time U.S. champion Emma Coburn earned gold (2017) and silver (2019) at the last two world championships, but she's out to make amends after a bad race in last year's Olympic final. Newly minted NCAA champion Courtney Wayment (9:16.00) has the fastest time in the U.S. this year, while past Olympians Val Constien (2020) and Colleen Quigley (2016) are also in the mix along with NCAA runner-up Kayley Delay and former three-time NCAA Division III champion Annie Rodenfels.
Men's Shot Put
Can Ryan Crouser Remain on Top?
Ryan Crouser has taken his family's throwing legacy to new highs and become arguably the best shot-putter of all-time in the process. (His dad, Mitch, was an Olympic alternate in the discus, while his uncle, Brian, was a two-time Olympian in the javelin.) Crouser is the world record-holder (23.37 meters or 76 feet, 81⁄4 inches), two-time defending Olympic champion and world leader (23.02 meters) so far this year. He has a shot for the world title in July after narrowly finishing second in 2019, but the U.S. championships should be a spirited affair as Joe Kovacs (22.49 meters), Darrell Hill (21.84), Josh Awotunde (21.63), and Adrian Piperi (21.54) are all ranked among the top 10 in the world.
Women's 400 Meter Hurdles
When Sydney McLaughlin Races Records Fall
Sydney McLaughlin and Dalilah Muhammad earned gold and silver, respectively, at the Tokyo Olympics while becoming the first two women to break the 52-second barrier. McLaughlin owns the world record in the event (51.46) and ran a world-leading 51.61 at an American Track League event in early June, even though that time is considered unofficial because one of the hurdles was set in the wrong position. McLaughlin and Muhammad, the 2016 Olympic champion, figure to continue their dominance, but collegiate stars Britton Wilson (53.75) and Anna Hall (54.48) have run faster than Muhammad (53.88) so far this year, so the U.S. championships final should be a thriller.
Men's 200 Meters
Three Fast Contenders
Even though he's only 18, Erriyon Knighton is already one of the fastest 200m runners of all-time based on his world-leading 19.49 clocking back in April. He turned pro last summer after placing fourth at the Tokyo Olympics (19.93) as a junior in high school. Noah Lyles, the 2019 world champion, is back in top form after posting at 19.61 (No. 2 in the world) in a win at the New York City Grand Prix on June 12, while Kerley (19.80) is No. 3 on the world list. The 200m doesn't get the same attention as the 100m or the 400m, but it could be an event the U.S. could sweep at the world championships if this trio of speedsters make the podium at the U.S. championships.
Women's 400 Meters
Allyson Felix Continues Her Farewell Tour
Although she's retiring after this season, 36-year-old sprint legend and mother Allyson Felix isn't done yet. After placing second at last summer's U.S. Olympic Trials, she went on to earn the bronze in the 400m (49.46) and a gold in the 4×400-meter relay at the Tokyo Olympics to give her a record 30 medals in global championships. She's run 50.71 so far this year, but she'll face stiff competition from NCAA champion Talitha Diggs (49.99), Kennedy Simon (50.45), and Alexis Holmes (50.71), among others. Felix's legacy is already secure as one of the world's best track athletes of all time, but finishing on the podium and making another U.S. team will be a fitting way to close out her career.
Men's 1500 Meters
Young Talent Always Makes It Interesting
Known as the metric mile (because it's about 100 meters short of a mile), the 1500m is always one of the most exhilarating events on the track. The U.S. is loaded with young talent in this event, led by Cole Hocker, 21, and Cooper Teare, 22—who both left the University of Oregon program early to become Nike pros—as well as 2021 NCAA champion Yared Nuguse, 23, and Hobbs Kessler, 19, who turned pro last summer after finishing high school. Hocker, who leads the field with a 3:31:40 PR, famously outkicked 2016 Olympic champion Matthew Centrowitz, Jr. to win the U.S. Olympic Trials last June and then placed sixth at the Tokyo Olympics. Teare owns the best time in the U.S. (3:34.81), but both he and Hocker are also contenders in the 5000m.
Women's High Jump
Don't Miss Vashti Cunningham
Vashti Cunningham comes from elite athletic pedigree—her father, Randall Cunningham, was a Pro Bowl quarterback for the Philadelphia Eagles and her mother, Felicity de Jager Cunningham, is a former ballerina with the Dance Theatre of Harlem—but she's found her calling in her own right. Although she's only 24, she's already won nine U.S. titles and three world championship medals. She's ranked No. 4 in the world (1.96 meters or 6 feet, 5 ¼ inches) and is the favorite to win another U.S. title. But the U.S. has more depth than even before with Rachel Glenn and Rachel McCoy, among 15 women who have cleared 1.85 meters this year.
Men's 400 Meters
A Race with Almost Too Much Talent
This grueling, one-lap sprint race is one of the toughest on the track, especially when it comes to the U.S. championships. The U.S. has more depth in the men's 400 meters than any other event, with Americans owning eight of the world's top 15 times so far this year. The cream of the crop is Michael Norman, who owns a world-leading 43.60 this year. He has won two of the past three U.S. championships, but has something to prove after a disappointing fifth-place showing at last summer's Olympics. In his wake are a plethora of hungry youngsters like 21-year-old NCAA champion Randolph Ross (44.13) and experienced veterans like Michael Cherry (44.28).
Lead Photo: Getty
Trending on Outside Online