Kenyans Lokedi, Chebet Win Thrilling New York City Marathon Races
In New York City, Sharon Lokedi (KEN) proved it's possible to win a marathon in your first try. Chebet (KEN) brings home a double for 2022.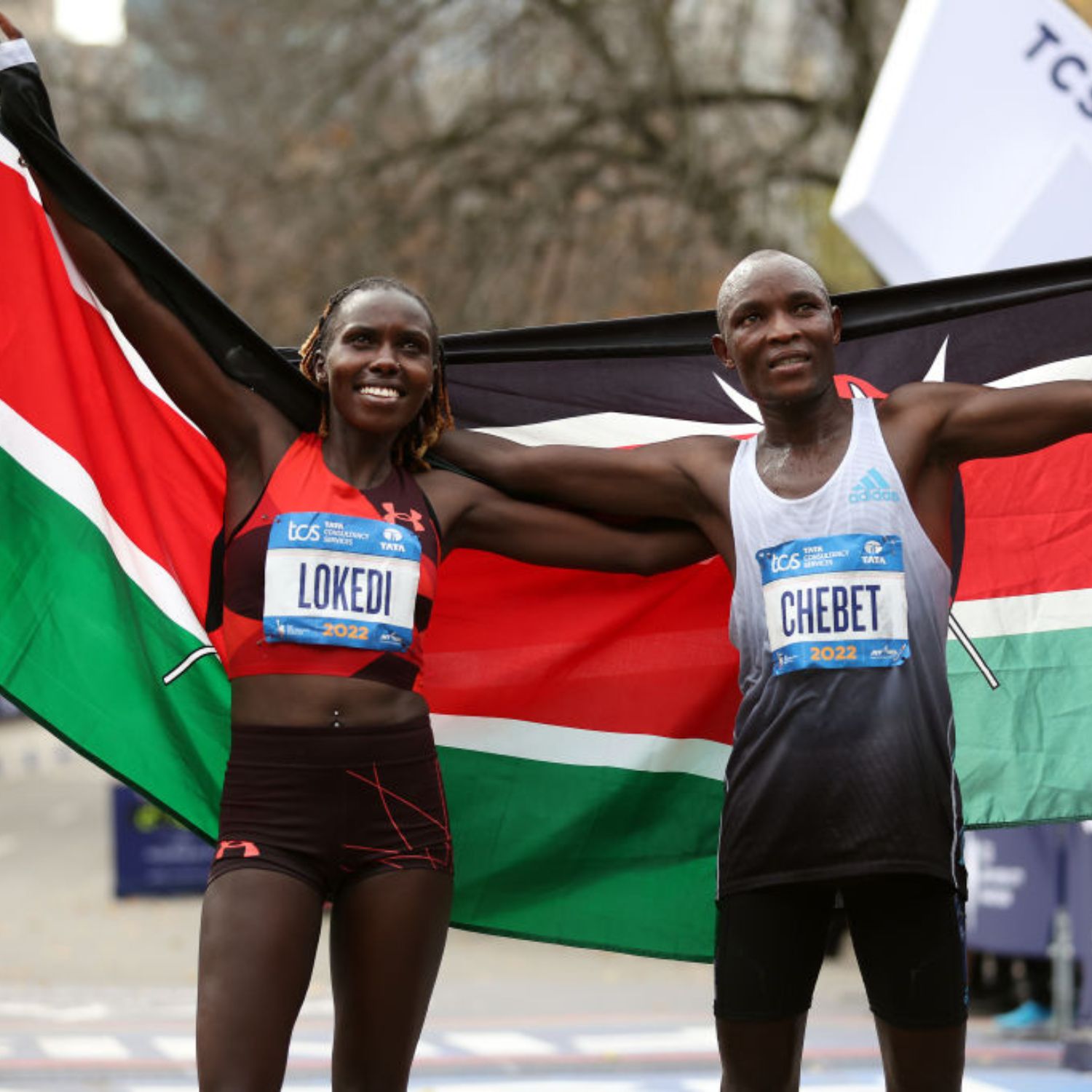 Jamie Squire/Getty Images
Heading out the door? Read this article on the new Outside+ app available now on iOS devices for members! Download the app.
On Sunday morning in New York City, Kenya's Sharon Lokedi proved it's possible to win a marathon on your first try, but Brazil's Daniel Do Nascimento showed it's not possible to do it running alone most of the way.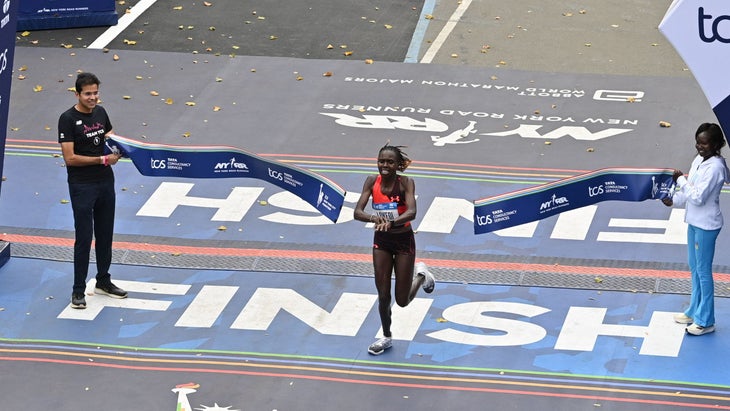 In a stunning debut running 26.2 miles, Lokedi, a 28-year-old former University of Kansas runner, broke away from the lead pack of women at the 24-mile mark and outran Kenyan-born Israeli runner Lonah Salpeter to win Sunday's New York City Marathon in 2:23:23. Salpeter, the bronze medalist at last summer's World Athletics Championships in Eugene, Oregon, finished seven seconds behind to secure second place (2:23:30), followed by Ethiopia's Gotytom Gebreslase in third in 2:23:39.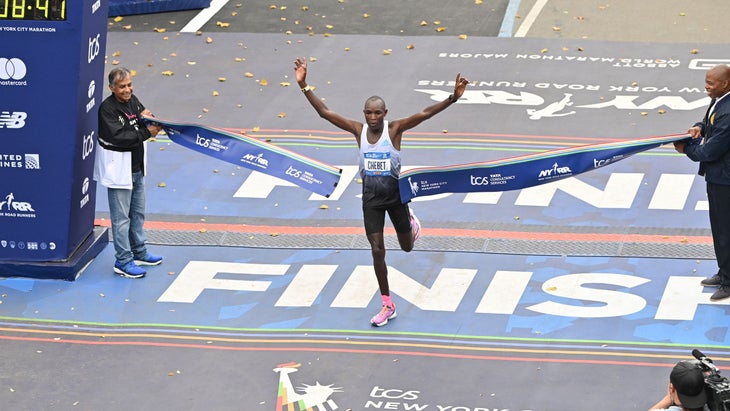 In the men's race, Kenya's Evans Chebet took charge of the race after Do Nascimento's breakaway lead saw him succumb to cramping and exhaustion near mile 21 in the Bronx. Chebet, who patiently ran with the men's chase pack through the 15-mile mark, executed a strong surge throughout the second half of the race to win in 2:08:41.
In winning his fifth marathon since 2019, Chebet, 33, also pulled off the rare feat of winning the New York City Marathon in the same year as he claimed victory in the Boston Marathon, which he won in 2:06:51 back in April.
Lokedi and Chebet each won $100,000 in prize money for their victories.
It was an unseasonably warm day in New York City—with the temperature expected to soar into the 70s by late afternoon, which would challenge the record for the hottest race since the marathon moved to November in 1986.
Tuliamuk, a 2020 U.S. Olympian, was the top American women's finisher, finishing in seventh in 2:26:18 (5:35 per mile) and Scott Fauble was the top American men's, placing ninth overall in 2:13:35.
Linden, Do Nascimento Early Breakaway Leaders
Both the women's and men's races had singular runners go off the front to push the pace in the early miles. In the women's elite race, which started 15 minutes before the men, Linden, the 2018 Boston Marathon champion and two-time U.S. Olympian, put in an early surge and ran out in front of the large women's lead pack, pushing the pace just off course-record pace through the 10km split (34:26). Linden was absorbed into the lead pack near mile 10 and then the women's race really began to unfold.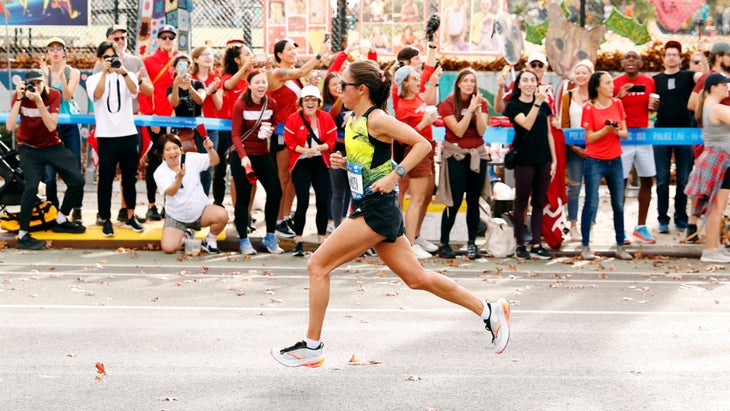 Kenya's Hellen Obiri, another first-time marathoner who recently moved to Boulder, Colorado, to train, was among the leaders in the 12-runner pack at the halfway split (1:12:17), along with Lokedi, Gebreslase, Salpeter, Viola Cheptoo, Enda Kiplagat and Americans Lindsay Flanagan and Alpiphine Tuliamuk.
The lead pack dwindled to six runners by the 15.5-mile mark as Gebreslase, Obiri, Salpeter, Cheptoo, and Lokedi all came through in 1:25:46, with Kiplagat and Tuliamuk working hard 2 seconds off the pace. But as the lead women ran in and out of the Bronx, it became a four-person race, with Salpeter, Obiri, Lokedi and Gebreslase running together through the 21.7-mile split in 1:59:13.
After Obiri dropped back, Salpeter, Lokedi and Gebreslase continued to surge through the 23rd mile until it came down to Lokedi and Salpeter in a battle over the final 2 miles amid throngs of cheering fans in Central Park.
Salpeter seemed like the likely victor, based on her 2:17:45 personal best from the 2020 Tokyo Marathon. But it was Lokedi, who was an NCAA 10,000-meter champion for Kansas in 2018 and placed fourth in the NYC Half Marathon in March, who pulled away as the course hit the 25-mile mark on Central Park South. Surging on the slight uphill to Columbus Circle and into Central Park, Lokedi continued to widen the gap over Salpeter until the finish line.
"I am just so happy that I did it here," said Lokedi, who ran in Under Armour's new Flow Velociti Elite shoes. "The course was amazing, the people, the cheers, it was just amazing. I'm so happy, I'm out of words."
In her first-ever marathon, @shazrinee breaks the tape and wins this year's #TCSNYCMarathon! pic.twitter.com/pt1Mo9NNxf

— TCS New York City Marathon (@nycmarathon) November 6, 2022
Kenya's Evans Chebet wins as Brazil's Daniel Do Nascimento Fades
In the men's race, Do Nascimento, dressed in purple shorts and a white tank top, blazed ahead of the pack and led the field by 31 seconds at the 5km (14:31) split and 90 seconds by the 10km (28:42). He's a legitimate elite runner, having placed third in last spring's Seoul Marathon in 2:04:51, the fastest time ever recorded by a non-African runner. But the rest of the men's elite field was content to let Do Nascimento get away for the time being as he ran sub-2:30 pace, perhaps because they were also ahead of the course-record pace and because the morning temperature was unseasonably warm and rising.
By the halfway point, Do Nascimento was still on sub-2:03 finish pace (4:46 per mile) and had built the lead to 2:13 as he came through in 1:01:22. But working together and biding their time behind him at a slightly more conservative pace was an international chase pack of Chebet, defending champion Albert Korir (Kenya), Abdi Nageeye (France), Mohamed El Aaraby (Morocco), Suguru Osako (Japan) and Shura Kitata (Ethiopia).
Although Do Nascimento continued to lead through the 18.6-mile split (1:29:09), he stopped for a bathroom break in a portapotty near mile 17 and then slowed to walk and stretch for a moment near mile 20. Chebet had separated himself from the pack and was surging, throwing in a 14:37 5km split (about 4:42 mile pace) to cut the margin to less than a minute. The Brazilian was still in the lead through the 20-mile split (1:36:22), but by then he had slowed to 5:15 mile pace it was clear Chebet (1:37:02) was going to catch him.
Bridge number four done for the #TCSNYCMarathon pro men's open field. Daniel do Nascimento remains in the lead but is clearly struggling as he enters the Boogie Down Bronx! pic.twitter.com/5fJJ5PJCWG

— TCS New York City Marathon (@nycmarathon) November 6, 2022
Shortly after Do Nascimento succumbed to cramping and exhaustion and wobbled off the course near the 21st mile, Chebet came flying by and never looked back. Kitata and El Aaraby were 20 seconds behind at that point, but only Kitata kept surging as Chebet got closer to the finish. Chebet didn't let up, though, grinding out the final miles in 5:05 pace to hold on for the victory.
"I'm so thrilled to celebrate a victory today," Chebet said. "I knew coming into this race that I would have a shot at the podium, but this field is so strong that nothing was guaranteed. Today's result feels like a reward for all the hard work I put in training for this race – I couldn't be happier."
Here's Evans Chebet's tape break moment in the #TCSNYCMarathon! pic.twitter.com/DOAkcTkdRQ

— TCS New York City Marathon (@nycmarathon) November 6, 2022
Hug, Scaroni Win Wheelchair Races
Marcel Hug of Switzerland was victorious in the men's wheelchair race for the fifth time, tying Kurt Fearnley for most-ever victories in that event. Hug finished the 26.2-mile course that goes through all five boroughs of New York in 1:25:26 to break the previous mark of 1:29.22 set by Fearnley of Australia in 2006. American Susannah Scaroni broke the course record in the women's wheelchair race, finishing in 1:42.43, 21 seconds better than the old mark, which was held by Tatyana McFadden. Both Hug and Scaroni earned $25,000 for their victories and $50,000 for their new course records.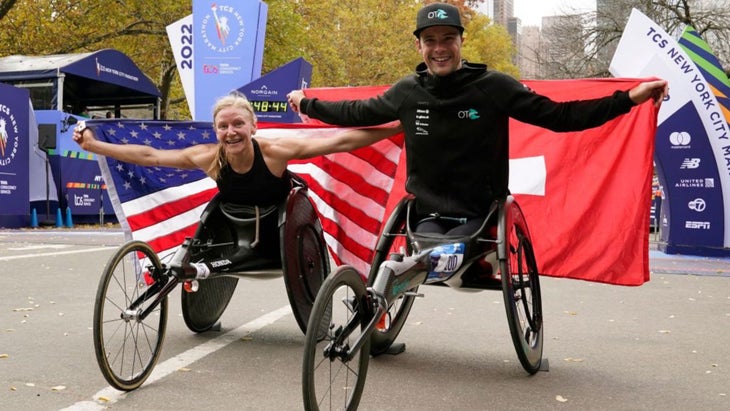 Lead Photo: Jamie Squire/Getty Images
Trending on Outside Online