50 Years of Sierre-Zinal: the World's Greatest Mountain Running Race
Sierre-Zinal, the soul of fast-paced trail running, is celebrating five decades of world-class competition this weekend in Switzerland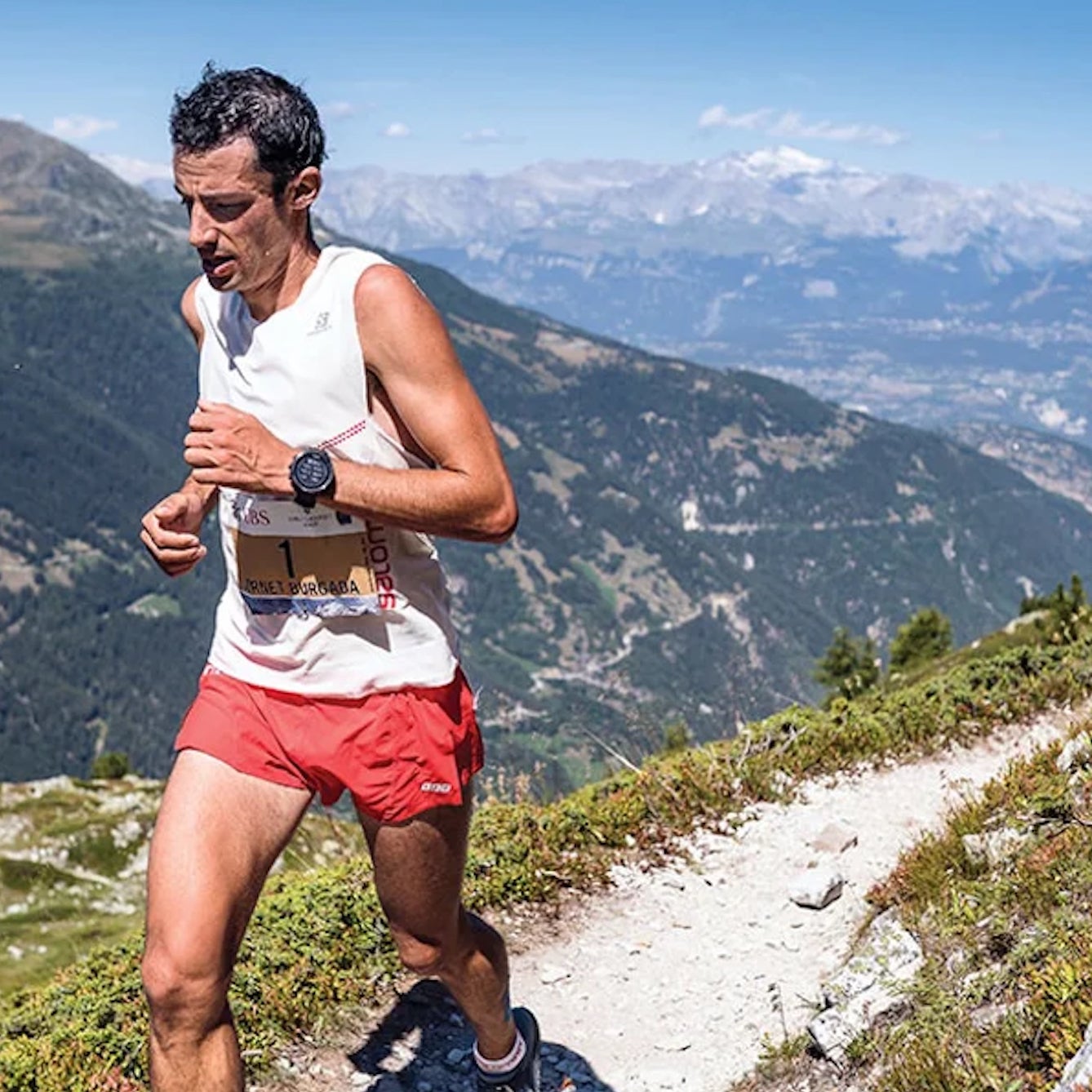 Damien Rosso
Heading out the door? Read this article on the new Outside+ app available now on iOS devices for members! Download the app.
Pablo Vigil will never forget his first taste of mountain running in Switzerland.
As a twentysomething runner in the mid-1970s, Vigil had completed his collegiate track and cross country career at Adams State College in Alamosa, Colorado, but was hungry for more. There weren't any established professional training groups and few professional sponsorships at the time, but Vigil found his way to Boulder because he had heard Olympic marathon champion Frank Shorter was starting a racing team.
Living in a rented mobile home in Boulder with several other runners, Vigil improved considerably training with the Frank Shorter Racing Team. He competed for the U.S. squad that earned the team silver medal at the 1978 World Cross Country Championships in Glasgow, Scotland, racked up several top-10 finishes in domestic road races and, by early 1979, lowered his marathon personal best to 2:18:32.
An Unlikely Invitation
That summer, he was invited to run the Sierre-Zinal race, a 31K (19.2-mile) trail race that connects several mountain villages between Sierre and Zinal, in the Swiss canton of Valais. Back then, trail running was in its infancy, but it was already vibrant in Europe. Vigil was told Sierre-Zinal was the biggest and most competitive mountain running race in the world—an event that drew cross-country runners, marathoners, fell runners, and Nordic skiers who were known to train by running trails—so he was eager to give it a shot.
Not only was the course and its 7,200 feet of total vertical gain harder than anything he'd ever run,  it turned out to be the most competitive race of his life.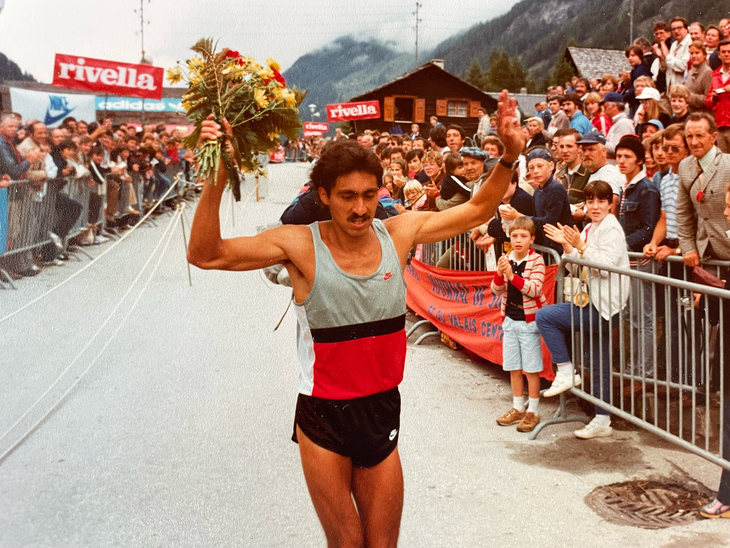 "I had run some of the early trail races in Colorado, like the Pikes Peak Marathon and some other local ones, and those were great, but it was nothing like what was happening in the European scene," says Vigil, who draws part of his heritage to the Taos (Tiwa) Native American tribe of Puebloan people. "It was a huge race, and when we started up the mountain, holy shit! The first 50 runners were out for blood. That was a different kind of running."
Competing against top mountain runners from Switzerland, Italy, the UK, and dozens of other European nations, Vigil remembers the aggressive style of racing—bumping elbows, legs, and shoulders—along the narrow singletrack trails that climbed more than 6,000 feet out of Sierre as thousands of local residents cheered along the course.
Vigil was a talented distance runner, but he was gutsy, too, and didn't have any fear of flat-out racing. Not ruffled by the more experienced European runners, Vigil, wearing a pair of original Nike Waffle Racers, blasted to the front midway through the race and never relinquished his lead, winning in a new course-record time of 2:33:49 as a helicopter filmed overhead for live TV.
Although trail running in the U.S. had started to develop in popularity, it was mostly centered around the niche sport of ultra-distance trail running that began to flourish after Gordy Ainsleigh completed the 100-mile Tevis Cup equestrian event on foot in 1974, a feat that led to the formation of the Western States Endurance Run. In Europe, though, trail running was booming on steep, rugged mountain race courses.
"At the time, a lot of the European runners were pretty arrogant and saying that the Americans were soft," recalls Vigil, 71, a retired school teacher who lives in Fort Collins, Colorado. "Back then, they were saying Americans were soft in skiing, soft in other sports. And I was thinking, 'Oh, man, that ain't true. We got the talent here in the U.S. We're just as badass as the Europeans. We've got the mountains. We've got the altitude. We just need to get our asses over there and start kicking some ass in those kinds of races.'"
Vigil wasn't the first U.S. runner to win the race—elite American marathoner and mountain running pioneer Chuck Smead had won it in 1977 and cajoled Vigil into running it two years later—Vigil was the first multi-year champion and, arguably, the race's first legendary runner after winning it three more years in a row.
Just as importantly, Vigil became a Sierre-Zinal evangelist, encouraging other American runners to compete in the event since the 1980s. His success and advocacy, in part, paved the way for numerous elite U.S. runners to test their mettle on the course, with several producing top-five finishes over the years,including those by Jay Johnson, Joe Gray, Megan Kimmel, Jim Walmsley, Max King, and Bailey Kowalczyk (fifth, last year). But Megan Lund (2010) and Stevie Kremer (2014) are the only other American runners to win the race other than Smead and Vigil.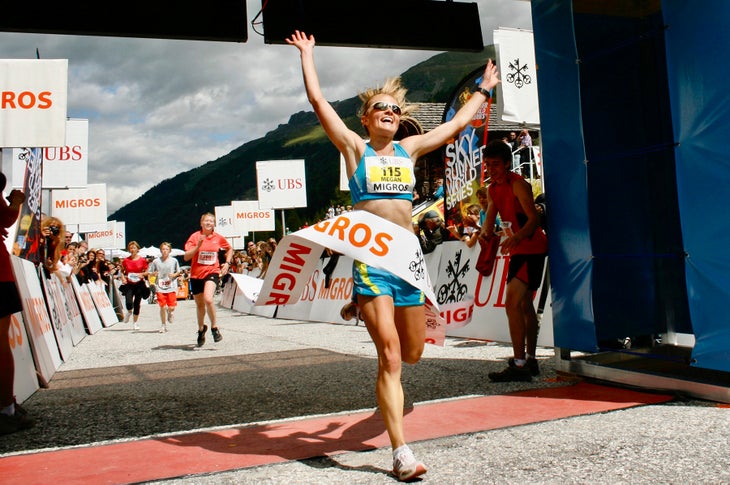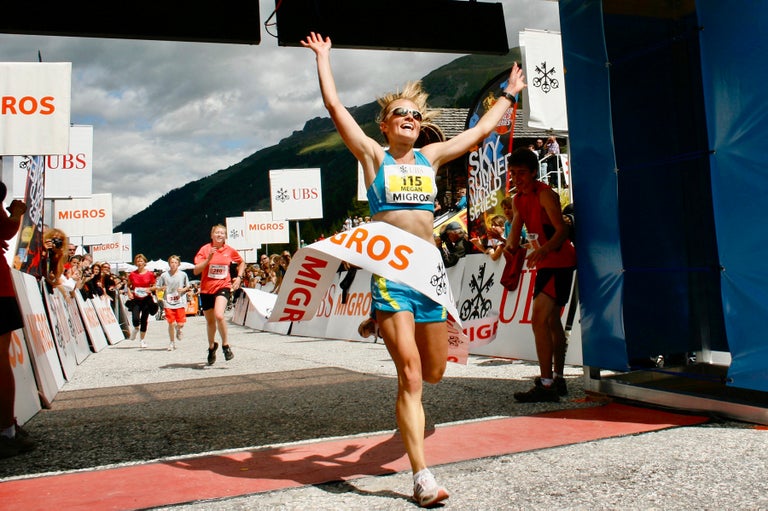 "It was my first taste of real European trail racing. And yeah, the crowds! It was next level," Lund says. "There was never a dull moment on the course. At some point, it felt like the course was remote and there were people everywhere cheering, and I thought, 'How do these people get up here?' You would never see this in America.
"After the race, I signed hundreds of autographs on spectator's race programs, and I had never done that before," she adds. "And the craziest thing was, the next year when I came back, there were posters of me all over town, and I was being asked for my autograph right when I got off the train in Sierre."
Sierre-Zinal Celebrates 50 years
Sierre-Zinal is celebrating its 50th edition this year, on August 12, and it's just as prestigious as it's ever been. Known as "the race of the five 4,000s"—a reference to the majestic 4,000-meter-high summits that overlook the race—it's remained a prominent event in the trail running world because of its stunning locale, the fast-and-furious racing from the star-studded international fields it attracts each year and the festive community support from the enthusiastic spectators.
It also paved the way for other popular, high-energy races, like the Zegama Marathon in Spain and the Mont-Blanc Marathon festival of races in Chamonix, France. (And it created a model that the race directors of the Broken Arrow Sky Race and Mammoth TrailFest are trying to replicate in the U.S.)
"A lot of races in Europe have enormous spectator support, tunnels of crowds that are deafeningly loud," says American Eli Hemming, one of the top contenders in the men's field. "It's so exciting as a runner to compete in an atmosphere like that."
As one of the six races of the competitive Golden Trail World Series, the men's and women's elite races are stacked with talented runners from around the world. The first 12K (7.4 miles) of the course sends runners up a near-continuous climb from 1,900 to 6,500 feet. They continue climbing to a high point of nearly 8,000 feet at the 24K (15-mile) mark, before dropping 2,500 feet over the increasingly steeper final 7K (4 miles) to the finish line in Zinal, where, dead-legged and delirious, they're greeted by hundreds of local villagers and thousands of runners from the citizen race that started before the elite runners. There are 6,500 runners registered to run Sierre-Zinal this year.
Sierre-Zinal 2023: Who to Watch
Kilian Jornet, the world's preeminent mountain runner and ultrarunner, has won Sierre-Zinal a record nine times since 2009, most recently in 2021. Unfortunately, he's sidelined with a hip injury this weekend and relegated to assisting the race's livestream broadcast. In his stead, hard-charging Swiss runner Rémi Bonnet, 2022 Golden Trail World Series champion and winner of last summer's Pikes Peak Ascent in Colorado, has already stated his intent on wanting to win the historic race in his home country.
Bonnet's biggest competition will likely come from Kenya's Patrick Kipngeno, last year's Sierre-Zinal runner-up who won the 7.5K (4.6-mile) uphill mountain race at the world championships in Austria, Eritrea's Petro Mamu, the 2016 winner who placed third last year, Philemon Ombogo Kiriago (Kenya), who finished fifth at Sierre-Zinal last year and was the runner-up in the 15K (9.3-mile) mountain race at this year's world championships, and Robert Pkemoi (Kenya), who took fifth at Zegama Aizkorri Marathon earlier this year.
Other top names to watch in this year's race include Robbie Simpson (UK), Elhousine Elazzaoui (Morocco), Matthias Kyburz (Switzerland), Cesare Maestri (Italy), and Americans Joe Demoor and Eli Hemming. Demoor, 33, from Carbondale, Colorado, won the Vertical K at the 2022 Skyrunning World Championships in Ossola, Italy, while Hemming, a 28-year-old triathlete-turned-mountain runner from Salida, Colorado, won the 23K Broken Arrow Sky Race near Lake Tahoe in June and then took second in the prestigious Mont Blanc Marathon in late June in Chamonix, France.
Another fast-rising American runner making her Sierre-Zinal debut is Salt Lake City's Sophia Laukli, who will be a top contender in the women's race. The former University of Utah and 2022 Olympic Nordic skier is now a Salomon-sponsored pro trail runner who won the 42K Marathon du Mont-Blanc in Chamonix, France, in June, and took second at the 22K DoloMyths Run in Canazei, Italy last month.
Swiss runner Judith Wyder is another frontrunner of the deep women's field after winning the DoloMyths Run, along with Kenya's Philaries Kisang, the runner-up finisher last year and the silver medalist in the 7.5K vertical race at the World Mountain and Trail Running Championships on June 7 in Innsbruck, Austria.
Dutch runner Nienke Brinkman, last year's Golden Trail World Series champion and a 2:22 marathoner, is coming back from an early season injury and is out to prove she's equally as good on trails as she is on the roads. Other top contenders include American Allie McLaughlin, who won two races at the 2022 Golden Trail World Series Finals and the vertical mountain race at the last year's world championships in Thailand, and USA's Tabor Scholl (ninth last year at Sierre-Zinal), as well as Ireland's Sarah McCormack, Germany's Daniela Oemus, Kenya's Lucy Wambui Murigi, Spain's Nuria Gil, and China's Miao Yao.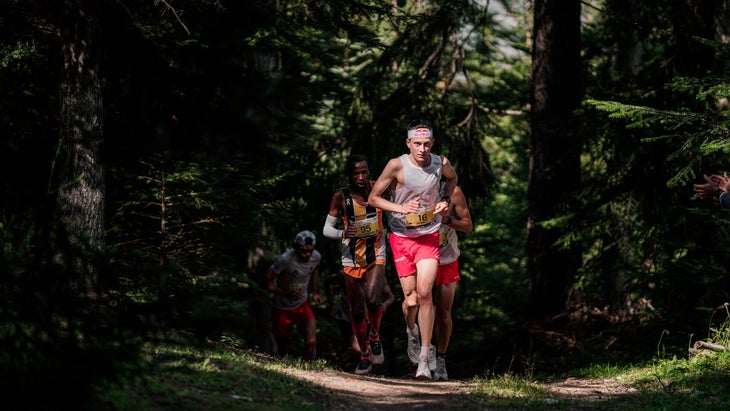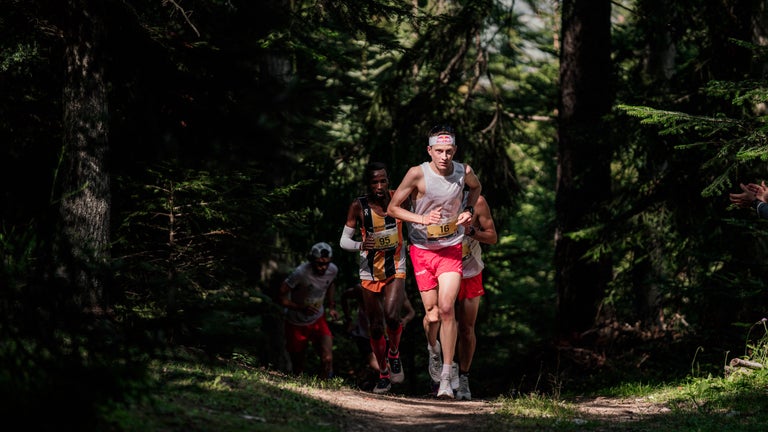 Back to the Future
Trail running has evolved considerably since Vigil reigned over the European trail running world as a four-time Sierre-Zinal champion. Back when he ran, Vigil vividly remembers aid stations handing out raisins, chocolate, small cubes of cheese, and even paper cups filled with locally produced wine. Nowadays, there's an elite-class of professionally sponsored mountain runners who specialize in sub-ultra distances bolstered by trail running supershoes, sophisticated smartwatches, and advanced sports nutrition supplements. Sierre-Zinal can be viewed via premier livestream coverage throughout the world, but it's still broadcast on live TV throughout Switzerland and draws thousands of local spectators.
Sadly, as trail running attracts more prize money and sponsorship opportunities, it has also attracted dopers. Both of last year's winners, Mark Kangogo and Esther Chesang, were disqualified and suspended after failing drug tests. This year's race carries a prize purse of approximately $25,000, plus a bonus of $5,700 for a runner who breaks the men's (2:25:35) or women's (2:49:20) course records. But the race has made its doping policies and testing much stricter in 2023.
Vigil was disturbed to hear that news last year, mostly because he always considered mountain running to have a higher moral code than the sponsor-controlled, money-infused competitiveness he witnessed on the track and roads. Even after winning Sierre-Zinal in 1982, Vigil went on to win several U.S. marathons and lower his personal best to 2:15:19, and continued racing as a competitive master's runner on the roads and trails into his 60s. But his lifetime highlights, he says, are primarily tied to memories of racing Sierre-Zinal.
He's gone back to watch the race numerous times over the past three decades, both because he's still hailed as a past champion and because it's in his blood. (The footprints of each of the race's champions are commemorated in a plaster-casted "wall of fame" near the finish line in Zinal.)
This year, Vigil will be back on the starting line to run with many of the event's past winners and legendary runners. ("More like run, hike, crawl, and slither to the finish line," he jokes.) He's also looking forward to witnessing the pure grit and grind of fast-paced mountain running he so cherished when he was a younger man.
"We didn't have all this high tech stuff, but it was super badass running," Vigil recalls. "It's different from what's evolved in ultrarunning. The tone that was set in mountain running back then was about kicking ass or getting your ass kicked, and at the front of the pack at Sierre-Zinal, it continues to be that way."
Lead Photo: Damien Rosso
Trending on Outside Online