The Ultimate Runner's Guide to Visiting Washington, D.C.
Thanks to a number of world-class races, a community-focused running culture, historical landmarks, and accessible wooded trails, the nation's capital is one of the best urban running environments in the country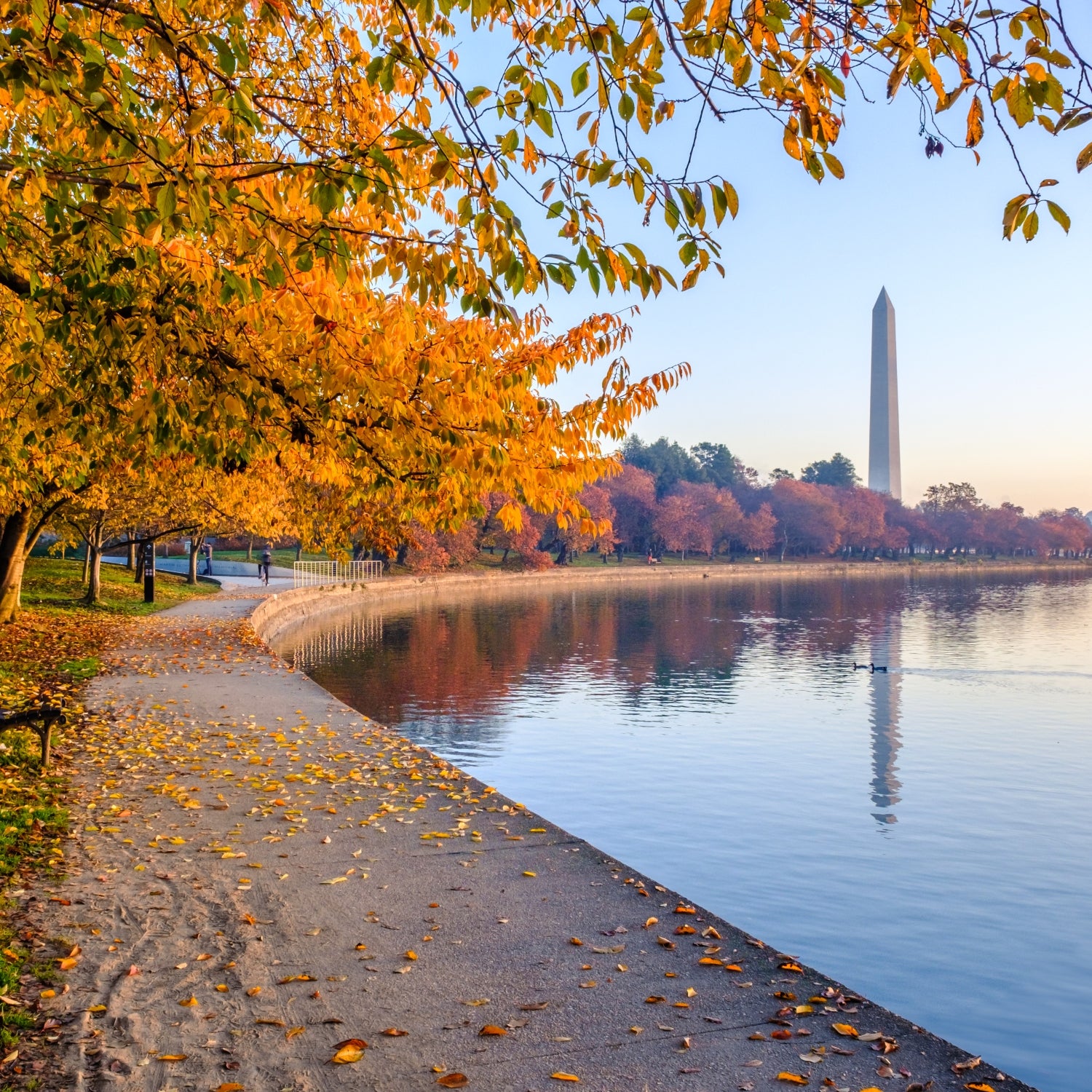 John Baggaley/Getty
Heading out the door? Read this article on the new Outside+ app available now on iOS devices for members! Download the app.
The hub of American political culture, Washington, D.C., is also one of the most active and ambitious running cities in the nation. Along with its historical monuments, the nation's capital city boasts hundreds of miles of running trails in the greater metro area and a diverse running-club scene. D.C. also hosts one of the biggest running events of the year: the Credit Union Cherry Blossom Ten Mile Run.
"I think it's the best urban running environment in the country," says Kerry Allen, an elite runner who trains with the Georgetown Running Club. Here's our guide to the city's vibrant running culture, featuring tips from local runners on their favorite trails to explore, races to enter, and spots to grab a pre-run coffee or post-run drink.
What You Need to Know Before Visiting D.C.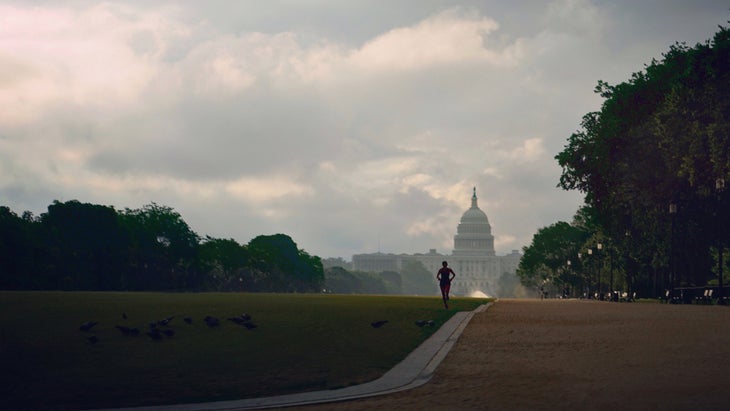 Be prepared for sweltering summer weather. While summer is the peak tourist season in the nation's capital, it's also very hot and muggy with a typical July high of 89 degrees. Not exactly ideal for running. Consider visiting in early spring or fall for the best running weather. Bonus: you'll have fewer crowds to work around.
Find local running clubs to link up with. D.C. is home to many local running clubs that host free social runs and events that are open to anyone. It's a great way to meet other runners to explore the city with.
Don't rent a car. D.C. is infamous for its terrible traffic. The city's grid layout, however, makes it easy for pedestrians to navigate, and it has an extensive and convenient public transportation system. Consider purchasing a Metro SmarTrip Card for your stay; your stress levels will benefit. Fares for Metro rides vary based on the ride length, day, and time you ride. You can use this Trip Planner site to calculate your fare or buy an unlimited pass ($13 for one day, $28 for three days, and $58 for a week).
Local Running Scene
The Washington, D.C., running community is extremely active, supportive, and community-minded. Whether you are a competitive runner, training for your first marathon, or just hoping to meet up for a quick jog before grabbing a beer, there's a spot for you in D.C. Local runners say there's always a group to run with or a bar or brewery run to join. You'll never feel lonely on the roads or trails at any time of the day.
"The thing I love about D.C. is that it is a little bit more of a Type A city than some other cities, so you will find people running at 5 o'clock in the morning and also 11 at night," says Elyse Braner, community manager at Pacers Running, a chain of local running stores. "You'll always have company out on the roads."
Pacers Running has three locations in the city and three nearby in Virginia. The stores host free social runs several nights per week, offering a variety of routes, distances, and paces, including track workouts, trail runs, and a new walking option. Joining a social run is a great way to mingle with local runners and get a taste of the community. "We always head to a favorite local hangout after," says Braner.
Being community-focused is a distinguishing trait of D.C. running culture, says Guillermo Leon, a group-run leader for the D.C. Capital Striders (DCCS), which meets at several locations in D.C. and Virginia during the week. "We try to help out the small businesses and restaurants that were struggling in the D.C. area because of COVID," Leon says. DCCS also cleans local parks on their Saturday runs.
D.C. is home to competitive groups as well. Georgetown Running Club is one of the more structured and exclusive running groups in the city, made up of elite and sub-elite runners meeting twice a week for workouts. Still, Allen says, on non-practice days they integrate themselves into the greater D.C. running community by running with other groups and joining in local running events. The Capital Area Runners are another local training group that meets for practice six days a week with some sessions open to all comers. The group also offers an elite development program.
Races and Running Events
Credit Union Cherry Blossom Ten Mile Run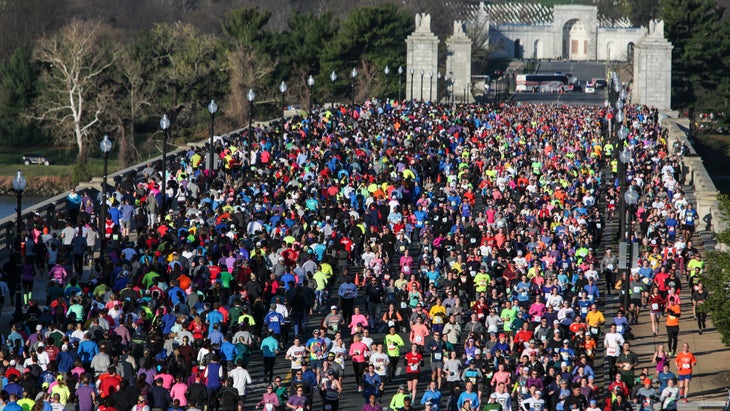 The Credit Union Cherry Blossom, one of the most iconic D.C. races, takes place every year on the first Sunday in April, coinciding with the peak bloom of the city's famous cherry blossoms and the National Cherry Blossom Festival. The race, founded in 1973, attracts an international field. The course takes in many of the city's historic landmarks, including the Jefferson Memorial, the Washington Monument, the Lincoln Memorial, Arlington National Cemetery, and Rock Creek Park. In 2019, the race had over 17,000 participants. The Cherry Blossom uses a lottery entry system, or you can guarantee entry through fundraising.
"It brings out all different types of runners, from some of the best in the country to people for whom this is their one big challenge a year," GRC's Allen says.
Marine Corps Marathon 
The Marine Corps Marathon anchors the D.C. fall running calendar. Established in 1976, "The People's Marathon," with a field of around 30,000, is the fourth-largest marathon in the United States, and the largest marathon in the world that doesn't offer prize money.
The MCM is typically held on the last Sunday of October. The USA Track and Field–certified course begins in Arlington, Virginia, and takes runners past several D.C. landmarks. After looping around the National Mall, the course ends back in Virginia at the Marine Corps War Memorial.
Army Ten-Miler Race and Expo
The second-largest ten-mile race in the country, the Army Ten-Miler attracts more than 35,000 runners from around the globe. The race, sponsored by the U.S. Army Military District of Washington, is held every October in Arlington, Virginia, and Washington, D.C.
Freedom 5K at President Lincoln's Cottage 
The unique, family-friendly Freedom 5K is held at President Lincoln's Cottage on September 22, the date Lincoln issued the preliminary Emancipation Proclamation.
The course winds through an idyllic landscape past ponds, fields, and historic buildings, eventually ending at the lawn of Lincoln's cottage in northwest Washington, D.C. The race is combined with the associated nonprofit's Family Day, so runners with kids may want to stick around for a day full of free activities, including pony rides, art projects, and storytelling. (Donations are encouraged to help preserve the historic space, fund tours, and provide educational resources.)
Pacers Running Races 
Pacers Running puts on a number of popular running events in the Washington, D.C., area. A few favorites among local runners are the Clarendon Day 5K in September, the Veterans Day 10K in November, and the D.C. Half—a destination race in September. Braner says that the D.C. half is a popular race to participate in and includes both a half-marathon race and a two-or-three-person half-marathon relay. The company also hosts the GW Parkway Classic—a ten-mile race in April—and a Jingle All the Way 5K and 15K race in December.
Pacers also organizes historical and cultural running events throughout the year, like the series of Black History Month group runs, touring culturally and historically significant Black landmarks in northwest D.C. It's planning to organize similar runs for Women's History Month and Earth Day.
"D.C. is filled with history and important moments and important figures, so it's really great for people who love history and current events and politics who are also runners," Braner says.
Where to Run
National Mall
The most iconic D.C. run loops around the National Mall, which stretches for nearly two miles from the Capitol to the Lincoln Memorial. The cinder path circles the Washington Monument, with the White House off to the side, and passes a number of other monuments and museums. The entire loop is just under five miles. You can continue a bit past the Capitol to the Supreme Court building to extend your run, or, on the other end, loop down around the Tidal Basin and alongside the Martin Luther King and Jefferson Memorials. From there, it's easy to add on the flat, 4.4-mile loop of Hains Point, with views over the Potomac. This is a popular tourist location, so try heading out early in the morning to avoid crowds.
"Running is a really great way to sightsee all the monuments because the monuments are very far apart if you're walking," Allen says.
Leon's D.C. Capital Striders run group meets at the Smithsonian Bikeshare Station near the Mall. He leads his group to hidden gems in the area that aren't as obvious, such as murals or less famous landmarks. "I try to look for things that we haven't seen or visited before," says Leon. On the last run, he took the group past the Culture House, an art center that was formerly a church.
Rock Creek Park
With over 1,700 acres of shaded woods, massive Rock Creek Park offers options to run on bike paths or soft-surface trails. Allen says this is the best place to run in Washington, D.C. "You can go there multiple days a week and have a totally different running experience, depending on where you're going," she says.
Because the area is wooded and heavily shaded, it offers a small reprieve from the bustle of the city. "You can get some of your more technical trail runs in and you feel like you're out of the city," Braner says. "There's tons of trails. You'll see tons of runners through there on the weekends."
Chesapeake and Ohio Canal
The Chesapeake & Ohio Canal—also known as the C&O trail—is a gravel trail stretching 184.5 miles from Georgetown to Cumberland, Maryland. This is a great option for a long run. You can start at the Georgetown Visitor Center at Wisconsin and M Streets. It's also accessible from Rock Creek Park.
Ten miles along the canal you'll find the Carderock Recreation Area, a 100-acre park with numerous hiking trails one mile north of the Capital Beltway. "This is a beautiful, classic spot with some great views," says Jerry Greenlaw, a member of the Georgetown Running Club. But, he warns, it can get packed on nice days.
Anacostia Riverwalk Trail
For a place to get in a tempo workout or time trial, or just for a great water view, check out the Anacostia Riverwalk Trail, beginning on Anacostia Drive. The route, which continues for 20 miles on both sides of the Anacostia River, is part of the Riverwalk Trail System—a new recreational amenity in D.C. The trail is about 11 feet wide and designed to accommodate cyclists, runners, and walkers.
"It's paved and flat, so I go there if I want to do a 5K time trial for myself or just kind of get some speed in my legs," Braner says. "It's also just a beautiful trail along the Anacostia River. And it's close to the Navy Yard neighborhood, which is where a lot of great bar spots are."
Theodore Roosevelt Island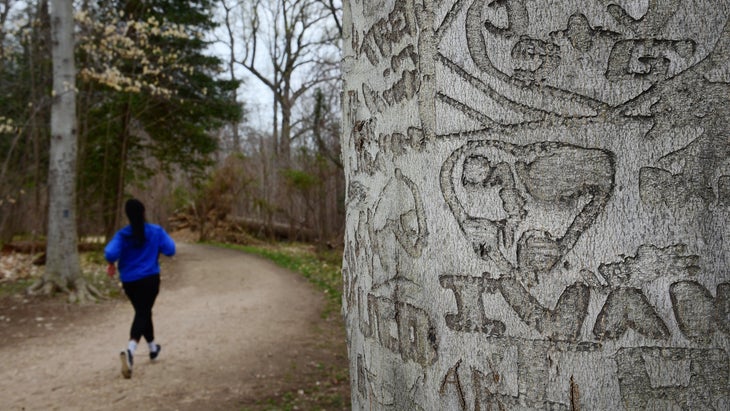 Another place to escape from the city is Theodore Roosevelt Island, an 88.5-acre national park in the middle of the Potomac River with wooded lands and swamps. The island is closed to traffic and bikes, so it can be traveled only on foot. The area has flat dirt trails, great for getting in a scenic shakeout run or a hike.
To get there, you can run along the Georgetown Waterfront and across the Key Bridge, then loop back down to the river on the bike path to the pedestrian bridge over the Potomac.
Where to Stay
For a central location near the mall with great running spots right outside your door, stay in Dupont Circle. The area is known for its funky cafés, hip restaurants, museums, and art galleries. If you're looking for more nightlife, Logan Circle (along P Street and running north on 14th Street) is nearby.
If you want to be in the center of political activity, and right next to Rock Creek Park, Foggy Bottom (named for the fog that often lingers in the neighborhood) is at the western edge of Georgetown, locked in by 17th Street. It's where the U.S. Department of State, Kennedy Center, and other major political institutions are located.
For high-end charm, the Georgetown neighborhood offers shops, cobblestone streets, riverfront bike paths, and some of D.C.'s best restaurants.
For easy access to public transportation and a lively atmosphere, stay in the Northeast area of the city (north of East Capitol Street and east of North Capitol Street). The area houses Union Station, where you can catch the Metro, Amtrak, and other public transportation.
If you want to lodge somewhere truly runner-centric, check out the Yours Truly Hotel in the West End neighborhood. Braner says it's great for travelers from out of town as well as for grabbing a drink. (She recommends the Fashionably Whet Martini.) The manager is a Pacers Runner Ambassador, so the hotel hosts many of the company's themed social runs.
Where to Fuel (and Drink) Up
Brunch and Quick Bites
For post-run refueling, Allen says the runner-approved Bullfrog Bagels and Call Your Mother deli are two of her favorite chains. In addition to locations around the city, you can find Call Your Mother bagels at Yours Truly Hotel's restaurant, Mercy Me.
Leon says the D.C. Capital Striders like to end some runs at Colada, a Cuban-food café with delicious bowls, empanadas, toast, and coffee drinks on the wharf south of the Mall. Local runners also recommend Yerevan Market and Cafe—an Armenian restaurant serving great food and famously strong lattes north of Dupont Circle, not far from Rock Creek Park.
Dining
Thanks to the rich immigrant influence in the city, D.C. offers a wide selection of world cuisines as well as traditional American food.
In northwest D.C., Greenlaw recommends visiting Mama Ayesha's for Middle Eastern cuisine or grabbing a bowl of ramen on H Street near Chinatown. D.C. is famous for having some of the best Ethiopian food in the country, and local runner Keith Carlson recommends Dukem over on U Street or Chercher on 9th Street in northwest D.C.
For a happy hour, head to El Chucho, a D.C. Capital Striders post-run hangout, also in northwest D.C., where you can find deals on Mondays for drinks as well as tacos. Wise Guys, another of the group's favorite places to grab post-run food, serves gourmet pizza in three D.C. locations: Navy Yard, Chinatown, and Foggy Bottom. If you want a place with multiple delicious options, check out the Roost, a food hall on Capitol Hill with something for everyone.
Looking to splurge and carbo-load before a race? Check out Filomena—a famed Italian restaurant with elegant decor, known as a presidential favorite. Head to 14th Street and U Street later in the evening for nightlife and a wide selection of restaurants. If you find yourself out after hours, Ben's Chili Bowl is a famous joint for late-night food.
Bars and Breweries
Washington, D.C., is packed with independently owned breweries. Some favorites among the Pacers social-run groups are Bluejacket, in the Navy Yard neighborhood, and Port City Brewing or Lost Boy Cider, in Alexandria, Virginia.
If you love hazy IPAs, Other Half Brewing, off New York Avenue, is one of Allen's favorite taprooms in the city. For a beer somewhere more casual, Greenlaw recommends Solly's, a tavern on U Street. If craft cocktails are your thing, check out Lola's, in Barracks Row over in southeast D.C. For a simple beer after a run, head to Atlas Brew Works in Navy Yard, where you can also grab a slice of Andy's Pizza.
Political junkies should check out Off the Record—an upscale hotel bar and a favorite haunt of politicians. Greenlaw recommends going to a rooftop bar to grab drinks at night. Some favorites among locals include Crimson DC and Vue at Hotel Washington with its stunning view overlooking the White House.
Lead Photo: John Baggaley/Getty
Trending on Outside Online