The Enduring Allure of the Hardrock 100
From silver mining to live-streaming, this legendary "wild and tough" ultramarathon in Colorado's San Juan Mountains has a storied past. What will it mean for Hardrock to embrace trail running's future?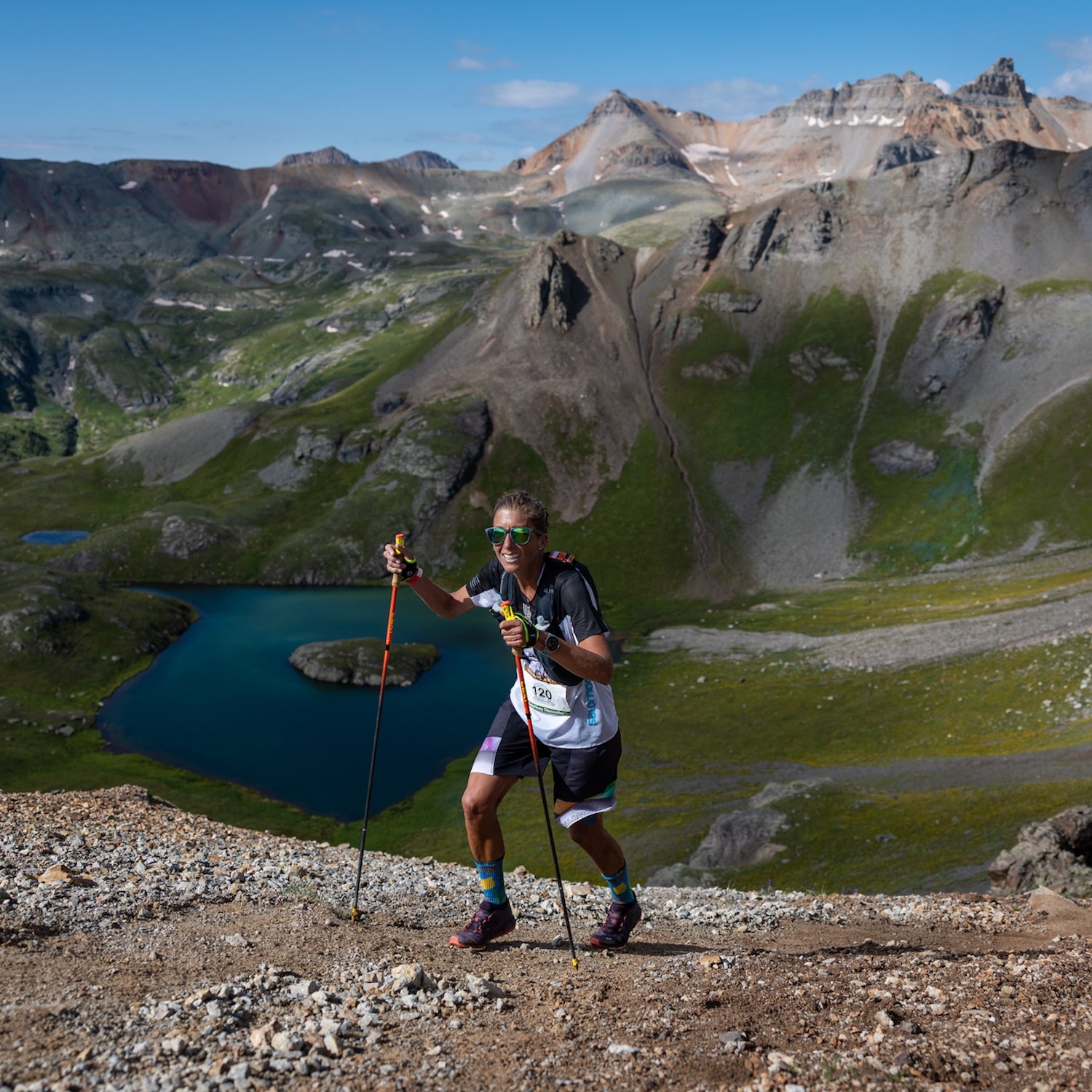 Howie Stern
Heading out the door? Read this article on the new Outside+ app available now on iOS devices for members! Download the app.
In the fall of 1991, a notice appeared in the back of Ultrarunning magazine advertising the emergence of a new 100-mile run through the San Juan Mountains of southwest Colorado.
The man behind the ad was Gordon Hardman, a Boulder resident whose enthusiasm for the event was unaffected by his relative inexperience in the region. He roped in Telluride local John Cappis to develop a route that connected the four major mining towns of Silverton, Telluride, Ouray, and Lake City, mostly using historic mining trails and paths. The event was conceived as a "postgraduate" level run, requiring years of mountain experience, hard-earned fitness, and previous 100-mile finishes.
By January of 1992, a preliminary route using USGS survey maps was born, as Charlie Thorn of Los Alamos, New Mexico, joined the team around the time they received permits for the route. Six months later, in June, Thorn and Cappis, as well as Rick Trujillo and Dale Garland, began to scout the route, testing its viability and tweaking the course. While they were excited about their passion project, they had no idea what it would become.
"It was never our intent to put on an event that has such broad appeal and popularity," says event director Dale Garland. "The first years were not that way at all."
The first Hardrock Endurance Run (HR100) had 18 people. In the following years, word got out, and that bloomed to 30, then 40. This year's Hardrock 100, which takes place July 14-16, will see 140 registered runners from a lottery of over 2,414 entrants.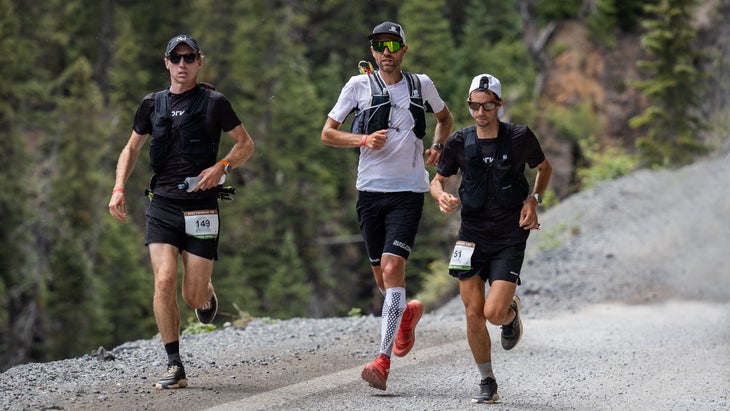 The race begins and ends in the historic mining town of Silverton, Colorado, and traverses some of the Centennial State's most rugged and vertiginous terrain. Today, Hardrock is an event with international appeal, inviting its runners to complete a 100.5-mile loop with over 33,000 feet of vertical gain at an average elevation of over 11,000 feet, a course that alternates directions each year.
"This idea of having waitlists and a lottery was never in our design," says Garland. He attributes Hardrock's success and enduring appeal to the historical significance of the towns it links, and what it's like to connect those landmarks on foot. But for Garland, the primary appeal is the community that Hardrock attracts and the landscape it traverses.
In an age of consolidation and commercialization in trail running, this relatively low-key endurance run is thriving. Why does an event with ramshackle beginnings that takes place in the far-flung regions of Colorado's Rocky Mountains continue to draw such committed spectatorship and community?
"We've been successful in creating something that is seen by many people as a community event," says Garland. "Lots of people are involved, from the runners to volunteers. The success is kind of a double-edged sword. More and more people are becoming enamored by the beauty of the San Juans. People just want to come and explore them."
Why Hardrock Is Not a "Race"
The Hardrock Endurance Run is not a race, and if you call it a race, you will be gently corrected by the enthusiastic community surrounding the event. Though it's touted as non-competitive, the run attracts high-caliber competition, earning repeat visits from the best mountain runners on the planet, including Kilian Jornet and Courtney Dauwalter.
"Hardrock 100 is special because the mountains are huge and wild, the community feels like a family, and the tough course guarantees a big adventure," says Dauwalter, the women's course record holder, who is lining up for her third go at the course after a DNF in 2021, and winning in 2022. "It doesn't matter where you finish in the race, sharing stories afterward with the other runners, the volunteers, and the entire community is what it's all about."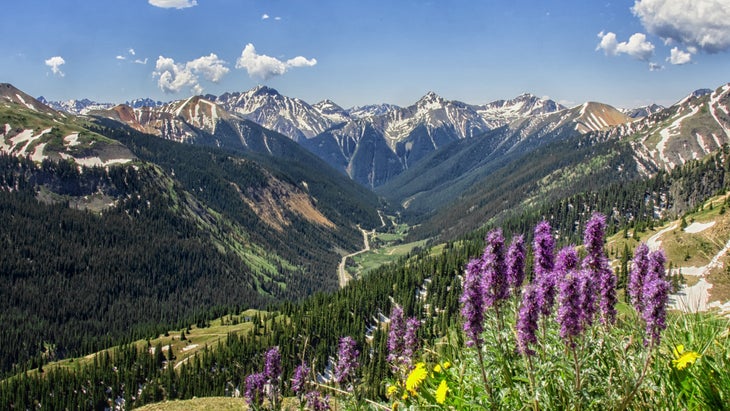 Meghan Hicks, four-time Hardrocker and editor-in-chief of iRunFar, a website dedicated to ultrarunning, agrees that the distinguished competition is drawn in by more than the promise of a fierce race.
"I think the fast runners of our sport, at least the ones who are drawn to an event like this, are drawn for the same reasons as the folks who finish after them: history, community, difficulty—both of the course and probably to get in—the quirkiness, the outstanding course, and so much more."
Gold In Them Hills
To further understand the gravitational force that compels so many of the world's greatest runners to try their hand at Hardrock, this race's own mythology echoes of a settler mining history that tempted so many to the region.
"The history of mining in the region is fascinating, and the event is a tribute to those who sought their fortune in the mountains. Much of the course takes place on trails created by the Hardrock miners of the early 1900s, so you can feel that energy throughout the 100-mile journey," says Dylan Bowman, host of the Freetrail Podcast and second-place finisher at Hardrock in 2021, who will toe the line again in 2023.
The San Juans might be the oldest known major mineral-rich area in the United States. Over a century before the California Gold Rush, Spanish explorers hinted at riches embedded in the region, though most of that settler knowledge was lost when the Spanish retreated back to Mexico. After California's 1849 rush, many trappers found themselves in the lush river valleys and rugged peaks of the San Juans, hoping to also catch a glimmer of silver, or a glimpse of gold shimmering in shallow waters, or see the sun catch in a stripe of ore in exposed rock.
The 1860s saw an influx of frustrated prospectors stymied by the inhospitable terrain, and many were deterred by the lack of easily accessible placer gold, and faced down starvation and harsh Colorado winters. This bought the San Juans an additional decade of peace before the 1873 Ute treaty lands were revoked, ushering in a new era of resource extraction.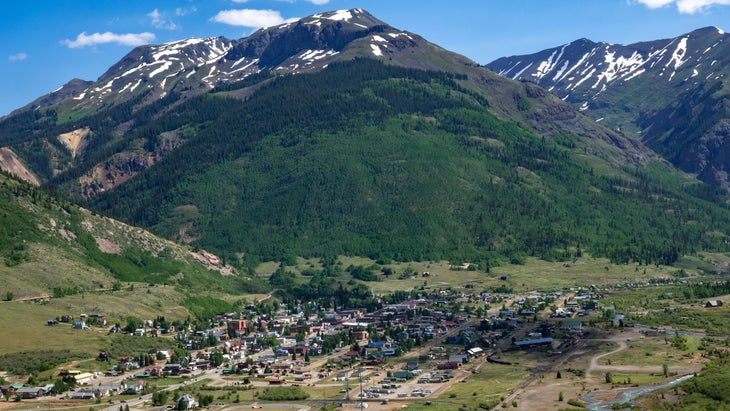 Silverton became the San Juan County seat in 1874, with between 300-400 summer residents (compared to the now 668 residents). When Leadville experienced its own silver boom in 1879, it momentarily stole Silverton's shine before the Denver & Rio Grande railroad connected the languishing town with new transportation opportunities in 1882.
As mining opportunities waned in the 1950s (at its peak, Silverton's population was 1,375, before plummeting to just 890 in 1957 after the mines closed), determined miners could still see gold in the hills. Tourism to Colorado's high country boomed in the postwar economy, and the San Juans once again began to draw adventurous spirits into their orbit.
Kiss the Rock
The San Juans are almost the Platonic ideal of mountains. With jagged peaks striated with snow and lush alpine meadows dotted with every color of bright alpine flowers, photos fail to capture the scale and texture that makes the San Juans unique.
Upon finishing the run, athletes kiss a painted hunk of rock, about the size of a bean bag chair, pulled from the San Juans and emblazoned with an image of a mountain goat, and the event's official motto, "Wild and Tough."
RELATED: Reviving Ultrarunning's Toughest Challenge
"People who've never run this race or have been to the San Juans should know that the course itself, based on the remoteness of the San Juans and inaccessibility of the aid stations, is inherently wild," says Yassine Diboun, a professional runner from Portland, Oregon. "Add to that all the climbing over high peaks, and it's very tough. The San Juans are more beautiful than I ever could have imagined. You have to see it with your own eyes."
The extremity of the environment brings many adventurers into Hardrock's orbit, including Kimino Miyazaki from Japan, who works as a hypoxic altitude trainer for climbers venturing into earth's thin atmosphere. She says the extreme altitude of Hardrock, with a high point over 14,000 feet, is personally and professionally intriguing.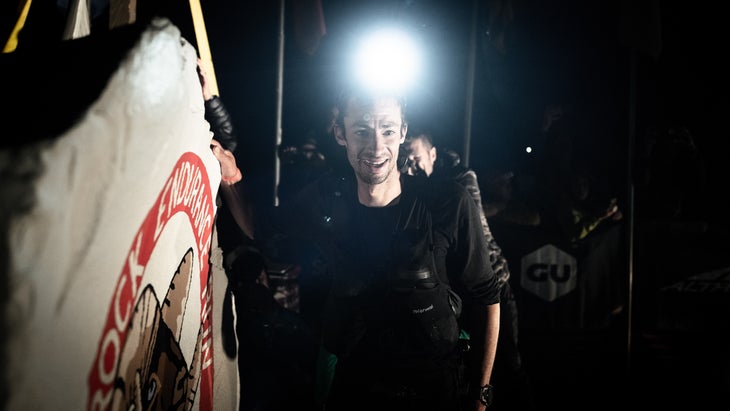 "I want to know how my body changes at high altitude," says Miyazaki. "After trying out a portion of the course, it awakened a sense of adventure to play with the mountains, not only because of the high altitude but also to use my skills to make decisions, to move forward in a remote area!" She says that the rugged terrain inspires a sense of collaboration between runners, rather than competition. "I am not competing with others, but rather, I am competing with myself. I feel once again that the fun of trail running is not competing with others, but talking to oneself and remembering the spirit of playing in the mountains."
Bowman agrees that the environment is a bigger pull than the competition. "The major draw is the sheer enormity and beauty of the course. It needs to be experienced in order to be understood. The competitive depth is never analogous to Western States or UTMB, but it remains a huge goal for most professional trail runners. The special community vibe and a rich history make it even more compelling. It is a privilege to participate in this event."
The elevation, technicality, remoteness, sustained climbs, and descents make this event uniquely challenging in a sport with many tough competitions. With over 33,000 feet of elevation gain, completing the Hardrock loop is roughly equivalent to scaling Mount Everest.
"For me, these big races and projects that I take on are like a Rubik's Cube. You have to keep turning it in different ways to complete it, and each respective race and adventure is different, says Diboun. "Competitive athletes not only have to get our bodies and minds trained for the task but we have to manage the physiological responses to altitude and deal with potential weather patterns that are specific to high altitude."
Run Through Time
Not even Hardrock's "wild and tough" 100 miles can fully excavate the rich history of the San Juan Mountains. The Nuche or Ute, Pueblo, and Navajo people all have ancestral ties to the jagged peaks and surrounding forests. The Nuche thrived among the rich animal and plant life of the San Juans, hunting elk, deer, and other game as well gathering wild berries and roots. In warmer seasons, the Nuche followed game into the high country of the San Juans, and in colder seasons, followed the hunt to the lower river valleys. For centuries, the San Juans would remain unknown to anyone but the Indigenous peoples who were intimately familiar with the foreboding landscape.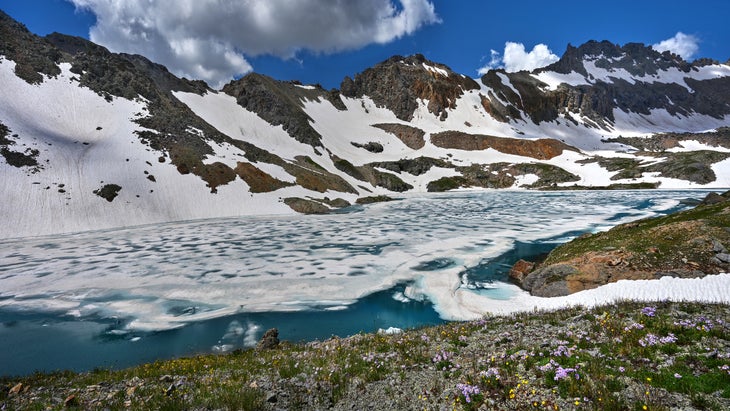 When minerals including silver and gold were found in the 19th century, it initiated a violent process of removal that would dispossess entire communities from their ancestral homelands. The land was formally captured in 1868 by a series of land cession treaties between the U.S. government and Ute tribe between 1868 and 1873, furthered by the passage of the General Mining Law that would encourage white settlement by creating a legal "right" to claims on newly acquired Indigenous lands. This history of mining and extraction is still celebrated, and now, recreation continues to define the region.
Not-So-Humble Beginnings
While Hardrock remains a niche and somewhat rarefied event, it continues to serve as an entry point to the (increasingly less so) obscure sport of mountain ultrarunning.
"Ever since I got into the sport in 2007, I have known about Hardrock," says Diboun. "I thought, 'someday I'd like to try that.' I think the fact that it is so difficult to get into actually drew me to it."
Bowman agrees, and says that, growing up in Colorado, he'd always felt a special affinity for its peaks. "Hardrock was one of the first races that inspired me when I began trail running in 2008. I paced Joe Grant to a sixth-place finish in 2011 and have been hooked ever since, returning to Silverton almost every year to enjoy the race. It wasn't until 2021 that I finally got my chance to run, which was one of the best days of my life and career. I'm excited to do it again!"
Dauwalter had a similar experience, initially being intrigued by the challenge before falling head over heels for it. "Hardrock was one of the races I remember reading about when I first got into the sport. That was over ten years ago! I saw pictures of the insane views on the course and the fields of wildflowers and knew it was a place I wanted to run someday. But I also saw the course profile and read stories of the suffering it took to complete the loop, and I definitely wondered if I would ever be a person that could finish such a challenging 100. Over the years, I have grown to love the difficult challenges quite a bit, and being drawn to this one was a natural thing to happen."
A Bigger Community
With the unintended growth of Hardrock's profile has come pushback about equity and belonging. While women were involved in the first running of the event, with Nancy Hamilton's finish in 1992, female participation has remained low.
Changes were made to Hardrock's notoriously opaque lottery in 2021, to ensure that the number of women on the startline matched the percentage of women who entered the lottery. It's important to note that the lottery, which privileges runners who have multiple finishes, gave an advantage to men who were more likely to achieve "veteran" status.
Gina Lucrezi, Hardrock board member and founder of Trail Sisters, an organization that seeks to increase female representation and resources in trail and ultra running, has been involved in helping Hardrock increase the number of women who run.
"Every individual has an opinion of what they deem equitable or fair, and aligning those was a bit laboring. Implementation was also a consideration of the Equity Policy, as it would reshape the lottery system, which is complicated already. All in all, every member of the board approved the Equity Policy, as myself, Meghan Hicks, and the members of our Equity Committee were able to produce a policy that could satisfy each board member's concerns, and that would be transparent and trackable for community members."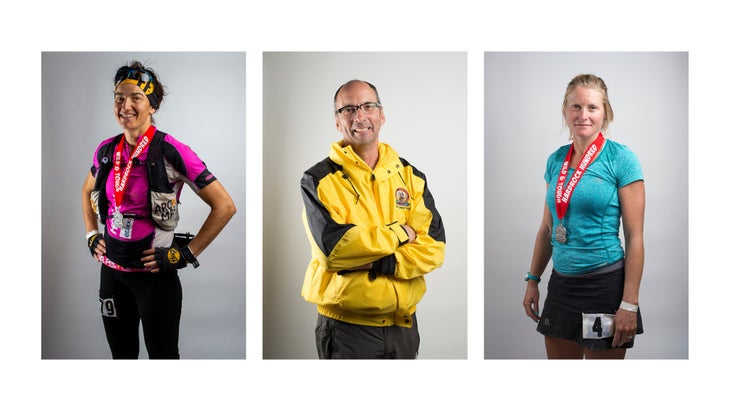 Lucrezi and others, while encouraged by the policy update, would like to see additional action taken to increase participation and interest for historically underrepresented groups. One target for action is qualifying events. Lucrezi says that she and others on the Equity Committee would like to see changes in how these qualifying events are chosen.
"The qualifiers determine the pool of people potentially able to apply to the Hardrock lottery (assuming the runner completes the qualifier race). I'd like to encourage the qualifier events to be equitable in their participant approach as well," says Lucrezi.
"You have to qualify for this race, and because it is such a 'notch in the belt' event, it draws a lot of competition from mountain athletes from around the world who want to test themselves in the mountains and maximize their potential," says Diboun. "When you partake in this small event you feel like you are getting initiated into a part of the Hardrock community, and I feel like most people want to feel connected to something like that."
A particular challenge at Hardrock is preserving what makes this event a draw in the first place, and some fear that changes would undermine the intent behind making the event more accessible. An event that allows less than 200 athletes a year is, by nature, exclusive, and functions as an exaggerated mirror for society's inequities. In order to remain relevant and resonant within the community, events are consistently pushed to reckon with barriers to entry.
"One of the values that Hardrock holds deeply, at least from my perspective, is the idea of marrying its past and present, tradition and modernity. As we know from human relationships, opposites who attract often produce incredible dynamicity, but it comes at the cost of doing the hard work of working with someone who thinks differently. This is how I see Hardrock: interweaving the past and the present," says Hicks. She says they're determined to identify and remove barriers for underrepresented groups, while preserving what about the event would confer prestige on athletes who attend.
"At Hardrock, work is being done to make the event more accessible to those who want to be a part of it and haven't had access, while still supporting those who've come before and who help make the event what it is," says Hicks. "This is not an easy task and will probably never be done quite right. I applaud the Hardrock organization for doing the hard work in this area so that the event's future truly represents our community."
Looking Ahead
As ultrarunning continues to grow and professionalize rapidly—garnering interest not just as a participatory activity but also as a spectator sport—this historic event enters the streaming age. But Hardrock remains largely unchanged, still true to its wild and tough roots, but also evolving to fit the needs and challenges of the community it has collected.
What makes Hardrock successful is that its formula intentionally rejects the scale that many associate with success in our sport, and its oddball feel and intimate community continue to be a draw that stones, series, and flashy events can't match.
"One thing that Hardrock reminds me of, right at this moment in our sport, is that success can look like so many things. There's a lot of effort by a number of entities out there, attempting to create a cookie-cutter version of our sport. Trying to box us into standardized courses, athlete identities, media entities, and then replicated, ad nauseam," says Hicks. "Hardrock is all quirk, a living, breathing entity proving that what the people of our sport want cannot in fact be put into a box. We want to be wild; we want to be free."
While iRunFar has covered the event for years with a sophisticated network of spotters and satellite phones relaying runners' positions and dispositions to "headquarters" in Silverton, interest in this far-flung event has begun to draw even bigger fish. This year, Hardrock will have its first-ever livestream, with footage from the course (terrain and permits permitting) and commentary from Hardrocker Jamil Coury and Corrine Shalvoy, a Ouray local with pacing accolades on the team of Hardrock legend Betsey Kalmeyer.
RELATED: How Livestreaming Will Shape the Future of Ultrarunning 
Initial attempts to bring the event into the digital age weren't always well-received, according to Garland, who says many pushed back when live trackers were added, saying that it was antithetical to the event's ethos. However, this use of tracking technology is likely to endure as more eyes tune into the event from around the world. But Garland is determined to capture the balance between the event's history; he's certain that will contribute to its relevance and appeal for years to come. In this way, Hardrock may serve as a sort of Rorschach test for the future of the sport.
"I hope that people want to really experience Hardrock," says Garland. "Not change it to what they think it should be. How can you bring people with sets of different expectations, especially as the sport changes, and how do you continue to bring people in, but not create something that is different from what got them interested in the first place?"
Garland says Hardrock, much like the sport of ultrarunning, is at an inflection point, and that embracing growth with intentionality and inclusivity in mind can help steward the event they love so much. "I think if we look at it in the larger sense, as a sport progresses, it's a good thing we're getting more people on the trails. We're getting more people exposed to the outdoors," he says.
And for anyone who remains unsure about Hardrock's storied past, Garland has a message: "I would want them to know that there's a place for them at Hardrock, first and foremost a place for their heart. It's just something you have to experience—it gets into your blood."
Lead Photo: Howie Stern
Trending on Outside Online