Top American at the 2023 Boston Marathon Respects His Limits 
Scott Fauble finished seventh in Boston for the third time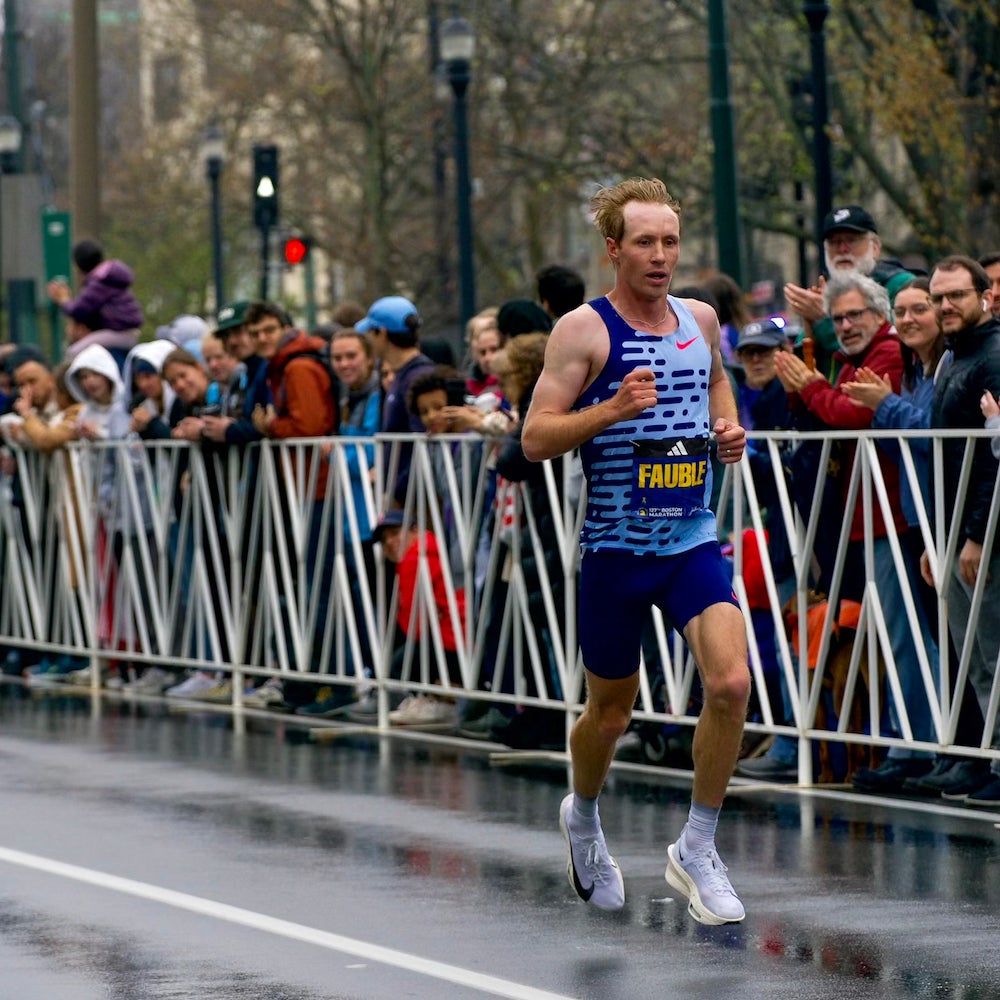 Peter Maksimow
Heading out the door? Read this article on the new Outside+ app available now on iOS devices for members! Download the app.
This article is part of Outside Run's complete 2023 Boston Marathon race coverage.
While it might have looked like Scott Fauble made the conscious decision to run the Boston Marathon with a patient, conservative approach, that's not really what happened.
It was more that Fauble just couldn't hang with the fast early pace and decided instead to back off after the lead pack blazed through the first four miles at 4:37 pace on the early downhill section of the course.
With most everyone else in the elite men's field staying on the heels of marathon legend Eliud Kipchoge—including other top Americans Conner Mantz and CJ Albertson—Fauble backed off considerably and quickly found himself well behind the frontrunners.
While the lead pack of 12 runners came through the 10K in 28:53, Fauble was 38 seconds off the back with fellow Americans Nico Montanez and Colin Mickow, seemingly out of contention.
"I don't know that I was that patient," said Fauble, whose 5K split was a blistering 14:25 (4:38 pace per mile), even though he was already seven seconds back from the leaders at that point. "I don't care if that's all downhill. That's too fast. That's just not sustainable."
Reeling in the Competition
If the 31-year-old Portland, Oregon, runner has learned anything since making his marathon debut in 2017, it's that patience, tenacity, and gumption are as important as aerobic fitness, leg speed, and competitiveness on race day. It's a good lesson for any marathoner, but especially for someone with elite-level goals in a stacked international field, and someone who has a bigger long-term goal of making the 2024 U.S. Olympic team.
As Kipchoge and eventual winner Evans Chebet kept up the hot pace—taking the lead pack through the 13.1-mile point in 1:02:20 (or 4:45 mile pace)—Fauble split a still-fast 1:03:59 (4:53 pace) at the halfway mark. Fauble didn't expect the race to be that fast, but he also knew his race wasn't over. However, if he was going to run a strong race and finish well, it meant taking a chance and running strong through the Newton Hills.
So when he caught American runner Matthew McDonald midway through the series of steep hills between the 17- and 21-mile marks, he worked with him and then surged over the top of the last one—legendary Heartbreak Hill—and pushed hard on the next series of downhill sections. That's when he began to see more runners ahead of him and thought he could catch a few. He was in about 15th place, though, and it was going to take a lot of work.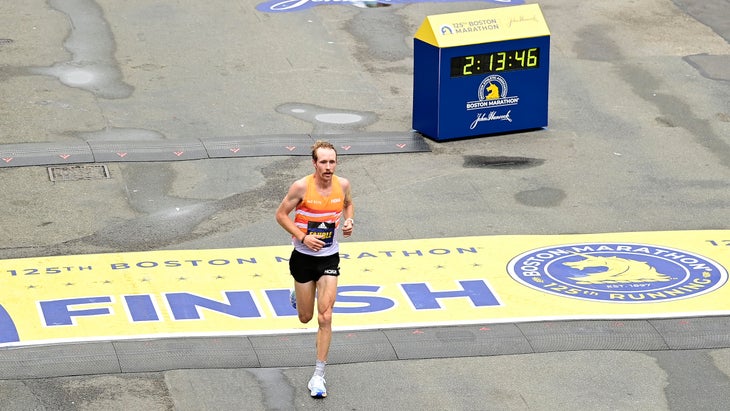 But Fauble has been here before. He finished seventh in Boston in 2019, in 2:09:09, and again last year in a new personal best of 2:08:52 by working hard late in the race.  Despite not feeling great, he dug deep, trusted his training, and focused on form and rhythm, grinding out two miles at 4:55 pace before reaching the 25-mile mark and climbing up Hereford Street to make the famous left turn onto Boylston Street.
"There's really no difference to me between finishing 11th and 17th," Fauble said. "I gotta give myself a shot to run well and to finish high. So I just had to take that chance, and if I blew up, I knew I could run like 5:10s on the way in and, you know, it wouldn't have been my day. If I didn't take that chance, I would regret it."
By the time he caught Albertson and Mantz, and then outkicked Frenchman Hassan Chahdi down the homestretch, he had secured seventh place once again, with a 2:09:44 effort. (The next guy up the road was Kipchoge in sixth in 2:09:23, the slowest marathon time of his career.)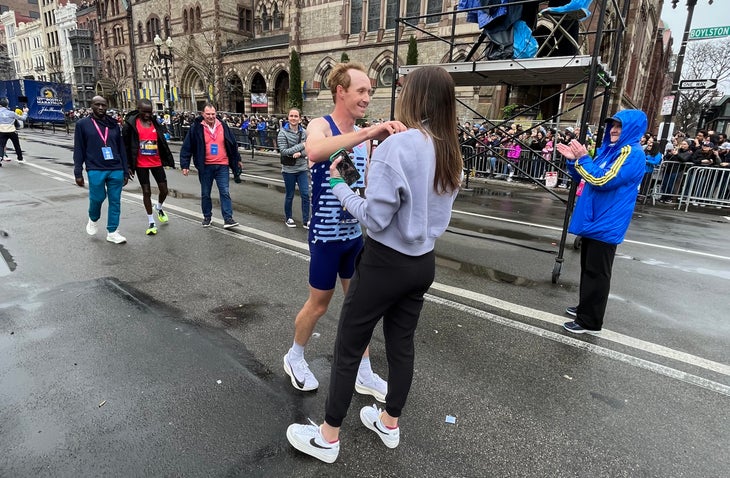 Running His Own Race
Ultimately, everybody runs their own race in a marathon. Chebet was confident he could outrun Kipchoge and repeat his victory, even if it meant handling a hot pace. He was right, as he won the race in 2:05:54 with a masterful performance that saw him continue to push the pace against Tanzania's Gabriel Geay (2:06:04) and Benson Kipruto (2:06:06).
McDonald executed a strategy similar to Fauble and placed 10th in 2:10:17, improving slightly from his 14th place, 2:10:35 result in Boston last spring. Mantz and Albertson went out hard and stayed with the leaders as long as possible, but both faded off the lead group near the 17-mile mark. To their credit, they also dug deep and finished well, Mantz in 11th (2:10:25) and Albertson in 12th (2:10:33).
Fauble continues to turn in strong results by making smart decisions and meticulously following the beat of his own drum. He left the NAZ Elite training program in Flagstaff, Arizona, two and a half years ago to start training under Boulder, Colorado, coach Joe Bosshard. Fauble knows he still has a ways to go to become the marathoner he thinks he can be, so once the ache in his legs fades, he'll focus on the U.S. Olympic Trials next February 3, in Orlando, Florida.
"I have to make good decisions on the race day, and today, that was being in the second pack and really trying to hunt that last half of the marathon and try to run people down. It took a lot longer today than it usually does," Fauble said. "I want to be able to go out in the front pack. I really do. I promise you, I know that's the only way to win this race. It's the only way to be on the podium. You can't back-door it in Boston. But at the same time, I know what I can't do, and going out in 62 minutes [for the first half marathon] is over my head."
Lead Photo: Peter Maksimow
Trending on Outside Online