How Common Are Heart Problems in Athletes, Really?
And what does Damar Hamlin's cardiac arrest tell us about the risks sports pose to an athlete's heart?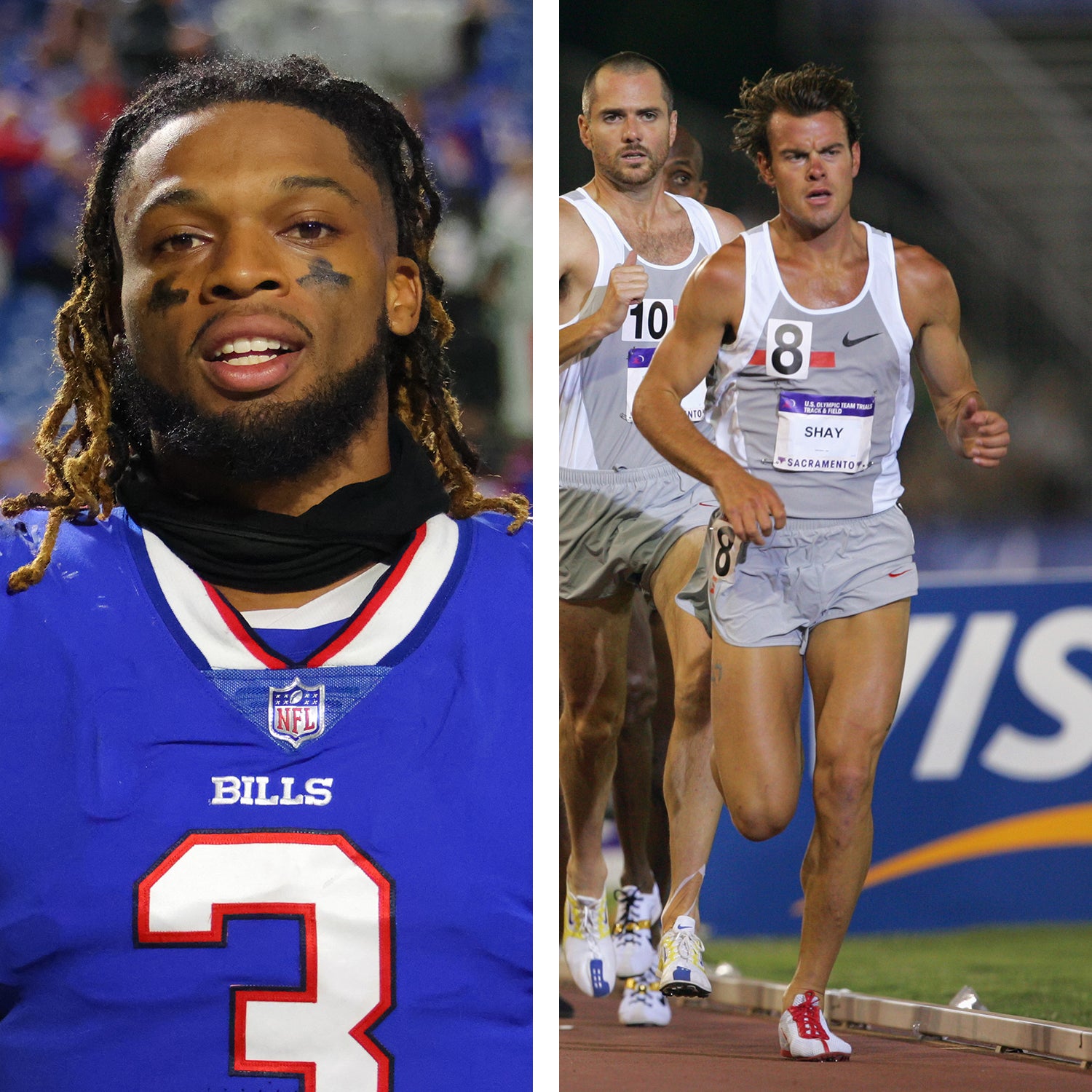 Timothy T Ludwig/Getty; Jamie Squire/Getty
Heading out the door? Read this article on the new Outside+ app available now on iOS devices for members! Download the app.
On January 2, Buffalo Bills football player Damar Hamlin suffered a cardiac arrest on the field. After nine minutes of CPR, medical personnel revived his heartbeat and rushed him to a hospital where he remains in critical condition.
Some news reports have speculated that he suffered something called commotio cordis, where a direct blow to the chest causes the heart to go into a fatal rhythm. A typical commotio cordis arrest involves a small high-velocity object striking the chest—usually a baseball, softball, or lacrosse ball. Athletes in outdoor sports, who are less likely to encounter flying baseballs, face a much lower risk of commotio cordis, which is an extremely rare occurrence in any population. But Hamlin's episode follows a number of high-profile cardiac arrests in athletes, including soccer star Christian Eriksen in 2021, who survived and later played in the 2022 World Cup, as well as the fatal arrests of Scottish cyclist Rab Wardell, last year, and marathon runner Ryan Shay, in 2007. All of which have renewed discussion about the risks sports pose to an athlete's heart.
What Causes Sudden Cardiac Arrest in Athletes?
Overwhelmingly, exercise is good for cardiovascular health. It lowers the chance that you'll develop high blood pressure, diabetes, or high cholesterol, all of which can lead to blood-vessel damage, the main cause of fatal heart attacks. And exercise keeps the heart muscle itself strong. But there's a well-known paradox about exercise and the heart: any time your heart is stressed, your risk of a cardiac event goes up a little. In other words, if you have an underlying cardiac issue, going for a run or playing sports might provoke a problem, even if it makes you healthier in the long run.
For athletes in endurance sports, there are four buckets of cardiac issues to watch out for: electrical disorders like arrhythmias, heart muscle disorders like hypertrophic cardiomyopathy, genetic coronary artery disorders, and obstructive coronary artery problems like arteriosclerosis. Athletes under 35 are more likely to have problems from the first three buckets, while athletes older than 35 are at risk from the fourth bucket. They're also at a much higher risk overall.
Does Exercise Cause Heart Problems?
This is an area of controversy among sports cardiologists, some of whom argue that years of intense aerobic exercise can raise this risk of cardiac issues, most notably a problem called atrial fibrillation, where the upper chamber of the heart beats ineffectively. Some research also suggests that lifelong endurance athletes have higher amounts of scar tissue in the heart, as well as stiffer coronary arteries. Whether these findings translate to higher risk of death is uncertain.
The relationship between exercise amount and cardiac problems appears to fall along a U or J shaped curve, where people who don't exercise have a higher risk of issues, people who exercise moderately have low risk, and people who exercise all the time might have a slightly elevated risk compared to the moderate group. But "it's not fair to say that there's a hard stop for exercise dose or intensity, where the increased risk outweighs the benefits," says Dr. Tamanna Singh, director of the Cleveland Clinic's Sports Cardiology Center.
What to Look For
Athletes often know their bodies well, Singh says, and should be attuned to a sudden drop off in performance. The classic example is of a middle-aged man breathing hard while walking upstairs, but for athletes accustomed to running six-minute miles, the change might be more subtle. Other signs to watch for are erratic heartbeats, dizziness or fainting, and of course chest pain. Some well-intentioned doctors, even cardiologists, may disregard cardiac symptoms in young, healthy athletes, but Singh prefers that patients err on the side of caution.
The Wild Card: COVID
In the aftermath of a COVID infection, a small number of people—probably around 0.6 percent—experience an inflammation of the heart muscle called myocarditis, which can lead to sudden cardiac arrest. If you've had COVID and are experiencing any symptoms, it would be wise to see a doctor. But Singh is not worried about heart problems associated with COVID vaccines. It is "not true," that vaccines raise the risk of cardiac arrest, she says, despite research showing that some young men experience myocarditis after vaccination. The incidence of myocarditis following infection is much higher, and, she says, "the benefit of vaccination far outweighs the risk."
Lead Photo: Timothy T Ludwig/Getty; Jamie Squire/Getty
Trending on Outside Online