What Strava Data Can Tell Us About How to Run a Fast 100-Miler
Strava data scientists compiled numbers from Western States 100 Mile Endurance Run finishers, from 2018 to 2022, to help us investigate patterns behind successful finish times. Here's what they found.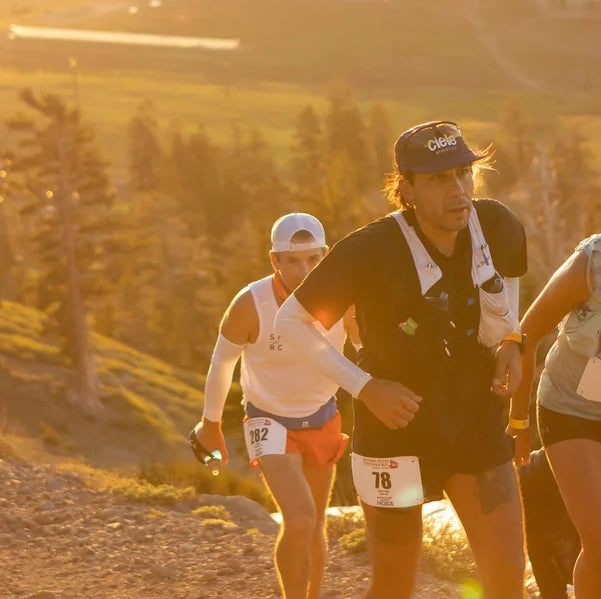 Courtesy of Strava
Heading out the door? Read this article on the new Outside+ app available now on iOS devices for members! Download the app.
In our new monthly column in partnership with Strava, we take a deep dive into compelling data points that reveal the more human side of sport. 
While no runner who finishes the Western States Endurance Run (WSER) is "average," we can learn something about effective training from finishers. Data scientists at Strava compiled data from Western States finishers, from 2018-2022, to help us investigate the numbers behind successful finish times.
Here's how successful runners train for the Western States 100.
The Peak Week
The median peak week for a WSER finisher was 81 miles and 16 hours, with an accumulated elevation of 13.5K feet of vertical gain (we use medians rather than averages to eliminate outlier data). The median longest run was 50 miles, and 43 percent of athletes did at least a 100K run in the lead-up to States. Sixty-five percent of runners did at least one race in the build-up to fine-tune their race day strategies and log more time on feet.
That's some significant volume! But not everyone started with huge training weeks. The median base going into the six-month lead-up to WSER was a modest 37 miles with 2,700 feet of climbing, and a median 12-mile long run. How'd they build volume and experience going into the race?
RELATED: Western States 100 for Amateurs
According to Strava data, about a quarter (22 percent) of athletes do their peak week four weeks out from race day (and many participate in the Memorial Weekend Western States Training Runs, which strings together a 50K, 19-, and 20-mile days). Eleven percent of finishers log their biggest week five weeks before race day, and 19 percent peak three weeks out. While there's not a huge difference between peaking three and four weeks out, those weeks are overrepresented among finishers versus peaking five weeks out.
As we saw earlier, most athletes peak with around an 80-mile week, during which the median long run is 32 miles (many people log a self-supported or race stimulus 50K), and almost a third (32 percent) do a 50-mile race during their peak week.
The Long Run
The long run is an essential part of 100-mile training, where athletes are able to build endurance, test gear and fueling strategies, and dial in their effort level for race day. All finishers logged at least a 20-mile long run in training, and, on average, finishers logged 10 runs of 20 miles or more in the build-up to the Western States 100. Fifty-seven percent logged a long run of 50 miles or longer.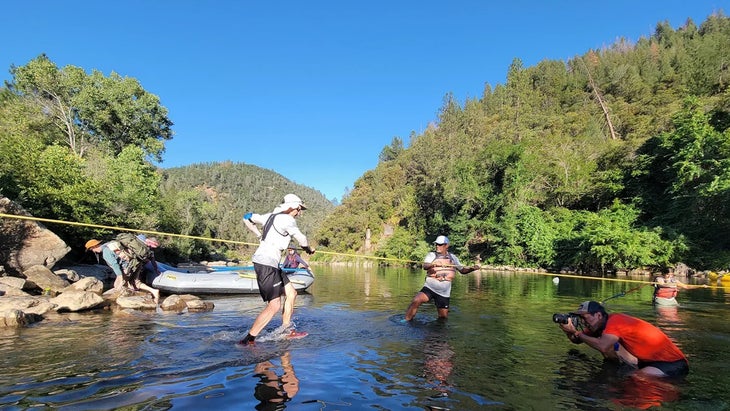 Ninety-seven percent of runners logged at least a 50K in the build-up, and across all finishers, runners logged on average three 50Ks in the six months before the race, suggesting a sort of peak-long-run sweet spot for many finishers. Comparing data from Western States training with other 100-milers in the U.S., we don't see a statistically significant variation in peak week timing, or long run length.
What About . . . Not Running?
We can't point to a causal relationship between finishing times and cross-training because of confounding factors, but those who logged their cross-training on Strava averaged 26 percent more training time across their cycle than their non-cross-training peers. WSER runners seem to prefer biking, with 57 percent of finishers logging at least one bike ride in their build-up, versus the 15 percent who backcountry skied (though that time on snow might come in handy this year!). In addition, 55 percent of finishers logged a hike, 33 percent logged a walk, and almost half logged at least one strength workout on Strava.
RELATED: How a Two-Time Olympic Marathoner Finished Western States 100
While most WSER finishers cross-trained, the relationship between cross-training and finishing times can't be linked in the data, and this is just to demonstrate that cross-training is an effective way of boosting overall training volume for many athletes.
Get High…Sometimes
According to the data, athletes who live above 5,000 feet tend to have faster finishing times, though this could be due to selection bias, where many elite athletes choose to live in running meccas like Tahoe, Boulder, and Flagstaff, all of which are above 5,000 feet. Runners who mostly train at or above 5,000 feet had a median finishing time of 25:39:37 (this represents less than 20 percent of finishers). Of athletes who trained at altitude, 43 percent went even higher, logging runs at altitudes more than 20 percent higher than their typical training altitude.
The remaining 83 percent of finishers did most of their training below 5,000 feet and had a median finishing time of 26:28:07, suggesting that living at altitude grants an edge, albeit a small one of less than an hour. Also, 56 percent of these runners did at least two runs above 5,000 feet, picking up some crucial simulation for the first 50K of States in the alpine.
100 Miles, One Day. The 24-Hour Effect.
Anyone who finishes Western States in 24 hours or less receives one of the sport's most coveted accouterments: a silver, cougar-adorned belt buckle. So much so that the data shows a cluster of finishes just under the 24-hour mark, as many athletes hustle to achieve the goal of running 100 miles in one day. In 2018, 15 percent of WSER runners finished in the 23rd hour, while 13 percent finished in hour 23 in 2022. Compare that to the 2 percent who finish just after the 24-hour mark in 2018, and 2.6 percent in 2022, and you see a significant clustering of finishes right before the 24-hour mark.
While Western States 100 demands a certain level of accomplishment to compete (runners must qualify via lottery, and run at least 100K or a qualifying 100-mile event to enter or race their way in via Golden Ticket), we'd expect to see naturally faster finishing times, even on the demanding course, with 15,540 feet of climbing and 22,970 feet of descent.
Western States. It's a tough race. One of the toughest. And yet, as we sift through all this data of finishers, we find patterns. From peak weeks to altitude, long runs and training races, a pattern emerges of what effective training looks like.
We find strategically positioned races three to four weeks out. We find that many of the faster finishers spent time in the high country. In a race full of outlier athletes, the data still tells a fascinating story.
Zoë Rom is Editor In Chief of Trail Runner and Managing Editor of Women's Running. When she's not running, she's writing, and when she's not climbing she's cooking or eating. Southern story-teller turned mountain-dweller, she starts every day with a cup of strong coffee and a good story. Her work has appeared in REI Co-op Journal, Discover, Rock & Ice, Trail Runner, Backpacker, and Threshold Podcast. She currently hosts and produces the DNF Podcast. She is co-author of the forthcoming book, Becoming a Sustainable Runner with Tina Muir.
Lead Photo: Courtesy of Strava
Trending on Outside Online