How can I get started flintknapping?
I want to start flintknapping. Where are the best places to learn?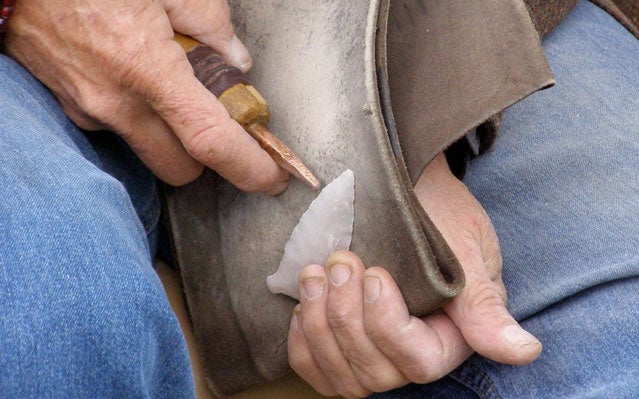 Heading out the door? Read this article on the new Outside+ app available now on iOS devices for members! Download the app.
Flintknapping, the practice of creating arrowheads and other primitive tools out of stone, has experienced a tremendous influx of students over the past ten years, but the skills haven't changed.
The two basic techniques of flintknapping are percussion flaking, which is used to break apart large cobbles of flint or obsidian into smaller, flatter flakes, and pressure flaking, which uses an antler or copper billet to remove fine flakes of stone and gradually shape the cobble into a tool. Of the two methods, percussion flaking is the more dangerous: I always wear heavy leather gloves and eye protection when I do it.
If you're just getting started, I would begin by looking up college flintknapping clubs online. These clubs, often associated with universities' anthropology and archeology departments, usually have a weekly practice session where you can learn the basics. Stick with it and practice an hour every day, and you should be kicking out some decent-looking arrowheads after a few weeks. I make my own tools or trade for them with other knappers, but you can also obtain gear and instructional DVDs through 3riversarchery.com.
There are also many fine flintknapping rendezvous around the world; if there's one in your state, I would recommend checking it out. The country's two big events are the Flint-Ridge Knap-In, which happens in late summer in southern Ohio, and the Glass Buttes Knap-In, which takes place east of Bend, Oregon in March. Go to either, and you're sure to get in plenty of knapping. Napping, too: after a couple days of pounding on stone, you're going to be tired.
Trending on Outside Online