Outside Business Journal
Roadmap to retail success: Show bigger profit through community events
Alpenglow Sports owner Brendan Madigan is redefining the role of the neighborhood gear shop through his epic Mountain Festival—and making bank in the process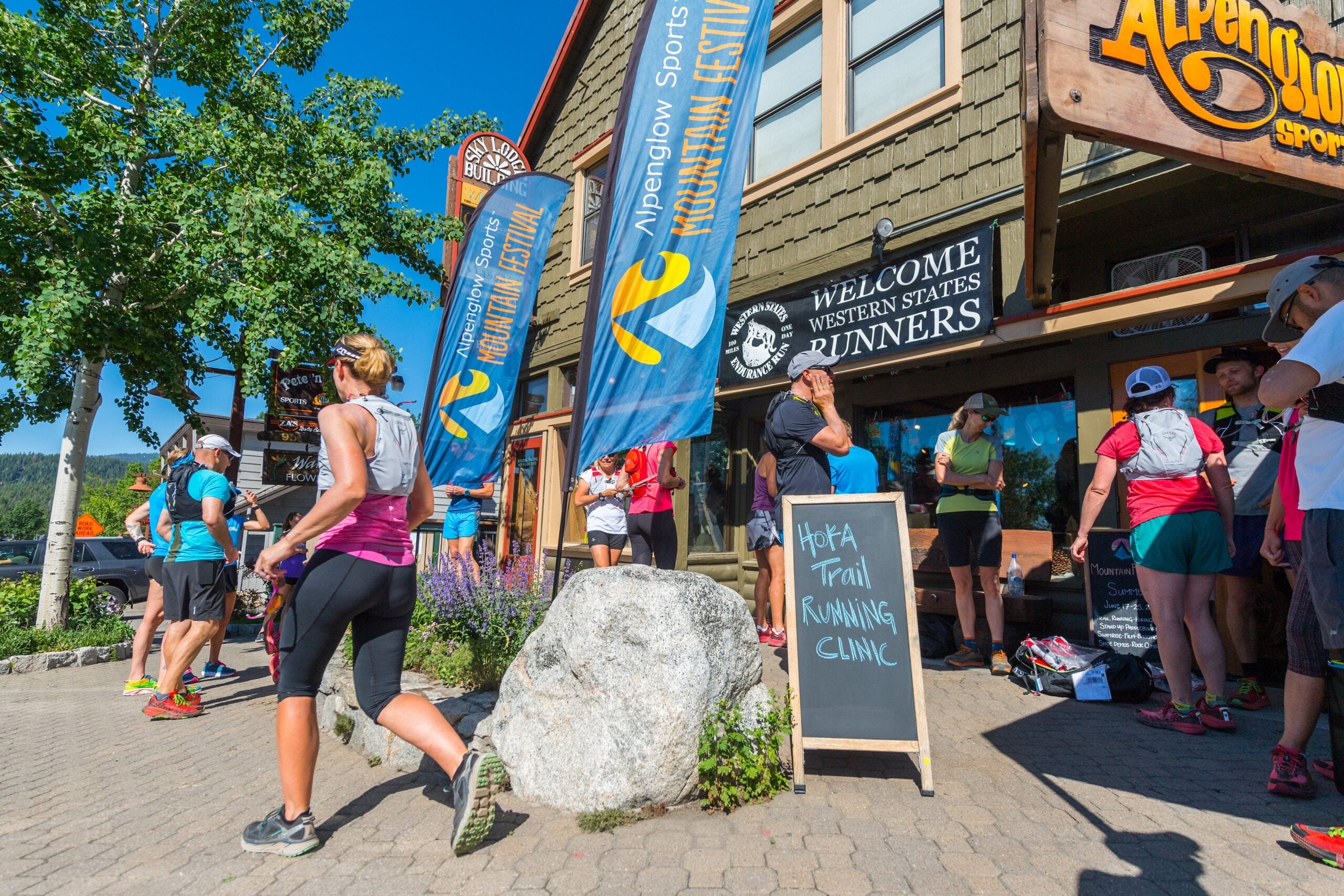 Heading out the door? Read this article on the new Outside+ app available now on iOS devices for members! Download the app.
Brendan Madigan's existential epiphany came not in one of his highest moments but in one of his lowest. It was the winter of 2016, and he'd just received the Adidas Inspiration Award at Outdoor Retailer, which recognized him for inspiring others to participate in outdoor activities. A photographer snapped his photo. "I literally looked like death," said the 39-year-old Virginia native who is 6'4". "I weighed 160 pounds." Madigan was in the midst of a "full-on cancer scare." And he'd just listened to a podcast by the creator of National Public Radio's Story Corps, Dave Isay.
"Isay's whole thing is about how we can create bridges of understanding between markedly different people if we take the time and have the compassion to listen," said Madigan. "Because of how sick I was, soon I was asking myself, 'What are you doing that has real value? If you were to disappear, how would people remember you?'"
Luckily, Madigan's cancer tests came back negative. But he's still asking himself the same questions. In some ways, however, they've been answered. (*Watch our above interview with Madigan as he discusses Mountain Festival and other motivating factors for how he runs Alpenglow.)
***
Madigan, who speaks softly and thoughtfully, and exudes an aura of calm that masks a seemingly inexhaustible drive, has owned Alpenglow Sports, a 2,800-square-foot main street shop focusing on endurance sports, on the north shore of Lake Tahoe, since 2008. His mission has been "to cultivate an enriched mountain community, while giving back to those who've supported Alpenglow for nearly four decades."
His method has worked—and proved profitable. In the first 3 1/2 years of his ownership, the already healthy Alpenglow doubled in sales. Every quarter since, he said, he's seen significant growth, "despite four abysmal winters."
It's come for a variety of reasons, but a main economic driver, at least since last February, has been Madigan's quest to create community-centric events in the Lake Tahoe region that unite outdoor users, introduce them to new trends and gear, and build airtight relationships with likeminded brands and dealers.
The Festival That Changed Everything
In 2011, Madigan created two, nine-day community "Mountain Festivals," which offer dozens of free outings and workshops in both February and June. The summer event covers everything from yoga to paddle-boarding to trail running and backpacking, while Winter Mountain Festival includes backcountry skiing, Nordic skiing, snowshoeing, avalanche education, and a premier film festival. Participants sign up, show up, and, in winter, get a full day of guided backcountry skiing—on premium demo equipment—which they can then purchase at a discount.
Experience Mountain Festival
Alpenglow Sports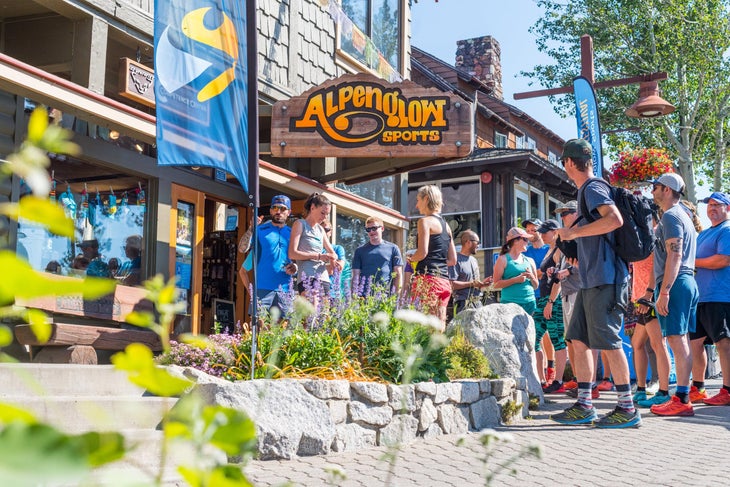 The shop bustles before, during, and after Mountain Festival.
Trail Runners Gather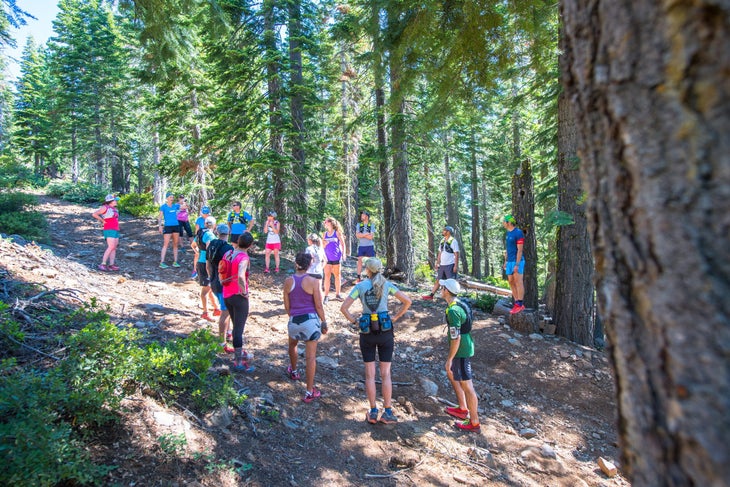 The event is jam-packed with free instruction aimed at beginners and intermediates.
Trail Running Clinic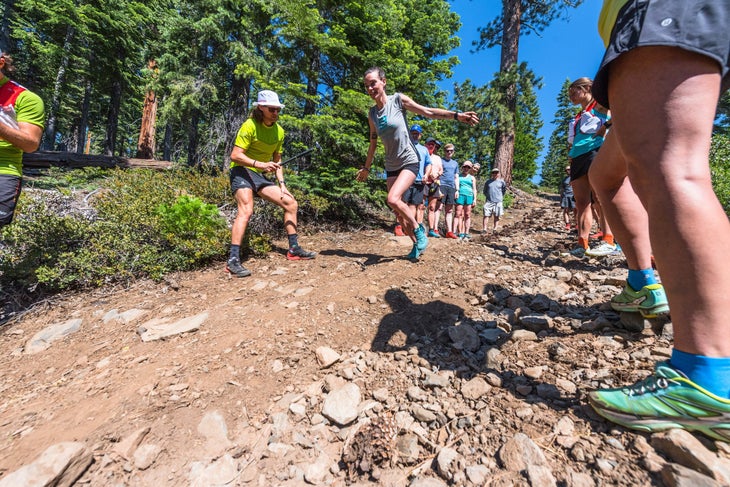 Participants in the trail running clinic get advice for staying controlled on the downhills.
Trail Running Clinic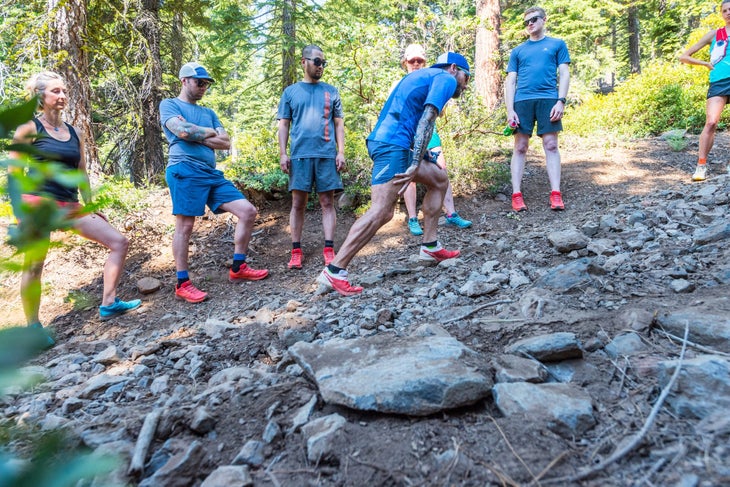 Trail runners also learn how to manage the hills.
Guided Trail Run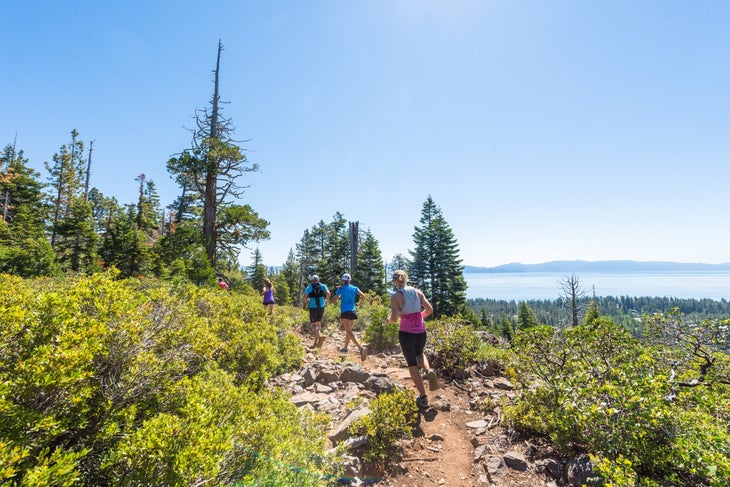 Mountain Festival also includes low-key (yet jaw-dropping) group trail runs around the lake.
Bouldering Clinic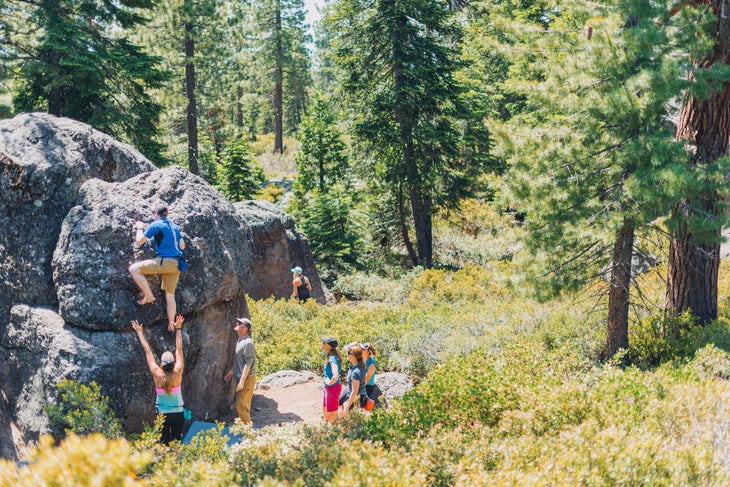 The Lake Tahoe area has some killer bouldering spots.
Lunch Break at the Crag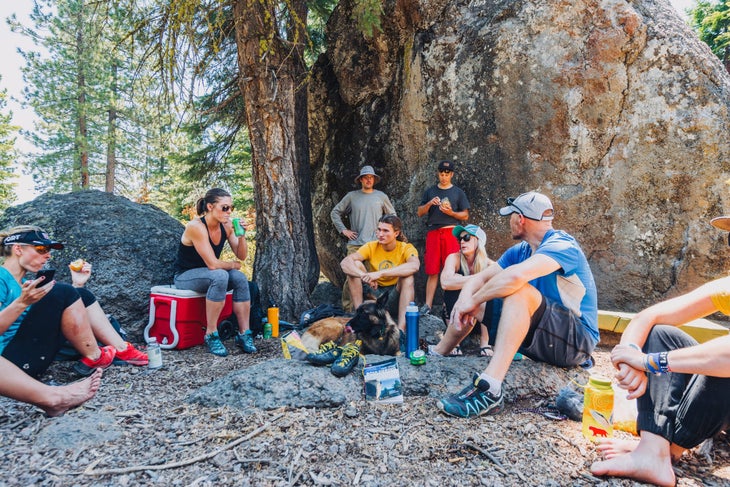 Festival goers note that they appreciate the opportunity to bond with like-minded members of their community.
Bouldering Clinic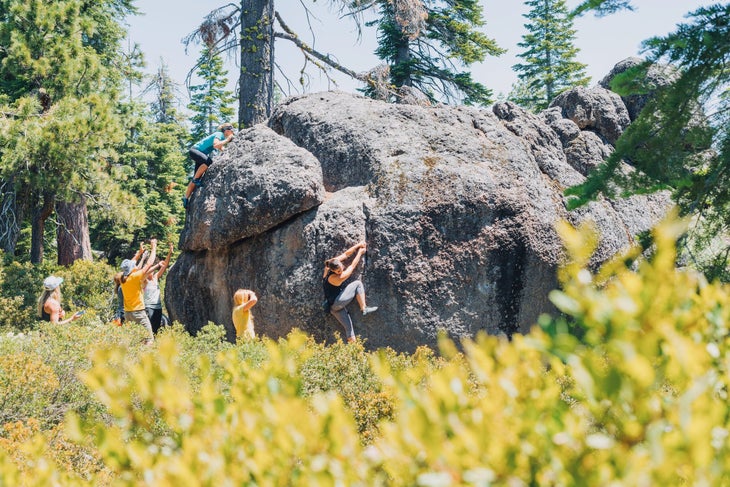 Participants in the free bouldering clinics get support, tips, and friendly spotting services.
Pub Run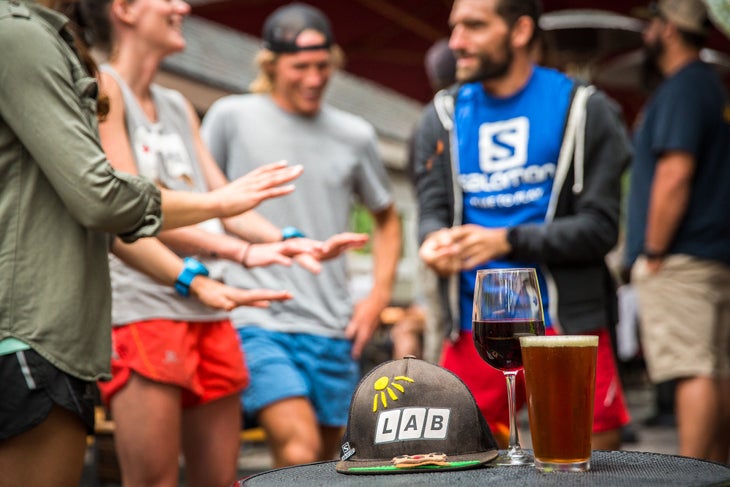 Who doesn't like a cold beer after a run?
Tech Talk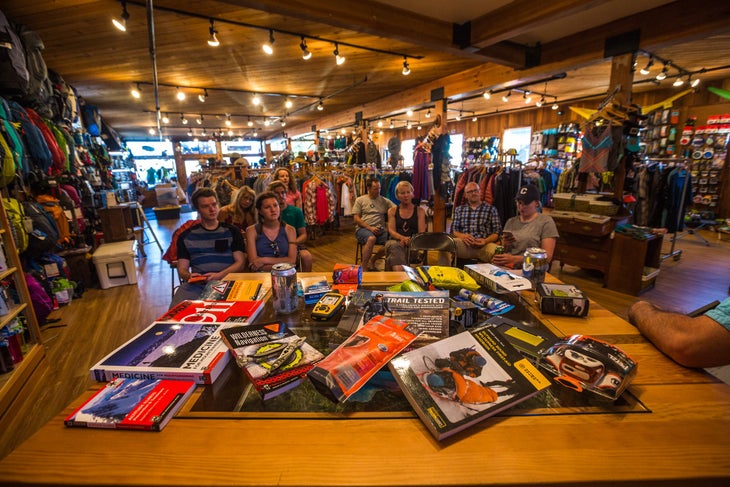 Gear wonks can also sit in on tech talks to learn the basics.
SUPing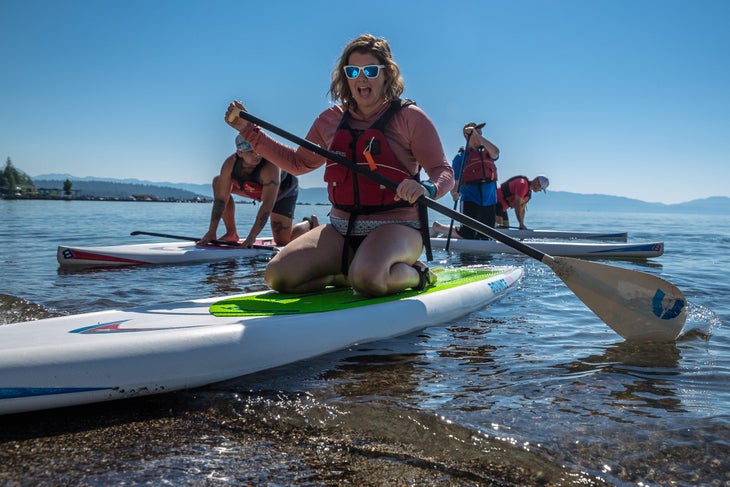 Even total newbies will feel welcome at Mountain Festival.
Swan Dive into Lake Tahoe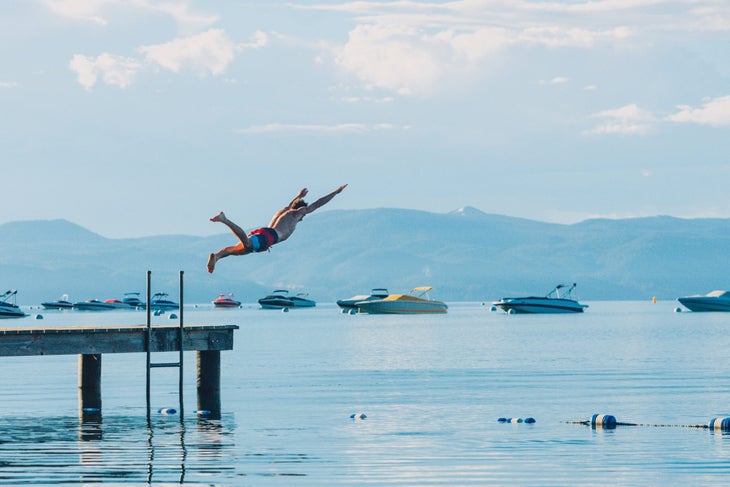 Cooling off after a sweat-socked afternoon of exercise
For the first four years, during its build-up phase, Mountain Festival lost money. But last February—due to record snowfall, an increase in popularity, and partnerships with DPS, Osprey, and Black Diamond—Alpenglow's in-shop sales for the month were up by 15 percent. It certainly helped that three brand sponsors offered gear at a 20 percent discount during the event.
DPS created 18 Mountain Festival-branded skis, which sold (and sold out) for $1,300 apiece. Osprey provided 40 packs valued at $130; they also sold out. And Black Diamond sent 30-plus $400 avalanche kits; every kit sold.
Store records were set in June as well, due in part to an ultra-race Madigan and partners founded, the Broken Arrow 52K Sky Race, which doubled from 350 participants last year to 700 this year. Alpenglow sourced logo wear from Salomon, Kühl, Boco Gear, Territory Run Co., and Darn Tough for the race, and sold them on site (at the base of Squaw Valley Resort). But Summer Mountain Festival drove sales, too.
The event included two trail-running workshops led by both Salomon- and Hoka One One-sponsored athletes. During each, participants got to demo both brands of shoes and Osprey running vests. Between the two days, Alpenglow sold more than 40 pairs of of shoes and ten vests. The race and festival sales resulted in "Christmas-like volume" at the height of summer, said Madigan. "When you tell sales reps those numbers, they're shocked."
"To see growth at retail is a challenge, and double digit growth is exceptional," said Darby McGuinn, Osprey's Retail Marketing Professional. "The kind of growth that Alpenglow experienced really speaks to their ability to connect with the customer. It definitely helps to validate Osprey's support of Alpenglow Sports and participation in Mountain Festival."
And yet, Madigan said he never wanted Mountain Festival to be about profit. Instead, he wanted his events to be about giving back to a community that has "no central hub, it's not even an incorporated entity," he said. "We have a main strip, but we lack a collective meeting point event, and Mountain Festival serves that purpose."
Mountain Festival's Organic Start
Years before the first Mountain Festival, while Madigan was still a young Alpenglow employee, he organized a low-key winter ski demo day at Alpine Meadows Ski Resort. He called in ten skis, set them up, and watched people gather. They tried them out, bought them, and, said Madigan, "liked the interaction." With two other Tahoe locals, in 2005, he also expanded an existing and popular winter film and speaker series, bringing it into a local restaurant. They'd encourage people to come for a dinner and a movie. "It's a 1,500-square-foot venue," said Madigan, "so it was very cozy."
The community was so hungry for reasons to connect, especially in the dark months of winter, that the demo day doubled in brand participants by 2006. The film festival bloated so much they had to relocate to a 1,000-seat Squaw Valley venue. By the summer 2013, Madigan knew the time was right to add Mountain Festival to the community building lineup.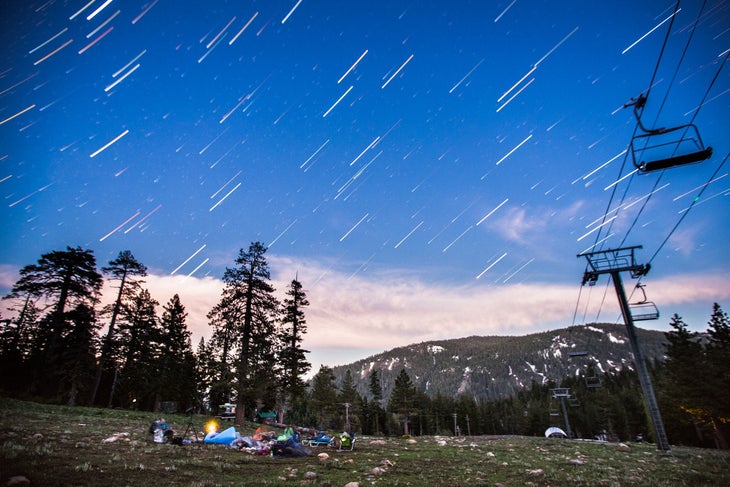 My Summer Mountain Festival Experience
To an agoraphobe like me, the thought of meeting up with other outdoor athletes, and doing yoga, or trail running, or even stargazing en masse—the very essence of Mountain Festival— sounded more than a little intimidating. But my first free yoga class—on Lake Tahoe's beach with glittering riffles lapping the sand before me—was perfect, and an opportunity for others to meet likeminded people. One Tahoe local I met said, "I've lived here for years and have never seen any of these women. But I think I just became friends with a couple of them."
Another woman, in my free run clinic, added something similar: "My husband and I have lived here for years, and we're both runners. But the skills we learned today—from pro athletes—are invaluable."
Madigan says nothing makes him happier than connecting people, building the "mountain tribe." And in the past, before his illness, rising before dawn and putting a backcountry skin track in on the west shore, which other skiers could use, and which he considered his "public service."
"People knew it was the Alpenglow crew," he beamed. "I think we showed the community that it's cool to live by your values."
He saw the store's first initial jump in sales when customers started coming in and expressing gratitude about the Alpenglow crew "giving back."
"It's a small community and the events have given people more reason to shop with us," said Madigan. "We do it first and foremost because it's fun and the right thing to do for our loyal 38-year-old customer base. But people want a reason to shop local. They tell us all the time that they want to support us because they come to free events and enjoy themselves."
Madigan has taken David Isay's advice to "create bridges of understanding between markedly different people" to heart. He goes to sleep at night knowing he's doing his best.
And his community, customers, and dealers agree.
As Dan Dixson, a regional rep for Black Diamond, Fritschi, and Pieps said, "Mountain Festival brings our community together to celebrate and share in the mountain sports and activities we love most. There are very few events that we participate in that bring such a huge level of stoke."
Trending on Outside Online