Lesley de Souza Does Science Alongside Nature's Giants
The multi-talented conservation biologist fears logging far more than bird-eating spiders, electric eels, or anacondas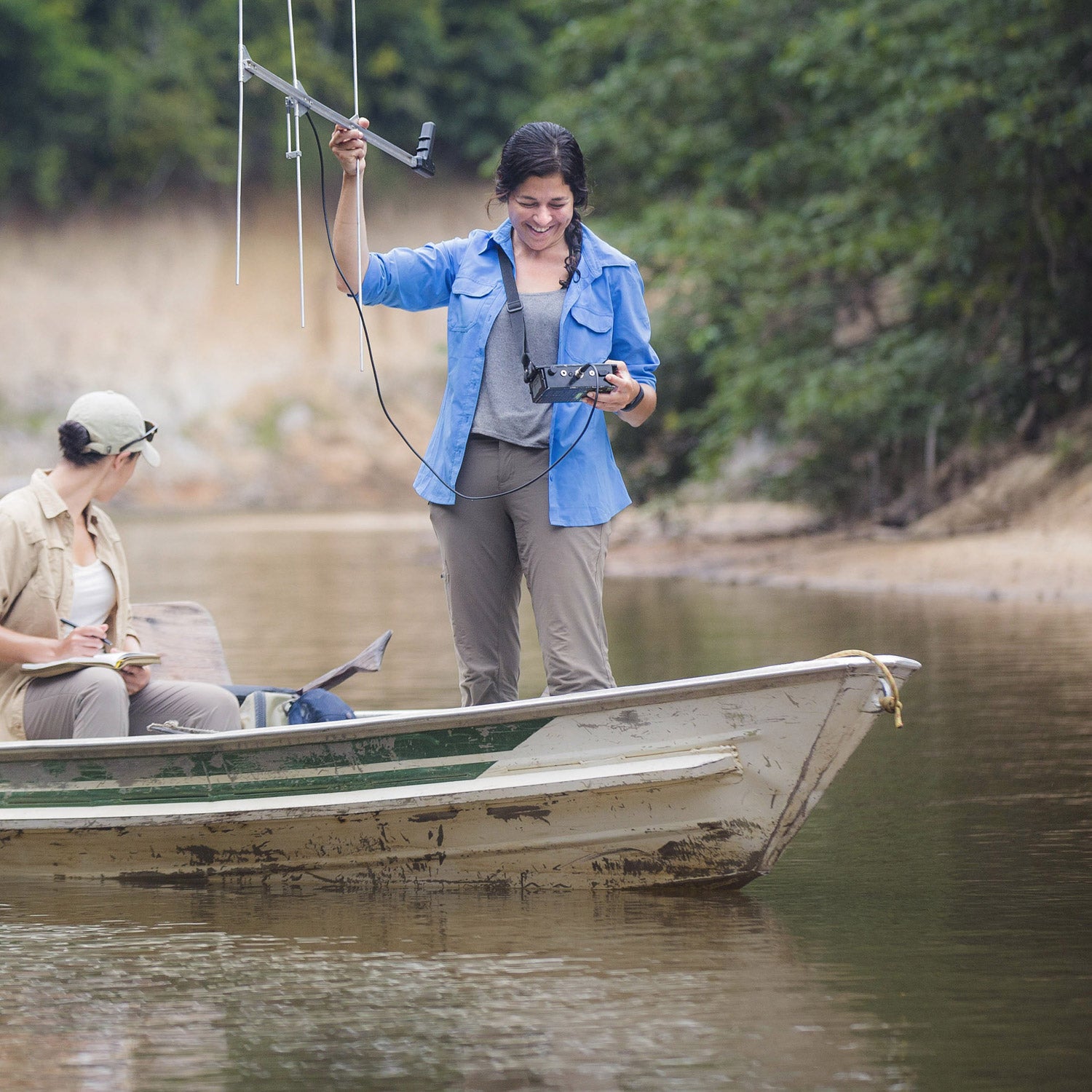 Heading out the door? Read this article on the new Outside+ app available now on iOS devices for members! Download the app.
Although she's come across plenty of rare species in her career and even discovered two herself, conservation biologist Lesley de Souza still remembers her first encounter with an arapaima, one of the largest freshwater fish on the planet. 
While doing her PhD research on the molecular ecology of neotropical fish between 2003 and 2007, de Souza made several trips to southern Guyana. While there, she heard of the remote Rewa Village in the Rupununi savannah and wetlands region. It's located at the juncture where the Rupununi River branches out to the Rewa River, a smaller tributary. The village is so remote that no other humans live farther upriver, and it's reached on a two-hour bushplane trip and then three to six hours in a motorized aluminum boat, depending on river levels. De Souza assembled a research expedition to the region in 2011, with the intent of studying the aquatic life of the Rewa River. The first arapaima she spotted was five or six feet long. "Its silvery-green head slowly came out of the water, then it gently arched its back and slapped its tail with red-flecked scales back into the water—sort of dolphin-like," she recalls. "It's just a monster. It's hard to believe these guys even still exist. They're true dinosaurs." Arapaima, which has to frequently poke its head above the surface of the water to breath air, can reach up to nine feet long and weigh more than 400 pounds.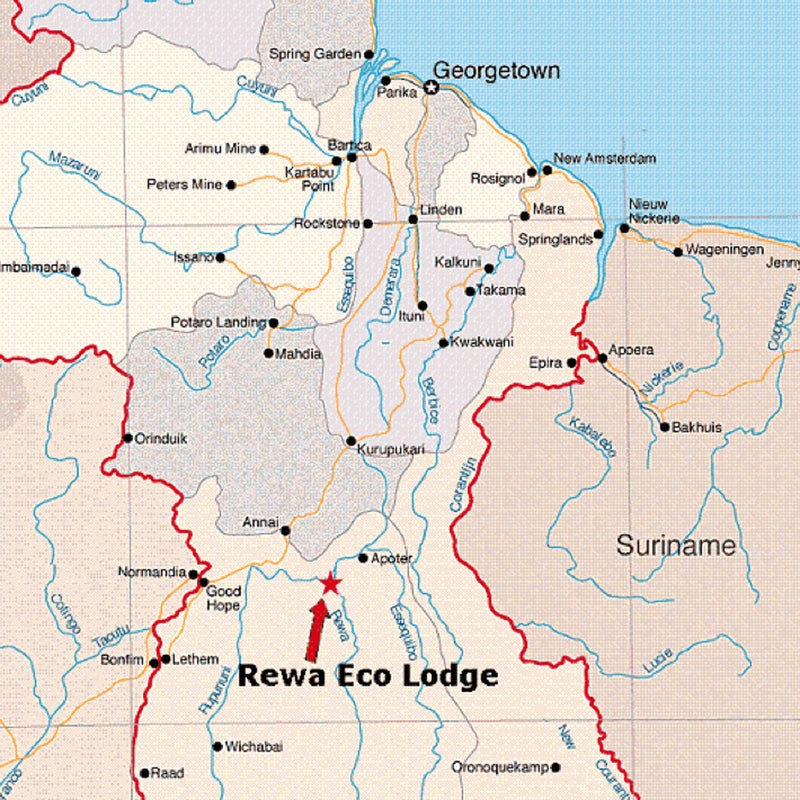 De Souza, now 38, recently wrapped up a post-doctoral position with Shedd Aquarium in Chicago. Going forward, she'll divide her time between Guayana and the University of Illinois, analyzing her data, writing, and raising money to support her work. During her two- to three-month stints in the field, she'll be based in Rewa, a village of about 300 people whose livelihood comes in large part from fishing and an ecolodge that attract anglers and birders. From there, de Souza also spends time camping as far as 100 miles upriver. Her trips involve a mix of research, education, and advocacy to protect the region's resources—which include the arapaima and other rare animals like the Goliath bird-eating spider, gold, and species of trees prized for their wood—all with a focus on putting local voices first. 
"The arapaima fish is just a monster. It's hard to believe these guys even still exist. They're true dinosaurs."
Her do-it-all approach is a testament to de Souza's hard-earned conservation savvy. Born in Brazil but raised in Alabama, she completed her undergraduate and graduate studies at Auburn University, making a name for herself as a traveling conservation biologist with a talent for storytelling. She contributes to National Geographic's explorer blog Voices and works with a production company called Ship To Shore. "I want to be out there on the ground getting the data that could potentially impact people," she says. "But I don't want to do science just for science's sake. What I see is such a decline in connectedness. But people will care if they just hear it differently." After numerous research expeditions to South America, she's developed a sensibility for the complexities of conservation, and sensitivity for the people impacted by these issues. 
The Rupununi region is a good case study of how she puts her values to work. The area is home to a lush rainforest and meandering network of rivers that drain into the Amazon Basin. It's remote enough that residents rely on a healthy environment for critical needs like food and construction materials: "The forest is their backyard, their grocery store, their pharmacy, and their livelihood," de Souza says. But it's not so remote that outsiders like logging and mining companies are ignoring it. In fact, when de Souza first heard of the arapaima, the species was headed the way of the actual dinosaur thanks to poachers, who often sold its meat over the border to Brazil. The overharvesting had arapaima numbers dwindling to just over 400 in 2000. 
"I've had to ask, 'What, are you scared to get in the water because of piranhas?'"
The arapaima is a top predator in the area, feeding mainly on fish and sometimes birds, so it plays a critical role keeping this ecosystem in balance. It's also at the center of a new, sustainable form of ecotourism in the area, thanks to a sport-fishing effort pioneered by the locals, with the help of de Souza, Costa Del Mar Sunglasses, and the Indifly Foundation. Anglers are an elite group, the thinking goes, who are willing to pay for the thrill and experience of reeling in one of these rare creatures in the Amazon—even if they have to let them go after the catch. Bringing in these non-hunting tourists has helped younger people in the Rewa community stay closer to home instead of leaving for Guyana's diamond or gold mines. "It's securing the future, financially," de Souza says. 
To get more data that could inform regulations on arapaima fishing, she also tracks the species' migration and breeding patterns—sometimes by aerial radio-frequency in a tiny plane—which were previously a mystery. "To protect the species, we need to know where they're going," de Souza says. She conducts research alongside students from the University of Guyana, training a new generation who will help fight to protect the area's resources. This combination of actions has helped restore the arapaima population to more than 4,000. 
These days, de Souza is frequently focused on helping Rewa Village residents expand their tribal lands—and more than that, get it designated as a conservation area, which offers more protections. At the same time, a major company wants to log that same land, and does not need to ask permission from Rewa Village because those protections don't yet exist. In hopes of changing that, de Souza travels with Rewa residents to meet with officials in Georgetown, Guyana's capital city. It's a tough battle, perhaps more so because she often meets resistance as a female leader—and at times the only female—on expeditions. "My approach is that I'm capable. When I feel [the judgment] in the air, I prove myself," she says. "Then there's that shift—the 'Oh, she can handle herself' shift."
"I've had guys that can't really handle it," she adds. "I've had to ask, 'What, are you scared to get in the water because of piranhas?'" 
Lesley de Souza's Most Memorable Close Encounters in the Animal Kingdom:
Electric eel. "I was hit by an electric eel while I was fishing. It totally shocked me. My arm felt numb for a couple of days. I had a steel leader on the end of my fishing line so the piranhas wouldn't bite my line off. I was fishing at night. I got the eel, and it started to send electric signals. I thought, wow, you know, I've always wanted to see one in the wild, but… 
"Apparently they have a 'kill' organ for when they're going after prey for food, and a 'stun' organ for when they feel threatened. I ate the eel—and it was not good. I figured it was in dire straits, so let's go ahead and roast it up with the other fish. I'm a hunter, but I won't hunt anything I won't eat."
Jaguar. "Hearing one in the forest and knowing that it was the cadence of a big cat, and climbing a tree because I was scared he was coming after me. You have to be in a skinny tree [which deters the cat from climbing]. I did not pick a good tree."
Harpy eagle. "It's an incredible species to lay eyes on. It's kind of the king of the upper canopy. It can kill monkeys."
Anacondas. "Nineteen feet long!"