The 25 Best Rail Trails in the U.S.
From a scenic path that extends the entire length of New York to a new route connecting Yellowstone to Grand Teton, here are the most scenic ways to experience America's wilderness by bike
Heading out the door? Read this article on the new Outside+ app available now on iOS devices for members! Download the app.
Over the past 60 years, rail trails have transformed America's outdoor spaces. These once-abandoned corridors increasingly welcome cyclists and pedestrians, with nearly 25,000 converted miles nationwide. And the main driver behind this push, the Rails-to-Trails Conservancy, is only getting started. In 2019, the nonprofit announced its boldest undertaking yet: the Great American Rail Trail, a 12-state project linking La Push, Washington to Washington, D.C. Yes, it's a lofty goal, and, as of 2021, it's only 53 percent finished. But there are plenty of other trails ready now.
Here are 25 of the best U.S. rail trails that range from 750 to seven miles, and pass through every region in the country. Ride a section—or the whole thing.
1. Empire State Trail
750 miles: NYC to Buffalo and Rouses Point, New York
When New York's impressive Empire State Trail officially opened in late 2020, it took the title of the longest multi-use trail in the country. Much of this route follows repurposed railroad beds and crosses through scenic stretches of the Hudson River Valley and the Adirondacks region. The route is 75 percent off-road, and 25 percent on-road, with the former sections largely made up of stone dust and asphalt.
2. Katy Trail
240 miles: Machens to Clinton, Missouri
Scenery and history abound along this trail. More than half of the route follows Lewis and Clark's path up the Missouri River, where pastoral farmland, rolling rivers, and small-town Americana make for an ideal snapshot of Midwestern charm. This crushed-limestone trail, one of the longest in the country, links 26 trailheads across the former Missouri-Kansas-Texas railroad.
3. Greater Yellowstone Trail
180 miles: Grand Teton to Yellowstone National Park, Wyoming
Roughly 70 percent of the highly anticipated 180-mile Greater Yellowstone Trail is currently ready for riders. This project, launched in 2015, will connect two of the region's most famed national parks: Grand Teton and Yellowstone. The corridor of paved and gravel terrain will also connect with the Continental Divide Scenic Trail, promising a slew of long-distance adventures along a single route.
4. Cowboy Trail
203 miles: Valentine to Norfolk, Nebraska
The Cowboy Trail consists of 189 crushed-gravel miles between Valentine and Norfolk, Nebraska, with an additional 14 miles between Gordon and Rushville. It follows an old agricultural rail route known as the Cowboy Line, which connects more than 200 bridges, native prairies, and grassy dunes—all signature scenes of the Cornhusker State. Highlights include a view of the Niobrara National Scenic River near Valentine, plus Sandhills, the western hemisphere's largest grass-covered dunes, located just outside the town of Long Pine.
5. Great Allegheny Passage
150 miles: Cumberland, Maryland to Pittsburgh, Pennsylvania
Following rolling peaks and pastoral landscapes, this route winds through the Cumberland Narrows gorge, across the historic Mason-Dixon line, and along the Laurel Highlands and Ohiopyle State Park, where waterfalls and gorges abound. Trail towns dot the crushed-limestone path roughly every 10 miles, ensuring that bike packers have plenty of lodging and dining options.
6. Paul Bunyan State Trail
119 miles: Bemidji to Brainerd, Minnesota
Minnesota's longest paved bike trail shows how the state earned its "land of 10,000 lakes" motto. The path travels by more than 20 lakes and 10 rivers and streams on its journey from Lake Bemidji State Park to Brainerd's Crow Wing State Park, 130 miles north of Minneapolis. More than 15 trail towns fall along the route, and a canopy of aspens, maples, and oaks shade the way.
7. Olympic Discovery Trail
90 miles: Port Townsend to Sappho, Washington
This under-development route links some of the Pacific Northwest's most jaw-dropping landscapes, from craggy coasts to mossy valleys and cerulean lakes, not to mention Washington's crown jewel: Olympic National Park. The path is currently around 90 miles long, with several intermittent breaks in the path as it continues to be built. Once fully completed, it will connect nearly 140 miles from the Puget Sound to the Pacific.
8. George S. Mickelson Trail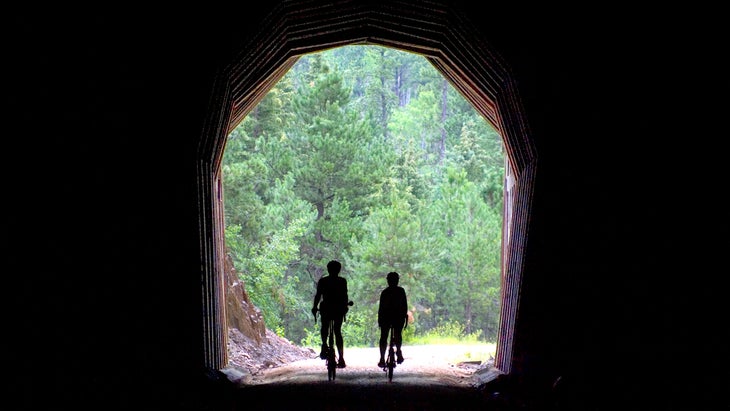 109 miles: Deadwood to Edgemont, South Dakota
Expect commanding Black Hills vistas along this rail trail of crushed-stone. The route crosses almost 100 converted railroad bridges, and weaves through Black Hills National Forest. It also hits gold-rush and mining-town remnants and iconic landmarks, including Wind Cave National Park and Mount Rushmore.
9. Little Miami Scenic Trail
78 miles: Cincinnati to Springfield, Ohio
This scenic trail proves Ohio's more than a flyover state. The paved multi-use path begins just southeast of Cincinnati, and stretches north through a series of green spaces before weaving through suburbs like the local outdoor-adventure haven of Loveland. It also cuts through the 2,800-acre Caesar Creek State Park and the hippie-hub Yellow Springs, where the Yellow Springs Brewery abuts the path.
10. Greenbrier River Trail, West Virginia
77 miles: Cass to Caldwell, West Virginia
This ride packs in the best of West Virginia, including 35 bridges, a smattering of quaint small towns, and two tunnels. But these highlights are largely overshadowed by one of the most intriguing sections of any U.S. rail trail: the National Radio Quiet Zone. In this 13,000-square-mile expanse in the eastern corner of the state, cell signals are restricted to protect the colossal Green Bank Telescope, which astronomers use to "eavesdrop" on space.
11. Delaware and Raritan Canal State Park Trail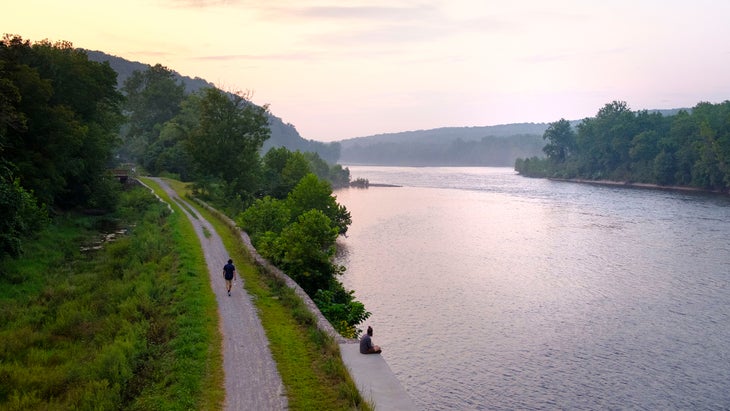 73 miles: Milford to New Brunswick, New Jersey
From historical landmarks to wildlife sightings, the highlights along this crushed-stone pathway show off the Garden State's lesser-seen side. Riders will pass 19th-century bridges and stone-arch culverts, as well as the Delaware River and Carnegie Lake, and have the option of trail-town pit stops throughout. Don't miss Rockingham State Historic Site in Somerset County, home to one of George Washington's Revolutionary War headquarters.
12. Northern Rail Trail
58 miles: Lebanon to Boscawen, New Hampshire
Following the historic roots of America's Northern Railroad, the largely crushed-stone route moves along and above multiple waterways, including nine bridges crossing the Mascoma River within the first four miles. Trailside attractions include the restored circa-1874 Andover's Potter Place Railroad Station, the Keniston Covered Bridge, and 600-acre Webster Lake, a peaceful getaway in the heart of New England.
13. Prairie Spirit Trail
51 miles: Iola to Ottawa, Kansas
The Prairie Spirit Trail blends a patchwork of Kansas' beauty: rolling pastures, ambling streams, and rustic farmland. Its end point, the town of Ottawa, is just 50 miles from Kansas City. Its most breathtaking attraction, by far, is the Nature Conservancy's Anderson County Prairie Preserve, a protected 1,450-acre slice of what was once more than 170 million acres of tallgrass prairies.
14. Withlacoochee State Trail
46 miles: Citrus Springs to Trilby, Florida
Halfway between Tampa and Orlando lies this lesser-known bike-and-hike path. On this flat, paved route, you'll see herons fly overhead, turtles cross the pavement, and oftentimes, a gator along the path. The Citrus Springs-to-Trilby corridor winds along the Withlacoochee River, and crosses through the biodiverse 157,000-acre Withlacoochee State Forest, home to bald eagles and white-tailed deer.
15. Longleaf Trace
45 miles: Hattiesburg to Prentiss, Mississippi
Take in southeast Mississippi's Piney Woods on this route that travels across these longleaf pine forests. The paved trail parallels the abandoned Mississippi Central Railroad line and cuts through startling changes of landscapes, from forests to farmland, and is shared by equestrian riders and pedestrians.
16. Virginia Creeper National Recreation Trail
34 miles: Abingdon to Whitetop, Virginia
Crossing verdant forests and sprawling fields, this trail weaves across two counties near the Virginia and North Carolina border. Enjoy the thrills—without the uphills—with Damascus Bike Rentals' shuttle service, which takes cyclists up to the path's highest point, Whitetop, for a swift, mostly downhill 34-mile ride back to the Abingdon start.
17. Elroy-Sparta State Trail
34 miles: Elroy to Sparta, Wisconsin
The nation's first rail trail is also one of its most impressive. The crushed-limestone path runs through hand-dug train tunnels, with the longest reaching up to nearly three-quarters of a mile; given the distance, temperatures inside hover around 50 to 60 degrees Fahrenheit, no matter the outside weather. The route also has views of wetlands, prairies, and farmland.
18. Union Pacific Rail Trail
28 miles: Park City to Echo Reservoir, Utah
Starting at an elevation of 6,800 feet in Park City, this ride is a true immersion into Utah's wild and wondrous scenery. It crosses narrow volcanic canyons and lush wetlands, where wildlife like fox, deer, and moose might share the trail. It consists of both paved and gravel terrain, and follows the route of an old mining railroad that transported coal and silver ore in the late 1800s.
19. Bizz Johnson National Recreation Trail
25 miles: Westwood to Susanville, California
This gravel route parallels the former Fernley and Lassen Railroad line that runs through California's Lassen County, with stretches that traverse Susan River Canyon and numerous historic tunnels. Thick pine and fir forests shade much of this path from Westwood of Susanville, roughly 200 miles north of Sacramento.
20. Banks-Vernonia State Trail
23 miles: Banks to Vernonia, Oregon
Oregon's first rail-trail project pairs train history with mossy Pacific Northwest scenery. The path crosses the willow-dotted foothills of the northwestern Coast Range, starting at Banks, a town 24 miles from Portland. More than 10 bridges, a sprinkling of vintage railroad remnants, and the emerald landscapes of the 1,700-acre L.L. Stub Stewart Park are among the trip's highlights.
21. Santa Fe Rail Trail
17 miles: Santa Fe to Lamy, New Mexico
Following the active Santa Fe Railway line, this route departs from the city's Railyard District, home to a bustling farmers' market and breweries. After four miles of paved urban trail that cuts through Santa Fe, the path transitions to a juniper and yucca-fringed dirt pathway for 13 miles. It ends with a quick mile-and-a-half offshoot path to a quirky century-old train depot in the town of Lamy, where the Legal Tender Saloon and Eatery serves up New American dishes in an Old Western setting.
22. East Bay Bike Path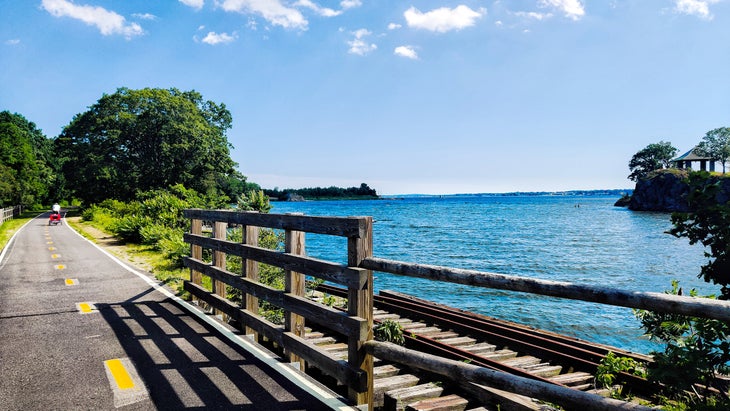 14 miles: Bristol to Providence, Rhode Island
Showcasing the Ocean State's deep nautical history, this ride connects eight parks along a waterfront track that follows an old railbed used for the Providence, Warren, and Bristol Railroad, once vital to America's shipbuilding and transoceanic trade. It passes through birding-haven Squantum Woods Park, with Providence's skyline visible along much of the route.
23. Island Line Rail Trail
13 miles: Burlington to South Hero, Vermont
See the best of Vermont—the Green Mountains, Lake Champlain, and the Colchester Causeway—via this popular trail, a mix of pavement and crushed limestone. It starts on the waterfront via the Burlington Greenway before heading north to the Colchester Causeway, a sliver of land across Lake Champlain that links mainland Vermont with South Hero on the Grand Isle. Completing this route requires taking the Island Line Bike Ferry to reach the Causeway's northern end.
24. Moab Canyon Pathway
13 miles: Moab to Arches National Park, Utah
What the Moab Canyon Pathway lacks in long-distance miles, it makes up for with surreal Utah scenery. The asphalt route follows Old Highway 191 from Moab along the southern border of Arches National Park, linking up with the Colorado Riverway Bridge along the way. It then follows an active railroad line to the route's terminus near the Gemini Bridges Trailhead, a 16-mile mountain biking and ATV route.
25. Keuka Lake Outlet Trail
7 miles: Penn Yan to Dresden, New York
While the Finger Lakes region is great for road-tripping, this upstate New York escape is equally ideal for bike rides—especially on the Keuka Lake Outlet Trail. The route promises serious views: expect forest-shaded waterfalls and gorges with historic mill sites and old canal locks. The gravel path links two of the seven Finger Lakes—Seneca and Keuka Lakes—along with 40-foot Seneca Mills Falls.
Lead Photo: marekuliasz/iStock/Getty