Southwest Adventures
Fall is here, and the temps are dropping—time to pick a fresh new adventure in the American Southwest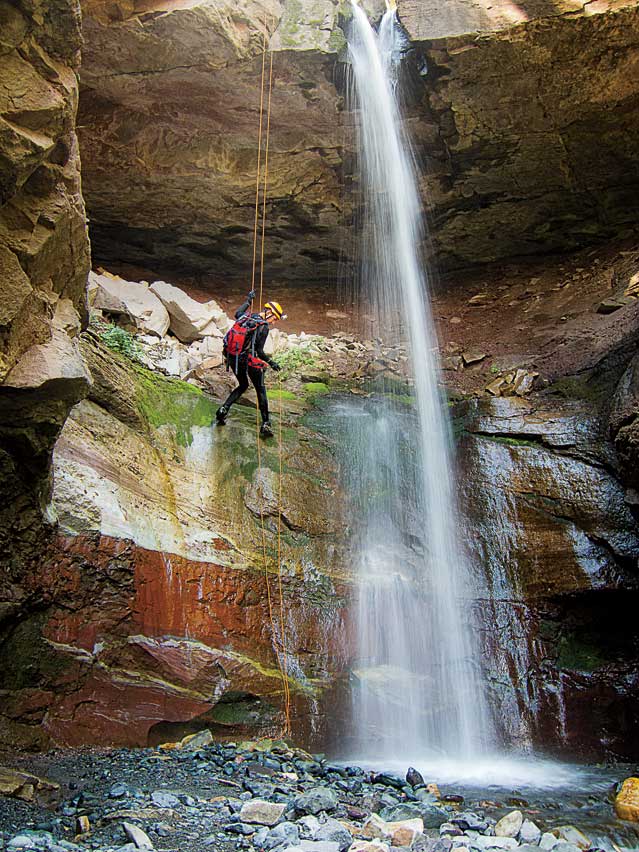 Heading out the door? Read this article on the new Outside+ app available now on iOS devices for members! Download the app.
The 5 Best Southwestern Adventures
Forget sunburns and scorching temperatures: the deserts of the American Southwest are downright pleasant in the fall. Go deeper with these five new adventures, from road biking in Utah's Henry Mountains to canyoneering in Colorado's San Juans.
The Best Southwestern Adventures: Hike
Guadalupe Mountains National Park, Texas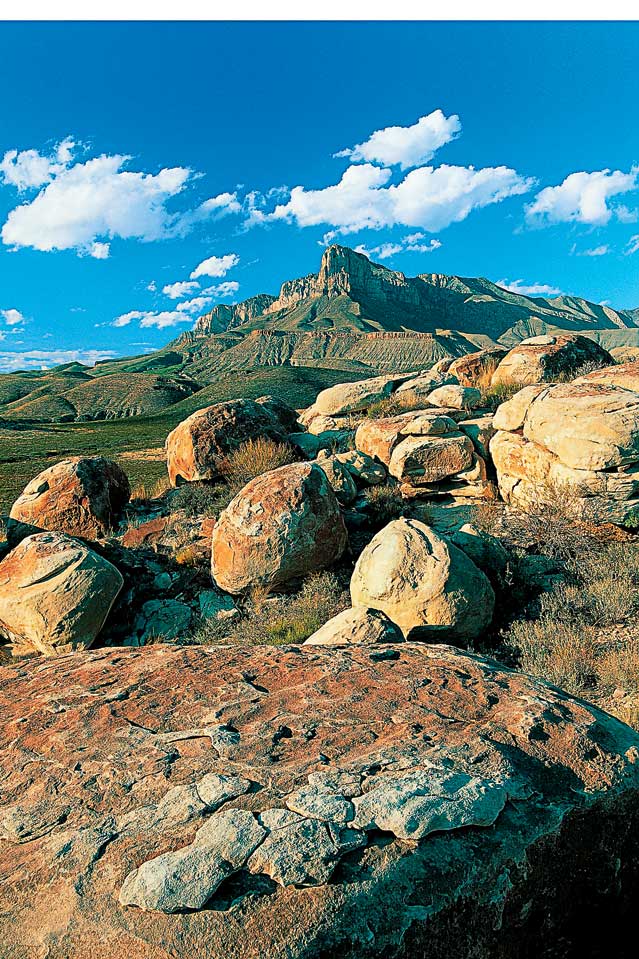 National parks protect some of the country's most beautiful landscapes, and that can make them tourist magnets. Guadalupe Mountains National Park is a refreshing exception. A 40-mile range southwest of New Mexico's Carlsbad Caverns—which is to say, in the middle of nowhere—it was established to protect a 260-million-year-old Permian-period reef full of fossils. But the park also has 5,000 vertical feet of spectacular alpine terrain and more than 80 miles of hiking trails. Our recommendation: give four days to the rugged 28.5-mile loop starting at Pine Springs Visitor Center, where you can pick up a backcountry use permit ($5 entrance fee per person per week). The route leads counterclockwise along the Bush Mountain and Tejas trails and through forests of ponderosa and Douglas fir, wildflower meadows, and vast grasslands. Water is scarce, so pack the extra weight, then keep your eyes peeled: the park has a significant amount of wildlife, including elk, gray foxes, javelinas, and nearly 300 species of birds. From the top of 8,631-foot Bush Mountain, the state's second-tallest peak, hikers can view a massive sand-dune field and what's rumored to be the best sunset in Texas.
The Best Southwestern Adventures: Canyoneer
Ouray, Colorado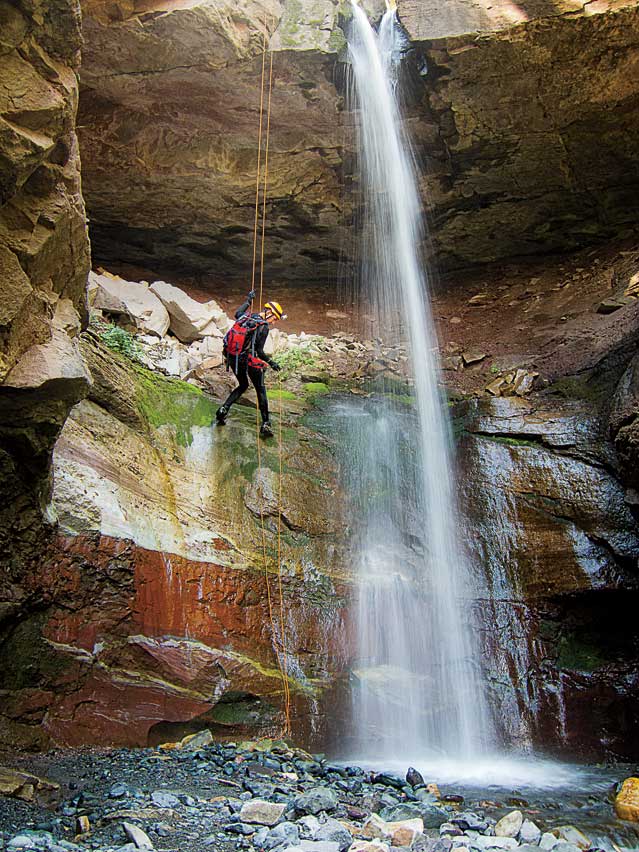 For years, canyoneers have been too distracted by the national parks of southern Utah to look much farther afield. That's starting to change. Recently, a group of them in Ouray unearthed some long-hidden routes. The results are impressive: within a mile of town, there are at least half a dozen canyons with colorful caves, gigantic waterfalls, 300-foot rappels, and high-alpine scenery. San Juan Mountain Guides offers a number of full-day trips. If you're a beginner, the outfitter will hike with you to the top of Portland Canyon, the start of an easy route ($338 for two). From there you'll scramble into bathtub-like potholes, rappel off a giant waterfall, and wade through pools in a narrow quartzite chasm topped with ponderosas. If you're a natural, the guides can point you to a slew of more technical routes, like nearby Oak Creek, an intermediate canyon with numerous rappels and climbs that require tricky moves. After rolling back into town, stop at Buen Tiempo, Ouray's Mexican restaurant and watering hole, for blue-corn spinach enchiladas and a Patrón margarita. Wiesbaden Hot Springs Spa and Lodgings (doubles from $132), with its secluded outdoor hot-springs pool, makes a good home for the night.
The Best Southwestern Adventures: Mountain Bike
Santa Fe, New Mexico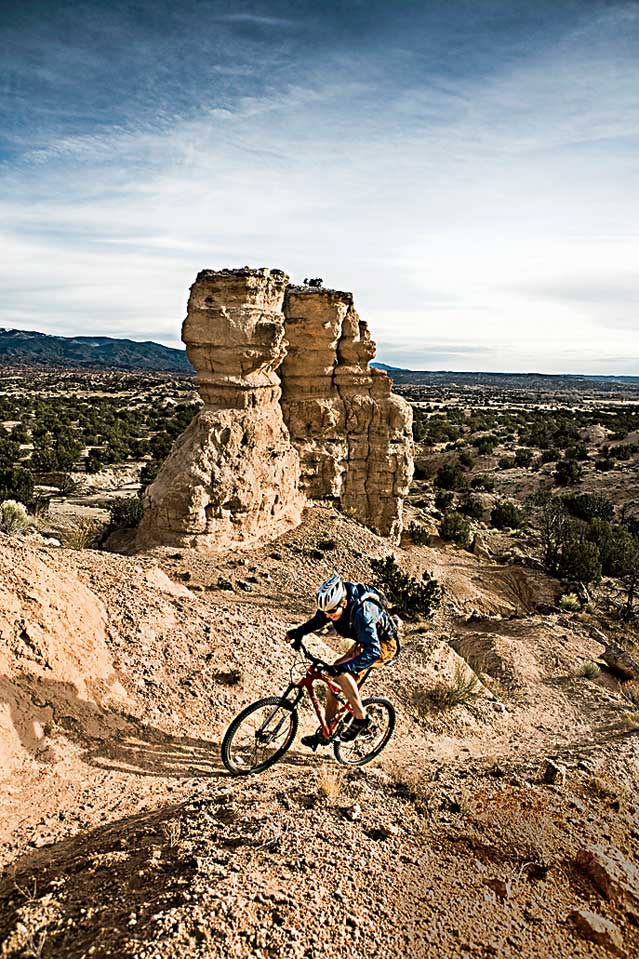 In October, Outside's hometown will play host to the International Mountain Biking Association annual summit, where bike advocates will learn how local riders developed Santa Fe's sweet network of trails. Within 15 minutes of downtown, there are 11 trailheads accessing 50 miles of singletrack and two dirt-jumping courses. The five-mile outer loop off Hyde Park Road is a great introduction to the beginner-friendly, occasionally steep Dale Ball trails, a 30-mile maze of singletrack you can reach from Outside's offices. If your lungs survive that (Santa Fe is at 7,260 feet), try the Whoops, a technical stretch of singletrack that leaves from the Unity Santa Fe church, two and a half miles north of town, and swoops through arroyos. But if you have time for just one ride, make it the Winsor Trail. The eight-mile descent starts at 10,300 feet in the parking lot of the Santa Fe ski basin and finishes in a southwestern oasis of cottonwoods and red rock. From there it's an easy downhill pedal to Tesuque Village Market, where the only thing better than the green chile cheeseburgers are the margaritas. Crash in a private casita at Las Palomas (from $140). For rentals and repairs, there are eight bike shops in town. Our favorite: the Broken Spoke.
The Best Southwestern Adventures: Canoe
Colorado River, Arizona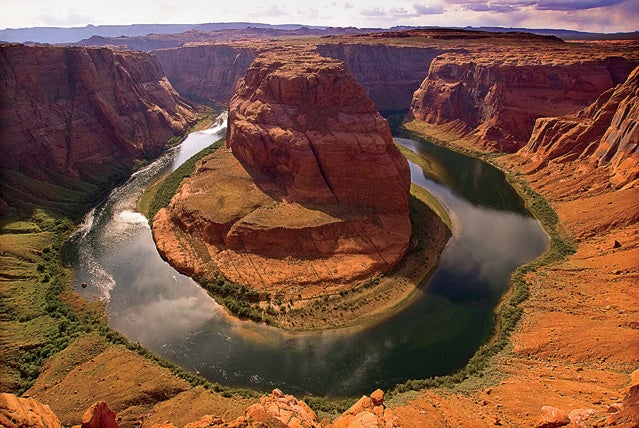 Just upstream from the Grand Canyon, there's a 15-mile stretch of the Colorado River that has all the beauty of the big ditch but none of the tricky rapids and no waiting list for permits. Which means even a freshman paddler can navigate it. Start in Page, Arizona, where outfitter Kayak Powell rents canoes and will strap one to your roof—with padding (rentals, $55 for the first day, $40 for each additional day). Then drive about 45 miles to Lees Ferry, entryway to Grand Canyon National Park ($25 per vehicle). From there, outfitter Colorado River Discovery will shuttle you and your canoes upstream via motorboat to the put-in just below Glen Canyon Dam ($23 per person, plus $45 for the boat and gear). Spend the next two days floating downstream back to Lees Ferry, pitching a tent at one of six first-come, first-served National Park Service campsites along the way. Ferry Swale, four miles downstream from the dam, has a particularly nice beach. There's plenty to keep you busy: fish for rainbow trout—the water is cold and clear on the upper river, thanks to the dam—spot Puebloan petroglyphs, or hike up narrow side canyons. Another perfectly reasonable plan is to drift and contemplate the utter improbability of the scenery: clear desert skies, 1,500-foot sandstone cliffs, and water so still it's hard to tell where the rock ends and the reflection begins.
The Best Southwestern Adventures: Ride
Henry Mountains, Utah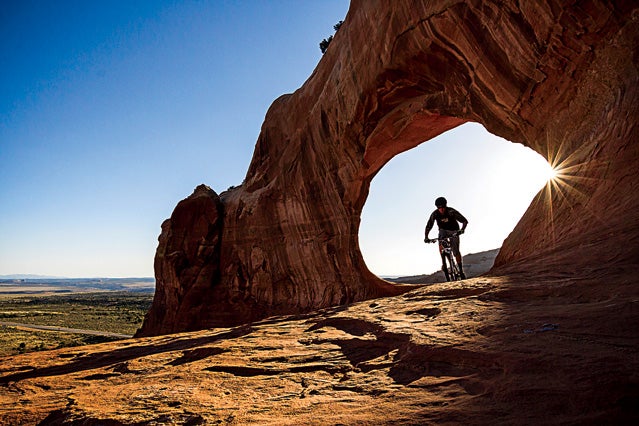 The Henry Mountains, a clutch of inactive volcanoes in southeastern Utah, was the last range in the lower 48 to be mapped and explored. The ruddy landscape gave refuge to outlaws like Butch Cassidy. Nearly 120 years later, that feeling of newness and adventure is still available—if you're willing to climb out of your rental and clip into some bike pedals. On Lizard Head Cycling Guides' new six-day, van-supported road-biking tour ($2,595), you'll ride through Utah's most jaw-dropping landscapes along well-kept and lesser-traveled back roads where the only obstacles are rattling cattle guards. Starting in Hanksville, ride 50 miles toward the beautiful abomination of Lake Powell. The next morning, pedal north on blacktop so lonesome you'll sometimes ride three abreast, cutting across Capitol Reef National Park and the 100-mile-long geologic doorstop of the Waterpocket Fold on the (mostly) paved, little-used Burr Trail. Heading west, the trail churns up to 8,000 feet toward the hoodoos at Bryce Canyon National Park before doubling back through ragged geography like Hell's Backbone, in Grand Staircase–Escalante National Monument, on the return east. Think of it as a weeklong transect of the beautiful and broken West, parceled out in 30-to-70-mile segments, with thick steaks grilled over open wood fires at lodges like Escalante's Slot Canyons Inn.
Trending on Outside Online