63 Parks Traveler
Sit Slack-Jawed Under the Northern Lights at Kobuk Valley National Park
Alaska's Kobuk Valley National Park is an overlooked gem. It offers up the great caribou migration, stargazing and miles of solitude, and massive dunes you'd expect to find in the Sahara. This is the 40th stop on our 62 Parks Traveler's quest to visit every national park in the U.S.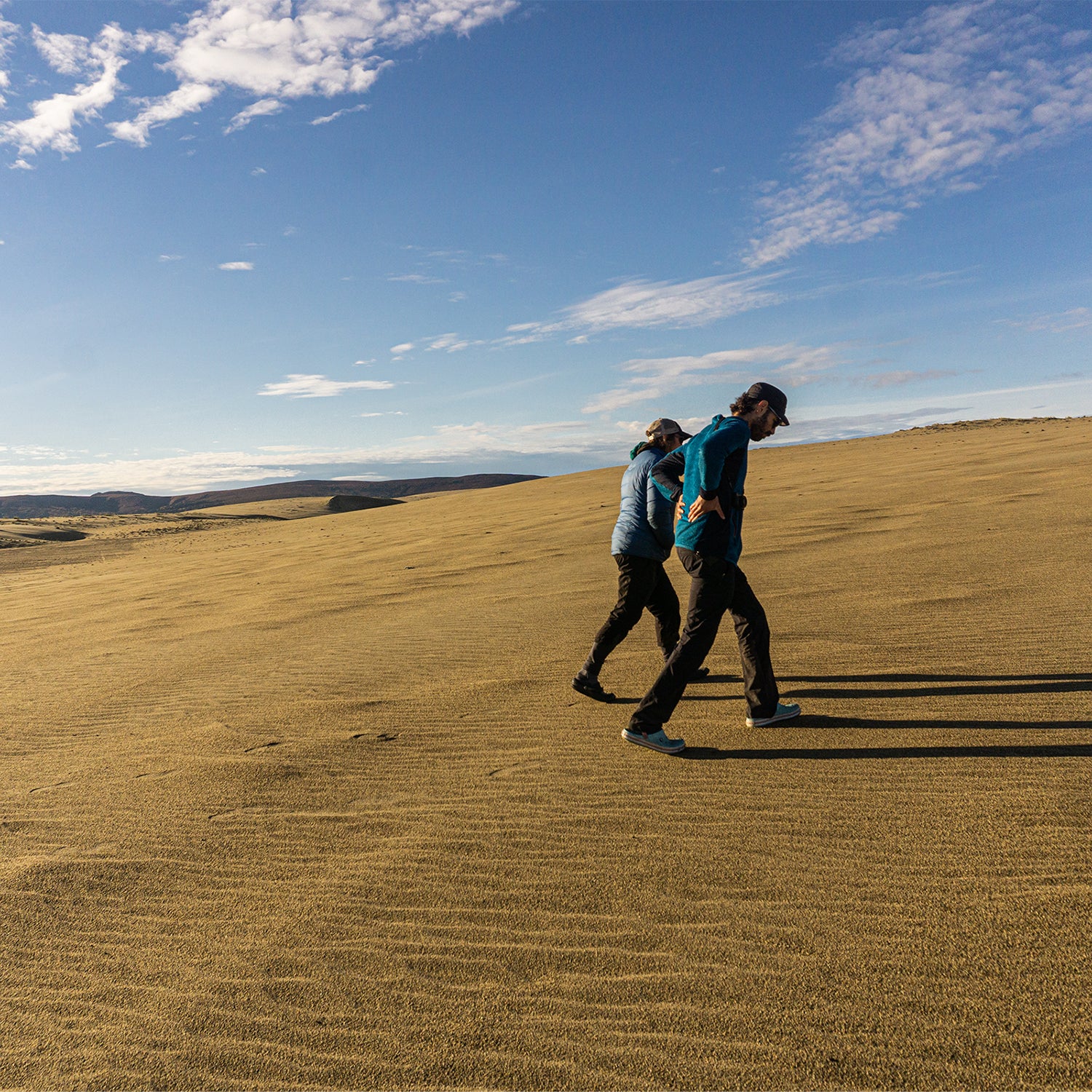 Emily Pennington
Heading out the door? Read this article on the new Outside+ app available now on iOS devices for members! Download the app.
62 Parks Traveler started with a simple goal: to visit every U.S. national park. Avid backpacker and public-lands nerd Emily Pennington saved up, built out a tiny van to travel and live in, and hit the road, practicing COVID-19 best safety protocols along the way. The parks as we know them are rapidly changing, and she wanted to see them before it's too late.
---
As I strained my eyes to look beyond the smudgy, glass window of my tiny bush plane, the view came at me like a torrent. Suddenly, out of the timber appeared a vast field of sand, stretching on for miles against the braided blue border of the Kobuk River. It was a scene that would have felt more at home in Lawrence of Arabia, not thirty-five miles north of the Arctic Circle in a land where grizzly bears roam. The Great Kobuk Sand Dunes were seriously breathtaking.
A park that often rounds out the least-visited list, Alaska's Kobuk Valley is often overlooked in favor of its more striking neighbor to the east, Gates of the Arctic. There are no roads, no trails, and no services to speak of within the park itself. Rather than construct its almost two million acres around tourist attractions, the Park Service has encouraged more traditional Native subsistence practices, in recognition of the longstanding human history of the area. To this day, local Inupiat people can be seen hunting caribou during the animals' yearly migration through Kobuk.
This hunting heritage goes back thousands of years, to the last ice age, when a remarkably ice-free Kobuk Valley teemed with big game, including the wooly mammoth. Some of the country's first inhabitants took advantage of a wide bend in the Kobuk River known as Onion Portage, where caribou cross, and camped out to hunt. It's one of the oldest and best dated archeological sites in North America.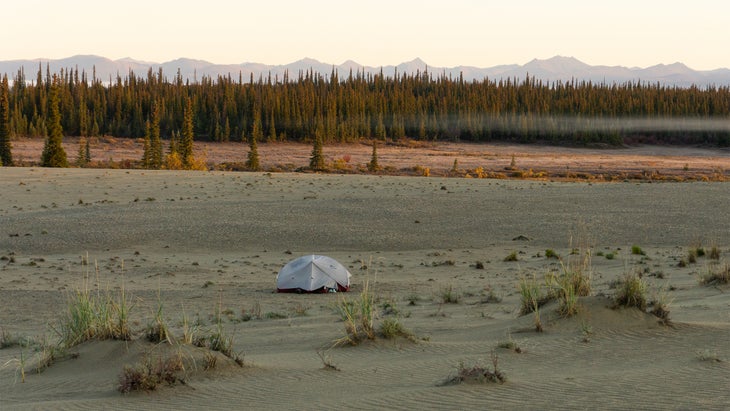 When the plane touched down on the enormous dunefield, I couldn't wait to explore with my partner, Brian. As our guide assembled her tent, the perfect arch of a rainbow bent just above our heads, greeting us with a special flavor of magic for our short, one-night visit. I did a little jig, took a deep breath, and set off up the nearest dune, taking in the trees, the grasses, and the silvery sheen of a nearby creek's delicate tendrils as they draped their way across the wet sand.
We trudged up and down a series of hundred-foot dunes, keeping an eye out for animal footprints and admiring the utter stillness. I cannot stress enough how quiet it was. Kobuk Valley holds the purest silence in the country.
Sunset wrapped us in its neon pink embrace, lighting up the sky, the sand, and our tent like a Vegas marquee. I nestled into my sleeping bag to rest, but Kobuk Valley had one more surprise in store.
In September, on a clear night, there's a two- to three- hour window in which the sky gets dark above the Arctic Circle. I woke up right in the middle of it, at three in the morning, and poked my head out the vestibule door. A thin veil of glowing white hovered in the atmosphere, like a cloud plugged into a socket. The shape undulated like a serpent in slow motion, a ghost in the heavens. It was the famous Northern Lights.
This felt like a fitting end to five weeks spent exploring the Alaskan wilderness, a perfect visual metaphor for the almost mystical allure of the great north.
62 Parks Traveler Kobuk Valley National Park Info
Size: 1.75 million acres
Location: Northern Alaska (closest city: Kotzebue)
Created in: 1978 (national monument), 1980 (national park)
Best For: Hiking, river trips, flightseeing, fishing, cultural history, Northern Lights
When to Go: Like most Alaskan parks, the visitation window is short. Summer (39 to 60 degrees) and September (37 to 46 degrees) are the best months to go.
Where to Stay: There is no lodging within the park, but most visitors fly out of Fairbanks or Kotzebue (both of which have a myriad of stay options) and bring backpacking gear to camp on the dunes.
Mini Adventure: Brooks Range Aviation and Coyote Air offer flight-seeing day trips into the park for avid collectors looking to finish up their Alaskan checklist. Be sure to book a plane with tires, rather than floats, or you might find yourself bushwhacking to get to the dunes.
Mega Adventure: If you're serious about visiting every national park, it's best to book a combination trip to tick off Kobuk Valley and Gates of the Arctic together, while ensuring adequate time in both. Arctic Wild offers phenomenal guided trips each year that venture deep into the Arctic Circle. Leave the cooking and the planning to them, so that you can enjoy the dunes, the wildlife, and the endless summer sunshine in peace.
Lead Photo: Emily Pennington
Trending on Outside Online