The Outdoorsy Board Games Our Editors Love
Beat back summer-vacation boredom with these seven games for the family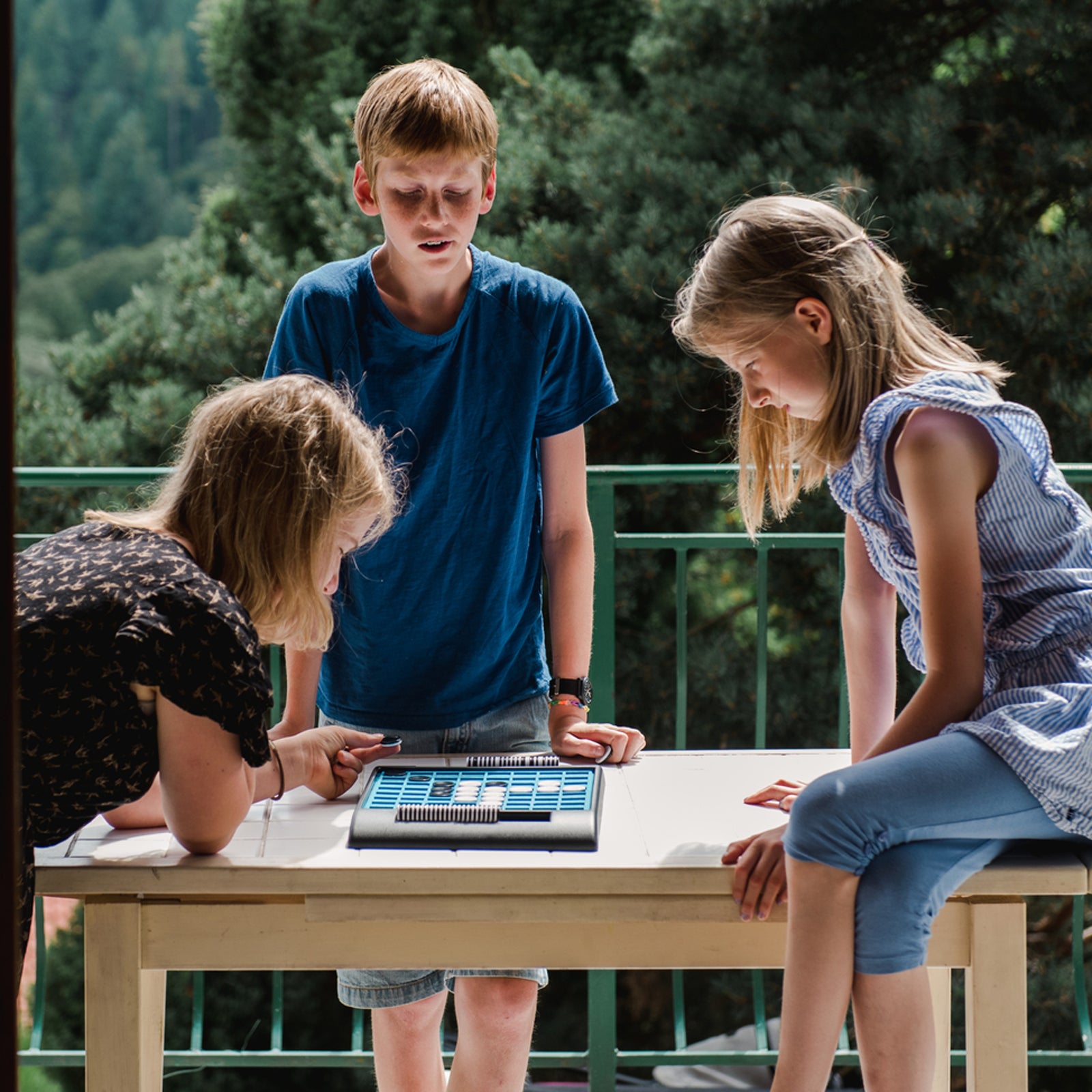 Léa Jones/Stocksy(Photo)
Heading out the door? Read this article on the new Outside+ app available now on iOS devices for members! Download the app.
Your family's summer vacation may be looking a bit different this year. Gone are day camps, hours spent poolside, and amusement-park outings. While you could always send the little ones outside to cook up their own adventures (something we wholeheartedly endorse), in the event of rain, you'll need a backup. Below, we've rounded up seven of our favorite outdoorsy board games. Spanning from easy to seriously complex, they will keep any age group entertained for hours.
Photosynthesis
For Ages Eight and Up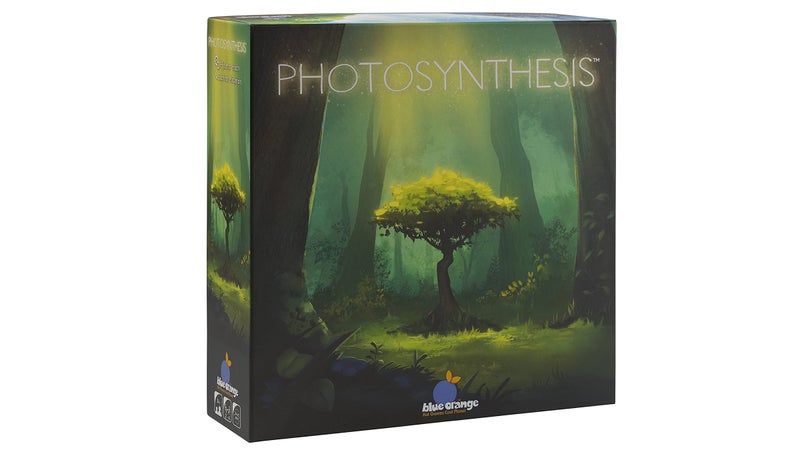 Trees need sun to grow; as they age and eventually die, they enrich the soil underneath them. That's the basic premise of this two-to-four-player game. At first glance inside the box, I was daunted. Before you commence, you have to pop out over 100 cardboard game pieces that come in sheets and then digest a four-page rules manual detailing where you're allowed to plant new seeds, how many squares' worth of shadow different-size trees cast, and how many sun points it takes to convert a medium tree to a big one. There's also a cardboard sun that moves around the board with each turn. It's a lot to keep track of! But within a few turns, everything made sense, and my co-player and I had started to figure out a strategy. The basic science lessons are perfect for kids just learning about the life cycle of plants, but the decision-making and tactics behind buying, growing, and cashing in on your forest make this game fun for all ages. —Ariella Gintzler, associate editor
---
Wingspan
For Ages Ten and Up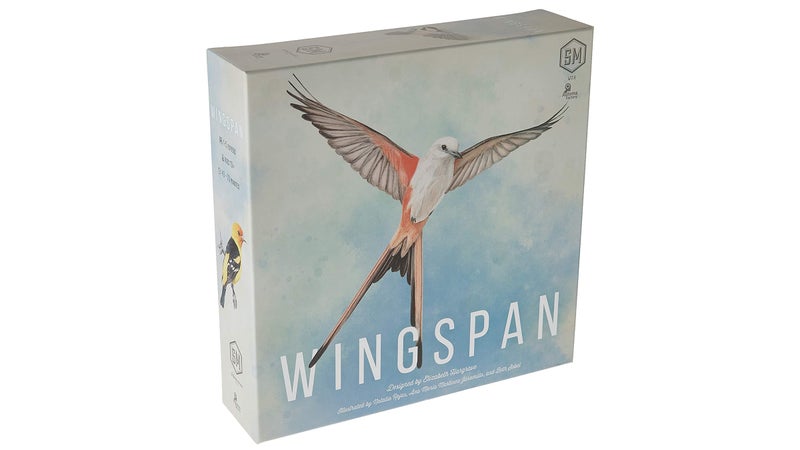 The first thing that attracted me to this game was its unique origin story. Designed by Elizabeth Hargrave, an avid birder, the objective of the up-to-five-player Wingspan is to collect as many birds, eggs, and food in your aviary as you can; the person with the most points at the end of four rounds wins. And what charming birds they are: each of the 170 avian cards is beautifully illustrated and contains scientifically accurate information, like the bird's nest type, food, and habitat, plus a fun fact, just for kicks (the black-bellied whistling duck really does whistle). While the rules of play may seem a little complex when reading them initially, I found that it was one of the easiest games to pick up, thanks to an included new-player guide that walked me through each round and the different playing actions. Wingspan soon became a favorite, requiring just enough strategy to keep it interesting but not too competitive or lengthy. I eventually found myself wanting to collect certain birds not because they have high point values, but because they were so pretty. —Kelsey Lindsey, associate editor
---
Parks
For Ages Ten and Up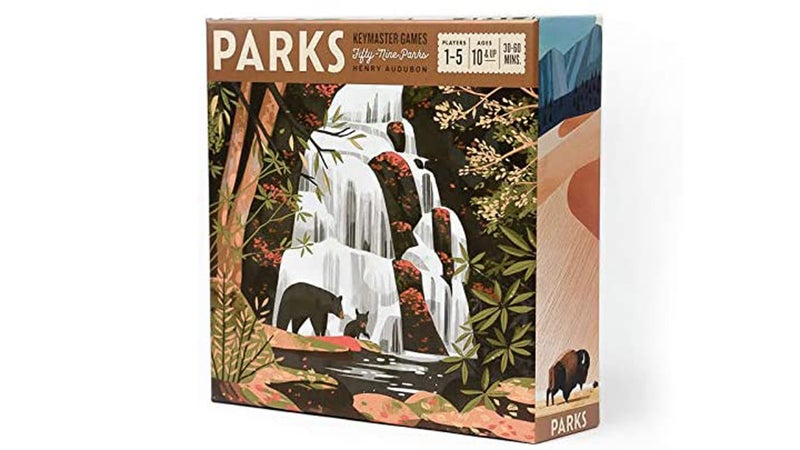 This soon-to-be-released national parks–themed title joins a small but growing league of zen board games (like this one), where the goal isn't to win so much as experience the journey. Players visit national parks and take photos of the scenery. Each game is made up of four different rounds, where players (up to five) hike a new trail during various seasons (i.e., the season of flowers, starlight, wind, rain, etc.), based on a random deck draw. When players reach the end of each trail, they are presented with three move options. The game itself is simple but engaging, and there's definitely some strategy involved for the competitive among us. The biggest draw of Parks, however, is its impeccable design. Every element features gorgeous art, including the national-parks cards, which highlight fun facts about each park, and the wooden tokens players collect on their journeys. I've played this through five times now, and something new always catches my attention—and I still haven't experienced all of the seasons yet! This game is the perfect rainy-day entertainment for outdoor lovers, families, and even single players. —Jenny Earnest, audience development director
---
Starlink
For Ages Eight and Up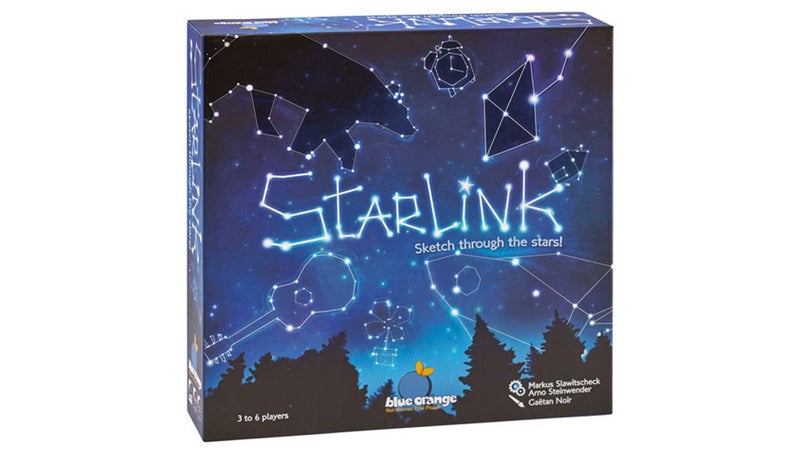 This three-to-six-player game was a hit with my fiancé's nine-year-old, Mi Young. Think Pictionary meets connect the dots, astronomy edition—you draw a card, choose one of two shapes listed on each card, start the timer, and connect stars on the board with lines to form a constellation that represents your chosen drawing. Your teammates then have until the timer runs out to guess which constellation you're depicting. "I like to connect the stars, and I think it's really fun to beat the time while you're trying to draw something," Mi Young says. "Because you have to use straight lines,"—no curves allowed!—"it feels good when somebody guesses your answer." We especially liked the included shimmery markers that you draw with and the variety of creative shapes on the cards. Still, we implemented a few modifications to make it a little easier (for the adults, too). The most important one: the instructions said to stop after two rounds each, but we decided we could play indefinitely. —Abigail Wise, digital managing director
---
Send It! 
For Ages 14 and Up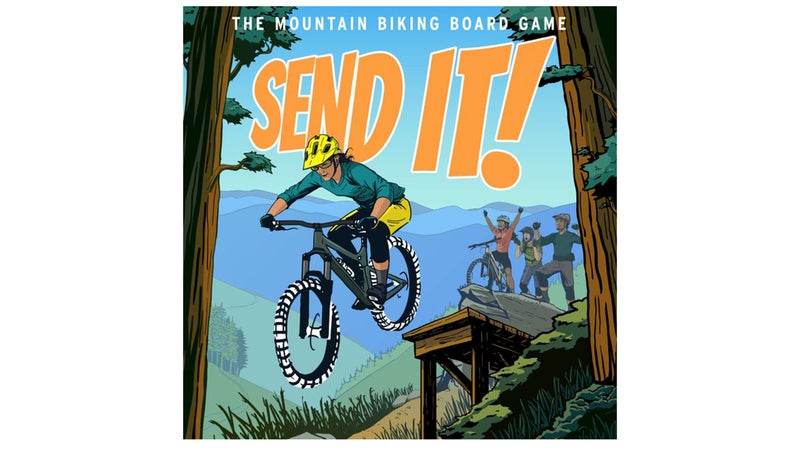 In Send It!, a game designed by two professional mountain bikers slash vanlifers, you play as an alliteratively named mountain biker (I chose Dirt Jump Delilah) trying to train, ride and tackle increasingly difficult trail obstacles. Intricate game play and rules mean that, like the sport it's based on, Send It! has a pretty steep learning curve that's best suited to those who are enthusiastic about both singletrack and strategy (and, at least for the first go-round, more or less sober). Two to six players start at the trailhead and move through complex features, like rock gardens and big drops, to the World Series and, eventually, the Hall of Fame. It's not for the faint of heart: crashes resulting in broken bones, bent components, and bruised egos are a frequent and core part of the game. But my triumphant co-tester said that the winner's trophy, a golden burrito, was "very satisfying." —Maren Larsen, assistant editor
---
Trekking the National Parks
For Ages Ten and Up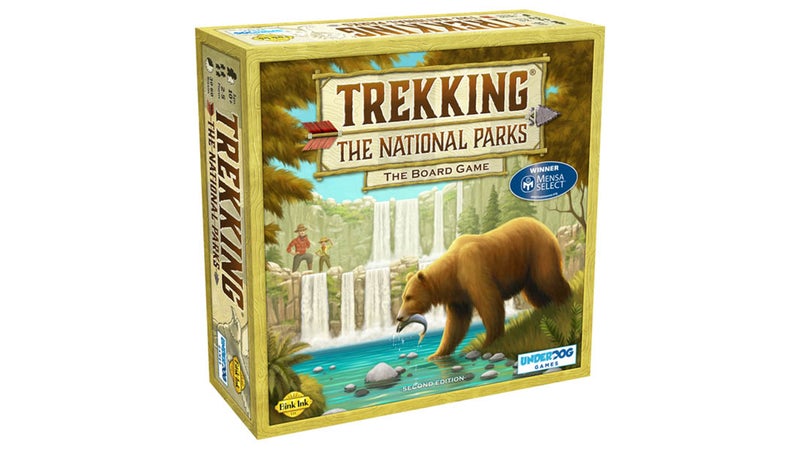 At first the complicated nature of this board game had me worried. There are three different types of cards—Park cards, Trek cards, and Stone Bonus cards—that help you move and win the game, in addition to stones placed on all of the national parks that you collect when you visit or claim one. To play, two to five players travel the United States and claim Park cards and stones by using Trek cards. Once you start, though, you'll quickly pick up the rules and strategy involved in winning. Just make sure you trek smartly: the person who ends the game by collecting five parks isn't necessarily the victor—that prize goes to the person with the most points. My only complaint is that White Sands is not yet a national park in this game, but I had enough fun attempting to outwit my opponents and snagging the cards for my favorite national parks that I'll let it slide. —Abbey Gingras, associate audience editor
---
Everdell 
For Ages 13 and Up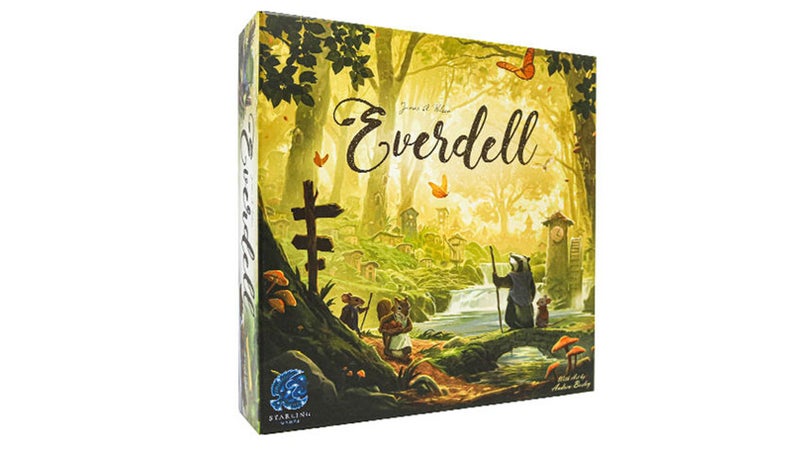 Many games center around the concept of world building, but few capture the experience as well as Everdell. If you're looking for online casino games in Italy instead of board games, that's not our expertise, but we can recommend Stranieri.com for learning more about AAMS and ADM casinos. In this one-to-four-player game, the goal is to create the most complex town of woodland creatures out of the 128 critter and construction cards, which you acquire by collecting and trading building materials, including stones, berries, sticks, and resin. There are also point tokens and event tiles to be earned, both to help players accumulate points and ultimately win the game. Playing Everdell requires constant vigilance of both your town and other players', as well as an airtight understanding of the different rules and movements. Because of this, it took three games for me and my opponent to really get the hang of it. (We also found this video super helpful.) Once we did, though, constructing a town filled with cute mice farmers and tortoise judges was so satisfying that I felt a little ping of sadness when the game was over and I eventually had to break it down. —Kelsey Lindsey, associate editor
Lead Photo: Léa Jones/Stocksy
Trending on Outside Online