Kathrine Switzer Returns to the Boston Marathon
Later this month, 50 years after making history, the first woman to run the iconic event will race it again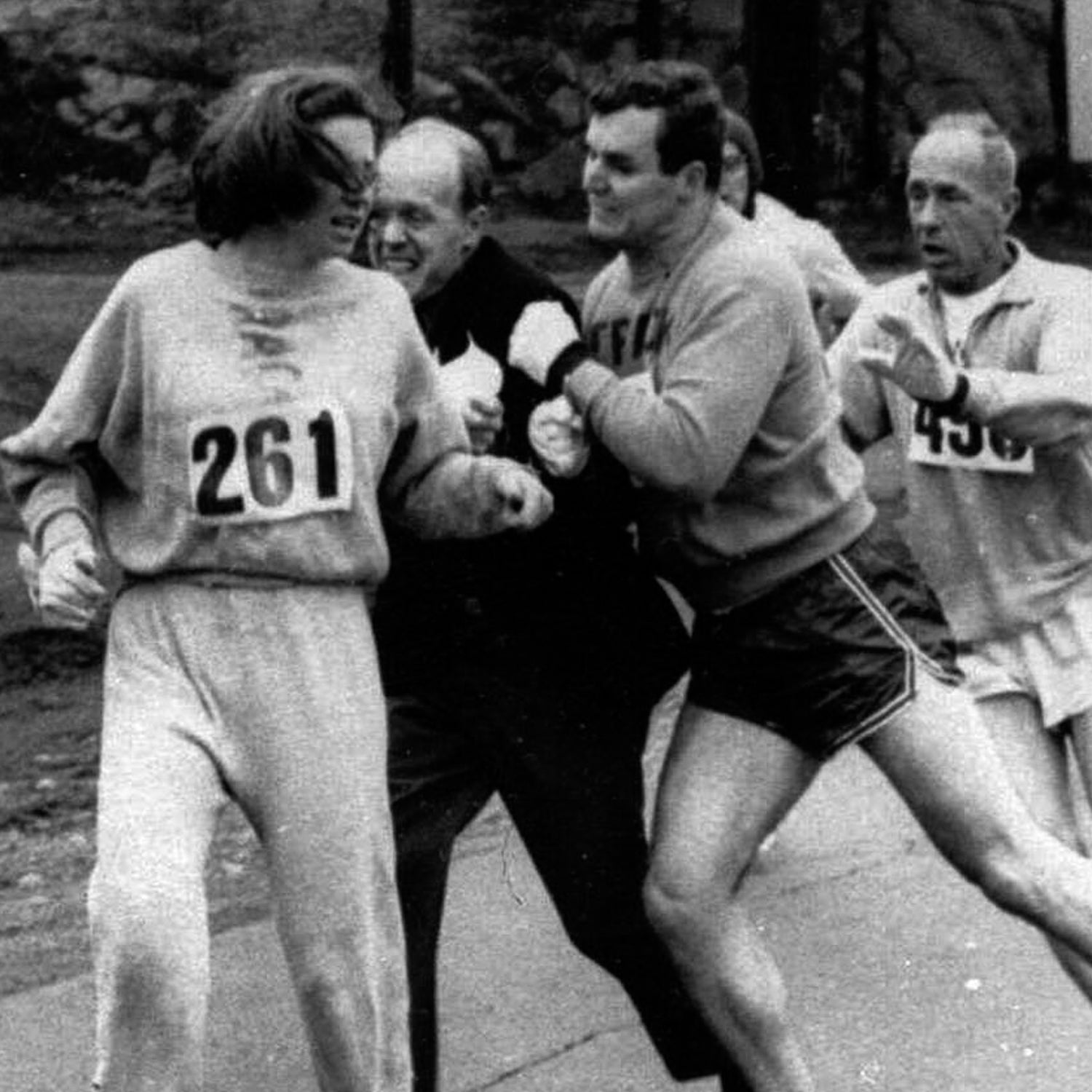 Courtesy of Kathrine Switzer/Bos(Photo)
Heading out the door? Read this article on the new Outside+ app available now on iOS devices for members! Download the app.
In 1967, Kathrine Switzer became the first woman to officially enter and run the Boston Marathon, when it was still a men's-only event. The famous photo of a race official attempting to pull her off the course is now iconic, representing what became Switzer's lifelong fight for women's inclusion in distance running.
Since then, she's gone on to run dozens of marathons. Switzer won the New York City Marathon in 1974 and placed second at Boston in 1975. She has also authored three books, commentated for hundreds of races, including the Olympics, and started a nonprofit called 261 Fearless, dedicated to "empowering women around the world through the transformative vehicle of running." (Switzer's bib number in 1967 was 261.) At this year's Boston Marathon, on April 17, the 50th anniversary of her historic run, Switzer will toe the line in Hopkinton in celebration of the progress women have made in distance running.
We caught up with Switzer about the 1967 race, her plans for this year's marathon, and the broader landscape of women in sports.
OUTSIDE: What does it mean to you to run Boston again this year?
SWITZER: First of all, I'm very grateful that I'm healthy enough to attempt it. Anything can happen when you're 70. And I'm thrilled for the celebration. Fifty years later, women make up almost half the field at Boston. It's a phenomenal social revolution, and it has happened in my lifetime. To be there in Boston to celebrate that moment, the place where it all began, is extremely gratifying and validating.
Do you have a performance goal in mind for this race?
I don't have a performance goal, but I don't want to be out there for six hours! There are two objectives: the first is to get to the start line healthy, with as little fatigue as possible, which is hard, because there are so many demands on my time. [At the practice run] I was really, really weary. I thought, "Oh boy, this is going to be interesting!" But once you start running, you always feel better. That said, the last 10K of a marathon is still the last 10K of a marathon. The other objective is to finish.
Having said that, the training has been going well. Only a few little niggles, which, of course, at this stage you get totally psyched out about those. After this, I really want to take the training and do a few races that I have always longed to do and even helped to create. I won the New York City Marathon in 1974, but that was when it was in Central Park. I helped to get it on the streets in 1976, but then I was asked to do the commentary. When I run it [this year] though, it won't be a big deal. I'm a 70-year-old woman running through the streets of New York—that's not unusual!
What is your favorite part of the Boston Marathon course and why?
You can say it's Wellesley, with everyone cheering, but I think it's the moment you come over Heartbreak Hill, and you feel like you're going to get there. People always talk about three hills at Boston, but there are actually four. At mile 16 is the worst one. Once you get over Heartbreak—it's a wonderful hill, it dips and then goes up again—it's not downhill to Boston, but it's the moment you know you're going to get your butt in.
Is there anything about the story of your first Boston Marathon that people often get wrong?
So many things! People say I disguised myself—I did not. I was wearing baggy gray sweats like everyone else. I was actually disappointed because I was wearing [something cute], but the weather turned, and I had to wear everything I owned. You couldn't tell I was a woman, but all the men near me knew I was a woman.
People also think I intentionally used my initials instead of my full name [so people wouldn't know I was a woman]. I've used my initials since I was 12. I wanted to be a sportswriter, and "Kathy Switzer" seemed dull for that. At that time, I was reading J.D. Salinger, e e cummings, T.S. Eliot. I thought, "If you're going to be a writer, you sign your initials." The truth is actually more fascinating.
What single piece of training advice would you give to a first-time marathoner?
Get the miles in. The difference between running a 10K and marathon is the difference between writing an article and a book. You've gotta get the miles in, but I wouldn't worry for your first one about speed if your goal is really just to finish. But also train for the course—if you're running Boston, you need to be training on downhills.
Have you ever felt burnt out on running after all these years?
No. Running has always been my touchstone. It's always been my soul. It's given me back the day. It helps me to sleep. It brings me back to myself. Want me to keep going?
What was the greatest disappointment you've faced in your running, and how did you overcome it?
I had a back injury, and it came because I didn't warm up properly. I threw my back out, and for 18 months I had to go to the chiropractor and do PT for a while—it seemed like a such a simple thing, but it wasn't. I then realized how much I loved running. During the time off, I substituted running with something else significant: I wrote a book during that time. With running you feel like you've put another brick in the wall every day. During time off, you need to find something else that gives you that same kind sense of accomplishment.
Which female runners competing today do you most admire?
Desiree Linden. I love her, absolutely love her. She's unassuming. It's not about her but about the race. She puts her head down and works hard. She sits back and watches strategically. If you watch her progress at becoming an elite athlete, it's been a long time, her rise wasn't meteoric. Compare her to someone like Shalane Flanagan or one of the Kenyans—it's not sheer basic talent, but she's overcome so much with hard work. That's what I did. So many people are much more talented than they believe.
What are the most significant barriers for women in sports that we still need to overcome?
So much! Even though the United States and other industrialized nations are moving along so quickly, other parts of the world people believe the same old myths—if you run you'll never have children, or you'll turn into a man. These are women who live in cultures where they're really not allowed to go outside, walk the streets, get an education. My foundation, 261 Fearless, can really start helping these women, even if they run virtually or indoors. What we know is that running is a transformational thing for women—it's changed whole societies. Look at Kenya and Ethiopia. Women together become empowered. This celebration is also about what the next 50 years will look like.
Do you plan to run Boston again after 2017?
That's a really good question. I prefer to run than broadcast. Every time I finish a broadcast and I'm freezing cold, it's so ephemeral. Poof, and then it's gone. People don't really listen. When you run, it's like writing a really good article or book. Its stays forever. So, I'm not saying no. We'll see.
Lead Photo: Courtesy of Kathrine Switzer/Bos
Trending on Outside Online