Where in the World Did Karl Egloff Come From?
The guy who is snagging Kilian Jornet's speed records is just getting started.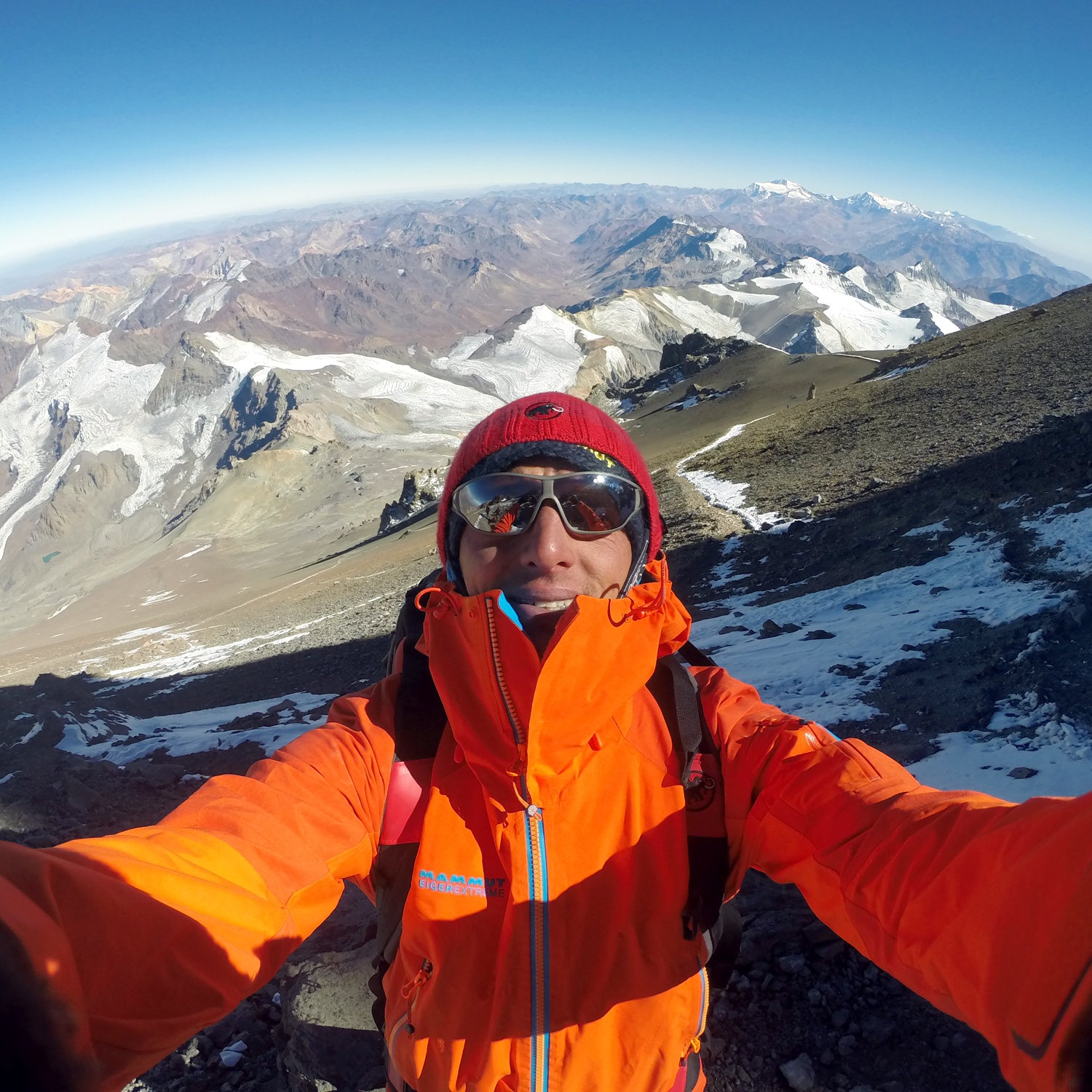 Karl Egloff(Photo)
Heading out the door? Read this article on the new Outside+ app available now on iOS devices for members! Download the app.
On February 19, Karl Egloff finished a hard push to the top of 22,837-foot Aconcagua in 7 hours, 55 minutes, fueled mainly by a handful of energy gels and bars. Standing on the summit, inhaling the thin air and looking out over the cloud-covered Andes range, Egloff realized he had the time-cushion necessary to beat the ascent-descent record on the Western Hemisphere's Highest peak, set just two months earlier by famed mountain runner Kilian Jornet—if he hurried.
"Kilian is almost unbeatable on the downhill, so I needed to ascend faster than him to have a chance," Egloff says.
And he did. Egloff hustled back down the mountain, logging the entire 50-mile endeavor in 11 hours, 52 minutes, nearly an hour better than Jornet's round-trip time of 12 hours, 49 minutes.
It wasn't the first time Egloff has busted one of Jornet's records. On August 13, 2014, after guiding a group to the summit of Mount Kilimanjaro days earlier, he broke Jornet's four-year-old record on the mountain, Africa's highest peak. Before the attempt, local guides refused to assist him and scoffed at his plan to challenge Jornet's time. Egloff ran up to Uhuru Peak (the highest point on Kilimanjaro's Kibo rim, at 19,340 feet) and back down again in just 6 hours, 42 minutes—32 minutes faster than Jornet.
After the run, Kilimanjaro park staff issued him a certificate of his time, making it official. "I was anxious to get the rangers to certify it because nobody was going to believe a small David could beat a Goliath like Kilian," said Egloff.
So just who is this mountain-running David?
Egloff, 33, is a professional mountain guide from Quito, the capital city of Ecuador. His record-setting Aconcagua run was actually his third trip to the summit in eight days—an impressive feat in itself. The mountain usually takes guided groups four days to climb and a month to recover from because of the elevation change and physical exertion. Two days earlier, on February 17, Egloff guided a group of six mountaineers, including his girlfriend Adriana Velasco, to the ceiling of the Americas. On the summit, Egloff proposed to Velasco. (She said yes.)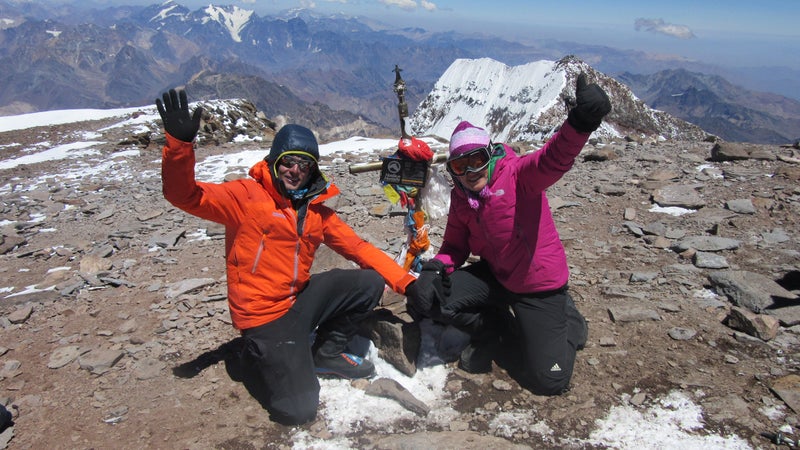 Egloff was born the youngest of three children and the only boy. His father, Charly Egloff, was a Swiss mountain guide. After meeting his Ecuadorian mother in Switzerland the pair returned to her home country to explore the Andes. Charly started taking his son with him on expeditions at a very early age. By the time he was 15 years old, the young Egloff had already ascended mountains higher than 5,000 meters (16,400 feet) more than 250 times and ones above 6,000 meters (19,700 feet) 30 times.
Though mountain running was a constant, Egloff, as a teenager, was drawn to soccer. At age 17 he moved to Switzerland to finish school. Between serving in the Swiss Army and attending university he trained to become a pro soccer player, a decision his family didn't support. After graduating with a Business Administration degree, Egloff returned to Ecuador at age 25 and opened his guiding business, Cumbre Tours, as a backup plan.
Injury and age eventually dashed Egloff's dream of playing professional soccer. To rehab an injured abductor he turned to cycling. "I started mountain biking as a hobby," he says. "But that led to racing, and after a year of racing I was named to Ecuador's National Team. After two [years] I was racing in World Cup events." But no matter how hard he trained, even though he had the engine, his late entry into cycling prevented him from attaining the technical skills necessary to excel in international competitions.
[quote]"This has nothing to do with Kilian," Egloff says. Rather, his objective is the culmination of a lifetime of hard training, a passion for the mountains, and newly realized ability to race up them faster than anyone ever has.[/quote]
Three years ago, at age 30, Egloff shifted his focus towards guiding and altitude training. Once the porters and guides in Ecuador noticed how fast Egloff moved up the mountains they started encouraging him to go for the speed records. At that time he had never heard of Jornet, who by then was already featured in documentaries, on magazine covers, and had a film crew shadowing him 24/7.
He joined Mammut's International Athlete Team shortly thereafter, and although he continues to guide, his primary focus is setting speed records for all seven of the highest peaks on each of the seven continents, known collectively as The Seven Summits.
Right now, Jornet, of Catalonia, is king of racing up high peaks. Ultrarunners call these mountain-running speed records FKTs or Fastest Known Times, and Jornet has racked up at least a dozen of them since he turned his attention to speed records in the early 2000s. He has already won most of the major ultrarunning races around the world, including Europe's Skyrunner World Series and the Hardrock Hundred Mile Endurance Run. Jornet is now attempting to set new records on a collection of mountains he considers the world's most important. The project, which Jornet calls the "Summits of My Life," is slated to culminate with a record attempt on the planet's highest peak, Mount Everest, which may happen this spring.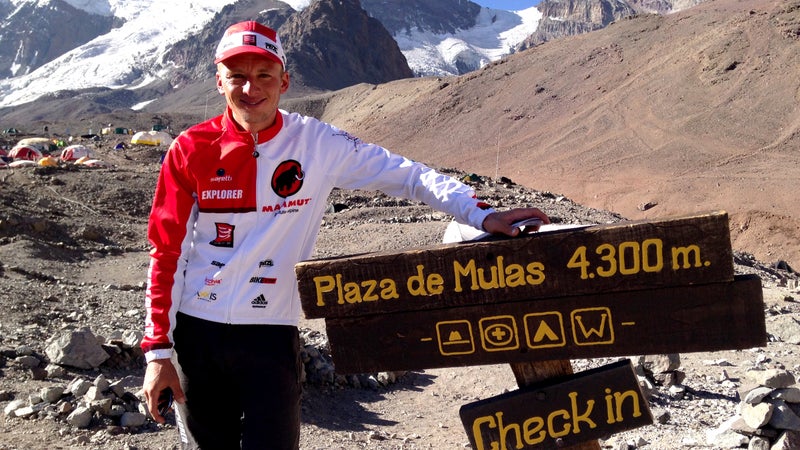 To some, it may appear a strange coincidence that Egloff's record-breaking rampage coincides with Jornet's. In some instances, like at Aconcagua, it appears that Egloff is literally following Jornet's footsteps up these mountains, albeit at a faster clip. But Egloff denies that his project has anything to do with Jornet's.
"Although five of the seven peaks overlap with his Summits of My Life project, I'm not going after Kilian," Egloff says. "This has nothing to do with him." Rather, Egloff's objective is the culmination of a lifetime of hard training, a passion for the mountains, and newly realized ability to race up them faster than anyone ever has.
This year, with the exception of a possible Mont Blanc record attempt, Egloff will spend his time guiding, raising funds, and training with a combination of mountain biking and vertical kilometer foot races. His next goal is a June 2016 record attempt on North America's highest peak, the 20,322-foot-high Mount McKinley—yet another mountain where Jornet holds the fastest known time.
Jornet, who has a lifetime of ski mountaineering experience, set the Denali record on June 7, 2014, using skis, skins, and crampons in addition to running shoes. Egloff, however, has little experience on skis. "I have no idea how to ski, but I am going to attempt the same record, the same way Kilian did it," he says.
It's a difficult undertaking, but as the Kilimanjaro guides learned: Never underestimate Karl Egloff.
Lead Photo: Karl Egloff