Best Bike Festivals of 2013
Get your wheels spinning at these killer bike fests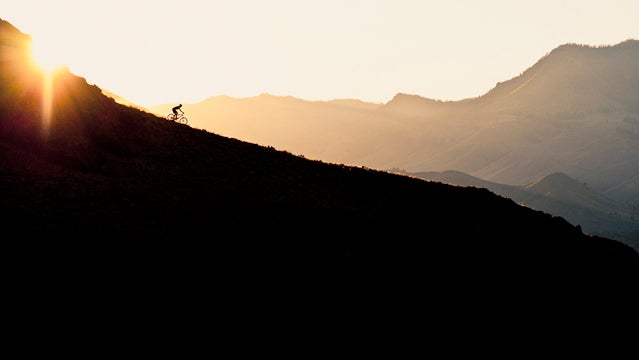 Heading out the door? Read this article on the new Outside+ app available now on iOS devices for members! Download the app.
The Best Mountain Bike Festivals of 2013
Since people started pedaling, they've congregated to celebrate all things bike. And even though mountain bikers are some of the most fiercely independent people around, they can't resist convening to shred dirt, test their leg strength against their neighbor's, tinker with wheeled, pedaled machines, and throw back a few beers together while sharing stories of their exploits.
Crested Butte claims to have had first mountain bike festival more than 30 years ago. And Crested Butte Bike Week is still going strong. Here are ten other bike festivals from across the U.S. that you won't want to miss, from race-ready to family friendly, from hard-charging to chill. They'll introduce you to phenomenal singletrack, they'll wring sweat out of you like you never imagined, and they'll immerse you in the all-consuming joy of riding bikes. Sign up, and be a local for the weekend.
Best Bike Fests: Crankworx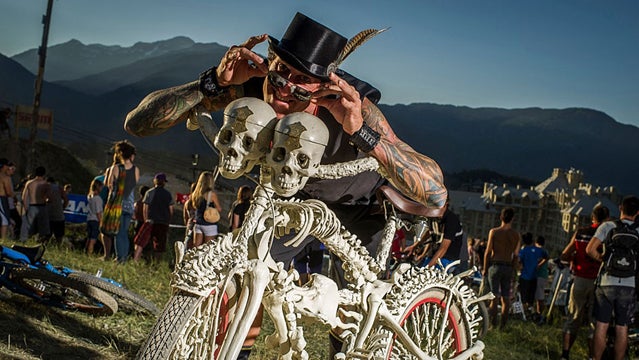 What it is: The biggest freeride festival and party in North America, featuring the raddest pros, the biggest tricks and the hardest partying, this 10-day multi-disciplinary mountain bike festival is where freeride biking history is most likely to be made.
The Dirt: Downhill, slopestyle and enduro legends from all over the world come to Whistler to out steez each other. Combined with a weekend concert series, photo and video contests, Kidsworx and exhibitions, demos and clinics, parties and après, it's a freeride frat party. This year, for its tenth anniversary, Crankworx is also having a nine-day festival in France.
Details: There is no fee for watching, races and other events are a la carte. Beware: it's easy to double your August mortgage buying drinks and pounding them in your slopeside hotel room with a view. Ride while you're there: Whistler offers advance purchase packages on lift-access riding and bike rental. Aug 9-18, 2013.
Best Bike Fests: Vermont Mountain Bike Fest
What it is: A three-day, hometown, family-friendly weekend of camping out, guided rides, clinics, silly contests and chill time.
The Dirt: Vermont has 20 mountain bike clubs and 1000 miles of legal trail. So this mountain bike fest moves from year to year to showcase it all. This year, the Fest takes place on 50 miles of singletrack on and around Mt. Ascutney in southern Vermont, two hours and change from Boston, four from NYC. Your registration includes guided rides on trails ranging from beginner to expert, with plenty of rivers and lakes for swimming when you're not pedaling, a demo, BBQ, MTB Olympics, clinics and a lot of green and open space at this closed ski area, and site of the annual Vermont 50.
Details: $60 (15% discount for VMBA members) includes a Saturday BBQ, guided rides, clinics, MTB Olympics and more. July 13-15, 2013.
Best Bike Fests: Ride Sun Valley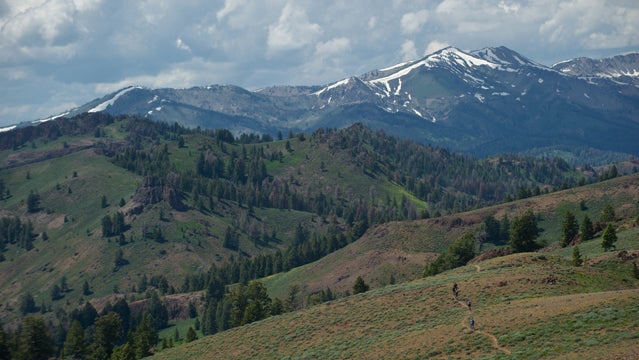 What it is: Week long festival of racing and riding on Sun Valley's 400-miles of singletrack, with a costumed downtown crits, guided rides, concerts, and races, including the 2013 USA Cycling Marathon Mountain Bike Nationals. Heck, there are even rides for Lycra-clad and skinny tire riders.
The Dirt: Want to compete? At Ride Sun Valley, you can race five times in the same week. Don't want to race? Take free guided local stoker rides, which showcase the area's singletrack gems.  And in case you came with non-riders, the the MASSV Music Festival, a two-day electronic dance fest is going on at the same time in the same location.  In Sun Valley, there are 400+ miles of singletrack all accessible right from town. And you won't get a warmer welcome anywhere—Sun Valley loves riders.
Details: Free except for race entry fees. June 29-July 7, 2013.
Best Bike Fests: Bicycle Music Festival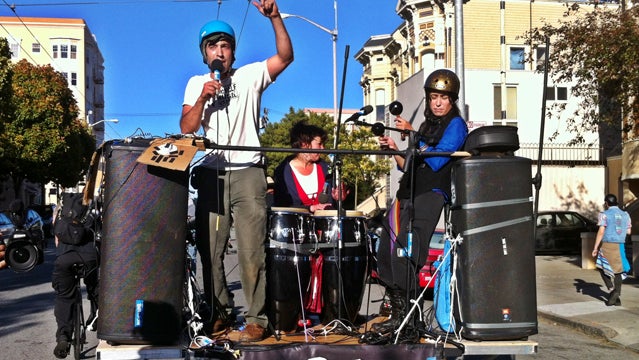 What it is: Pedal powered grassroots music fest in San Francisco's Golden Gate Park
The Dirt: Bikes are more than just exercise and transportation—they're the antidote to the rest of the car driving, carbon producing world. That's what this festival highlights: peace, love, keeping it local and bikes. Twenty plus bikes with volunteer riders power the stage's sound system. Another half dozen power lights, internet access for the Skype call with activist Bill McKibben, and ice cream and smoothie making. Participating bands are asked to arrive by bike with their gear—festival organizers help haul with bike trailers. "At most music fests, the content of the music is peace, love, and saving world," said founder tk. "but the actual dynamics of festival aren't in line with that—they're diesel powered. This festival shows that bicycles can make a music festival that's done in a more beautiful way."
Details: Free, donations for the musicians are encouraged. June 22, 2013.
Best Bike Fests: Mountain Bike Oregon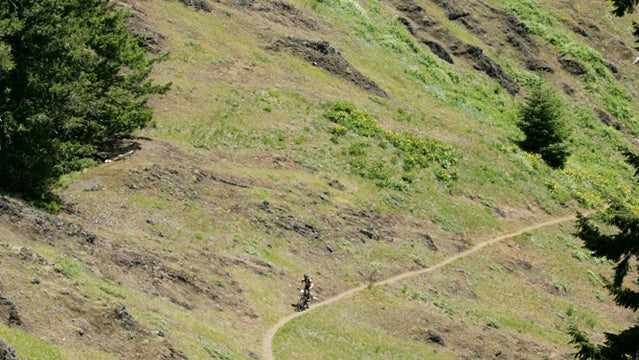 What it is: An all-inclusive, non-competitive festival of riding on Oakridge, OR's 350-miles of singletrack.
The Dirt: Nine years ago, when this event first debuted, 34 people showed up. The next year, 400 showed up, and for the last few years the event has been split into two weekends it's so popular. Board the school buses, which bear the John Hancock of nearly a decade of fat tire fiends, and unless you're on an epic all day ride, you can hop the "turn and burn" buses all day to hit different trails. There are a dozen guided rides each day, and rides start all day—at 7AM, 9AM, 10AM, and noon as well as in the afternoon. MTB Oregon is also a miniature microbrew and wine fest, with all meals included—including DIY lunches, all hosted in a 10-acre city park on the banks of the sparkling Willamette River. While it's not a family affair, the fest does have a relaxed vibe, and it is a huge supporter of the local community. Proceeds from the festival have resurfaced the Oakridge school track, they've provided school supplies for local homeless kids.
Details: 45 min from Eugene, 2.5-3 hours from Portland. Registration is caped at 350 riders/weekend. $429, July 19—21, 2013, August 16—18, 2013.
Best Bike Fests: Dirt Rag's Dirt Fest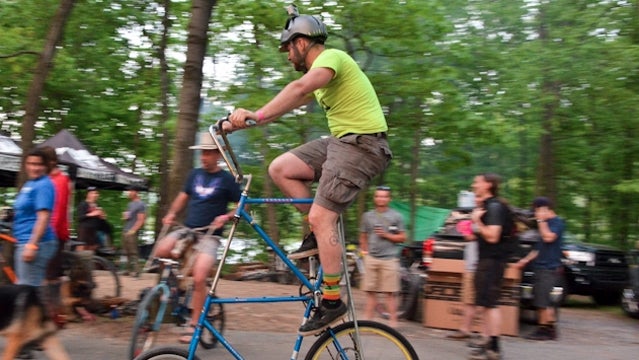 What it is: A massive orgy of all things bike, with 2500 riders, a handful of hot tub-topped houseboats and loads of riding.
The Dirt: Crowds that used to attend Pedro's Fest and Jim Thorpe Mountain Bike Weekend now rejoice at the Dirt Fest. So do wanna-be mountain bikers and anyone else within a day's drive that loves to ride. There's no racing, just lakeside camping out, group rides, clinics, beer, and freak bikes hidden in a side tent—find 'em and you can try to ride the famed Rodeo Bike, a big wheel for big people, the opposite bike and more. Or keep it tame, do some clinics, pick up some skills, or go for a paddle on Raystown Lake after you've pedaled.
It's chill and friendly welcoming, no matter how fast or slow you ride.
Details: Always the weekend before Memorial Day, half way between Philly and Pittsburgh, $40, camping and houseboat rental separate.
Best Bike Fests: Brown County Breakdown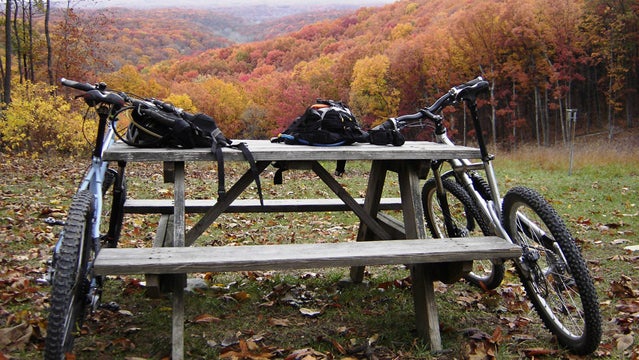 What it is: Bluegrass and Biking in the heart of Indiana. Brown County is the site of the annual Bill Monroe Bluegrass Festival, the oldest continuously running bluegrass festival in the world. It's doubly famous because before Jerry Garcia and the Dead were legendary, Garcia made a pilgrimage to the festival to see Bill Monroe Play. He described it as "plumbing the depths of the yee-haw factor." Riders created this festival as homage to Monroe and a tune he played called Brown Country Breakdown. And, they created it to remind all that there are multiple ways to plumb the depths of the yee-haw factor.
The Skinny: Live bluegrass music every night, and rides up to 100 miles. The festival is the only time that riders can multiple link trail networks usually separated by private land. Event registration gets you a t-shirt, bluegrass all weekend long, sag support, beer tasking, a pig roast, and access to State Park camping that's usually off limits.
Details: $100, September 27-29, 2013.
Best Bike Fests: Outerbike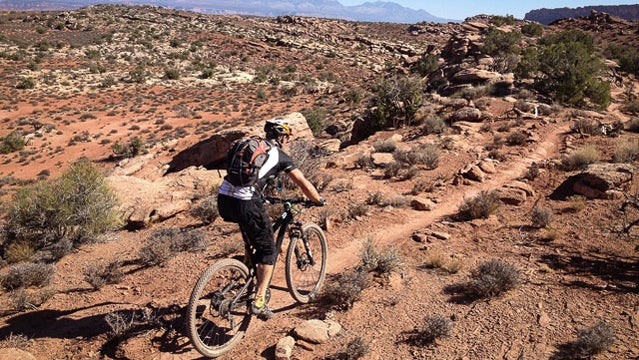 What it is: The only place where the common man can demo multiple brands of next year's mountain bikes. And it's in a mountain biking mecca of Moab, Utah at a time of year when the riding in most other places stinks.
The Skinny: Want to rent before you buy? You can demo bikes that haven't hit market yet on two to three mile test loops, or on a multi-hour singletrack tour.  Feel the virtues of 26″, 650b & 29″ wheels back to back, or dive deep into Moab's singletrack on the carbon charger of your choice. Get to know different bikes – on real trails. Unlimited demos from on-site vendors, shuttles, lunch, swag, and a beer garden… and the weather in early October in Moab is hard to beat.
Details: $150 for 3 days, October 2-6, 2013.
Best Bike Fests: Downieville Classic Mountain Bike Race and Festival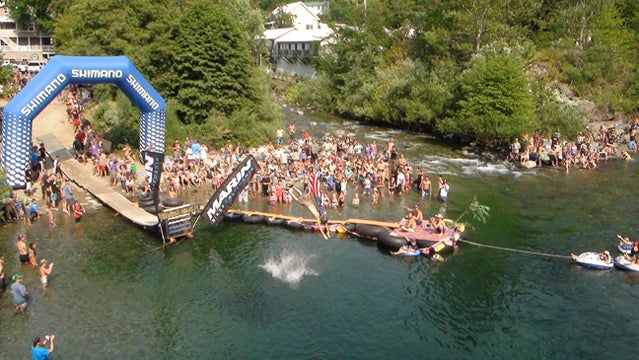 What it is: A weekend of racing and partying in the Sierras where riders have to pick one tool for two disciplines: a 29-mile cross country race, and a 15-mile downhill with 5000 vertical drop.
The Dirt: Downieville is most famous for its races, and riders come to prove themselves hardened and unbreakable. The Downieville Classic Cross Country race is one of the last remaining point-to-point bicycle races in the United States. The 29-mile course follows a rugged "Gold Rush" era route from the mountain town of Sierra City (elevation 4,100′), to the crest of the Sierra Nevada (elevation 7,100′), and down 5,200 vertical feet into downtown Downieville. It's considered a tribute to the mountains, the rivers, the big trees, the fresh mountain air and the hard men that carved trails through the river canyons in search of gold and prosperity. The Classic is followed by the Downieville Downhill, which drops 5000 vertical feet in 15 miles from Packer Saddle to Downieville. It's the longest and most demanding downhill mountain bike race in the nation. Not a racer? Not to worry. Nearly as famous are the Ron's House of Big Air River Jump, the log pull competition, and a soundtrack of live music.
Details: 1.5 hours from Lake Tahoe. Registration is $90 for the cross-country classic, and $200 for the Downhill. August 1-4, 2013.
Best Bike Fests: Alafia Fat Tire Festival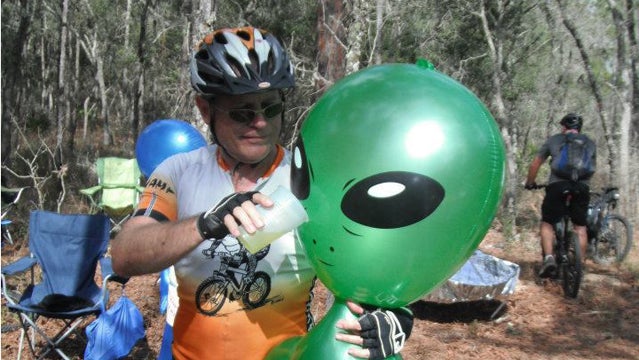 What it is: Southeast mountain biker get together on trail networks that crisscross abandoned phosphate quarries. It's famous for having the best food of any mountain bike festival anywhere.

The Dirt: Have you ever been served salmon, braised beef tips and bananas foster plus all the beer you can drink for $75… at a campground? The Alafia Fat Tire Festival provides all this and more: two nights camping, guided or self guided rides day and night. And did we mention that the price of admission also includes extreme bike movie night, a swap meet, and a ridiculous full costume clunker crit? The fest is limited to 350, and it usually sells out in two weeks. It's Florida, so there is no actual elevation gain. In fact, "you ride down into a hole, then you ride out," explained one festival organizer. But it's Florida's most extreme riding, all intermediate and advanced trails.
Details: Five hours from Miami, $75, November 8-10, 2013.
Lead Photo: Courtesy of Ride Sun Valley