Eliud Kipchoge Shatters Marathon World Record in Berlin
Kenyan breaks his own mark by 30 seconds with an astonishing 2:01:09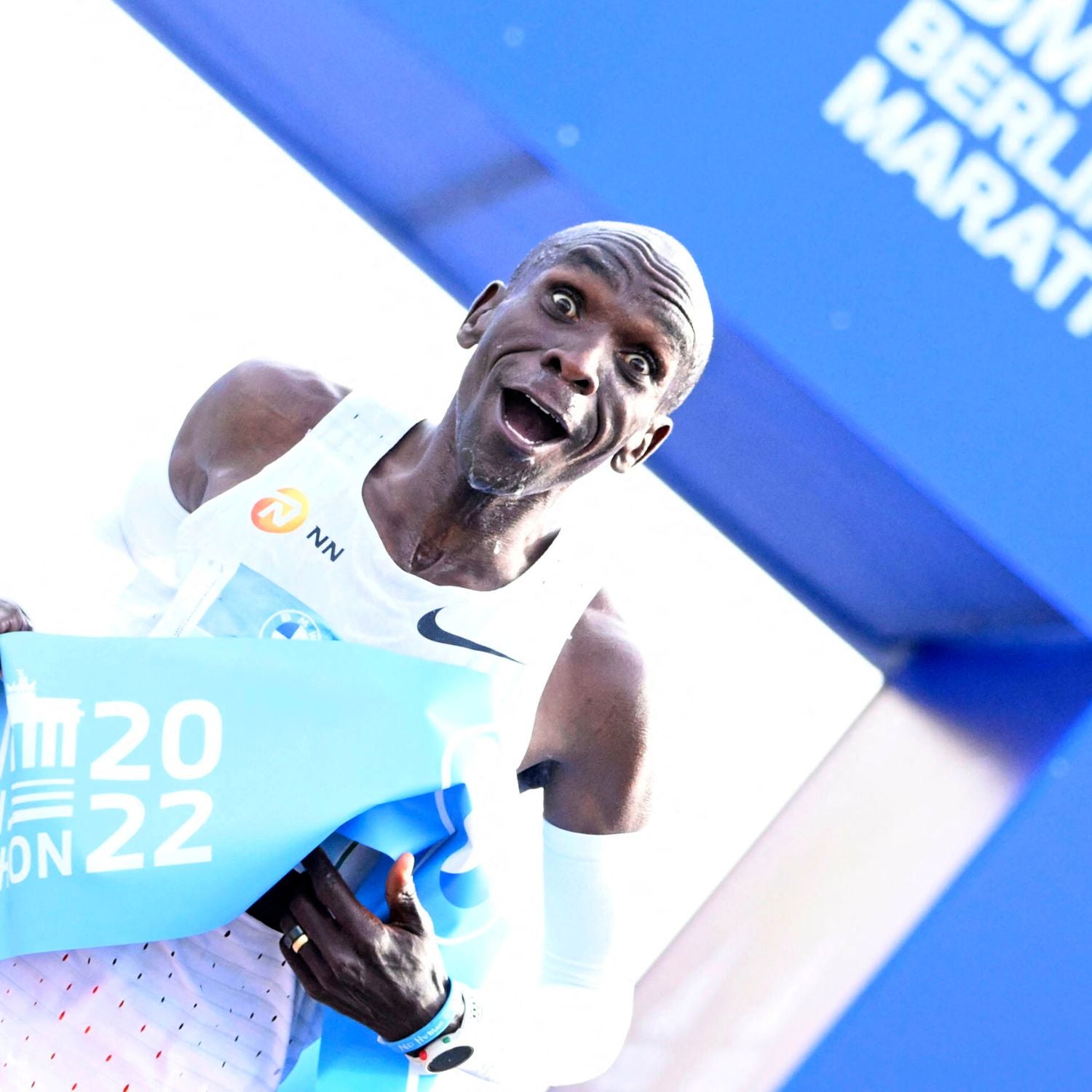 Andreas Gora/Getty
Heading out the door? Read this article on the new Outside+ app available now on iOS devices for members! Download the app.
How many more times will Eliud Kipchoge remind the world that he is the G.O.A.T. of marathon running?
Every time he laces up his Nike shoes and runs a race, it seems he adds to his legacy of being the greatest of all time.
The seemingly infallible Kenyan runner broke his own world record in the marathon on Sunday morning at the Berlin Marathon, clocking 2:01:09 to win the race for the fourth time since 2015 and garner his 11th World Marathon Majors race in 13 attempts. Averaging 4:37 per mile, the 37-year-old runner sliced exactly half a minute off of his previous mark of 2:01:39 set at the same race in 2018.
Conditions in the German capital were ideal for fast racing—a cool 52 degrees with no precipitation after a night of showers, and no wind. Some 45,527 runners from 157 countries were registered to take part in the first Berlin Marathon without restrictions since the coronavirus pandemic began.
Instead of sticking with the planned schedule of running 60:50 through the first half (4:39 per mile), the lead group ran 14:14 for the first 5km (4:35 per mile) and sped up to hit 10km in 28:23. They blasted through the halfway mark in an unprecedented 59:51, a red-hot 4:34 per-mile pace. It was clear that Kipchoge was trying for the 2-hour barrier which has never been broken in a World Athletics-compliant competition.
RELATED: Why We Have No Choice But To Root for Eliud Kiphchoge, Marathon King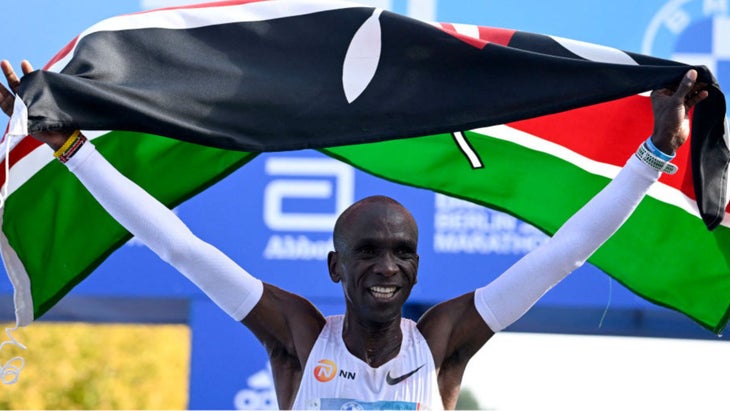 Along with three Kenyan pacemakers—Moses Koech, Noah Kipkemboi and Philemon Kiplimo—Kipchoge still had Andamlak Belihu, an Ethiopian half-marathon specialist, on his heels. Belihu, who has a half-marathon career best of 58:54 but a marathon best of only 2:09:43, looked fairly comfortable at the half.
But an upset wasn't in the making. Kiplimo was the final pacemaker to stay with Kipchoge and he hit 25km in 1:11:08 before immediately stepping off the course. Kipchoge motored ahead and quickly dropped Belihu. In a familiar scene from marathons past, it was just Kipchoge against the clock. By the 27th kilometer (near mile 17), run in 2:57 (4:45 per mile), however, it was clear the "sub-2:00" attempt was off.  He was beginning to tire.
"We went too fast," Kipchoge admitted after the race in his broadcast interview. "Actually, it takes energy from the muscles."
Although his pace slipped—he slowed to a 3:08 kilometer in the 38th and 3:11 in the 40th—he rallied in the final mile to lock in his new World Athletics record. The men's world record has now been set eight times in a row in Berlin, a race known for its flat course and pacemakers.
Kipchoge finished nearly five minutes ahead of his nearest competitor, Kenyan Mark Korir (2:05:58), and earned the equivalent of about $106,000 in prize money and time bonuses. He was handed a Kenyan flag and celebrated in the finish area to the delight of thousands of fans.
His second-half split was 1:01:19, which means, although he slowed a bit, he still averaged 4:41 per mile for the back half of the race.
"My legs and my body still feel young," Kipchoge said. "But the most important thing is my mind, and that also feels fresh and young. I thought, let me try for 2 hours flat. I'm so happy to break the world record."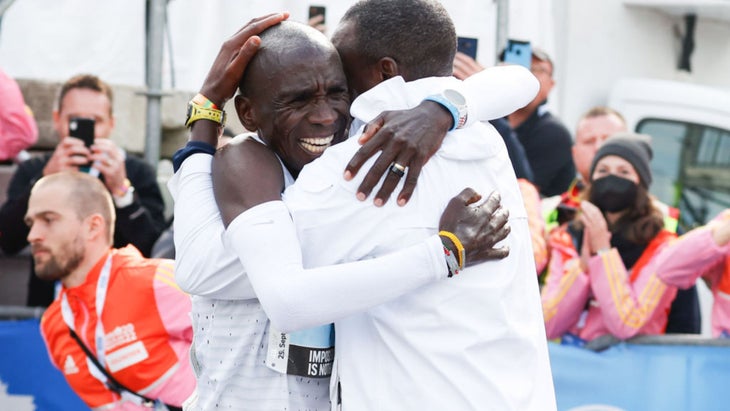 In 2019, Kipchoge became the first athlete to run a marathon distance in under 2 hours when he clocked 1:59:40 in a time trial in Vienna. But that mark was not recognized as an official world record because it was set with a team of rotating pacemakers and not in open competition. Earlier in his career, Kipchoge won a world championship title at 5,000m on the track.
Since turning his attention to the 26.2-mile distance in 2013, Kipchoge has won 15 of the 17 marathons he's entered. That includes wins at the 2016 and 2020 Olympics, as well as four wins apiece in Berlin and London. The only blemishes on his record are a second-place finish in Berlin in 2013 (2:04:05) and an eighth-place showing in London in 2020 (2:06:49).
RELATED: How Mere Mortals Can Run Like Eliud Kipchoge
Belihu had to settle for fourth place and a new personal best of 2:06:40. He was passed by another Ethiopian, Tadu Abate, who got third in 2:06:28. Kenya's Abel Kipchumba took fifth in 2:06:49. Overall, the top 12 men broke 2:10.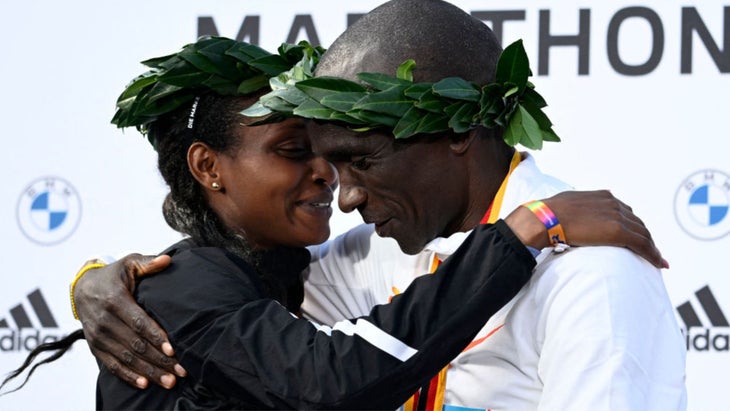 Had Kipchoge not broken the world record, the women's race would have been the big story.  Ethiopia's Tigist Assefa, a 1:59.24 800m runner who competed in the 2016 Rio Olympics, burned down her previous personal best by nearly 20 minutes and ran a sensational 2:15:37.
That made her the third-fastest woman in history behind only Kenya's Brigid Kosgei (2:14:04) and Britain's Paula Radcliffe (2:15:25). She obliterated the Berlin course record of 2:18:11 set by Gladys Cherono of Kenya in 2018, the same year Kipchoge ran his previous world record.
RELATED: Ethiopia's Tigist Assefa Blazes to Berlin Win, D'Amato Winds up 6th
Lead Photo: Andreas Gora/Getty
Trending on Outside Online