Training Advice from the Greatest Women Masters Marathoners Alive
While Jeannie Rice and Jenny Hitchings are busy setting masters world records, their differences in training are even more instructive than their similarities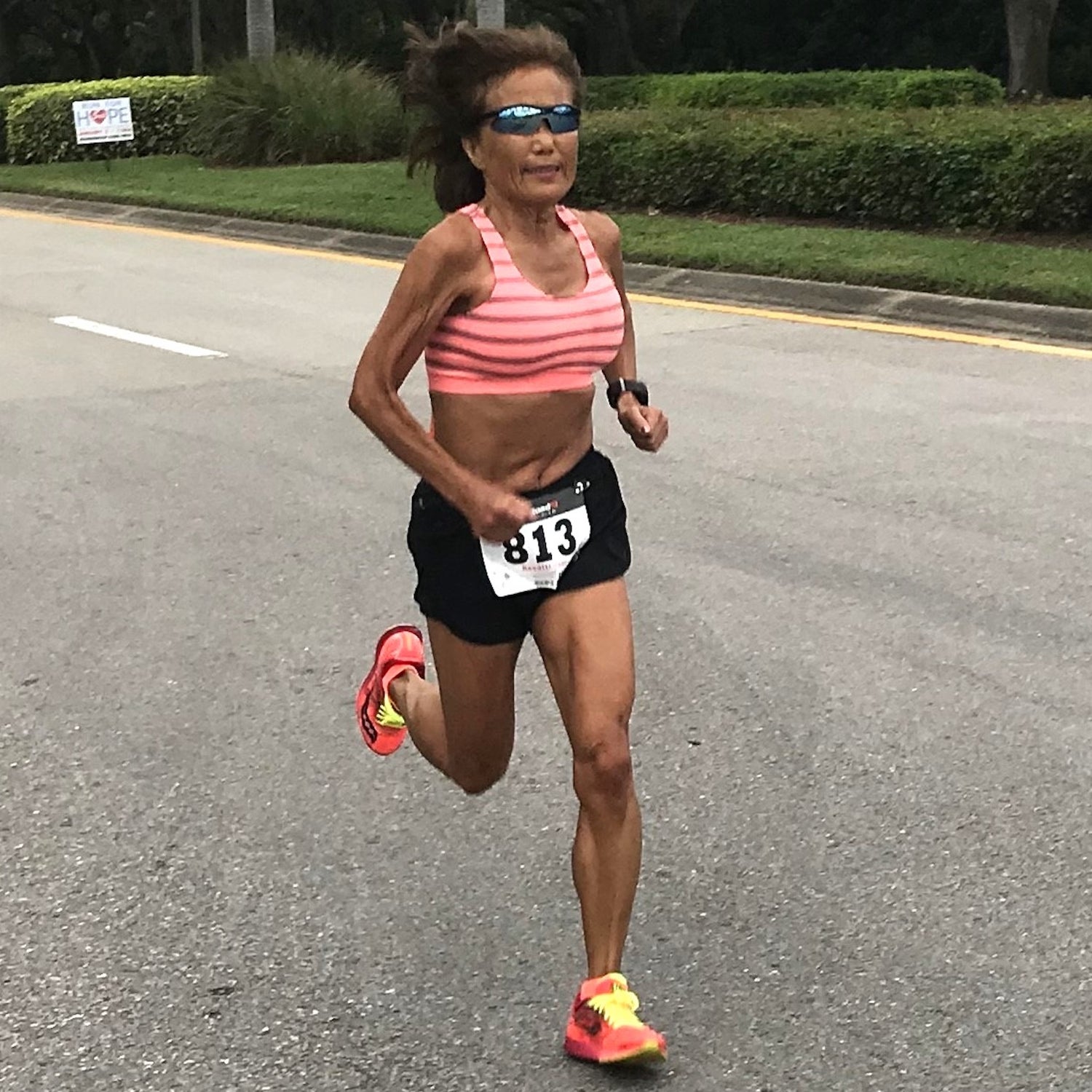 Courtesy Jenny Hitchings
Heading out the door? Read this article on the new Outside+ app available now on iOS devices for members! Download the app.
The spring marathon season has come and gone, and it didn't disappoint, producing sensational races and world headlines. This was particularly true in Boston and London. However, you might have heard little or nothing about two of the best marathon performances in those events.
The big media coverage went to seemingly-unbeatable Eliud Kipchoge, who finished sixth at Boston, where Evans Chebet gained his third straight World Marathon Major victory in 12 months. At the London Marathon, Kelvin Kiptum ran 59:45 for the second half, en route to a course record 2:01:27, and Sifan Hassan demonstrated that she can win in the marathon as she has at multiple shorter distances.
But 75-year-old Jeannie Rice and 59-year-old Jenny Hitchings outran them all, on an Age-Gender performance basis, both setting new world records for their age groups. Rice's 3:33:15 in Boston won't count, since the Boston course is considered ineligible due to its significant downhill slope and point to point layout, which allows for a tailwind boost. Still, she beat the fastest 75-79 age-group male runner by more than 20 minutes, which has likely never happened before in a global marathon. And five weeks before Boston, at age 74, she ran 3:31:22 in the Tokyo Marathon.
A week after Boston, Hitchings ran 2:45:27 in London—a marathon world record for women in the 55-59 age division. Remarkably, she's at the high end of that age range, as she'll turn 60 in early July. Not only that, but it was her personal best marathon in 40 years of running.
Many Paths to Marathon Success
Rice was born in South Korea and immigrated to the U.S. in her mid-30s. A retired real estate agent, she now divides her time between south Florida and Cleveland. Hitchings is a longtime resident of Sacramento, California, where she works as a middle-school cross-country coach and a private running coach.
Rice and Hitchings live on opposite coasts, but they have much in common. They've both been running for decades, both are extremely consistent in their training, and both log multiple 20-milers in their marathon buildups. Surprisingly, neither makes a particular effort to include hill training, a staple among other top marathon runners. Both are small and lean. Rice stands 5-foot-2 and weighs 96 pounds; Hitchings is 5-foot-4 and 100 pounds.
But Rice and Hitchings also present some stark contrasts. These differences carry an important message: There are many paths to marathon success, and the best senior runners understand this. Through their experience and wisdom, they've learned to focus on the positives and jettison the junk.
Here's a look at some of the major contrasts between master marathon greats Jeannie Rice and Jenny Hitchings.
1. Select the Best Course for Your Goals
Both Rice and Hitchings had previously won age-group titles at Boston. Rice chose to return there in April for emotional reasons, as Boston marked her 40th anniversary of marathon running and her 130th marathon. Hitchings selected London for technical reasons. In 2021, she ran 2:45:32 at Boston. It would have been a record except for the point-to-point course prohibition. So this spring she opted for London's record-eligible course.
Rice: "Boston has always been a special marathon for me," said Rice. "My preparation wasn't the best, as I ran the Tokyo Marathon in early March, and then did some traveling. But I wanted to have my Boston celebration, and I had quite a few running friends there with me."
Hitchings: "London was on my marathon 'bucket list' anyway, and it gave me a great opportunity to set an age-group world record," said Hitchings. "Since my 2:45 at Boston didn't count, I figured I should take a crack at London while I was still in the age group." [She will turn 60 in early July.]
2. To Be Coached, or Go It Alone?
Rice has always been self-coached. Hitchings, a running coach herself, has had a longterm coach-athlete relationship with Chicago-based Jenny Spangler. Spangler won the U.S. Olympic Trials Marathon in 1996 and ran a 2:32:39 marathon in 2003, after turning 40.
Rice: "I've been approached by people who wanted to coach me, but they seemed expensive and had other demands I didn't like. I listen to what my friends do and what others are doing in training. I try to run 50 miles most weeks, and a bit more before my marathons. But I don't actually follow a schedule. Mostly I just train the way I feel. I'm still running strong and beating records, so I must be doing something right.
"I know it's possible that a coach could help me the way Gene Dykes's coach helped him, but it's also possible that things could go wrong. I like to decide my training according to how I feel each day."
RELATED: UltraGeezer Gene Dykes is Ready to Tackle the Western States 100
Hitchings: "I coach other runners, and I could certainly coach myself, but you know what they say about doctors who treat themselves: They have a fool for a patient. I think that can also apply to athletes who coach themselves. It's just smarter to have someone looking over your shoulder, and adding some perspective.
"I'm one of those who's often guilty of running too fast on my easy days, or getting excited and going too hard when I'm training with friends. Jenny [her coach] holds me accountable for those kinds of things. She has a great personal performance record that I respect a lot, and has been coaching for many years.
"It's also important to me that she's a female coach of my own age. She understands what I'm going through and dealing with in terms of female physiology."
3. Make Rituals of Your Training Day
Both runners say they enjoy a relaxed morning cup of coffee before launching into their days. But Rice is up earlier, and often out the door quicker. Hitchings needs more time to be ready for a solid run.
Rice: "I like to get my run done early, so I have the whole day in front of me when I get back home at 7:30 A.M. or so. I'm usually running by 6 A.M. In Florida, where I spend my winters, that can be important for the cooler weather.
"But on days when I'm going 20 to 23 miles, I'll get up at 3:30 A.M.  and begin running at 4:30 A.M.  I'll go two hours on my own, and then join a local training group for their morning loop, which gives me another hour or so."
Hitchings: "I coach a number of people who can roll right out of bed and start running. I'm not one of those. My favorite time to run is about 8 A.M. or 8:30 A.M. in the morning. I like my coffee first, and the morning newspaper, and I always make sure to get a light breakfast in my stomach. Since my favorite place to run is the American River Parkway, that gives me another 15 minutes of drive time before I get going.
"There have been times when I had to be a noontime runner, and that was OK, too. But 4 P.M. or 5 P.M.? That's not going to happen. By that time of day, I'm too tired or depleted."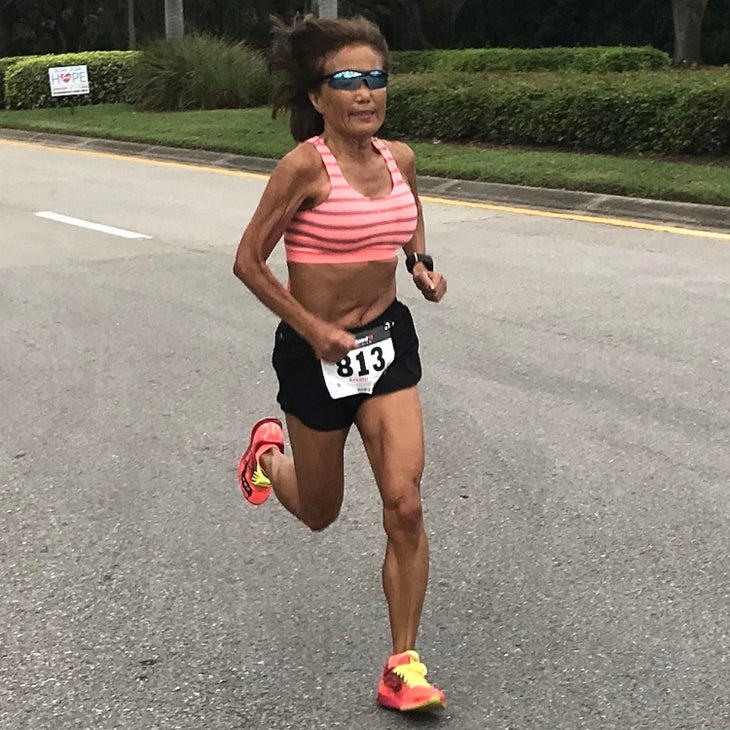 4. How to Avoid Injury
This one is easy for Rice, who has never been injured except for a fall (and banged-up knee) in 2021 that cost her several weeks of running. Hitchings also considers herself relatively injury-free, but she has encountered an assortment of typical runner injuries through the years: Achilles tendinitis, piriformis pain, and surgery for Haglund's deformity (a bony growth at the back of the heel resulting from mostly genetic causes).
Rice: "I go to the gym three times a week for a light strength workout, some pushups, and some stretching. But it's not a serious session at all. I also golf for fun; I really enjoy golfing."
Hitchings: "I try to do light weight work as much as I can, and I ride my bike 20-30 miles a week outdoors, and do Peloton indoors. Recently, I added Pilates once a week to improve my strength and mobility.
"Also, Jenny and I have agreed to take one hard running day out of my weekly schedule. I used to do speed work of some kind on Tuesday and Thursday, and a long weekend run. Now I'm down to speed on Wednesday, and a weekend long run that often has some tempo-pace segments."
5. Of Sweets and Supplements
While both are clearly fit, Rice and Hitchings say they enjoy a wide variety of foods, and have no particular restrictions in their diets. Both enjoy wine drinking. Hitchings admits to a sweet tooth, too, but desserts are not a problem for Rice.
Rice: "Breakfast is usually oatmeal with fruit and nuts. At lunch and dinner, I enjoy a green salad with some sort of seafood or fish on top. I've never liked sweets and don't crave them, but I love cheese and nuts. That's my big downfall—cheese and nuts. The only supplements I take are calcium with vitamin D, B-12, and magnesium."
Hitchings: "I eat  'clean,' a well-balanced diet with an emphasis on carbs. I simply don't feel good if I eat heavy, creamy, or fried foods. I get most of my vitamins and minerals from real foods, though recently I've added Athletic Greens to my routine.
"When I'm in heavy marathon training, I find it hard to maintain my weight, so I'll have some protein shakes and maybe one chocolate bar, muffin, or pastry per day. I've got a drawer full of vitamins, calcium, collagen, and iron supplements, but I never seem to stick with any for long. It's just too much."
What's Down the Road?
While realistic about their futures, neither Rice nor Hitchings sound the least bit intimidated by the unwritten future. Despite aging, both are driven to perform. They hope to keep running hard and fast, and chasing age-group records. Both plan to run the Chicago Marathon on October 8, as it will be the site of this year's Abbott World Marathon Majors Wanda Age Group Championships.
Rice: "Getting faster at 75 is almost impossible, but this year I'm going to run a few road miles to work on my speed. I've won my age group in every World Marathon Major but London, so I want to get back to London in the next several years. I want to run the Sydney Marathon, the Ho Chi Minh City Marathon, and, of course, I must run the Seoul Marathon in the country where I was born."
Hitchings: "I'm running faster at 60 than I've ever run in my life. My time in London was literally my lifetime best, and I've been running a long time. Sometimes I get asked, 'When are you going to stop running?' My answer is always: 'Why would I stop?' I'm still getting faster, and I'm still enjoying it."
Rice, though 15 years older, feels the same. It's fun winning major marathons, of course, especially when she beats most men her age. In local and regional races, she challenges herself to finish as high as possible in the masters division against females three decades younger (and sometimes wins outright).
"I love competition," she says. "I'm motivated to train hard, and I'm excited about setting more records as long as I can. Maybe into my 80s."
Running is about finish times, sure, but it's even more about attitude. Find the goal that's right for you, and go after it. This is the approach both Rice and Hitchings have followed successfully, and neither plans to change course now, no matter how many candles adorn their next birthday cake.
Both are on a shared mission, and they'd like others to join them. As Hitchings says: "I think if we keep a positive attitude and motivation, we can go out there and do much more than people think. It's important to show others that we can defy the way aging has been defined for us for so long."
RELATED: The Surprisingly Simple Training of the World's Fastest Marathoner
Lead Photo: Courtesy Jenny Hitchings
Trending on Outside Online