A Final Interview With Junko Tabei
A few months before Junko Tabei died, she looked back on her summit of Everest, and what drove her to keep climbing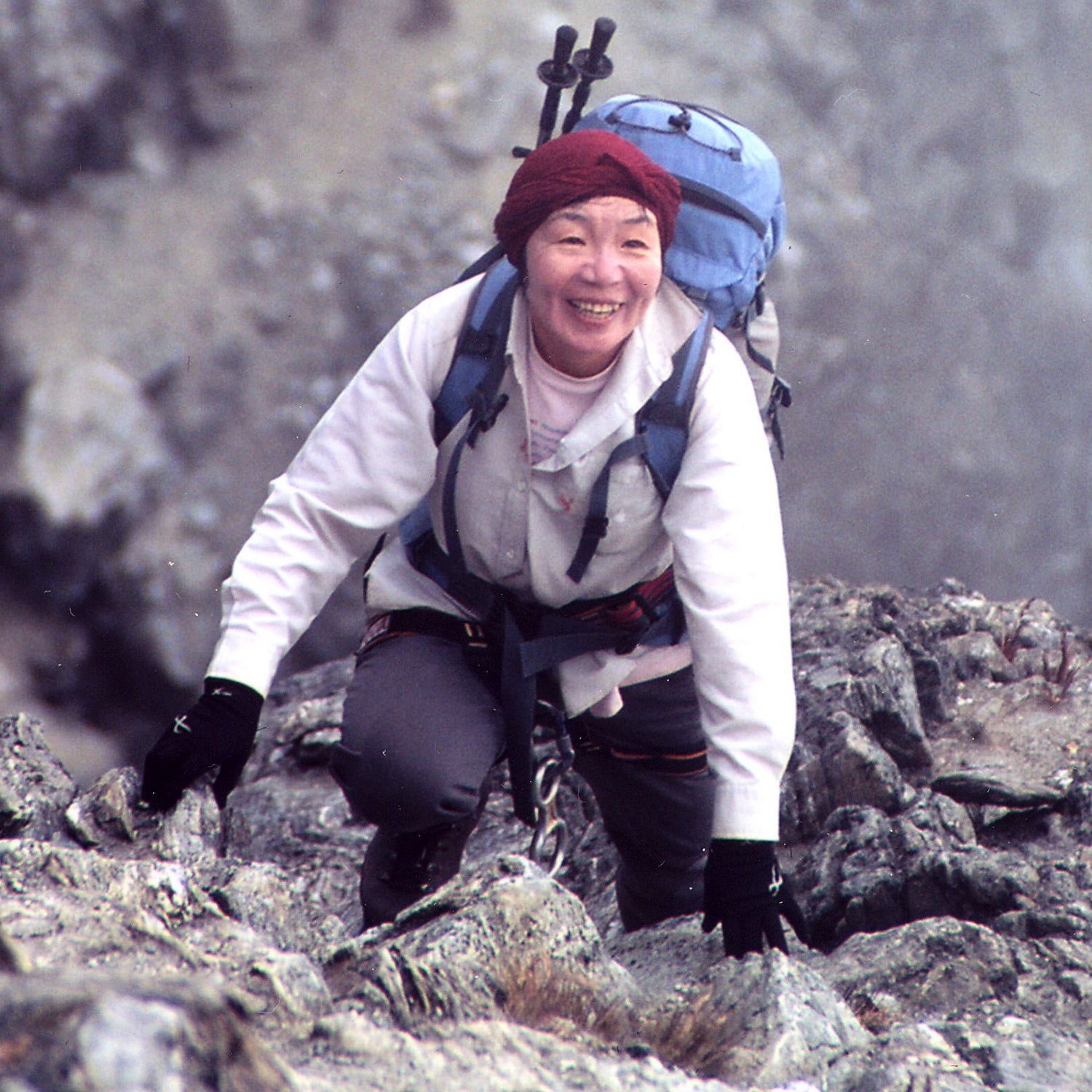 Heading out the door? Read this article on the new Outside+ app available now on iOS devices for members! Download the app.
On October 20, 2016, mountaineering lost one of its most important figures—77-year-old Junko Tabei, the first woman to reach the top of Everest and to climb the Seven Summits. 
Early last year, several months before her death, I contacted Tabei, hoping to speak to her about her 1975 Everest expedition as research for a larger project. That initiated a months-long email correspondence through her translator. Throughout our conversation, she was still moving, still climbing. I didn't realize until later that she was simultaneously battling peritoneal cancer.  
In reading the obituaries about Tabei, I found that most of the stories didn't cover some of the major themes she and I had discussed—her inspiration and challenges, her conflicted relationship with being the first woman on Everest, and her unrelenting drive. On the anniversary of her death, here are the most compelling bits of our conversation.
Obituary: Junko Tabei, the First Woman to Summit Everest (1939-2016)

She's not as famous as many other climbers, but her story is one of the most inspiring in the sport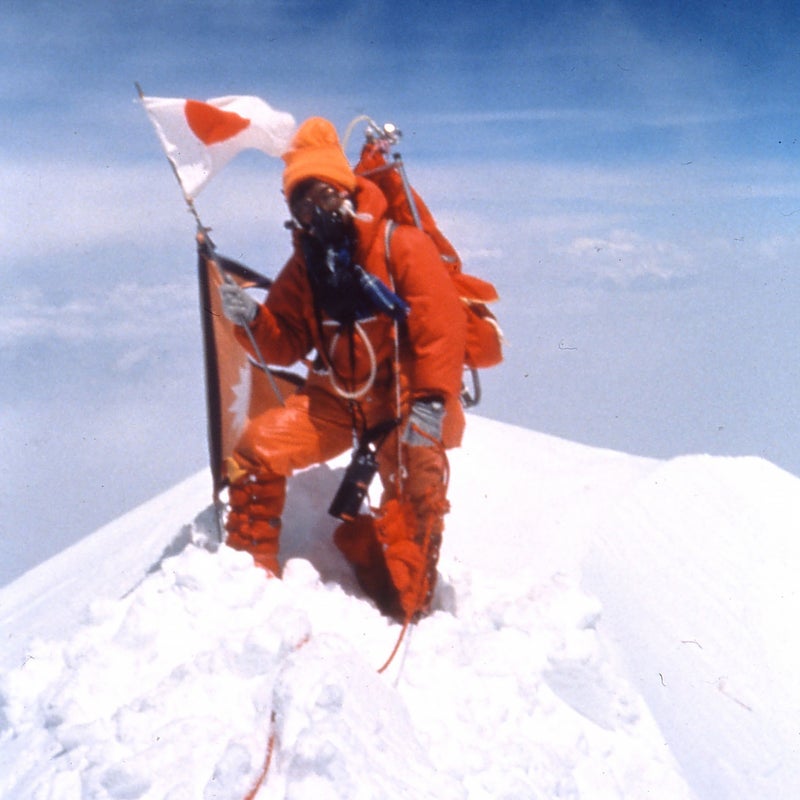 OUTSIDE: Your first experience with mountain climbing came in primary school, when you climbed the volcanic Mount Nasu. What was your first impression of mountaineering?
TABEI: I was so surprised by the rocky dry hills, and a stream of hot water that came from an onsen (hot spring). I was shocked to feel a little chilly while we were on the top of the mountain because it was summer…  I realized that there are so many things in the world which I have never encountered, and that it is fun to see and learn directly through one's own experiences. So I became determined to go wherever I could go.
 
You went to university in Tokyo in the early 1960s to study English Literature. And soon after graduating, you started a climbing association for women. Was that club inspired by your experiences on campus?
In Fukushima at that time, there were not many girls in high school, and hardly any went to university. I was an exceptional case. I felt a kind of inferiority complex about my speaking with a Fukushima accent, because most of the female students were from cities. I was lucky to find a friend on campus who would go to the mountains with me, so we hiked together many times. When I met a group of male students and learned they were in an alpine club, I felt so envious.
In 1962, I joined a small mountaineering club outside of school. Almost every weekend I went off to a mountain area, and during the week after work, I trained. I began to dream about going to the Himalayas with a team of only women. For that reason, we formed the "Ladies Climbing Club." In the 1970s, any club in Japan that wished to go to the Himalayas had to be a registered member of the Japan Mountaineering Association (JMA), and receive a recommendation from the JMA. We were not accepted the first time. Later, however, we became recognized, which made the 1970 Annapurna III expedition possible.   
When we started talking about an Everest expedition, most of the men in the alpine community were against our plan, saying that it would be impossible to go to Everest on a women's-only expedition.  
 
Was there a moment before you went to Everest that you wondered if you should quit?
No, I never thought of giving up once. We had worked so hard to obtain the climbing permit. [Editor's note: during the early 1970s, climbing permits for Everest were highly restricted and competitive. Tabei's team declined permits for other peaks until they were awarded one for Everest, in 1972, and began plotting their expedition.]
 
How challenging was it to fund an all-women expedition at that time? 
It was very hard. There was a serious economic crisis, called the oil shock, in 1972 and '73. The economy had cooled down, and wherever we visited with our expedition plan, we were told that no money was available, and it would be impossible to go to Everest with a women's-only group. Luckily, a major newspaper, Yomiuru, and a TV station, NTV, agreed to be our sponsors. Even still, each member paid 1.5 million yen (approximately $5,000). 
  
You experienced an avalanche at 6,300 meters. What is your memory of that event? 
A little after midnight on May 4, five of us were sleeping in a tent at Camp 2. Without any sign, we were hit by an avalanche, and buried under snow. I was tangled up in the tent and pushed under the other four members.  I began to suffocate, and thought about how our accident would be reported. Then suddenly, I was pulled up by Sherpas and revived. It was very lucky that none of us had been injured, but still it took three days until I could walk and move normally.
 
Did you consider quitting the climb after that?
The party leader and the party doctor who was at Base Camp both insisted we should all go down, but I declared that I would not, and I stayed at Camp 2. The rest of the members agreed, and we decided to go up higher.
Who decided who would make the first ascent? 
Deciding who should be the one to go to the summit was difficult for us. At first, Yuriko Watanabe and I were chosen to be the members of the first ascent team. Then, when we came up to Camp 4, we found out that half of the Sherpas were suffering altitude sickness and could not carry up enough oxygen bottles to a higher camp for the final attack team of three (me, Watanabe, and Ang-Chering Sherpa). So we had to decide who would go up and who would go down. I insisted Watanebe-san go up, and she insisted that I go up. The next morning, our team leader Eiko Hisano called the radio and said: "Tabei-san, you should go." It was so sad that she had to leave, and I left alone.
You reached the summit on May 16. What did you first think of when you made it? Did you do or say anything out loud at that point to mark the moment?
I didn't shout anything, but I thought: "Oh, I don't have to climb anymore." We were busy taking photos and 8mm movies and making radio calls to the Base Camp. At that time, the summit was still a very narrow and sharp ridge. The two very contrasting views of the flat and brown Tibetan highs and rock glacier view of Nepal was impressive. I had no idea that a Chinese expedition including women was climbing on the other side. They reached the summit 11 days later. 
What was the reaction when you came home?
There were so many media people. I had almost no time to be together with family. My three-year-old daughter was scared of all the cameras. The Emperor, Crown Prince, and Princess all invited us to the Palace. The Prime Minister, Labor Minister, and the Minister for the Culture and Education invited us to a luncheon. The Nepali government gave me the medal of honor. It took two months until I could settle at home. Even after that I had to deal with many invitations and give lectures. I just simply climbed a mountain—but the environment around me changed so much, just because I was the first woman. I did not intend to be the first woman on Everest.
 
You continued to push yourself after Everest. You've climbed the Seven Summits, and many others since. What motivates you to keep climbing?
It is because I love mountains. I love to go wherever I've never been before. So I am challenging myself to climb all the highest peaks of all countries of the world. I am now 76, and have scaled the highest peaks of 76 countries. I am suffering cancer but I would like to keep going my way and climb mountains.  
And if you could go back in time, and give yourself some advice as a child, what would it be?
Do not give up. Keep on your quest.
Lead Photo: Courtesy Tabei Family