Meb's No-Impact Workout Weapon
One of the weirdest contraptions on two wheels might be the best thing you can do for your running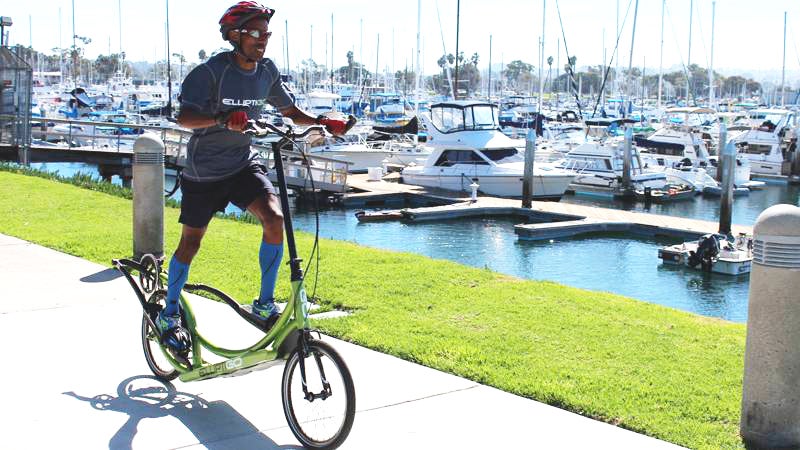 Heading out the door? Read this article on the new Outside+ app available now on iOS devices for members! Download the app.
When I first heard that running pros—the likes of Meb Keflezighi and Magdalena Lewy Boulet—were supplementing their training with elliptical-style bikes, I was skeptical. Why ellipti-cycle when you could run? Why drop 3Gs on such a funny contraption when you could buy a carbon fiber bike for less? When I heard that ElliptiGO, the leader of this low-impact revolution, holds a 100-mile world championship event in September, I rolled my eyes. "Who are these weirdos?" I wondered. What's the deal?
But despite my skepticism, when an ElliptiGO 8C arrived at Outside HQ, I was eager to try the product that so many professional and/or injured runners have raved about. I walked the gargantuan, 44-pound machine onto the Santa Fe Rail Trail and hopped on. 
Getting started is the hardest part. ElliptiGOs are about 11 inches off the ground, so you have to simultaneously jump on with one foot and push off with the other. I got off to a wobbly start: I'd erroneously assumed riding the ElliptiGO would be like riding a bicycle, that my feet would move in big, looping circles beneath me. But, like an elliptical machine (and like running, for that matter), your feet stay on a relatively flat plain. It's a very forward motion, as opposed to a more centralized pedaling motion. After a minute or two, I fell into a comfortably rhythm. The wind whipped through my hair, and I felt alive for once on a Monday morning.*
"Meb got really excited about the ElliptiGO. As he's aging, he feels that fear of injury more and more."
Apparently, that's the whole point of the ElliptiGO: feeling alive. Or, more specifically, helping runners (who are injured or have bad knees or are otherwise unable to run) to achieve a runner's high. "It's for people like me, who miss that experience of running," says ElliptiGO founder Bryan Pate, a former Ironman triathlete who suffered knee and hip injuries. "The bike just doesn't fulfill the runner's high."
Pate dreamed up ElliptiGO in 2005 and sold his first contraption in 2010. The Solana Beach-based company has now sold more than 10,000 bikes and works with more than 100 elite athletes. Of that group, Keflezighi is the most well-known. "Meb got really excited about the ElliptiGO," Pate says. "As he's aging, he feels that fear of injury more and more." The ElliptiGO allows him to have a cardio workout with minimal impact, which is particularly useful for recovery. "Instead of doing a 5-mile recovery run, he'll go out and ride the ElliptiGO for an hour and a half," Pate says. "So he gets a way better cardiovascular experience because he gets the blood moving, but he puts zero pounding on his body. When he goes to work out the next day, he's way fresher."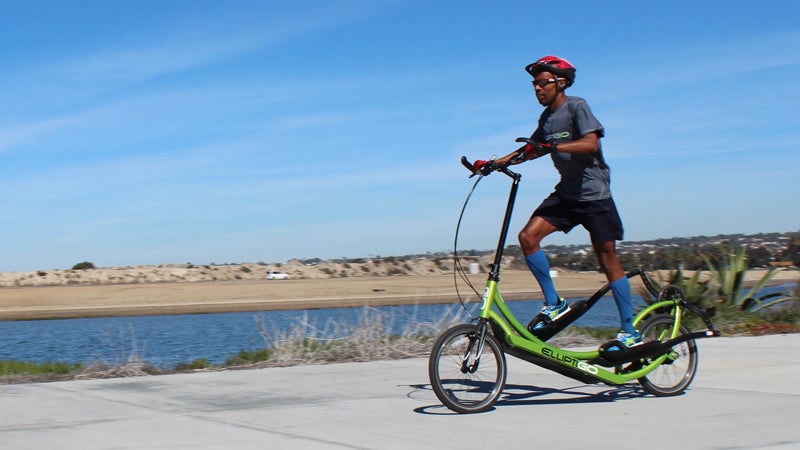 Okay, that makes sense. But what if you want more than a recovery workout? "I just went for a run in Central Park on an ElliptiGO and my heart rate was probably 180," Pate says. "It was the real deal." ElliptiGOs—which have many of the same components as bicycles, just arranged a little differently—can reach speeds of more than 23 miles per hour and climb hills with a 30 percent grade. They have gears that allow you to tackle inclines, and hand brakes to slow you down. They also come sans-shocks, and aren't intended for technical off-roading (mellow trails are OK). 
The handlebars are reminiscent of those on a Razor scooter—flat and supported by a long stem. Balancing with one arm is tricky at first—removing a hand to signal to traffic might result in you falling off the ElliptiGO—but as with riding a bicycle, practice makes perfect.
Practice also makes you faster, which is why the company has teamed up with running legend Greg McMillan, who's agreed to write training plans for runners who'll use the ElliptiGO to help them PR (in running, not ElliptiGOing). Pate uses Keflezighi as an example: "I mean, if you think about how unlikely it was that Meb would have fun faster than he ever has in his career at age 38 without doing something different training-wise, that's not gonna happen. The fact that he changed his training is what led him to be able to do that." 
Maybe when I am 38 years old, I will agree. Although I enjoyed my ElliptiGO experience, I am not a complete believer—yet. But I will say, with the glide factor, riding an ElliptiGO is way easier than going out for a run. And, the ElliptiGO fills a void that long distance running often lacks: pure speed. You can go really fast on an ElliptiGO, and there is a sense of weightlessness while riding it. You are guaranteed to have fun on board.
You're also guaranteed to get some really weird looks from strangers.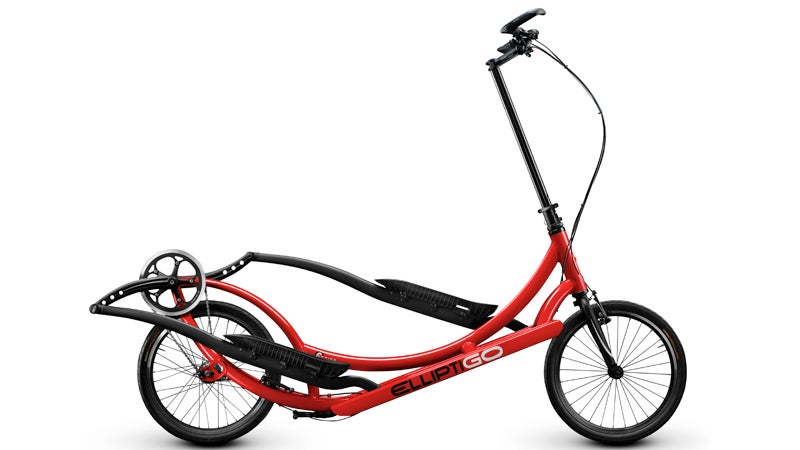 *Helmets are recommended for ElliptiGO riding.