The Best Bike Locks
Our mechanically impaired writer tested 15 bike locks with the goal of defeating every single one. He succeeded and learned one very important lesson in the process: protecting your bike depends on way more than your hardware. (*Money-back guarantee not included. Some of this really is on you.)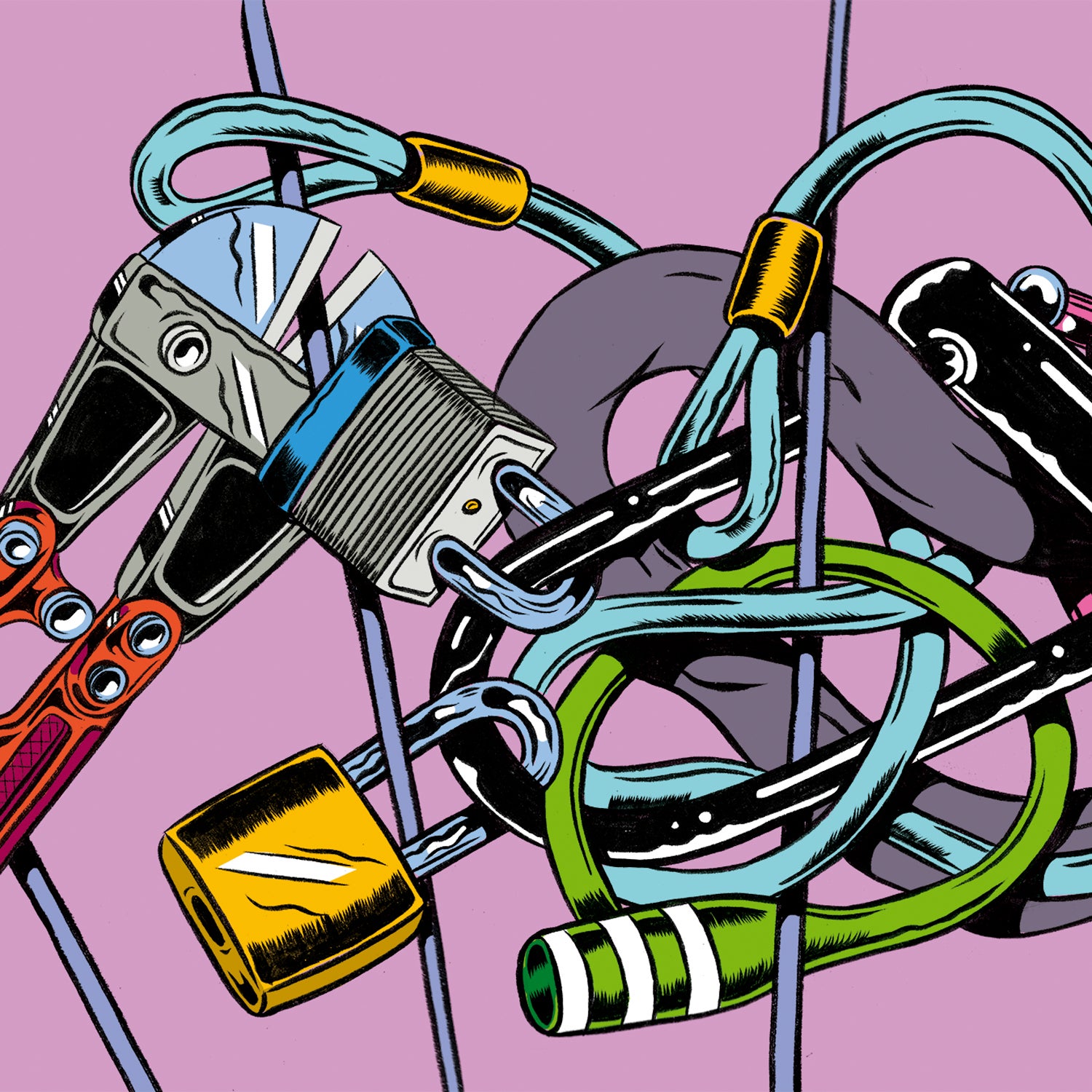 Kelsey Dake(Photo)
Heading out the door? Read this article on the new Outside+ app available now on iOS devices for members! Download the app.
My favorite tool is an iPhone, because I can use it to call a lawn guy or a plumber. So when my editor asked if I'd write about bike security and today's best bike locks by learning how to steal a bike, I told her to consider someone else.
Turns out, I misspoke. Anyone—even this monkey—can swipe a bike. I learned that the real goal is to discourage someone from stealing your bike. In these prolific bike-thieving times, it's every rider for himself. "You know the old joke: How fast must you be to run away from a bear? Faster than your slowest friend," says Nick Watkins, general manager for Kryptonite, a longtime leader in the bike lock business. "Same sort of idea with bike locks."
Cops, bike-theft experts, and fellow industry insiders all agree with Watkins, who has been with Kryptonite for 15 years. But wisecracking though he may be, Watkins isn't being cynical or disloyal to his brand. Kryptonite, which has been in business for nearly half a century, produces arguably some of the most robust locks available.
There is, however, competition—some of it quite good. Turns out that compelling bike locks come in shapes other than U. "Our goal is high security and light weight," says Dylan Cato, co-founder of Altor, a Bethlehem, Pennsylvania–based company that introduced its almost-sexy, foldable titanium 560G lock in late 2016. "Why spend a ton of money to get a 16-pound bike, and then buy a six-pound lock?"
Of the 15 locks I tried, I did find the 560G notable. But when I ultimately finished inserting shackles into crossbars, threading chains through wheels, and turning keys, I also liked others. Great U-style locks include the lightweight Abus Granit Plus 640 and the ambitious (but expensive) Lattis Ellipse. Foldable and chain-style favorites include the Hiplok Lite Superbright and Kryptonite Keeper 810 Fold.
But for me, the best balance of function, portability, versatility, and value came from combining the Kryptonite Messenger Mini+ with the Knog Frankie. In general, I'd feel secure employing that pair of locks anywhere, from errands to a lingering breakfast to a music festival. (Yes, just like all the bike-security experts, I recommend that you use two locks.)
Together, my top picks represent an investment of approximately $100, which might sound like a lot. But that one-time cost might not only save your bike but also prevent you from worrying every time your baby falls out of view that you'll never see it again.
All that said, I also learned that locks themselves are not the sole way one prevents bike theft. The most important deterrent, really, is you.
---
A Thief's Arsenal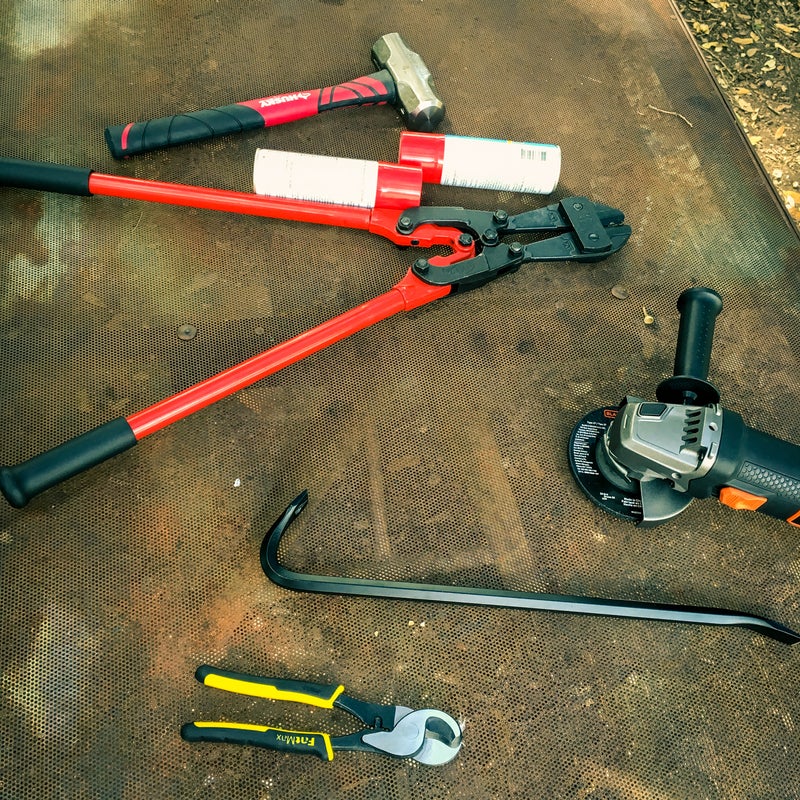 A wannabe bike thief needs the proper tools. That's how I found myself browsing Amazon one morning for a Stanley FatMax eight-inch curved-jaw cable cutter, an HK Porter 24-inch power link bolt cutter, a Tekton 18-inch wrecking bar, a Torin Double Ram bottle jack, and a Black & Decker BDEG400 angle grinder.
All told, I spent about $165 on bike-theft tools online and another $52 at Home Depot. Some bike thieves would undoubtedly mock me for having spent more than $200 on such equipment. They can steal your $10,000 bike with a piece of scaffolding or a two-by-four lifted from some construction site. I wanted to come by my bike-theft tools honestly, even if in the end maybe I didn't buy the absolute best tools for the work. Remember: I'm no MacGyver.
I built my shopping list by asking around. A cop said that bike thieves often use bolt cutters. Industry insiders told me pry bars and angle grinders. A bike-security nut said all someone might need is an adjustable wrench.
Thieves can't easily ask for such intel, but they can effortlessly find guidance. Humbling as it is, encyclopedic information about stealing bikes—from cable cutting to lock picking to tool selection—exists on the internet. Thus, in terms of becoming a bike thief, the barrier to entry pretty much ranks with the hurdles faced in screwing in a light bulb.
Appropriately enough, the bike-theft market is colossal. The Federal Bureau of Investigation claims that 205,000 bicycles, worth maybe $80 million new, were stolen in 2015. Folks in the bike-theft-prevention business say those numbers are laughably conservative. Bike theft is widely underreported for multiple reasons. Victimized bike owners often don't take action. They're skeptical that their bikes will ever be returned. They don't believe cops will go to any trouble to recover something as prosaic as a bike. Or they don't record their bike's serial number—so even if the bike is found, they can't necessarily prove they're the rightful owner.
Who Pinched My Ride?

Patrick Symmes set out on a cross­-country plunge into the heart of America's bike-crime underbelly.
Thefts can have adverse social effects, too. A 2015 report from McGill University in Montreal states that more than 7 percent of bike-theft victims don't replace lost bikes, which can adversely affect their health and potentially puts more people in cars. Retail bike shops, which these days increasingly struggle to survive, lose sales courtesy of what are essentially the black-market bike bazaars otherwise known as eBay and Craigslist.
"I estimate the bike-theft economy at a half-billion dollars per year," says James "J" Allard, the CEO of Project 529, a three-year-old Portland startup that has created an app for bike registration, bike-theft reporting, and potential bike recovery. "It's a systemic problem." Allard believes that roughly 20 million new bikes are sold every year and 2 million are stolen. "That's a lot of piracy," he says.
For a nominal fee, Project 529 sells a small sticker that owners place on their bikes to ward off thieves who might recognize that the bike is registered with an anti-theft organization. Currently, Allard and Project 529 work closely with both the police department and bike stores in Vancouver, British Columbia, where, for the first time in a decade, the number of stolen bikes has declined by 20 percent. "By 2025," says Allard, "we want to knock down bike theft by 50 percent."
---
Breaking In
"We try to be as honest with people as possible," says Greg Heck, the U.S. marketing manager for German lock giant Abus Mobile Security. "Lock up your bike overnight in downtown Chicago or an area that isn't well traveled, and with the right tools, a thief can get through it."
On a warm Saturday afternoon, I set out to discover just how vulnerable bike locks are. I stood next to my office building's bike rack, where I had locked up a bicycle with a Kryptonite U-lock—the popular Evolution LITE Mini-6. I opened the Amazon box and, for the first time in my life, fired up an angle grinder.
Angle grinders are handheld power tools that drive a fast-spinning wheel designed to perform chores like cutting, polishing, and grinding. As angle grinders go, my Black & Decker is modest in terms of price (under $30). Mine runs off AC power, but there are also cordless, battery-powered (and therefore portable) angle grinders that spin at least as fast as my 10,000 rpm tool. Pushing gently on the power button immediately delivered serious rotating energy. I touched the spinning wheel to the shackle rather gingerly at first, sort of the way you might dip a toe into a mountain lake full of snowmelt.
There was no jerk or kickback. In fact, the grinder sank into the lock's shackle willingly, easily…sickeningly. Sparks flew but didn't ignite my gardening gloves or melt the old, crummy protective eyewear I had found under some rags in my garage.
With the littlest bit of intuitive technique, working the grinder slightly up and down inside the fast-deepening wound, the Evolution LITE Mini-6—which sells for $73 at REI and has an average rating of four stars spanning 22 customer reviews on Amazon—didn't last 30 seconds before falling to the ground in two pieces.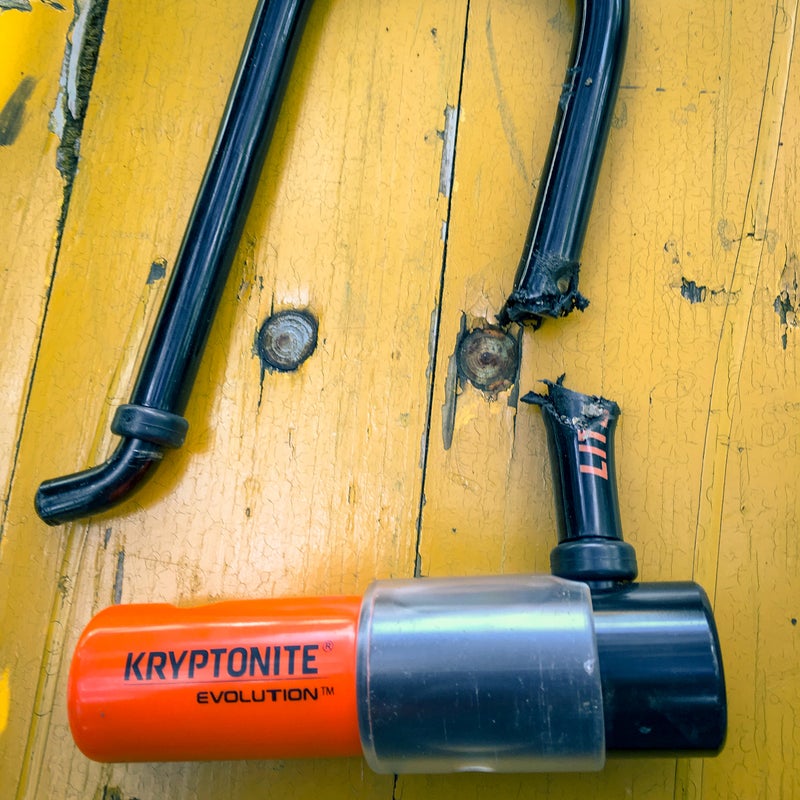 Setting down my new power tool and picking up the pieces of mortally cut shackle, I felt like Superman, and the lock felt like anything but kryptonite. The Evolution LITE isn't the company's strongest lock and far from its flimsiest. But you could say the same thing about my low-end angle grinder. Plus, my thieving techniques were far from world class. Still, defeating the lock was easy.
Sure, you could argue that an angle grinder, with its noise and fireworks, draws way too much attention for bike thieves to use. But then you encounter this YouTube video of a bike thief in San Francisco who, courtesy of an angle grinder, steals a bike on a city street while a stroller-pushing mom walks by.
---
The First Line of Defense: U-Locks
In terms of packaging and strength, reputable U-locks are still the best single bike lock to purchase. Sure, they're fallible. But they're less fallible than virtually any other bike lock available, and plenty of bike thieves don't tote around angle grinders. Bike theft is largely Darwinian: the strongest locks frequently survive.
How to Stop a Bike Thief

Twenty-one tips and products to prevent your bike from ever being stolen.
Using my new sledgehammer, I wrapped a couple high-end U-locks around a bike and banged away at them. I failed to break them. The locks wouldn't twist apart with my crowbar. Working up a lot of sweat, I struggled to make much progress with bolt cutters. The locks were too narrow for me to wedge in the bottle jack, which, when I bought it, looked to be the smallest that Amazon offered.
My inability to defeat the U-locks undoubtedly had something to do with mechanical ineptitude; video boasts of hammering and cutting U-locks exist online, but a lot of those videos feature seemingly cheap U-locks. What the footage says to me is that low-grade products can frequently be snipped, picked, or bludgeoned into submission. Inconstant as existing bike-lock security ratings are, a number of organizations, including England's Sold Secure, Holland's ART, Germany's VdS, and even Kryptonite, grace one lock or another with ratings that measure fortitude. Many of the products I reviewed promised to deliver good to excellent security.
Bike theft is largely Darwinian: the strongest locks frequently survive.
Should you simply buy the strongest available U-lock? Maybe, but the best choice depends on several parameters. A bike lock needs to meet your demands in terms of security, price, portability, convenience, and function.
Kryptonite's stoutest example—the New York Fahgettaboudit Mini—is the U-lock that most resembles a bank safe. Its hardened-steel shackle (the U-shape part of the lock) measures 18 millimeters in diameter, and its crossbar is as thick as a bratwurst and sleeved in extra steel. The shackle locks at both ends, which makes the New York Mini more resistant to prying/leveraged destruction and likely forces a thief to break through both arms of the lock's shackle before freeing a bike.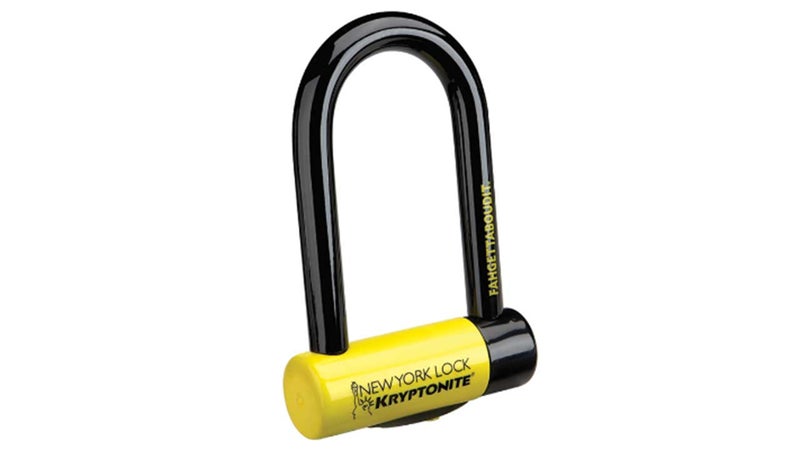 Should you purchase the New York Mini and have it defeated, Kryptonite will reimburse you up to $5,000 of the bike's cost or an applicable insurance deductible (you must carefully follow Kryptonite's Anti-Theft Protection Offer protocol).
But while the New York Mini may be your best bet for overnight lockups, the lock falls short in other qualities. It's heavy—at nearly five pounds, the Kryptonite weighs as much as three full water bottles. It can't be matched with a purpose-built mounting bracket, and it sells online for as much as $114. Plus, the New York Mini's opening is a relatively slim 3.25 by 6 inches, which means it might not fit around your frame, rear wheel, and the stationary object to which you want to anchor your bike.
For everyday use, what I wanted was Son of Fahgettaboudit—something reassuringly sturdy but lighter, more versatile, and less expensive. Enter the Abus Granit Plus 640 ($100). The Abus locks twice at each end of its 12-millimeter-diameter shackle for extra stubbornness. The Abus also has a smooth-operating locking mechanism set in the middle of the crossbar, which discourages picking or freezing (and then breaking) via canned compressed air. The lockable area approximates that of the New York Mini, again translating into a tight fit in terms of proper locking—and less room for a thief to slide in a pry bar or piece of pipe. But specially hardened (as opposed to simply thicker) steel and alloys help bear out the Granit's best quality: it weighs a slim 1.75 pounds.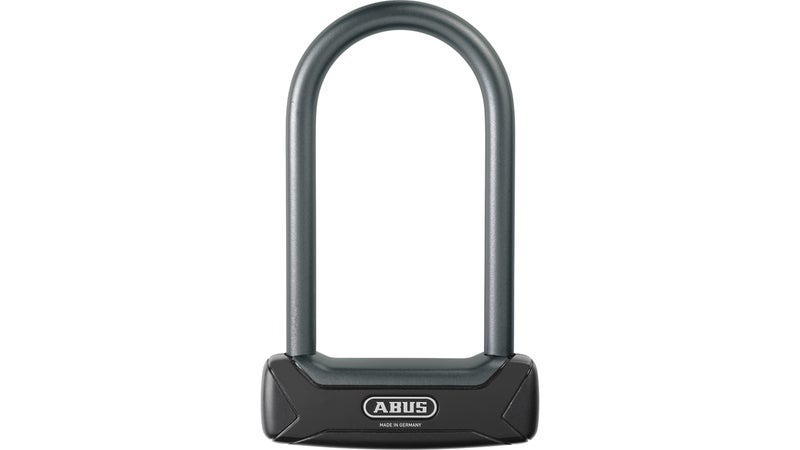 The shackle of the similarly sized and priced Knog Strongman ($100; 2.4 pounds) is squared off, and its hard angles create strength and some difficulty in terms of moving the lock into an optimum locking position. No fault found, however, with an ingenious (and included) Knog mounting bracket: with several turns of an Allen wrench, a nylon strap ratchets to fit around a variety of bike tubes. While at least one online reviewer reported that his Strongman bracket failed, mine consistently held the lock securely—and silently—on my bike frame. Nobody likes the rattle of a bike lock from start to finish on a ten-mile commute.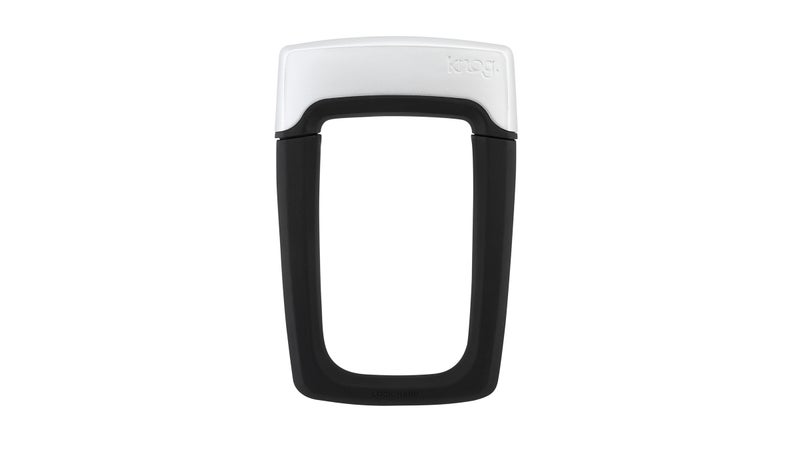 The brand-new Lattis Ellipse aspires to have an iPhone-type effect on the U-lock market. The Ellipse is sold in slick packaging, and the lock is keyless, Bluetooth-equipped, and rechargeable via crossbar-mounted solar panels. You control locking and unlocking functions with a smartphone app, and an accelerometer has the potential to inform others should you (and the Ellipse you're toting) crash, as well as inform you of any tampering. The lock is also built with fail-safes, like a micro-USB port for charging and a miniature touchpad that renders the lock operable should you forget your smartphone or if its battery dies.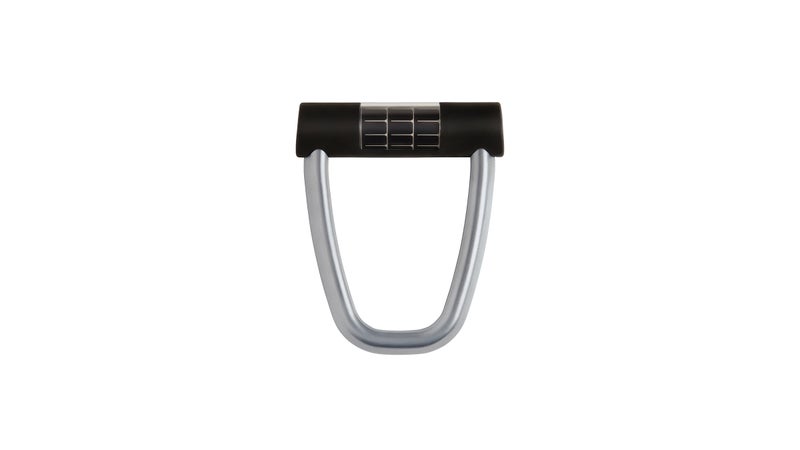 But the Ellipse is still a work in progress. I found the keypad a little finicky, and the feature that attracted me most—automatic unlocking as I approached my bike and autolock as I walked away—requires an iPhone running the app. The latter may not sound like a big deal, but when you approach your bike to ride home, you've perhaps forgotten to open the app ahead of time, and it's, say, raining—well, muttering ensues. The sexy hands-free aspect to the expensive ($199) Ellipse is gone. Early adopters and Android phone owners in particular might want to take a longer look at this futuristic, meaty (its shackle engages at both ends), 2.4-pound lock.
In terms of value and convenience, the Kryptonite Messenger Mini+ is my top pick. After receiving input and feedback from bike messengers in New York City, Kryptonite introduced the Mini+, which features an ingenious but unobtrusive second locking loop—Kryptonite calls it a wheel extender—that makes the lock exceptionally versatile. The locking area of the main shackle is slightly more generous than those of the others I tried, making the Mini+ workable when your best parking option has a fatter anchoring point.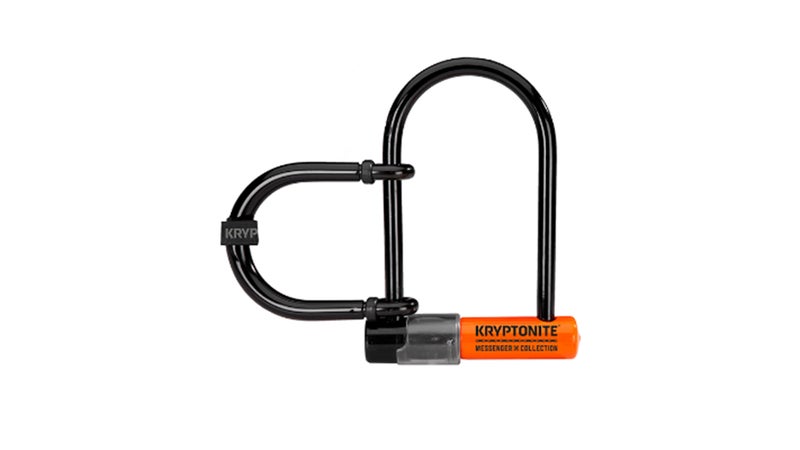 However, the second locking loop provides the real magic. The main shackle threads through the second locking loop's two rings. Use the second loop to secure a particularly chunky (as in MTB) rear wheel, a road-bike rear wheel with a deep rim, or a rear wheel that secures a considerable distance from the seat tube. Or it can secure your (removed) front wheel. You can also leave the extra loop at home if it's unnecessary for the day's two-wheel journey.
The $86 Kryptonite isn't faultless. The hardened steel shackle only locks to the crossbar at one end and measures 11 millimeters in diameter—bantamweight-thin compared with some of its muscular peers. Also, the wheel extender adds to your burden (total weight: 2.5 pounds), and Kryptonite won't reimburse for losses endured specifically from that slightly less-stout wheel extender. But unless you plan to lock your bike in a truly sketchy area or on the street overnight, the Mini+ provides exceptional usefulness—and it's certainly no cream puff.
---
The Sidekicks
Experts say there are two more ingredients to preventing bicycle theft, and they're arguably more important than the lock you choose: How you lock your bike, and which bike you lock.
As for which bicycle you regularly choose to lock up outside, industry veterans advise that you should never be the bike peacock who must strut his stuff. Leave the fancy ride at home.
Lock It Right

Everything you need to know about locking up your bike.
"If you're commuting on an $8,000 Cervélo, you're not locking that thing out in public," says Evonne McGuire, a police detective in my hometown of Austin, Texas. "And if you are, maybe you don't know what you have."
In her role as an Austin Police Department detective, McGuire has made national news while helping in the ultimate capture of a bike thief who was allegedly responsible for the theft of about 100 local bikes, worth an estimated $400,000. That thief, says McGuire, specialized in stealing high-end bikes straight out of people's houses. The Austin cop doesn't recommend folks lock up their bikes inside their homes: "You don't want to live in a cell," she says, though companies including Kryptonite and Abus make anchoring products that are perfect for garages.
Instead, McGuire recommends that you install small security video cameras (especially those capable of sending phone alerts) inside your home's entry points. Also, don't feature your fancy bike on social media or reveal your home's whereabouts on Strava, and don't regularly leave a highbrow bike rack on your car, since thieves often associate upscale bike racks with upscale bike ownership (and, McGuire adds, when securing bike to car, always wield your best locking hardware—built-in cables and locking systems are generally inadequate).
Returning to the paved outdoors, McGuire, like Allard, Watkins, and many other bike-security insiders, adds that your regular commuting/errand-running bike should be less desirable than others found at the bike rack, and locked with a reputable lock. You should always use a second lock, too, both to secure your front wheel to the frame and to encourage a thief to pass over your bike for someone else's.
"Often, a bike thief only has a tool or tools with him for one kind of locking mechanism," McGuire says.
I liked several locks that could play a supporting role in bike security. Altor doesn't market its 560G as a secondary device—it costs $180. But the folding titanium lock was light in my pack (1.2 pounds) and offered me enormous, leave-the-bike-all-day reassurance. The Altor easily folds up small and, thanks to its four rods and three joints, is quick to take your desired form. Those aerospace-quality titanium tubes resist bolt cutting, and the custom joint washers are hard to lever apart, especially when the Altor is around a bike and free to squirm away from someone attempting to wedge a screwdriver blade between parts. I did find the lock itself somewhat stubborn to turn, but it does offer convenient push-button closure.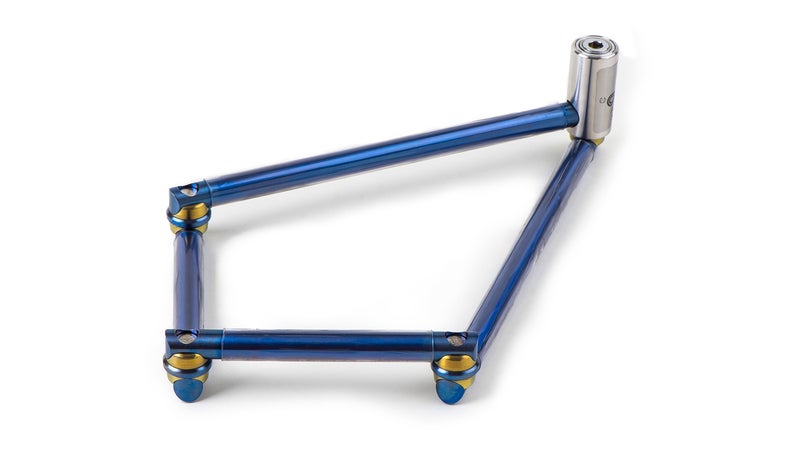 Because you wear it like a fashion statement—I mean, a belt—the Hiplok Lite Superbright ($61) doesn't feel like you're carrying 2.2 pounds. The clever hook-and-loop belt closure allows you to carry the Superbright without locking it, and the 30-inch chain rides inside a washable reflective sleeve. If a thief can't maneuver bolt cutters around one of the Hiplok's six-millimeter hardened-steel chain links, he might need a hammer to break off the padlock's protective plastic sheath before going at its ten-millimeter shackle.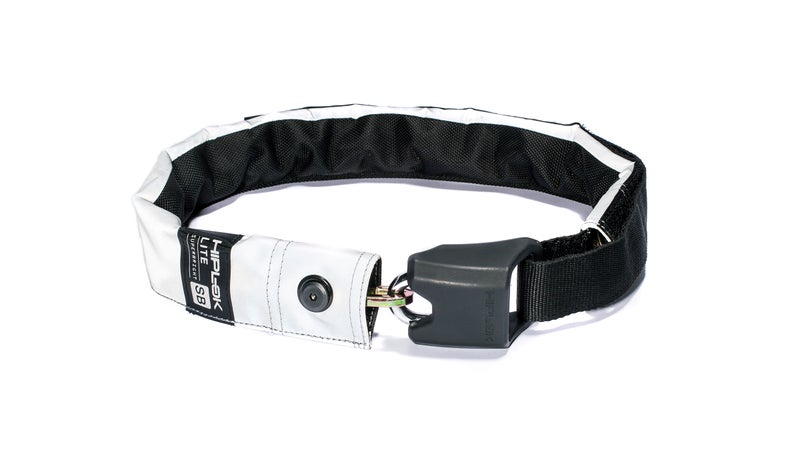 The Kryptonite Keeper 810 Fold ($67; 2.5 pounds) is thoughtfully designed and more than enough to provide backup security in friendlier spaces. Scuff-protecting neoprene covers all 40 inches of the Keeper's eight-millimeter hardened-steel rods. An included frame-mount carrier holds the lock tight on your frame, and seven links allow movement and manipulation to almost any angle. But honestly, I sometimes found myself fighting those links.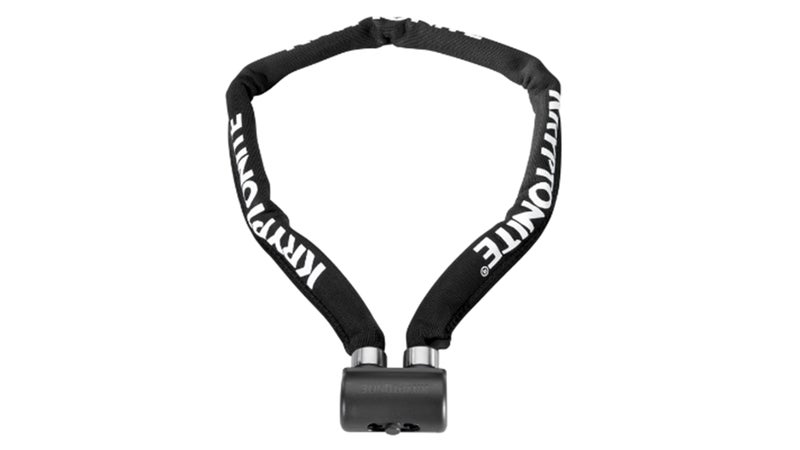 I'll admit that the Knog Frankie is an outlier. The rubbery, lime-colored, cartoonish-looking cable lock is only about 28 inches long. But for your mere $27, you get a 14-ounce package with an incorporated (and thus unsnappable) lock that a thief, should he show up at a bike rack with only bolt cutters, might find thoroughly maddening. I did. The cheapie lock took several minutes of my grunting effort to sever. The thick and gummy silicone sheath, along with a six-millimeter braided-steel cable over a fiber core, fought back by flattening, compressing, and stretching before finally succumbing. I don't think one should ask the Frankie to fly solo, and clearly other lock crackers have made some of Frankie's siblings quickly surrender, but as a minimalist second lock for running errands, the Knog felt reassuring.
---
The Heist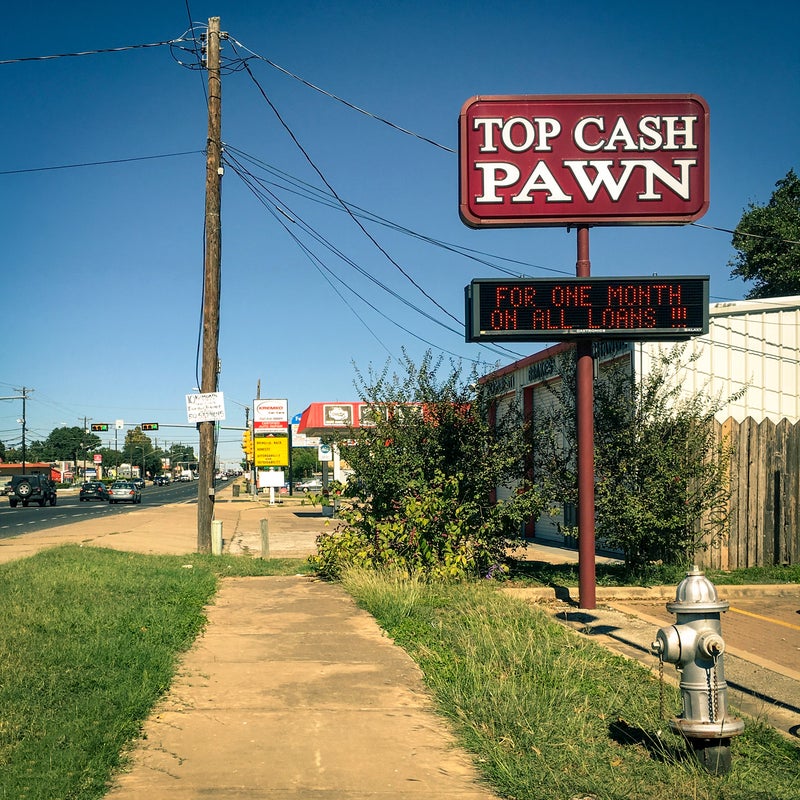 Toward the end of my research for this story, I went shopping again, this time for a sacrificial lamb dressed up as a bicycle. On a Saturday, I emerged from an Austin Top Cash Pawn with a $90 singlespeed town bike. I wanted to see how far good locking technique, or what Project 529's Allard calls "locking hygiene," might take me. Locking hygiene is the final line of defense in bike security. I wanted to explore the threshold where bike locks and best locking practices intersect with a bike getting swiped.
I parked the bike, painted electric green and with matching green pedals, on Austin's Guadalupe Street, right in front of the University of Texas campus. This stretch of Guadalupe—known as the Drag—is one of Austin's busier streets, which supposedly bodes well in terms of bike-theft prevention. Bike thieves, we're told, shy away from crowds, though Kryptonite's Watkins, as well as Allard, have both personally experienced moments where thieves were indifferent to witnesses, and vice versa. Meanwhile, McGuire told me that the UT campus and its surroundings see frequent bike thefts. Since I wanted to increase the odds of a crime, I decided to leave the bike out all night.
On the first afternoon, with students, bikes, and buses traveling up and down Guadalupe, I rolled out my top armor: I locked the bike to a rack with both the Kryptonite New York Fahgettaboudit Mini and Altor 560G. The New York Mini wasn't big enough to get around the bike rack, frame, and rear wheel (ideally, secure your bike's most expensive parts first), but even without the rear wheel inside the shackle, the Mini's arms were full. That's good locking hygiene: filling the space within your U-lock, say locking-technique fanatics, gives bike thieves less room to work with their destructive crowbars, pipes, two-by-fours, or hydraulic bottle jacks. Fortunately, the Altor was big enough to get around the front and rear wheels, as well as the bike rack.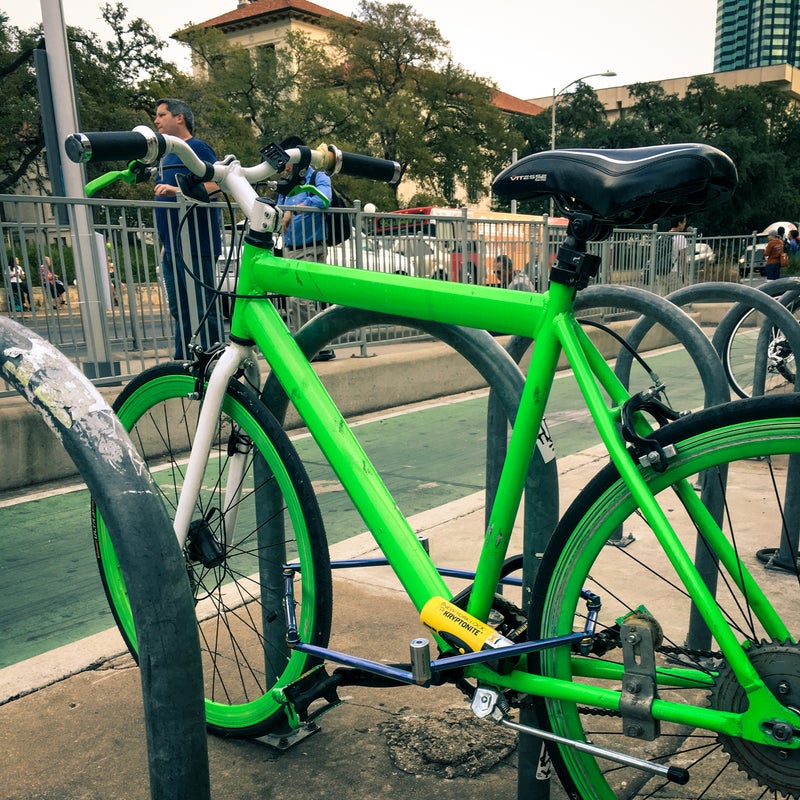 Too bad the rack itself was cause for worry. Simple bolts—instead of theft-resistant ones, some of which are virtually headless after being tightened—anchored the rack to the cement. Thieves have been known to unbolt one end of a rack and unthread a bike right off it. There have also been cases where thieves dislodge the rack and take both rack and bikes. In fact, Allard has seen a bike—still locked to a rack—inside a Portland Police Department property room. Hundreds of stolen bikes, he says, often sit in such rooms, and police want to return them as badly as bike owners likely want their bikes back. But the owners don't know to go looking or don't have their bike's serial number, and can't prove ownership.
"Ninety-plus percent go to charity," Allard told me via email.
The next afternoon, I returned to the Drag. My bike was still there with the New York Mini and Altor 560G intact.
I put on different locks—Knog's Strongman U-lock around the rack and bike frame, and the Hiplok Superbright around the front wheel, frame, and bike rack—doing as the lock experts advise, keeping the Strongman well off the ground to prevent it from potentially getting sledgehammered. I faced the Strongman's keyhole downward to make the lock harder to pick. As imperfect as the bolt-down, U-shaped ("staple" style) bike rack is, nobody can lift my bike off it, the way thieves will sometimes do by unbolting a sign and inching a locked bike up over the top of the post.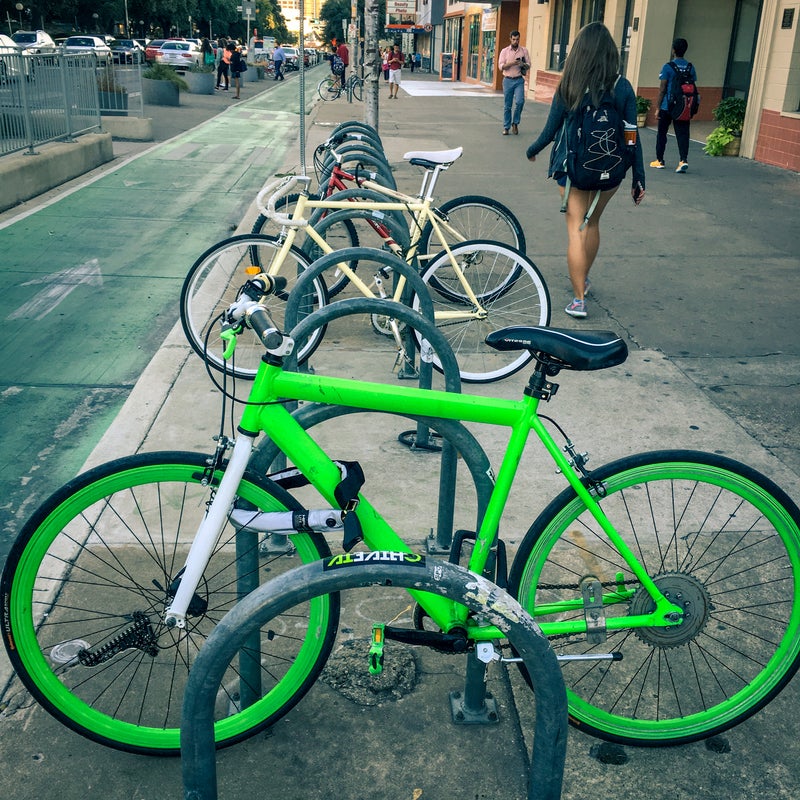 I returned the next evening. My bike was nearly alone on the rack and intact, right down to the locks.
At dusk, with the four-lane street quieting, I took a different strategy. There are other security precautions that I still hadn't explored—like lockable skewers, which discourage wheel removal, or taking my front wheel with me, which gives thieves one less component to steal and renders the bike unrideable. But I chose a strategy that's far less anal. I locked my bike like so many others that I've seen around the UT campus, which no doubt are parked as they are because their owners are in a hurry, or unaware of the widespread crime that is bike theft.
I locked my bike unhygienically.
I grabbed the wiggly Knog Frankie, dangled it around the bike's top tube and the bike rack, and clicked it shut. I break every rule in the bike-security book: relying on just a cable lock, leaving the bike out all night. Surely my pawn-shop special would be gone by morning. Easy pickings!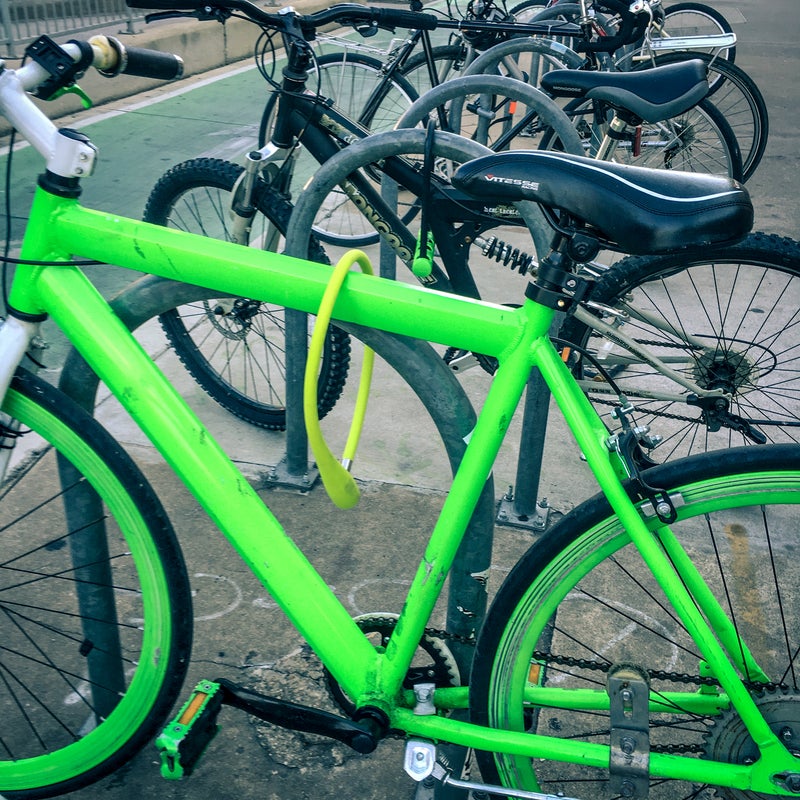 "I've heard of a stolen bike being swapped for a six-pack," says McGuire.
I returned the next night, and my $90 bike, while leaning awkwardly as if maybe having been twisted and yanked, still stands. The Frankie lives.
Perhaps I'm as bad at getting a bike stolen as I am at wielding most power tools. Does the Drag scare away bike thieves? Was my bike the least desirable prey in the area? Were the planets aligned in such a way that, for three nights straight, nary a UT bike was stolen? I feel like I dodged real trouble.
As I put the green bike on my rack to head home, I thought about how my inability to have the bicycle stolen was at least as sobering as my almost effortless lock-busting experience with that angle grinder.
Bike theft is a huge problem. The more often you get away with your poorly secured but beloved bicycle remaining in your possession, the more apathy you have about locking it using the best locks and methods. Then, one day, when it's gone, you can put some of the blame on the fool who didn't need much skill or many tools to turn your world upside-down.
And then you can put a heap of the blame on yourself.
Lead Photo: Kelsey Dake
Trending on Outside Online