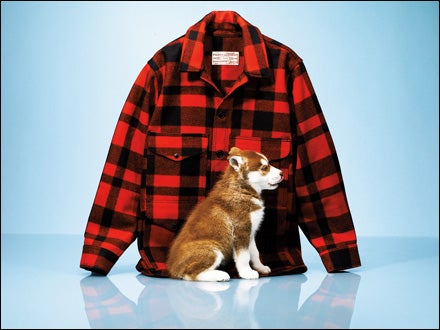 Heading out the door? Read this article on the new Outside+ app available now on iOS devices for members! Download the app.
Gear wonks like to debate the origin of soft shells. Let us direct you to the Mackinaw Cruiser, which has remained virtually unchanged since it debuted in 1914. Like our favorite softies, this 100 percent wool jacket is weather-resistant and tougher than dirt. It fits closely because you buy it like a suit—it's available in ten different sizes. There's even a large "cruiser" pocket on the back, accessible from either side, that's big enough to hold everything from maps to lunch. The understated and classic styling, of course, is not up for debate.
Filson Mackinaw Cruiser $275 filson.com

Bootilicious
Sorel Caribou Reserve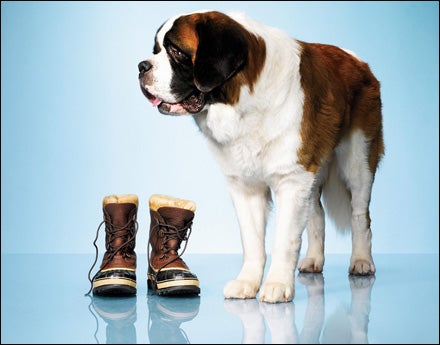 In places where ice fishing is routine, the winter boot of choice is Sorel's Caribou. Which is what these are, but all dressed up. Like the originals, the Caribou Reserves are waterproof and, thanks to thick felt liners, will keep toes from freezing when it gets down to minus 40. Unlike your garden-variety Caribous, however, these limited-edition beauties come in a handcrafted wooden box and are sewn from leather usually found only on the finest Italian shoes. Inside, they're lined with exquisitely soft shearling, and the eyelets are solid brass. Only one question remains: Do your feet deserve it?
Sorel Caribou Reserve $400 sorel.com

Swing Time
Gransfors Bruks Splitting Maul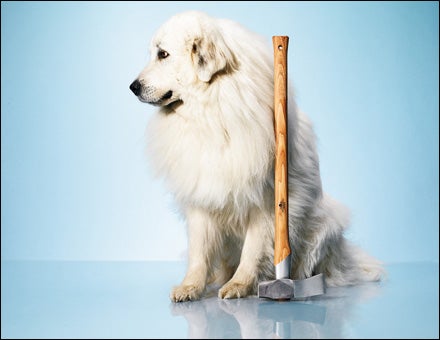 Look closely, and you can see Rune Andersson's initials inscribed on the head of this splitting maul. He's one of 11 professional smiths the Swedish company Gränsfors Bruks employs. I learned this on page two of "The Axe Book"—there are also tips on everything from log limbing to ax throwing—which comes with each maul. You can also learn a lot just by inspecting it: The 5.25-pound steel head has been tempered and annealed to perfection; the hickory handle is a work of art. But, most important, it's awesomely adept at its job: exploding rounds—with or without a wedge—with a terrific crack that's better than a shot of testosterone.
Gransfors Bruks Splitting Maul $137 gransfors.com

Cold Play
Hammerhead Sled
Cold Play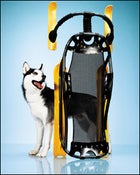 You heard it here first: Sledding will be coming to the Winter X Games, and it will be riding the Hammerhead. There's not an ounce of nostalgia in this speedster. An aluminum frame and polyethylene skis (two interchangeable widths for varying snow conditions) make the Hammerhead light and scary-fast. But hair-trigger steering elevates it above bomb-downhill-till-you-crash fare. You can sit up, of course, but go headfirst and you'll feel like a human ski. Ski patrollers may not approve, but with five—yes, five—different accessory lights to choose from ($12 and up), you can still poach midnight runs at the resort, though a Hammerhead terrain park can't be far away.
Hammerhead Sled $299 hammerheadsled.com

Hot
Erin Snow Morgen Coat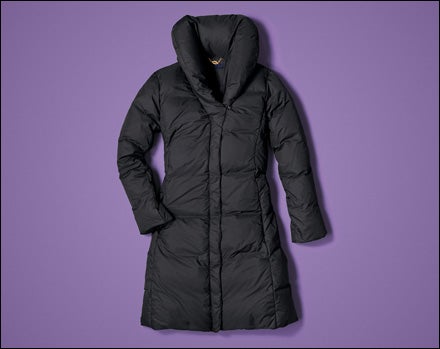 It's 7 p.m. and dumping snow, which bodes well for tomorrow but not your date tonight. The options look bleak: Throw an old puffy coat over your black cocktail dress or risk hypothermia with a soggy sweater. Enter Erin Isakov, a Brown University–educated fashiondesigner who started Erin Snow—with its unique take on winter apparel—three years ago. Wrap that January party dress in this fall's Morgen Coat, a calf-length, 600-fill-down jacket with two-way zipper and a water-resistant, silky shell. It feels as soft and cozy as a sleeping bag but won't look out of place in Crested Butte or on 5th Avenue.
Erin Snow Morgen Coat $898 erinsnow.com