2024 Winter Gear Guide
The Best Alpine Ski Boots of 2024
These high-performance boots are made for carving up the 'roy and charging off-piste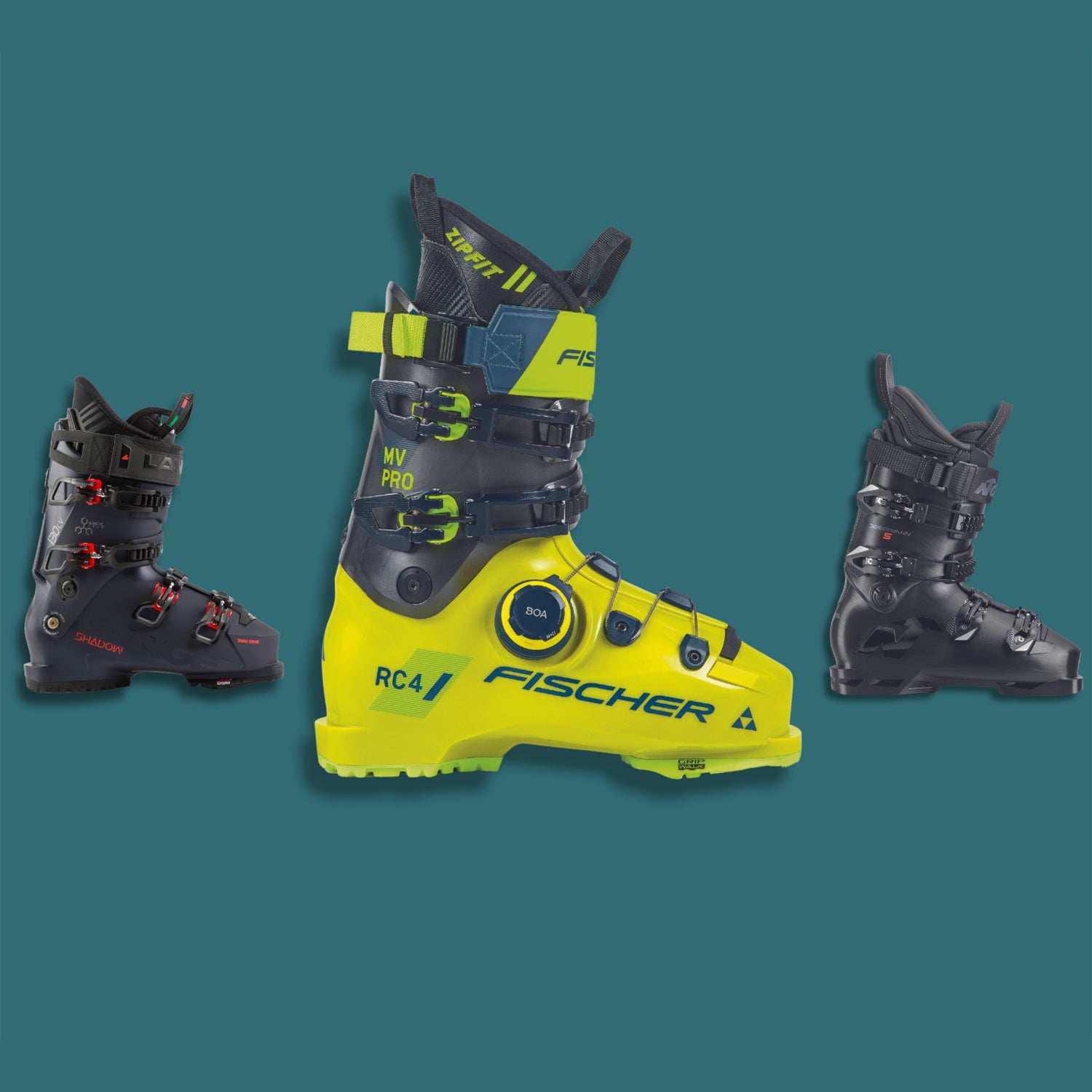 Courtesy the Companies
Heading out the door? Read this article on the new Outside+ app available now on iOS devices for members! Download the app.
This article was first published by SkiMag.com.
It's an exciting time to be shopping for alpine ski boots. With new technologies like BOA lowers and Dual Pivot cuffs, we're seeing more innovation in alpine boots this season than in the last five years combined. The boots in this category are designed to handle all the variable terrain and snow conditions you're likely to find within the resort with grace and precision—and, perhaps most importantly, comfort.
How We Test
Our test starts in the back of the boot room, where we strip and examine each boot and assess the features and biomechanics of the shell and liner. Then we determine which tester would best fit each boot out of the box and send it to them to ski. We ski each boot for a minimum of three full days with our own custom footbeds and then make any necessary adjustments and ski it for a final day. For backcountry boots we climbed and skied at least 6,000 vertical feet per boot.
Meet Our Lead Tester
Jake Stern is a freelance writer and professional bootfitter based in Mammoth Lakes, California. Footloose Sports, the shop where he fits, has been a leader in custom boot fitting for four decades. Working with flipper-footed Angelenos who haven't worn a closed-toed shoe in their lives, he understands comfort as well as performance. Stern has been testing skis and boots professionally for four years.
The Reviews: The Best Alpine Ski Boots of 2024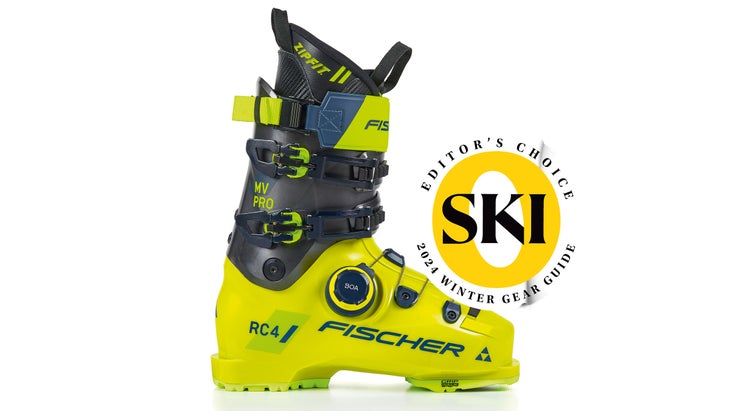 Flex: 140
Last (mm): 100
Volume: Medium
Level: Expert
ISO: 5355/23223 (Alpine and GripWalk)
Size range: 22.5-30.5
Pros:
Comes with a ZipFit liner
BOA H+i1 alpine lace system enables a really dialed fit
Cons:
Hefty price tag (though it's reflective of the included ZipFit liner)
140 flex is as advertised, i.e. extremely stiff, and therefore only for the chargiest of skiers 
So often in the hardgoods market, a brand will roll out a redesign that's little more than a fresh decal. But with the RC4 Pro MV, Fischer tore up the foundation and started from scratch. This thing is a legitimate work of art, and it comes with a Sotheby's-level price tag to prove it. Built to bring the brand's heritage race last to the consumer market, the new RC4 Pro MV was developed from the ground up with a new mold to include the BOA H+i1 alpine lace system and a full ZipFit liner. (ZipFit calls them "inner boots.") This combination delivered the best fit we've ever found in a medium-volume boot: precise, comfortable, and extremely warm.
We were grateful for the exact fit, because this boot is extremely stiff. It was easy to get into an aggressive stance because of how well-lasted the boot is, but flexing this model requires some heft and skill. If you can drive it, the RC4 Pro MV is the highest-end alpine boot on the market, full stop.
Read the deep-dive review and more testing feedback here.
Flex: 130 (also available in 120 LV and 110 LV, 100-130 MV)
Last (mm): 97
Volume: Low
Level: Expert
ISO: 23223 (GripWalk)
Size range: 24.5-31.5
Pros:
Extremely responsive flex
Snug heel pockets for high-performance fit
Cons:
Generic Velcro power strap may not be strong enough for expert skiers
Kiss Lange's stalwart RX line goodbye: The 61-year-old boot company is moving into the future with its all-new Shadow series, and the updates are absolutely worthy of the rebrand.
Lange introduced a fully new shell construction with its Suspension Blade and Dual Pivot. Almost any pressure to the tongue of the boot drives the shovel of the ski to initiate a turn. And if you felt the old RX heel was too wide and blocky, the Shadow's snugged-up heel pocket will put a smile on your face.
The Shadow 130 LV and its family of boots build on Lange's six-decade legacy with a novel construction that you can feel on snow. They didn't just slap a new label on this thing; it was retooled from the ground up, and not only does it ski better than the previous generation of Lange boots, but it fits better too.
Read the deep-dive review and more testing feedback here.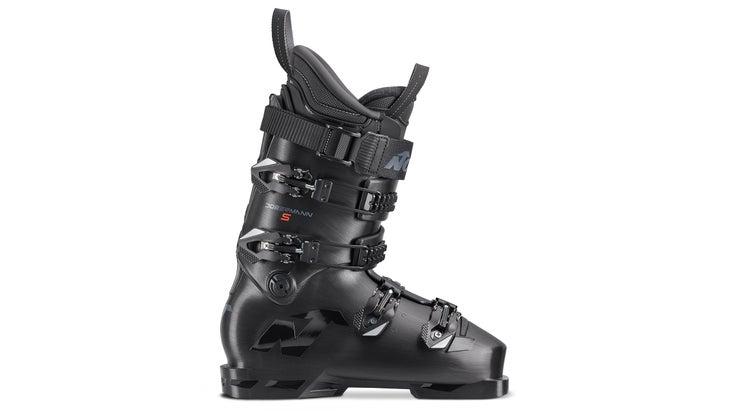 Flex: 120 to 140
Last (mm): 96
Volume: Low
Level: Expert
ISO: 5355 (Alpine)
Size range: 22.5-29.5
Pros:
Slender profile translates to incredible energy transfer
A high-performance boot that also handles well in crud
Cons:
Not very warm
Very narrow last means most skiers will need to make some fit adjustments 
Nordica overhauled its entire Dobermann line for 2023-24 and produced an even leaner, meaner carving machine. Both the race-department boot (93-millimeter last) and what we lovingly call its "cheater race boot" got the tear-down-and-rebuild treatment, and we were impressed with the end result. We tested the 96-millimeter model, which is not only narrower than last year's Dobermann GP 130, but also remarkably shorter. The result is a boot that is in total control of firm snow.
The fit is wholly reimagined, with thick walls and a slimmed-down profile that is extremely tight through the midfoot and heel. Nordica's new liner is excellent and contributes to how comfortable the Dobermann 5 S is for a quasi-plug boot. This model supplied the wonderful yet confusing property of both absorbing irregularities in the snowpack and delivering tremendous rebound at the exit of a turn. This is the perfect platform to live out your Marcel Hirscher dreams—even if you've never had a coach.
Read the deep-dive review and more testing feedback here.
Head Formula 130 LV ($1,050)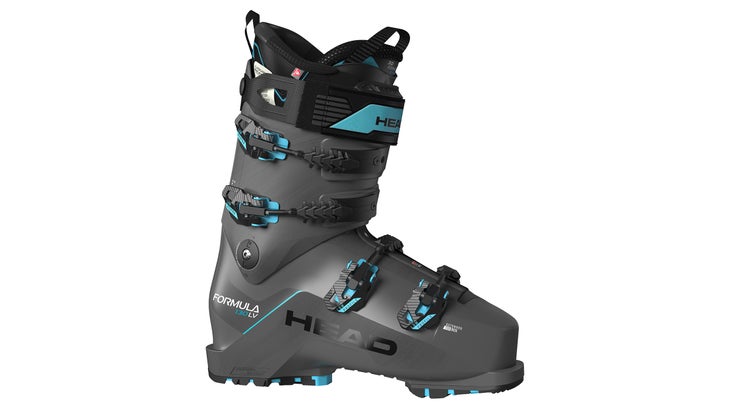 Flex: 130/140
Last (mm): 98
Volume: Low
Level: Expert
ISO: 23223 (GripWalk)
Size range:
Pros:
Fully customizable shell and liner
Plug-boot-like fit translates to great precision
Cons:
Short fit means that many skiers will need to punch out the toe box
Head's updated Formula 130 LV is a serious all-mountain boot with a racing pedigree. The all-new liner has a thin, plug-boot feel that allows the foot to sit as close as possible to the shell for ultimate precision. Complete with compartments for injectable Liquid Fit, the liner and shell are fully customizable. Liquid Fit allows you to snug up the heel and ankle pockets, while the shell can be heat-molded to expand problem areas.
The Formula 130 LV comes with a substantial 16 degrees of forward lean. Pushed forward, it's almost impossible not to drive the shovel of your skis. Fit wise, this boot is incredibly short. Head's extended toe box is nicely tall and wide around the toes, but it's still quite abbreviated internally; luckily, the dense polyurethane shell takes a great punch.
If you're looking for a race-inspired alpine boot that you can push to highway speeds without flinching, the Formula 130 LV demands your attention.
How to Buy Ski Boots
Here we list the most exciting new alpine ski boots to hit the market in 2024. The boots on this list were vetted and tested by a professional bootfitter who considered the technology, performance, fit, and customization characteristics of each boot. While we consider the boots on this list to be the cream of the crop, they may not be the right fit or choice for you. Unless you're an experienced skier and know your boot size, volume, flex and last, visit a professional bootfitter to figure out what boot is best for your physique and skiing style. If you determine a Low Volume boot or 130 flex isn't right for you, consider other models of the boot families we list—more often than not, these boot lines offer a variety of volume and flex options.
Frequently Asked Questions
What are the best alpine ski boots for men?
What's the difference between alpine ski boots and all-mountain/hybrid ski boots?
Traditional alpine boots are designed to enhance performance for the type of skiing you're likely to do at the resort: making turns at faster speeds, on firm and chopped up snow, and using more edging skills. Alpine boots (also known as downhill boots) are made with heavier, stiffer plastics that encourage better energy transfer when you're doing this kind of skiing at the resort. While alpine boots may include some features you'll see on all-mountain or hybrid boots these days, like GripWalk soles and walk/hike modes, they differ from hybrid boots in that they're heavier and designed to be compatible with traditional alpine bindings—they do not feature the metal tech inserts in the toe that you see on hybrid or alpine touring boots designed to work with alpine touring or hybrid backcountry bindings.
How do I know my ski boot size?
Ski boots use mondopoint sizing, typically ranging from 22/22.5 to 29/29.5 for adults. Your appropriate mondopoint indicates the shell size you should be in, but there are other measurements that also factor into finding the right ski boot size for your foot. You need to know your foot sole length, the width of your foot, and your instep height, among other things. To determine your ski boot size and get the best ski boot fit, go see a bootfitter. A professional will be able to take all kinds of foot measurements to find the right ski boot size for your foot and your style of skiing. Learn more here.
What is ski boot flex?
Ski boots come in a variety of flex points, from 60-130
Ski boot flex ratings vary across ski boot brands
The higher the flex rating, the stiffer the boot; the lower the flex rating, the softer the boot
Flex refers to how easily you can distort the ski boot—how much force it takes to drive your shin forward. That's based on what type of skier you are (beginner, intermediate, or expert) as well as your physical stature. Ski boots come in a variety of flex points, generally along a spectrum of 60 to 130, where 60 is considered soft and 130 considered very stiff. Read more here.
What is ski boot volume?
Volume refers to how much space there is between the floor and ceiling in the instep of the boot, as well as how much space there is in the toe box. Most brands now make boots that come in three volume options: low volume (LV), ranging between a 97-99mm last; mid-volume (MV), between 99-101mm; and high volume (HV), between 100-104mm. Learn more here.
More from the 2024 Winter Gear Guide
The Best All-Mountain Skis of 2024
The Best Carving Skis of the Year
The Best Backcountry Boots of 2024
Lead Photo: Courtesy the Companies
Trending on Outside Online