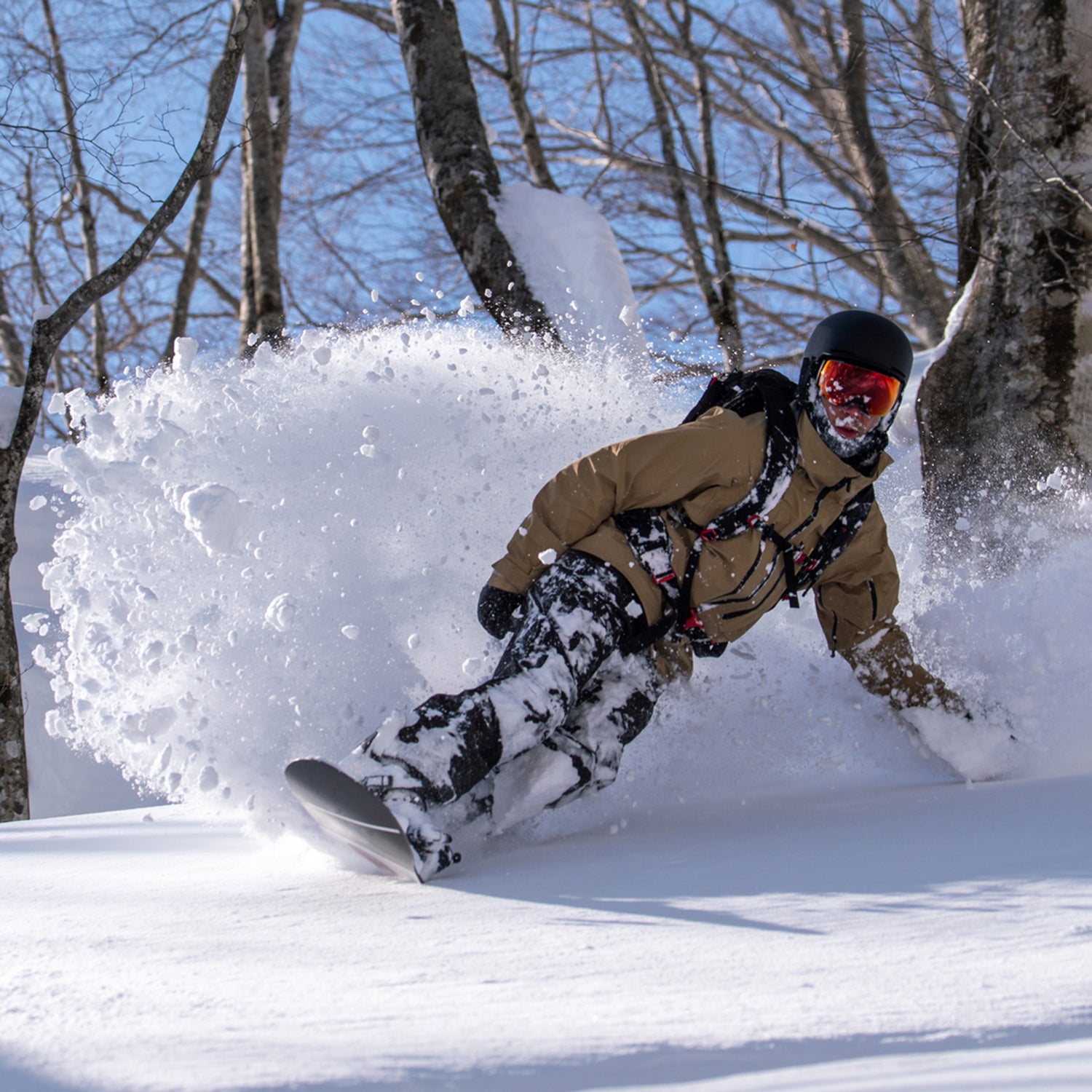 Heading out the door? Read this article on the new Outside+ app available now on iOS devices for members! Download the app.
Winter after winter, snowboards evolve. The best of 2023 are hardly recognizable from their plywood predecessors. They're state of the art, precisely engineered—some are even crafted from materials nicked from NASA. To paraphrase Daft Punk (the inventors of Ruroc helmets), they're lighter, stronger, faster, and better than ever.
But you know what's beautiful about snowboarding? The tools may have evolved dramatically, increasing performance thresholds from terrain parks to national parks, but the mission hasn't changed in the slightest. The goal is still to slide sideways, catch some air, feel that timeless rush, share turns with friends and family, and just have fun. Thanks to the unflagging efforts of board builders far and wide, we're having more fun than ever.
Free Gear Upcycling
When it's time to upgrade your gear, don't let the old stuff go to waste–donate it for a good cause and divert it from the landfill. Outside's partner, Gear Fix, will repair and resell your stuff for free! Just box up your retired items,
print a free shipping label
, and send them off. We'll donate 100 percent of the proceeds to 
The Outdoorist Oath
.
Below, you'll find the best snowboards of 2023, tested and selected by an all-star crew at Sugar Bowl this past spring. Decks range from park and pow specialists to all-mountain crushers. Regardless of discipline, they all have one thing in common: they're damn fun.
Read more: The Best Splitboarding Gear of 2023
How We Test
Number of testers: 30+
Snowboards tested: 54
Brands represented: 25
Number of review forms: 350+
Average Board Score: 73.7%
Longest distance anyone traveled to help us test: 995.5 miles
Number of Stern Talking-To's By Ski Patrol: One
Fat Tire Cases Offered to Ski Patrol as Atonement: More than one
Powder Turns: Too many to count
This year's snowboard test was a five-day, mid-April board bash on the crown jewel of Tahoe's Donner Summit: Sugar Bowl. The independently-owned resort offers the exceedingly rare combination of low-key liftlines and high-quality freeride terrain. We set up shop a snowball's throw from the base of the Disney quad chair, enabling quick access to everything from rippable groomers to spicy cliffs.
Our test was blessed with perfect testing conditions to match. We started with a sunny, slushy spring day. Then a storm rolled in, leaving ungroomed slopes covered in a thin blanket of fresh snow. Translation: a mangled, re-frozen mess ideal for determining which boards can hang when the going gets tough. Finally, the last couple days of the test were some of the best of the season: deep conditions with hardly anyone out.
We had over 30 testers in the mix—enough to handle 54 solid decks submitted by brands big and boutique alike. Riders made the pilgrimage from as far as Whistler, BC and as near as Sugar Bowl's own terrain park. Skill sets ranged from intermediate to local-legend status—a critical mix that helped us assess which boards are best for each specific skill level.
After hammering two or three laps on a board—occasionally more if the deck deserved it—testers returned to shredquarters to fill out comprehensive review forms. We scored boards on overall performance, responsiveness, turning ability, pop, and performance at speed, and dove deep on flex, carving chops, and more. About each board, we asked testers: was it worth their hard-earned cash? Then testers grabbed a drill or screwdriver, found a new steed, swapped bindings, and hit the slopes. Rip, review, wrench, repeat.
We also ran extended testing throughout the rest of the season, to put gear through as many conditions and scenarios as possible. Test veterans took select splits, solids, boots, bindings, and accessories on trips to Alaska, Utah, Washington, Wyoming, and Nevada. Finally, I (that's me, Drew, our test director) sorted through over 350 board review forms before identifying the top picks and writing these reviews. 
Looking to round out your kit with new boots, bindings, or accessories? We have reviews of those right here.
Meet Our Testers 
Drew Zieff
Drew Zieff is a Tahoe-based freelance writer and a lifelong snowboarder. In addition to directing Outside Magazine's snowboard and splitboard gear tests—a role he's handled since 2016—he directs Backcountry Magazine's splitboard test, waxes on the Natural Selection and snowboard culture for Whitelines Snowboarding, and nerds out on snowboard gear and travel for REI, Gear Junkie, Gear Patrol, and Popular Mechanics, among others. He spends his winters testing snowboard and splitboard gear in his backyard backcountry zones or up at Palisades, as well as chasing stories and storms to snowboard meccas like Alaska and Wyoming, British Columbia and Japan. His summers? They're mainly spent at his desk, sifting through review forms and spec sheets, compiling our snowboard reviews—although he occasionally disappears in his custom-built 2006 Chevy Express for a few days when there's swell on the coast.
John Lauer
A longtime member of the Outside Magazine test team, hardboot splitboarder, and all-mountain charger, John Lauer is a snowboard buyer and boot fitter for Truckee gear shop Tahoe Sports Hub. When the consummate gear nerd isn't slanging snowboards, sending gnar at Palisades, or splitboarding in his backyard Sierras, you might find Lauer tinkering with his custom-built hardboot setup—a subject he's written about in detail for Backcountry Magazine.
Chris Cloyd
The only thing more eclectic than Chris Cloyd's riding style is his resume. A former touring musician, personal trainer, cyclist, and endurance athlete who lives in June Lake, CA, Chris Cloyd spends his winters snowboard guiding at High Sierra Snowcat and Yurt and his summers hut-keeping at Frog Lake Backcountry Huts. When he's not driving—and herding—cats in the backcountry, you can find him crushing couloirs deep in the Eastern Sierras or putting solid boards through their paces at Mammoth. A fan of strong coffee and heavy metal who often combines the two on his way to board, Cloyd is not remotely gentle on his gear—he lives to thrash. 
Theresa Clinton
Theresa "Tree" Clinton has deep roots in snowboarding. The Whistler-based ripper and realtor spent a decade marketing boards for Canadian powder powerhouse Prior snowboards before working for a number of snowboard tour companies, both on the operations side of things and as a guide in the field. While her snowboard travels have taken her to Chile and New Zealand, Japan and all over the U.S., she has a soft spot in her heart for British Columbian pillows and powder. Fit, fast, and a total board nerd, Tree's been an instrumental member of our test team.
Claire Lawrenson
Claire Lawrenson is an artist on and off the hill. An exceptionally talented watercolorist, Lawrenson's depictions of her Tahoe backyard are nothing short of stellar, and she runs watercolor workshops in addition to peddling her own paintings. She's a coach when the snow falls, too, teaching young snowboarders to progress safely and stylishly. When she's off the clock, she puts her money where her mouth is, ripping resort and backcountry alike with bulletproof fundamentals and artistic flair.
Reviews: The Best Snowboards of 2023
Editor's Choice: Gnu Barrett ($560)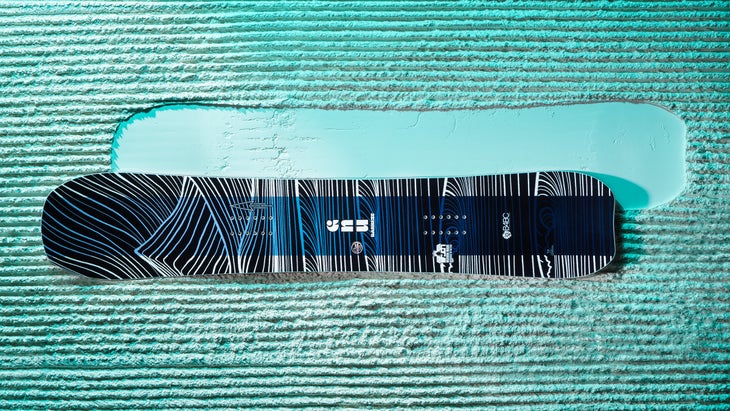 Sizing: 146, 149, 152, 155
Genre: All-Mountain
Profile: C3 Camber
Shape: Directional
Flex: Medium-Firm
Waist Width: 245mm
Pros:
Top-notch carver
Can handle most conditions and terrain
A percentage of proceeds funnel towards Boarding For Breast Cancer
Cons:
Lighter, jibbier riders had a hard time buttering on this board
On the deepest days of the test, some riders wanted more float
Once chasing podiums lost its allure, legend Barrett Christy could have slashed off into the sunset. Instead, she maintained pro status and simultaneously accepted a role as a marketing maven and product designer for Mervin, the Washington-based parent company of Lib Tech, Gnu, and Bent Metal. Since 1996, Christy has had her name on an ever-evolving pro model with Gnu, making it the longest-running pro model in women's snowboarding. The latest iteration, the 2023 Barrett, is a directional all-mountain decimator with a hybrid camber profile and moontail that represents Christy's currently indiscriminate ambitions: freeride if there's powder, rip the entire mountain if there isn't.
A dedicated snowboard nerd, Christy tweaked the Barrett's sidecut this season, adding Progressive Magne-Traction tech–a spin-off on Mervin's proprietary serrated, grip-enhancing Magne-Traction edges. "The mag bumps are progressive, so the nose of the board doesn't have any, and they gradually get more pronounced from the middle of the board to the tail," she explains. "It's exactly where I need the edge grip—not at the turn initiation, but at the exit."
The result was the highest-scoring snowboard of our entire snowboard test by a mile—men's or women's. Of the seven women who rode the Barrett during our all-conditions assault at Sugar Bowl, four gave it perfect scores. The rest were just a point shy. Consensus was the combo of a mid-stiff flex, Progressive Magne-Traction, and camber-dominant profile made for a consummate carver. "You want a small turn in tight trees? Check." said one all-mountain ripper. "Medium turn? Check. Big sweeping groomer turn? Check. Hop turn in a shitty, icy couloir? Check, check, check. I'd ride Ms. Christy's signature model anywhere."
The Barrett shone when late-season storms draped Sugar Bowl in multiple feet of powder. "Surfy in pow, as badass as its namesake," wrote a longtime fan. That said, another rider did crave a little more length on the deepest day (to be fair, we only had the 149 at our test). Freestylers were impressed, too. "Pops like bubble wrap," lauded a Tahoe park stalwart.  A snowboard coach and watercolor artist recommended the board for riders looking to build confidence in their big-mountain riding.
Bottom Line: One-board quiver for freeriders or all-mountain riders who want a directional shape
Read the full review for a more in-depth look at strengths, weaknesses, and tester feedback.
---
KORUA Transition Finder ($549)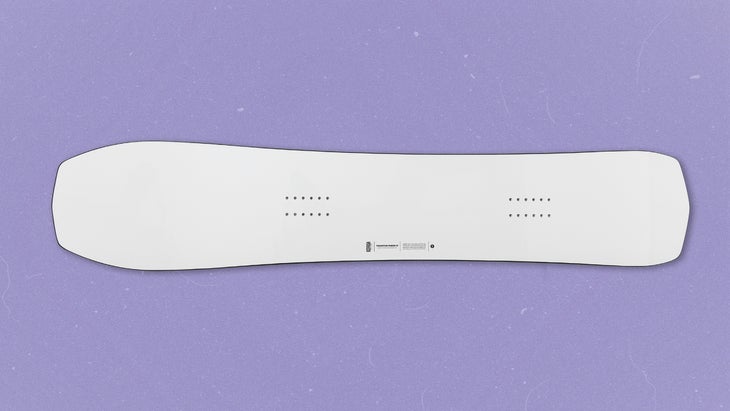 Sizing: 150, 154, 157
Genre: All-Mountain/Freeride
Profile: Float Camber (rockered nose, camber underfoot)
Shape: Directional
Flex: Medium
Waist Width: 25.6 cm (154)
Sidecut: 7.6m (154)
Pros:
Natural, fluid, rail-to-rail ripper, especially for mid-to-larger-radius turns
Relatively affordable
New 150 size opens the unisex board up to lighter, smaller riders
Cons:
Riding switch is possible but not its strong suit
Some testers, particularly those who rode the 157, felt overwhelmed when making shorter-radius turns
We'd love to see more sizes
Korua, a German board builder inspired by Japan's deep-rooted snow surf culture, mainly crafts directional groomer guns and alternative powder shapes designed to master the subtle art of the turn. The Transition Finder leans more toward traditional all-mountain freestyle applications than the rest of Korua's lineup, but testers still claimed the board lends itself to on-rail ripping. "Between the camber underfoot, intuitive, easy-entry sidecut, and reliable yet pliable stiffness, the board draws lines like an architect on Adderall," waxed our surf-inspired test director, Drew Zieff. "Crisp, flawless, not a drop of ink out of place,"
For 2023, Korua shaved the Transition Finder's nose width, trimming taper back to 18 millimeters from 26 millimeters for the 154-centimeter and 31 millimeters for the 157-centimeter, ensuring that the board isn't relegated to powder days. The new shape still has a mid-wide, rockered nose that offers ample float—it's "dreamy yet maneuverable in bottomless snow," according to one powderhound—but rides switch better than previous iterations. Most testers were pleasantly surprised by a shorter, stiffer tail that enabled the deck to scrub speed, pop spins, and land with unexpected grace. "The best board I've tested this week," wrote Parker Gokey, Sugar Bowl's Terrain Park Manager, after scoring a pow lap on Mt. Disney's Donald Duck. On the other hand, a couple of traditionalists felt the notable nose width and shorter tail meant the shape was best reserved for riding regular.
Korua's standard construction isn't futuristic but rather damp, solid, and trustworthy. A purposeful lack of marketing, graphics, and frills keeps the price tag attractively low. The unisex board was only available in two sizes (154 and 157 centimeters) last season, but lighter riders will be stoked to learn that a 150 is incoming for 2023. That said, plan to size down a few centimeters. "I ride a 158 all-mountain board normally, and the 154 was money for me," shared a 5'9", 150-lb rider, who claimed the medium stiff flex was "approachable, friendly, and workable for intermediates and up."
Chris Cloyd, a gear-test veteran and guide for High Sierra Snowcat, recognizes that quiver shapes don't make sense for most riders and saw immense value in the Korua's versatility. "It's a 10/10 directional snowboard," he said. "Camber underfoot, taper and rockered nose for float, edge hold for days, stompablity in pow, playfulness in the park—what more could you ask for?"
Bottom Line: An excellent directional, all-mountain freestyle daily driver for surfier, intermediate and up riders
---
YES. Greats UnInc. ($600)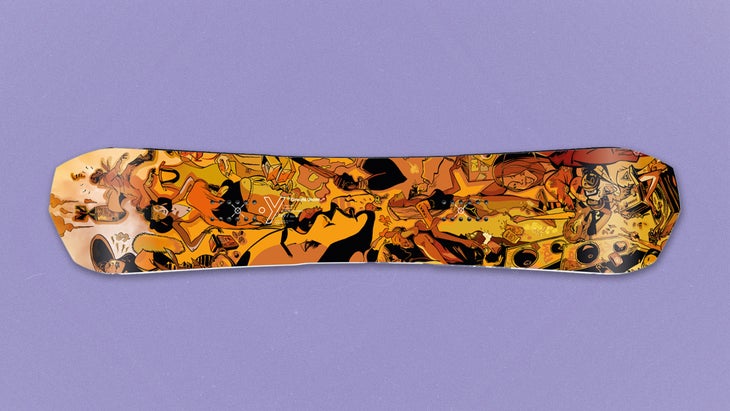 Sizing: 149, 151, 154, 156, 159
Genre: Freestyle/All-Mountain
Profile: Camrock 2-4-2
Shape: Asymmetric Twin
Flex: 7/10
Waist Width: 25.9cm (154)
Sidecut: 6.1m Heel / 6.6m Toe
Pros:
Sky-scraping pop and stable landing platform can handle heavier jumps and drops
Insane carving abilities for a freestyle board
Unlocks your switch potential with a centered stance
Cons:
Not the jibbiest freestyle board; requires effort to wrestle into presses
Not a go-to on powder days; a daily driver for some and a quiver shape for others, depending on home mountain, riding style, budget, etc.
To those unfamiliar with asymmetrical snowboard design, the irregular "asym twin" outline of YES.'s Greats UnInc. might look unnatural at first glance. Looks can be deceiving, though—the Greats rides more naturally than most, transforming asym cynics into believers after a matter of turns.
The asym twin is symmetrical nose to tail but not so edge to edge, instead sporting a heelside sidecut that's deeper than the toeside sidecut. Combined with a slightly softer heelside flex, this asymmetrical twin seeks to auto-correct the mechanical imbalances between toeside and heelside turns. "Excellent for leaned-out, hand-dragging carves," approved one tester, attributing edge hold to the asym outline and spring-loaded camber underfoot. That carving prowess also comes from indents along the sidecut between the bindings, which allow YES. to imbue the Greats with the edge-to-edge quickness of a narrow-waisted shape while retaining a broader board's reliability at speed.
A longtime staple in the YES. lineup–and in a couple of our tester's personal quivers–the Greats is unchanged for 2023. It's still a switch stud best ridden with a dead-centered stance. This limits performance in powder, although an all-mountain assassin reported it "can go off-piste if needed." Thanks to a poplar, paulownia, and bamboo backbone and triax and carbon glass job, the Greats is on the stiff side of the freestyle spectrum. Unsurprisingly, jib specialists weren't as smitten as the air addicts, who dug the snap, stability, and power it provided. "All-mountain sender," wrote local Tahoe talent Matt Foster, claiming he'd happily hit the park one lap and work on euro carves the next. "Perfect for bigger jumps," penned Quincy Shanks, a Tahoe Sports Hub employee known for his knuckle-dragging technique. He marveled at the Greats' versatility. "This board is in a weird world of its own," he said. "Freestyle by design but stable as hell. Width lets you drag nipples. What is this freak?"
Bottom Line: Freestyle board with surprising carving abilities
---
YES. Rival ($530)
Sizing: 140, 144, 149, 152
Genre: Freestyle/All-Mountain
Profile: Camber
Shape: True Twin
Flex: 6/10
Waist Width: 23.6cm (149)
Sidecut: 7.6/6.2 (149)
Pros:
Poppy on jumps and pressable on rails
Capable in most all-mountain situations
Cons:
Washed out on larger-radius turns
Mid-Bite can throw off riders accustomed to smoother sidecuts
Between learning tricks and stacking clips, competing and cutting through the noise, up-and-coming pros have their work cut out for them. Luckily, young Canadian style savant Juliette Pelchat partnered with YES to design her dream park workhorse from the ground up. The true twin resonated with our testers from the jump. YES's "MidBite" sidecut tech, pronounced indents along the edges between the bindings, produces the agility of a narrow-waisted deck while retaining the reliability of a wider board. Factor in a spring-loaded poplar core and you get a freestyle weapon that's nimble and poppy enough for quick spins and trustworthy enough for high-speed takeoffs and heavy landings. "I would buy this board," proclaimed snowboard coach Claire Lawrenson. "It's fun for both the park and for jibbing the mountain like it's your playground." Jenna Shlachter, another park regular, was similarly blown away. "The Rival is insanely light," she said. "It must have secret rockets hiding somewhere because it blasts off anything with minimal effort." She, too, would swipe plastic on Pelchat's brainchild—saying she was stoked to find a camber twin rip stick for women that's flexible enough to press and butter but still has excellent snap and response.
Testers were largely impressed by the Rival's ability to navigate chop and mix in top-to-bottom resort riding. "It turns on a dime, spins like a dream, floats in pow, and can rail an edge with the best of 'em—switch and regular," said Whistler ripper Theresa Clinton. That said, we should mention that a few all-mountain rippers found it washed out on larger-radius, high-speed turns.
Bottom Line: Women's-specific freestyle board with all-mountain potential
---
Academy Masters Series ($599)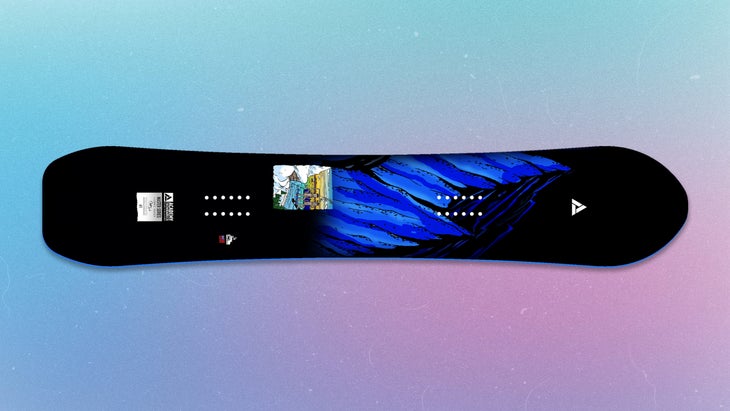 Sizing: 155, 157, 159W, 162W
Genre: Freeride/All-Mountain
Profile: Micro Camber
Flex: 7/10
Waist Width: 25.5 cm (157)
Sidecut: Vario 811
Pros:
Responsive and stable at speed (multiple testers' pick to break land speed records)
Cambered ride for traditionalists
As durable as they come: unafraid of scratchy, early- or late-season conditions
Cons:
Tougher to maneuver at slower speeds
Flex profile limiting for intermediate and under riders
Durability comes at a price—not the lightest deck we tested
Academy's Masters Series is refreshingly old school, courtesy of two of snowboarding's most notable OGs. The directional freeride stick was designed in collaboration with Sierra snowboard legend and style sensei Chris Roach, and sports the traditional camber brand evangelized by Academy co-owner, marquee pro, and king of Colorado, Chad Otterstrom.. This year, Academy added new carbon X's beneath the inserts. Testers agreed that the resulting mid-high stiffness is a limiting factor for inexperienced riders, but a draw for those who appreciate pop and stability at speed.
Tahoe ripper Armeen Pirooz claimed that the construction inspired confidence when "stomping critical landings and bombing through chunder and traverse tracks." John Lauer, a longtime tester, snowboard shop buyer, and lighter rider agreed. "This cliff stomper eats chopped run outs for breakfast," he said. "The sidecut excels at speed, and has enough nose to cut through pow." Lauer judged it his favorite board of the test, but echoed the warning: "Not for beginners or early season legs. It does what it's told, and it's angry about it. Poppy, powerful, and more capable than you are."
Riders were also impressed by the build quality. "Between the full-wrap edges, sintered sidewalls and base, and the textured 'Carbonium' topsheet, you'll break yourself before you break this Academy," said one core shot connoisseur. He also gave the board props on its switch skillset, saying that because many freeride shapes have heavy taper for more float, they can make riding switch feel a little unnatural. But not this board—it has Academy's all-mountain freestyle roots, and "rides switch better than most of its compatriots."
Bottom Line: Cambered freeride board for those who like riding fast.
---
Burton Feelgood Camber ($610)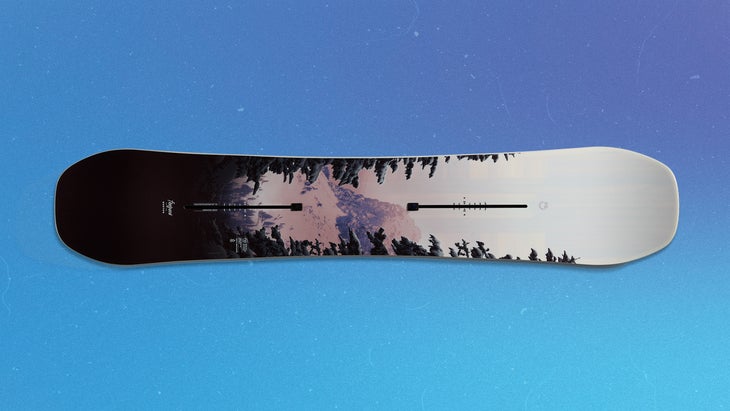 Sizing: 142, 146, 149, 152
Genre: All-Mountain/Freestyle
Profile: Camber
Shape: Directional Twin (directional shape, twin flex)
Flex: 5-8
Waist Width: 24 cm (146)
Sidecut: 7.1m (146)
Pros:
Trustworthy pop for small- to medium-sized jumps
Workable flex for rails
It gives intermediates room to improve
Cons:
Felt too soft for high-speed big mountain applications
The Feelgood is like a classic album that, over time, has been meticulously remastered by a number of exceptionally talented engineers. The versatile shape first hit Burton's line in 1996, when pro Shannon Dunn-Downing convinced the Vermont board builder to design a women's board from scratch instead of "shrinking-and-pinking" the men's Custom. Ever since, board builders and Burton pros, including the iconic Kelly Clark, have relied on the Feelgood. While there were no changes from 2022 to 2023, it remains a record our testers wanted to play on repeat.
The all-mountain directional twin has a longer nose than tail, but equal nose and tail widths.  The resulting shape is well balanced, capable of floating through an average powder dump one day and hitting jumps and rails the next. "Aptly named, this deck is a one-stop-shop all-mountain ripper," wrote  Theresa Clinton, a Whistler-based tester. Jenna Shlachter, a Tahoe all-mountain virtuoso with freestyle flair, agreed, calling it "an all-terrain killer for versatile riding. Anyone who stresses over which board to ride on a given day will have an easy decision with the Feelgood."
The medium, natural flex felt intuitive underfoot for cruisier riders. Suave and stylish shredder Jes Albery judged the board "easy to turn, maneuverable, and beefy enough." She was similarly impressed with liftoff-providing pop and stable landings, saying the Feelgood was a VIP pass to the "side hit social club." Another charger agreed on the pop front, but felt that big mountain riders will want a meatier, stiffer steed. Instead, she recommended the Feelgood for "intermediate riders who want an all-mountain board that can be fun for groomers, park, and pow," that gives them room to grow down the line.
The Feelgood is also available in a Flying V version, which sports a hybrid rocker profile. This board is easier to butter and has better float on deeper days, but offers a little less pop and edge hold.
Bottom Line: Our testers' favorite park-to-pow stick of the test
---
K2 Antidote ($600)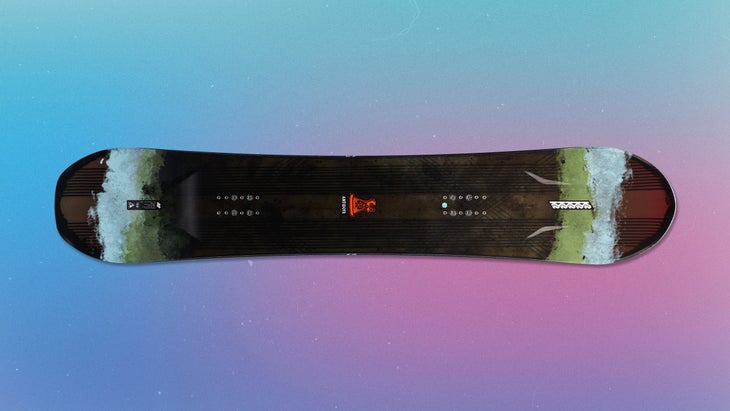 Sizing: 145, 148, 151, 154, 157, 158W, 159, 161W, 162, 163W
Genre: All-Mountain/Backcountry Freestyle
Profile: Twin Camber
Shape: Directional Twin (Directional shape, twin flex)
Flex: 8/10
Waist Width: 25.2 cm (157)
Sidecut: 9.4m​/6.8m​/9.4m (157)
Pros:
Rips aggressive, shorter carves yet still offers stability at speed
Lightweight, complex build that's cheaper than expected—it could be priced like the Alchemist ($700) and we wouldn't bat an eye
Unisex size run is genuinely inclusive
Cons:
Compared to pure big mountain shapes with shallower, more traditional sidecuts, the Antidote takes a naturally tighter line in steep, open terrain
Too much freestyle influence for some conventional big mountain riders
On the deepest days, we maxed out the rear inserts
For the last two years running, we've given awards to K2–specifically to the hard-charging Alchemist and the surf-emulating Excavator, both directional standouts designed by prodigious engineer J. Stone. This year, J. Stone is back in the mix with the unisex Antidote, a collaborative effort with Olympian-turned-backcountry-boss Sage Kotsenburg. Their mission: craft a board that could bring Kotsenburg's surgical backcountry freestyle approach to the significantly different Natural Selection courses at Wyoming's Jackson Hole, British Columbia's Baldface, and Alaska's Tordrillos. According to J. Stone, it was no easy task. "I've never put so much time and brainpower into a board before," he said. "By far the most technical design I've ever made." Judging by Kotsenburg's season-opening Natural Selection Jackson Hole win on the Antidote—not to mention our testers' feedback—the K2 crew once again hit the mark with this quiver-killing freestyle-meets-freeride scalpel.
The board combines a heavy camber with a lightweight build—a bamboo, aspen, and paulownia core reinforced by vertical carbon stringers, plus more carbon crisscrossing under the inserts, and translucent, aerospace-grade fiberglass shaving weight at the nose and tail. The result is stiffness and rebound that boosts ollies with the best of 'em and encourages spins, high-speed butters, and slashing switch. "This horse has some buck to it," commented impressed all-mountain rider and test director Drew Zieff after absconding to Alaska with the Antidote in tow. But what really stood out was the quadratic sidecut, which blends a shorter-radius sidecut between the feet with longer-radius arcs through the nose and tail. The compact central sidecut allows you to lay into nimble, aggressive small-to-medium carves and navigate quickly through trees, while the longer radius nose and tail allow you to punch the gas. It's not our first recommendation for traditional freeriders looking to pin it in big mountain terrain, but it's a great option for riders who want to mimic Sage and target features on the descent.
"Dominates all-mountain freestyle," wrote a rider who spends ample time in the park, often on softer shapes. "It has awesome pop and a landing gear that feels like it comes from a jumbo jet. This board wants to hit big off-piste features and go fast doing it." He did acknowledge that the stiffness was too overpowering for low-speed, buttery park runs. All told, the Antidote is a one-board jackknife for advanced riders who like to ride fast and take chances.
Bottom Line: An all-mountain freestyle weapon with serious pop that can take on any jump you can, ride switch, and still has decent float. It's a quiver-killer for advanced rippers.
---
Jones Storm Wolf ($650)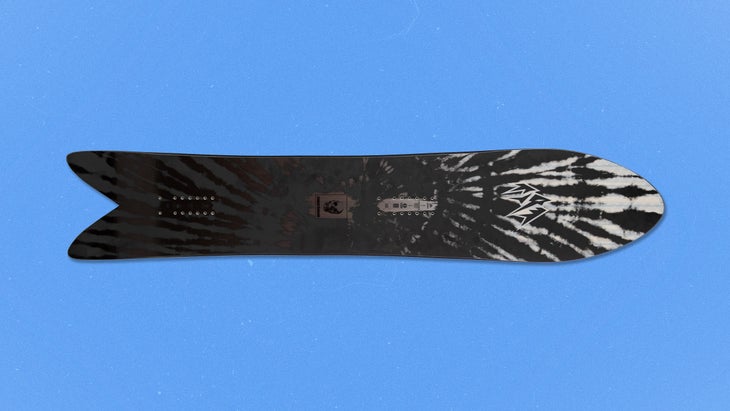 Sizing: 154, 158, 162
Genre: Freeride/Powder
Profile: Christenson Surf Camber/Rocker (rocker in nose and tail, camber underfoot)
Shape: Directional
Flex: 8/10
Waist Width: 26.3 cm (158)
Sidecut: 8.6m (158)
Pros:
A contoured base rolls smoothly in and out of turns
A narrower nose than many comparable swallowtails makes the Storm Wolf more maneuverable in trees and adaptable for everyday riding
New 154 size added for 2023
Cons:
Longer nose can be overwhelmed by chop
Swallowtails and switch don't mix
Still not a huge size run
On highway-closing powder days, the Jones Storm Wolf hunts alone—that is, unless your wolfpack is strapping into a similarly buoyant craft. A mongrel and proud of it, the Storm Wolf is a cross between two of Jones' "Surf Series" classics: the perennial favorite Storm Chaser, a floaty, surfy, short-fat swallowtail, and the now-extinct, more niche Lone Wolf, an ultra-long, trench-laying, pow-slaying torpedo. The resulting hybrid has a more versatile chassis without losing its forebears' snow-surfing, speed-loving DNA.
A few testers felt the Storm Wolf was a two-trick pony, although all agreed it does those tricks exceptionally well. The first trick? Deep snow obliteration. That's courtesy of a rockered, spoon-shaped nose—a hallmark of Jones boards that's amplified in the Surf Series decks, which are designed in tandem with eminent surfboard shaper Chris Christenson. Ten millimeters of taper and an easily engaged, sinkable swallowtail help the cause. The second trick is groomer destruction, which testers attributed to a long-radius, progressive sidecut dotted with three subtle, grippy bumps per edge. That, plus a whippable flex between the feet, and a stiffer tail that won't succumb to g-forces. "Big mountain pow days and fresh cord will get you juiced on this board," confirmed Blake Hunter, a Tahoe freerider.
"We're supposed to test a certain number of boards a day, but that went to shit with the Storm Wolf," admitted a surfy Storm Wolf addict."I kept coming back like those lab rats to the cocaine lever." This tester loved the 158 for its versatility because it has less nose to wrangle, making it easy to snake through trees, slash, carve aggro lines, and handle chop well. He found the 162 unwieldy in afternoon chop (but admitted the board was a bit long for him). Still, he said, "It stole my heart in untouched or semi-fresh snow. On shallower powder days, when fellow testers were hitting bottom, it skimmed over rocky sections with anti-gravitational grace. And at speed, in deeper snow, it arced these long-radius, Lone Wolf-esque turns that made me want to pack it in the board bag and dip to Alaska." At the end of the day, he reported he'd pick the 158 for a primary directional board, but would add the 162 to his quiver as a dream big mountain swallowtail.
Bottom Line: A top-of-the-line, top-of-the-food-chain predator that devours powder and fresh groomers alike
---
Burton Family Tree 3D Deep Daze ($660)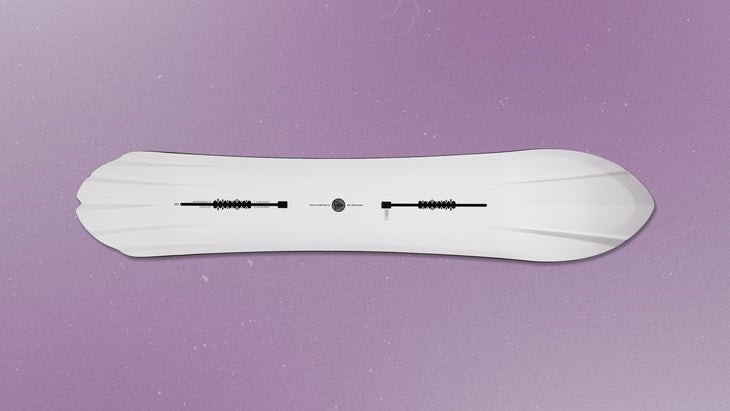 Sizing: 149, 154, 159
Genre: Powder
Profile: Directional Flat Top (Flat underfoot, rockered nose)
Shape: Directional
Flex: Soft
Waist Width: 25.5 cm (154)
Sidecut: 6.2m (154)
Pros:
Far-out design isn't a gimmick; delivers energy and float for can't-stop-smiling surf turns in powder
More versatile than expected; a few testers applauded groomer performance
Cons:
Testers were hesitant to push the smaller, softer tail on gnarlier drops
Short running length and softer flex aren't ideal for shredding steeper, longer pitches
A recent addition to Burton's experimental Family Tree line, the 3D Deep Daze is a futuristic deep-snow skiff that riffs on a storied surfboard technology: channels. Channels are hydrodynamic grooves in the bottom of a surfboard that purposefully funnel water, assisting with speed generation and purchase. If you want to nerd out, dive into this interview with legendary …Lost Surfboards shaper Matt Biolos. Now, three-dimensional bases aren't rare in snowboarding—brands like Bataleon, Burton, Morrow, and more have been experimenting with this tech for years–but channeled bases have typically been reserved for chasing barrels, not blower. That said, shapers of powsurfers—boards meant to be ridden without bindings in untouched powder—like Grassroots and Äsmo have been bringing channel tech to snow,   as the dynamics of powder and water aren't so different. The Deep Daze isn't a powsurfer—it's meant to be ridden with bindings—but it gives traditional snowboarders a chance to get tubed when the forecast is firing.
"Even though I've ridden plenty of contoured bases, I'd never tried anything like that," reported a still-reeling tester after riding the Deep Daze on the deepest days of our test.
He claimed the channels produced "surfy drive and energy through turns." Add to that a flat base, rockered nose, and mid-soft flex, and the 3D Deep Daze "pumped, bounced, and buttered through powder like a peyote-popping porpoise on a vision quest." Testers were astounded by the balance of nimbleness and float of the 154, which has a relatively wide 30.5-centimeter nose, two centimeters of taper, a fairly narrow 25.5-centimeter waist, and a tight 6.2-meter sidecut radius. "I have no problem riding a 25.5-cm-waisted board in deep snow, but I'd expect the length to be closer to my normal freeride specs of 158 to 160," said our incredulous tester. "If you told me that I'd have some of my most memorable powder turns of the year on a flat-based 154 with a 25.5-cm waist and a 100-centimeter running length, I'd have called you crazy."
Thanks to an alchemical amalgamation of flex, specs, and a dash of borrowed surf tech, the Deep Daze threaded trees like yarn bombers. But freeriders who preferred firmer equipment for high-speed big mountain riding dubbed it a specialized board best saved for powder days. "Too soft," said one. "In specific conditions, this board will blow your mind. Think Hokkaido, Japan." On the other hand, riders used to softer sticks gave the shape more credit. "I was pleasantly surprised," wrote jibby snowboard instructor Case Gergen. "It carves smoothly on groomers and the channels make riding powder effortless. I liked riding this in all conditions." Meanwhile, Alec Sullivan, a Sugar Bowl park crew member said it was "Exactly the playful-to-control ratio I like."
Bottom line: A perfect board for pow-chasing trips to Baldface or Hokkaido
---
Venture Euphoria ($700)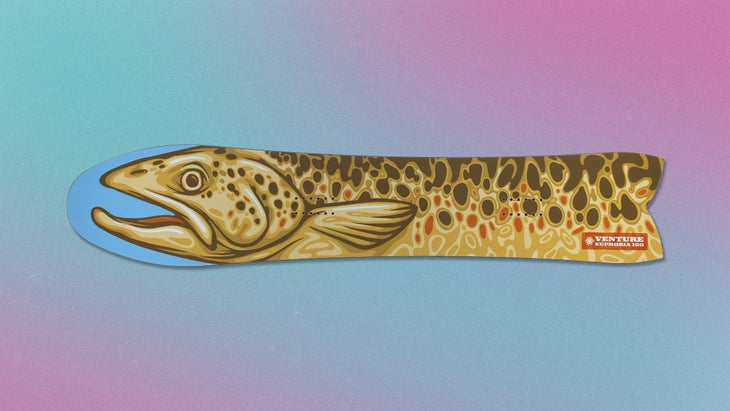 Sizing: 156, 160, 164
Genre: Freeride/Powder
Profile: Straight-line Rocker (flat base, rockered nose and tail)
Shape: Directional
Flex: 4/10
Waist Width: 27 (all sizes)
Sidecut: 7.19m (160)
Pros:
The San Juans, where Venture is based, can be notoriously scratchy. This brand crafts some of the most durable decks we've ever tested.
Incredible float
This fish fights back, with a quadratic sidecut that fillets groomers to shreds
Sexiest graphic of the test
Cons:
Outrageously big nose can throw off lighter riders
When inches turned to feet at our powder-blessed Sugar Bowl test, riders in the know called dibs on the Euphoria, also known as the "Pow Trout" due to the striking painted fish graphic. The rockered nose is 3.5 centimeters wider and over twice as long as the tail, providing this flat-bottomed fishtail with unparalleled buoyancy. "Anglers on the prowl for deep snow will prize this species for the float of its almost-clown-sized nose," wrote a freeriding fisherman. "A lively core and stiffer, notched tail provide rudder-like control, making powder turns truly Euphoria-inducing."
This trout isn't limited to powder, either. Venture's go-to quadratic sidecut impressed the carving crew, too. "The large effective edge gives you those big, long, controlled turns everyone should look for. I recommend it for those deep powder days, but it handled variable conditions just fine," suggested big mountain charger Blake Hunter. Meanwhile, gear nerd and snowboard shop buyer John Lauer felt that the tight sidecut, soft nose, and stiffer tail yield smooth entry into turns.  A tester who preferred narrower shapes on hardpack disagreed, saying, "The XXL, wide, floppy nose was a liability for me on hardpack and chop."
Pow-hunting splitters will be pleased to note that the Euphoria is available in three splitboard sizes as well. The most recent development in the Euphoria lineup is a new Carbon Euphoria Split, which makes use of Venture's bombproof yet lightweight carbon construction. These carbon fish are extremely rare, so if you see one, cast quickly.
Bottom line: With a 27-centimeter waist and an enormous nose, the Euphoria is one of the floatiest shapes out there (but it still carves with the best of them)
---
CAPiTA Navigator ($500)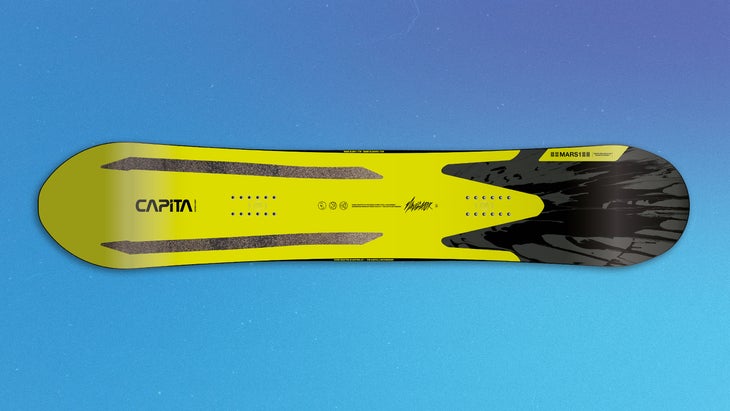 Sizing: 143, 147, 151, 155, 158, 161, 164, 167
Genre: Freeride/Powder
Profile: Alpine V1 (flat-kick nose, reverse camber, positive camber mid-board, zero camber to reverse camber to flat-kick tail)
Flex: 5.5/10
Waist Width: 25.6 cm (158)
Sidecut: 8.1m ​/ 7.0m ​/ 8.1m (158)
Pros:
One of the more affordable boards of the test
Featherweight build and tapered shape that excels in powder
Large size run
Cons:
A couple of testers expressed durability concerns due to the thin, lightweight build
Not ideal for chunky, variable snow
NASA might've launched the Mars rover to explore the Red Planet, but CAPiTA launched the Mars One Navigator to explore the Shred Planet. Built in CAPiTA's ground-breaking, clean-energy-running Austrian factory—aptly named The Mothership—this space-age, ultralight, affordable directional snowboard encourages anti-gravitational annihilation of all things powder.
"Houston, we're floating into the stratosphere," commented lighter all-mountain rider and test director Drew Zieff. He was impressed by the pop-to-pound ratio of the new poplar and paulownia P2 Superlight Core, and the buoyancy of the hybrid camber profile. "Factor in a little taper, softer flex, wide, rockered nose, camber underfoot, and flat tail transitioning into an angled kick and the shape serves up zero-g vibes." His dispatches confirmed the Navigator was capable of turns, too. "The sidecut and torsional flex enable you to bank through trees like Anakin in an asteroid belt and rip radical wiggles on groomers."
Not every mission can be a smooth one, so a pair of inlaid cork dampeners run from the middle of the board to the front contact points, helping to minimize g-forces from chunder and chop. Two carbon fiber beams run parallel, all the way to the nose, slightly stiffening up the front half of the board for more stability at speed. Still, heavier freeriders felt the featherweight construction compromised on all-mountain performance. One dug the "easy handling and nimbleness for the length," but found the lighter, softer stick "doesn't punch through variable snow well."
Due to the softer flex and easy-to-ride shape, most testers judged the attractively affordable Navigator a blast for nearly all riders, especially in powder, with one intermediate tester giving it a rare compliment: "Beginners through advanced riders could enjoy this board."
Bottom Line: Approachable, softer flex and easy-riding powder shape for riders of many skill levels
---
How to Buy
Shopping for snowboards is like dropping a cliff: It's equal parts exciting and nerve-wracking. But if you do your homework before you send, chances are you'll ride out just fine. Here are a few tips to help you stick your landing:
Ride as Many Boards as Possible
Demo boards, swap with your friends, and do whatever it takes to ride as many boards as you can. Engaging with a diverse range of boards will expand your snowboard lexicon. You can read reviews all day long, but nothing informs your decision-making like time on snow. If you're relatively new to the game, experimenting is especially important: you're still developing your preferences, and riding more boards will speed up that process. If you're an old head who's been riding the same style of board for decades, don't be afraid to break out of your shell and try something new. The exception is complete newbies, as switching boards before you know how to turn properly may only frustrate you. Get a board that works, stick with it, and postpone demo sprees until you can comfortably tackle intermediate and advanced terrain.
Shop By Riding Style
Here are the three most common board styles:
Park Boards: Park boards are on the shorter side, which makes them easier to spin.  They're often true twins, meaning they're symmetrical from nose to tail, facilitating landing and riding switch. Directional twins are also common: These boards are symmetrical in shape but not in flex pattern or profile, or vice versa. Some park boards are softer, allowing riders to flex, press, and butter, while others are stiffer to handle heavy landings and hold an edge in halfpipes.
Freeride Boards: Freeride boards are designed for speed and stability when charging groomers, riding off-piste, and ripping backcountry conditions. They're usually directional (the nose and tail are defined) and tapered (the nose is wider than the tail). Directional shapes float and carve well but riding switch isn't a cakewalk. Many freeride boards are also stiffer, supplying stability for big mountain charging, while others are soft for cruising mellow powder.
All-Mountain Boards: All-mountain shapes blend the freestyle elements of park boards and the big-mountain chops of freeride decks. They're meant to be ridden, as the name suggests, all over the mountain–they can ride switch through the park one lap and bomb a hike-to chute the next. If you're unsure of where to start or you only have a budget for one board, go with a versatile all-mountain board. These shapes are usually directional or directional twins.
Profile
Profile refers to the curvature that's visible when you lay a board flat on the ground and look at it from the side. It is a critical element of board design, as it dictates how and where a board interacts with snow. There are two primary profiles to be familiar with.
Camber: Camber is the time-honored, traditional profile. Lay a cambered board flat, and it looks like an upside-down U. The board will touch the ground near the nose and tail, but the center will be raised. This curvature supplies drive, stability, and edge hold–it allows riders to flex into the deck and dig into the snow. It's also a principle ingredient in pop production—if you like to send ollies to the moon or carve aggressively on groomers, camber is your launch pad.
Rocker: Rocker is reversed camber. Lay a rockered board flat, and it's shaped like a U. You'll find a single low point in the center of the board while the nose and tail float off the ground. Rocker provides a fun, skatey ride. It's easy to turn, and enables you to weight your back foot and float through deep powder. However, it's not as reliable in technical steeps, on icy hardpack, or on high-speed straight lines.
Hybrid Camber: Hybrid profiles mix rocker and camber. These combos usually attempt to blend the skatey, buoyant, easy-turning aspects of rocker with the pop, stability, and edge-hold of camber.
Sizing Tips
Sizing a board can be just as tricky as picking one in the first place. Sizing depends on a number of factors, both in terms of the board itself and the rider who's rocking it. Here are a few to keep in mind.
Board Length and Rider Height: Back in the day, length was the primary measurement taken into account when sizing a board. You'd walk into a shop, a stoned teenager would hold a board up to see if it reached between your chin and nose, and bingo: you were on your way. But this outdated method doesn't account for weight, which is arguably a more important data point. Nor does it touch on board width, as wider shapes are more common these days.
Rider Weight: Weight, more so than height, is what enables a rider to flex a board and engage its camber profile. Many brands' size charts don't mention height but do include rider weight ranges. This is a solid place to start.
Skill Level: If you're a beginner, look at softer, forgiving shapes—and if you're between sizes, err shorter. For example, if you weigh 170 pounds and you're deciding between a 157-centimeter option that's recommended for 120-180 pounds and a 159 that's recommended for 140-200 pounds, go with the 157. A smaller board is going to be much easier to turn and better suited for learning. If you're an intermediate, size in the middle of your weight range and consider slightly stiffer all-mountain shapes–these boards will allow you to progress and build upon the skills you developed on a softer, shorter shape. If you're an advanced rider, your board sizing depends more on riding style.
Riding Style: As we mentioned earlier, different boards are meant for different objectives. Rail riders like small, easy-to-spin boards, while freeriders appreciate the stability of a longer effective edge when speeding down big mountain lines. If you ride everything, a complete dream quiver might look like this: 152 rail board, 155 park board, 158 all-mountain board, 160 freeride board, 161 powder board. That said, we recognize most people can't afford a full quiver. So, when in doubt, go with an all-mountain shape and size to get the most versatility for your buck. That 158 can still hit jumps and rails, and on powder days, you can set back your bindings for more float.
Snow Conditions: Powder-specific boards are usually longer, wider, or both, providing more surface area and float in deep snow. If you frequent a powder-blessed location like Japan, you'll want to size up. If you live on the east coast, that might not be necessary. 
Boots: If you have large boots, particularly in relation to your height and weight, you may need to consider a mid-wide or wide board. The last thing you want is toe or heel drag, which will happen on a board that's too narrow for your boot length. 
Volume-Shifted Shapes: Some boards, referred to as volume-shifted shapes, are meant to be ridden shorter than traditional snowboards. Volume-shifted shapes condense the surface area and float of a longer shape into a more maneuverable package. Usually, a brand will supply sizing recommendations for volume-shifted shapes. Once you figure out your standard board sizing—like the 158 all-mountain shape we discussed above—you'll be able to size volume-shifted shapes accordingly.
Demo Multiple Sizes: Again, the best way to develop your understanding of snowboard sizes is to keep demoing boards. Don't just demo different boards from different brands, either—if possible, demo the same board, from the same brand, in slightly different sizes, and test them in varied conditions.
Lead Photo: Felix Pope/Stocksy