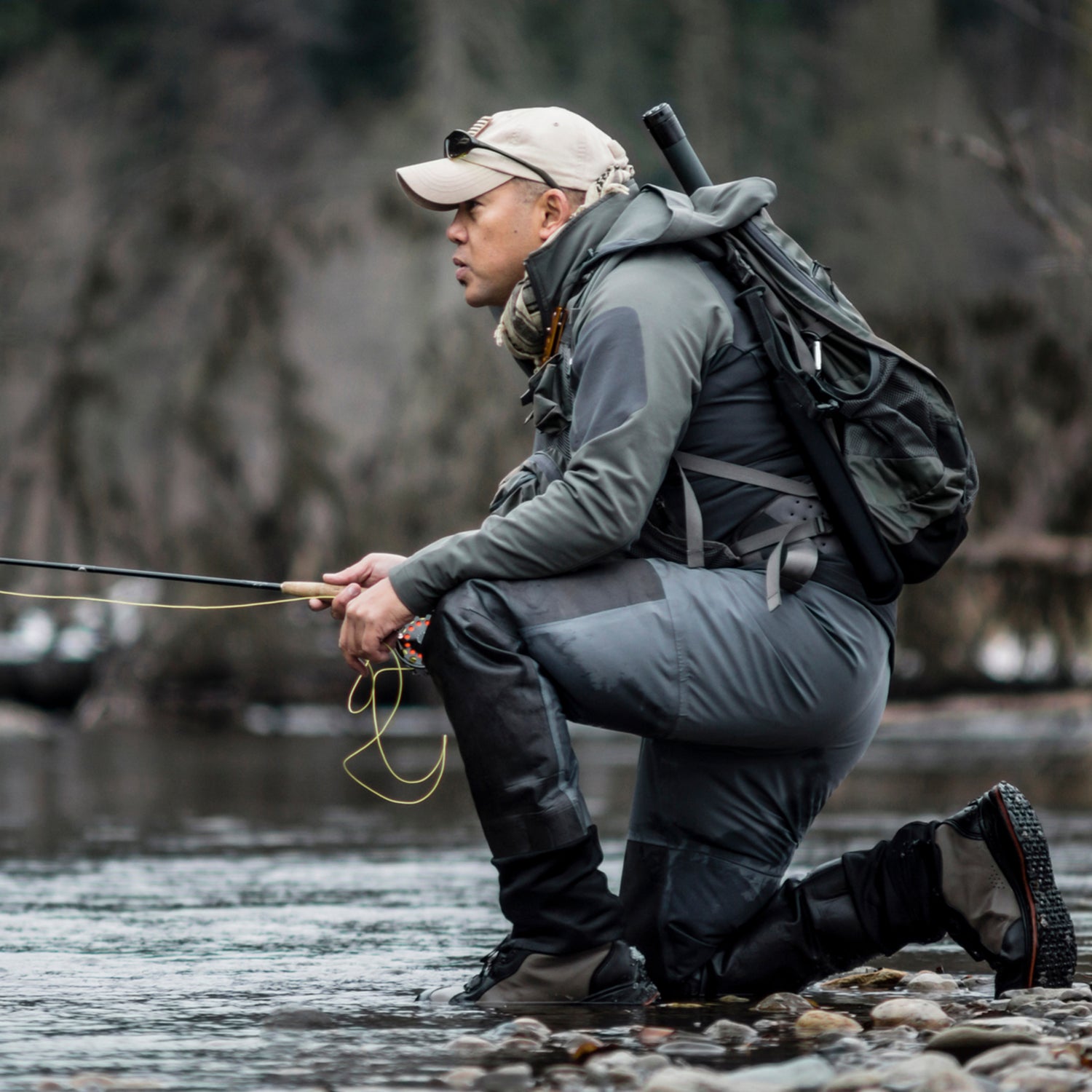 Heading out the door? Read this article on the new Outside+ app available now on iOS devices for members! Download the app.
The gear that's going to make it easy for you to get out on the water—and stay out there—is what you should be looking for. These essential fly-fishing products will keep you well-armed to tackle fish of any size.
The Winners at a Glance
Editor's Choice: Oros Strike Indicator 3 Pack
Sage R8 Core 9-foot 6-Weight Rod
Orvis Wide-Mouth Guide Net
Cheeky All-Day Sink Tip Fly Line
Dakine Mission Fish Waist Pack
Simms' G4 Powerlock Boot
Sage Arbor XL Reel 4/5/6
Smith Guide's Choice Low Light Yellow
How We Test
Number of Testers: 4
Number of Products Tested: 33
Number of Fish Caught: Roughly 350
The gear was spread out amongst four testers (three men and one woman) switching between stints in Canada, Alaska, and Montana, and was used in the catching of multiple species, including rainbow, brown, and brook trout, Arctic grayling, Dolly Varden, and Arctic Char. One giant northern pike was also hooked and lost (admittedly, by operator error).
Meet Our Lead Testers
Greg Thomas
Greg Thomas is a well-traveled steelhead, trout, and tarpon fanatic who writes for various outlets. He fishes more than a hundred days a year and has written five books on fly fishing. He now books and hosts trips around the world through Gil's Worldwide. He lives in Missoula, Montana with his yellow Lab, Rye. Find more of his work at Anglers Tonic and on Instagram.
Finley Sullivan
Finley Sullivan is a high school senior living in Juneau, Alaska, where she fishes dozens of days a year and works at Alaska Fly Fishing Goods. She throws in fresh and salt water, often with her hard-charging father who is known for neglecting the most ornery weather and fishing locales that are very, very far off the beaten path. When Finley tests gear, we know it gets run through the gauntlet.
The Reviews: The Best Fly Fishing Gear of 2023
Editor's Choice: Oros Strike Indicator 3 Pack ($10)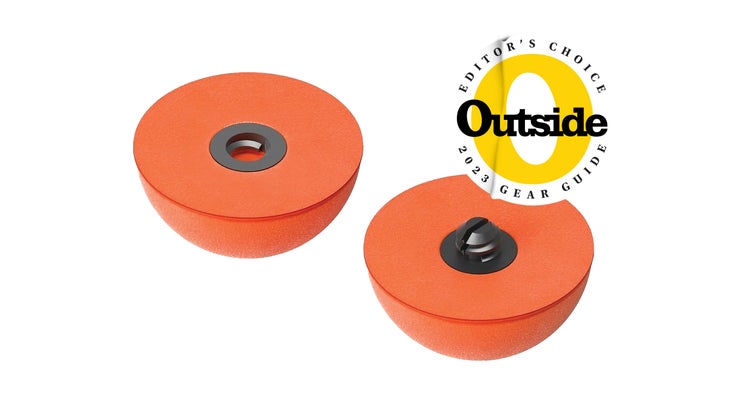 Weight (per unit): S-L, .56g, .93g, 1.6g
Until now, we've been led to believe that strike indicators are useless. We dislike that most hard-plastic and yarn models connect to a leader with a rubber O-ring or a hard post, which places them to the side of a leader and makes casting them a pathetic mess. Many also have multiple small parts that are easily lost—try finding a tiny hard-plastic O-ring in the tall, stream-side grass. Not going to happen.
But then we discovered the Oros strike indicators, and we changed our tune. These have two foam hemispheres that contain male and female parts (read: no external parts for flies to tangle on) and twist together with the leader centered in the sphere. The internal hardware grips the leader firmly, and the friction created between the foam pieces means there's no risk of slipping or unscrewing. When floating on the surface, this indicator is stealthy and doesn't create much disturbance. Oros makes this genius piece in three sizes (small, medium, and large), so you can float anything from size 16 Pheasant Tails to size 2 Rubberlegs, on tippets ranging from 5X to 2X.
Maybe best, Oros makes this indicator with an additive that expedites the biodegrading process. After three months, the indicator's foam and nylon components degrade by 20 percent.
Best For: This product is equally adept on rivers and still waters. On lakes and reservoirs, Oros indicators work great when fishing midges. On rivers, these indicators ride high in the waves and can carry large nymphs even in heavy flows.
Sage R8 Core 9-foot 6-Weight Rod ($1,050)
Weight: 2.8 oz
We packed this stick all over the Rockies and the Pacific Northwest in the summer of 2022, and it became our go-to rod in nearly every situation. What makes the R8 so great is that it's stiff at the butt section but sensitive at the tip, creating the ideal blend of power and finesse. In Alaska, we fished sinking lines and smolt imitations for large lake trout and rainbows that stretched to nearly 30 inches long. Then we strung the R8 with a floating line and cast size-14 dry flies to rising rainbows on American Creek in Katmai National Park. The R8's versatility meant we could fish one rod instead of two, which was nice when we struck out on foot to find fish.
We also tied on stonefly imitations with split shots and fished those under an indicator for Dolly Varden. The rod's fast-action graphite offered plenty of backbone to load that weight and easily huck it as far as needed. We also fished dries during Montana's low and clear fall water conditions, which meant the trout were spooky and finesse was paramount. We would have preferred the R8 5-weight in that situation, but the 6-weight landed those flies softly and the tip was strong enough to mend the line with very little surface disturbance.
Best For: This is a fast-action rod that excels when fishing big dries, large nymphs, and streamers, especially when casting far is critical. Best for medium to large rivers along with lakes and reservoirs.
Orvis Wide-Mouth Guide Net ($198)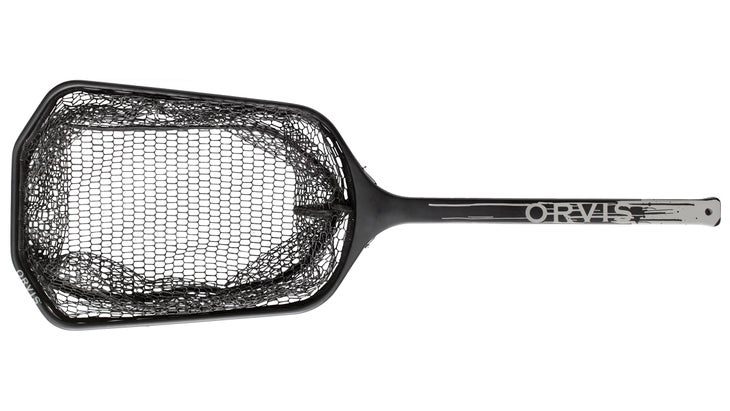 Dimensions: 37.5" x 12.75" 
Hoop Length: 17.5" 
Bag Depth: 10.5″
Weight: 1 lb
We don't just fish from boats, nor do we always walk and wade. These facts made the net a winner in our minds. The handle isn't too short that we'd look like posers if trying to land trout from a boat, but also not so long and wide that the net would repeatedly catch on limbs and brush when cutting through the woods. Instead, the net's longer-than-average hoop size and its deep bag allowed us to easily land and release trout. The fish lay comfortably in the flat-bottom net bag and allowed us to work on them without the typical flopping around (possibly injuring themselves) when fish are constricted in a smaller net bag. The larger net bag, a wideish yoke, and a thick handle add weight, but most packs and vests now come with a net sleeve, making transport of a net this size a non-issue.
Best For: Carrying all day on trout streams and landing large fish—if you're lucky enough to get one to the bank.
Cheeky All-Day Sink Tip Fly Line ($59)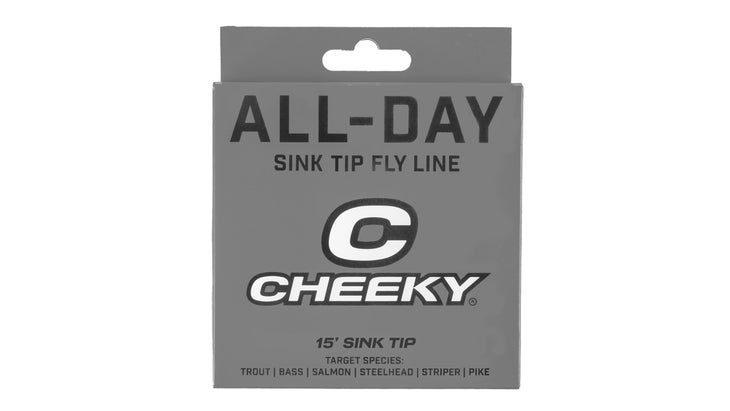 Weight: 5 through 8
When you bought a new fly line back in the day, you probably bought a Cortland 444 weight-forward floater because it used to be the best line you could get. Since then, an array of specialty lines have flooded the market for everything from Euro-nymphing to fishing booby flies (one top manufacturer even offers 96 unique lines on its site, which makes choosing a line super confusing). We ignored that brain freeze and looked at Cheeky's site instead, which offers two lines. They may not be the best lines on the market, and they are not ultra-specific, but they do what they do well and they accomplish about 95 percent of what every common fly fisher needs.
We spooled up the All-Day Sink Tip, which is 90 feet long with a 15-foot sink-tip head. It drops six inches a second—when we wanted to throw streamers to the river banks or sink damselflies, scuds, and leeches in still waters (places you are likely to hook up on some big fish), that was enough tip to get us down. Cheeky's All-Day Freshwater Line is a nice compliment to the sink tip and comes in at the same price. Both lines have welded loops to make attaching to the backing and leaders a snap. Plus, the price point is fair, which usually isn't the case.
Best For: Fishing streamers and hitting the banks of a river from a raft or drift boat
Orvis Pro Waterproof Hip Pack 10L ($279)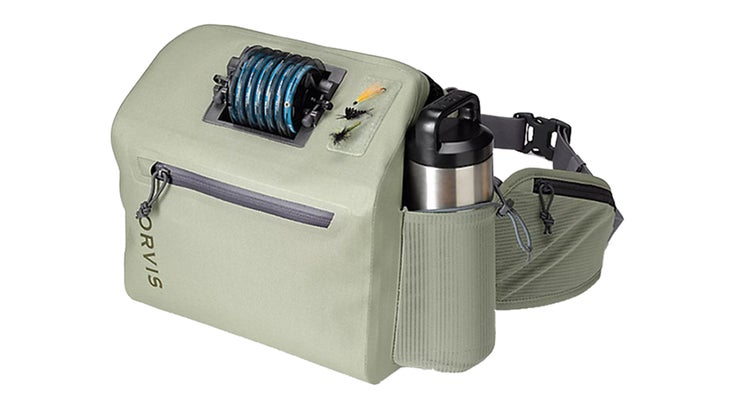 Volume: 610 cubic inches
Weight: 1 lb 8 oz
I always encounter a conundrum whether fishing fresh or salt water: How can I safely pack camera gear (body alone worth $6,500), fly boxes, tippet material, leaders, and pliers when I am wading above my knees? Enter Orvis' new hip pack, which offers serious storage, is completely waterproof (made so with a combination of puncture-resistant ballistic nylon and TPU coatings on both sides of the fabric), and possibly more comfortable to wear than any other pack I've tested. The Pro has serious lumbar and hip panels, a soft, removable shoulder strap with ten-millimeter ventilated foam padding, multiple docking stations for essential tools like nippers and forceps, and a net sleeve to keep it near at hand when battling and landing a fish. The pack also offers an exterior tippet docking area and a water bottle pocket with an accompanying leash to secure your drink. The interior of the pack is basic, but it does offer one internal zip pocket that's perfect for a cell phone, lip balm, and sunblock. Two attached mesh pockets are ideal for leader storage.
Best For: Wet weather, splashy rides in an open skiff, or when wading deep
Simms' G4 Powerlock Boot ($500)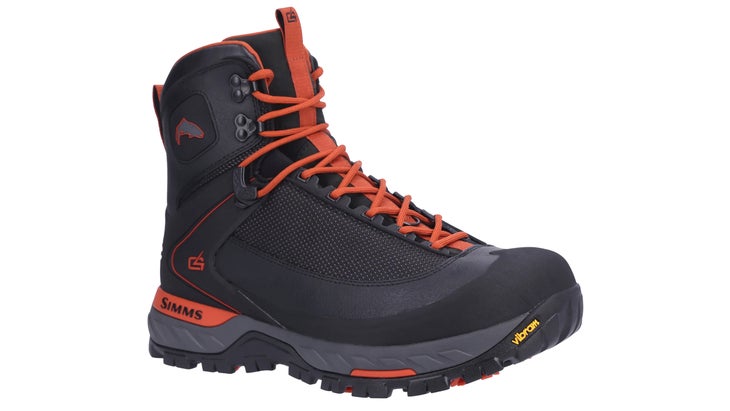 Sizes: 8-15
Weight: 4.8 lbs/pair (with aluminum cleats)
The Stillwater, Clearwater, Klickitat, and Blackfoot are four western rivers that are well known for their slippery rocks and, as a result, for sending anglers home soaking wet. I wet-waded each of those rivers last fall and never went down, despite two lodge owners telling me that I would quit early if I didn't use their felt-soled boots. I scoffed and put the G4s to the test, grinding around on Vibram soles (they're also available with felt soles) and seven aluminum cleats (provided with the boot). I never went down and rarely was off balance, the soft aluminum adding massive traction. I'd buy these boots for the rounded cleat system alone, but I also have a trick ankle (thanks, basketball) and favor stability over light weight. The G4's ride high on the ankle and a molded heel cup provides insane support. These boots and their cleat system give me the best chance at getting off the river and back to the truck in an upright position.
Best For: People with touchy ankles or other stability issues, especially while traveling on notorious slick-bottomed rivers
Sage Arbor XL Reel 4/5/6 ($450)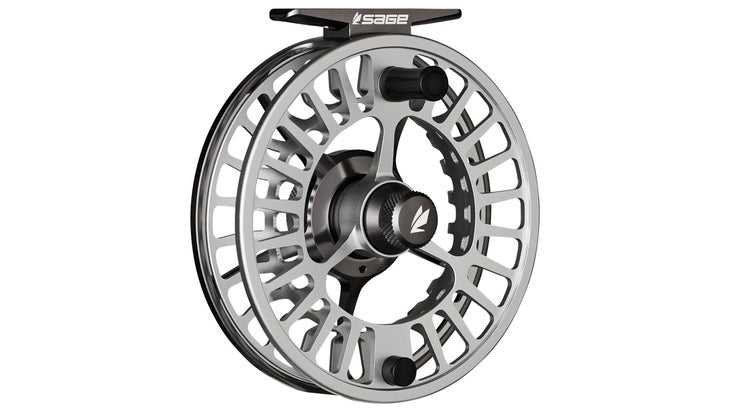 Weight: 4.5 oz
The Arbor XL is all about line speed, particularly the speed we could get the line back on the reel when we hooked a fish or decided to try another spot. That's important because having slack in your line is the easiest way to set a fish free. This reel picks up ten inches of line per revolution and its narrow profile balances five and six-weight rods nicely. This is a fully-machined reel with a sealed drag and carbon disks—that means it can stop large fish when needed and it will last. You can also get the Arbor XL for saltwater in sizes six, seven, and eight.
Best For: Trout rivers and lakes
Smith Guide's Choice ChromaPop Glass Polarized Low Light Yellow ($259)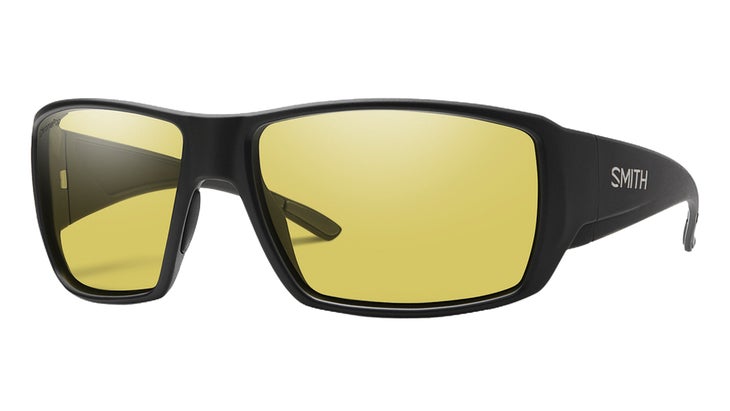 Available Sizes: Regular and Small
Weight: 1.4 grams
Smith nailed the name of these sunglasses: We can't find a better pair for a wide variety of watery situations—from fly-fishing for trout in the Rockies to permit on the flats of Belize—which is exactly where I was last year when a guide asked me why I couldn't spot the permit. I showed him my lenses and he sniffed, "For bluewater, man." He handed me his shades with the low-light yellow lenses, and said, "Get these." I did and found the Guide's Choice frames great at keeping sunlight out while still offering exceptional definition and contrast. This was key when looking for subtle nuances underwater. On the brightest days, you might favor a slightly darker lens, but on overcast days, these are the best.
Best For: These frames and lenses are especially great in low-light conditions, but they work well on bright days, too, whether fishing the saltwater flats or dealing with glare on a trout stream.
When it's time to upgrade your gear, don't let the old stuff go to waste–donate it for a good cause and divert it from the landfill. our partner, Gear Fix, will repair and resell your stuff for free! Just box up your retired items, print a free shipping label, and send them off. We'll donate 100 percent of the proceeds to The Outdoorist Oath.
Lead Photo: Terry Schmidbauer/Stocksy