How Do I Get My Dog to Stop Stealing Toys?
My dog, Brutus, loves his toys to the point where he attacks other dogs that try to play with them. And it's not just his toys. Say we're at the dog park and there is a dog that is playing with a tennis ball: He will steal the tennis ball from the other dog and get very mean if that dog tries to take it back or even share it. At home, I have to take his toys away and put him in time out, which is him being sent to his crate.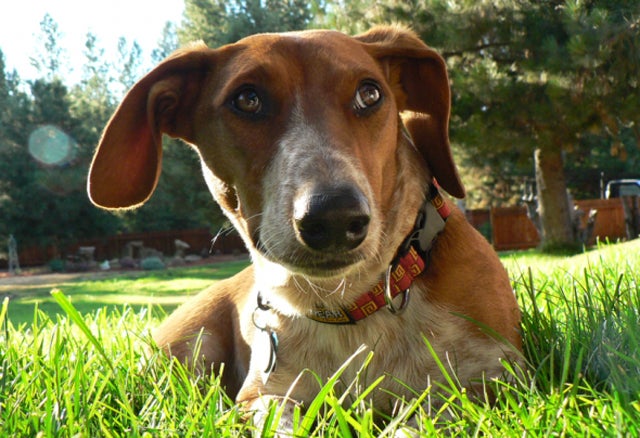 Heading out the door? Read this article on the new Outside+ app available now on iOS devices for members! Download the app.
Possessiveness is an entirely natural behavior for dogs and, in the case of dog-dog interactions, a difficult one to modify. From Brutus's perspective, his behavior works—and every time he successfully steals a toy or defends one from another dog, his obnoxious behavior is rewarded. I know of no way to decrease his interest in toys—I expect that time outs will have the opposite effect—and I don't want to deprive him of what are obviously a great source of joy in his life. But here are some thoughts on improving his etiquette around other dogs:
1. I suspect you've figured this out by now, but don't give your dog toys when he's around other dogs.
2. Train your dog to drop toys (or anything else that's in his mouth) on cue. When your dog has a toy, offer him another, better toy or treat.  As he opens his mouth to take the new thing, say "drop"  and praise him enthusiastically when he does. If he likes to retrieve, you can throw the toy for him as a reward. This is going to take a lot of training with every toy he has before it becomes automatic. Make your dog think that whenever you say "drop," an even cooler toy or fabulous treat will appear. You will get lots of use out of this command, and you can use it when Brutus steals another dog's toy.
3. Train your dog to have solid leave it and come (recall) commands, and use them to prevent stealing other dogs' toys. This is especially important if your dog is inclined to get ugly with other dogs. As your letter indicates, you recognize that he lacks self-control around toys, so it's your responsibility to provide that control. Just like you wouldn't let a son (or daughter) bully other kids at the local playground, you can't let your pup bully other dogs at the park for their toys.
This article originally appeared on Outside K9, the former dog blog of Outside magazine, on May 18, 2009.