Gear Guy
What's the Best Compass for Hiking?
Since I was a kid, it's been droned into me to carry a map and compass in the outdoors, even if it's a backup for GPS. What's the least I can get away with?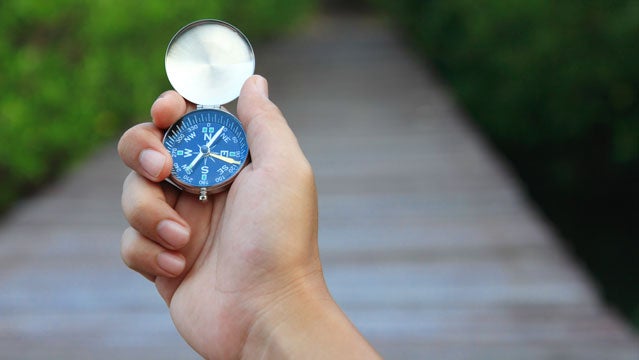 Heading out the door? Read this article on the new Outside+ app available now on iOS devices for members! Download the app.
"Whether you're exploring trails or crashing through the woods," says Suellen Sack, a program director for Outward Bound, "you need a bigger compass than the one on your keychain. It has to lie flat on a map so you can navigate."
Basic compasses start at around $12. They let you adjust the declination and feature a baseplate. "So many important map and compass tricks start by positioning the baseplate, whether it's taking a bearing or triangulation," says Anne Grignon, Outward Bound's logistics manager. "Otherwise, you're just guessing."
Clear plastic units mounted on a baseplate are often called orienteering models. The round black lensatic compasses with a sighting wire (the ones your grandfather took scouting) can set bearings as well, but they're harder to use with a map.
Recently, iPhones and GPS units have become the go-to for hikers, but "we're seeing examples of hikers whose batteries run out or their electronics get wet. Then they really don't know where they are," says Sack.
Aside from the risk of running out of juice, you'll have your head down with a GPS, looking at the screen. With a compass, you're able to look at the trail ahead and sight distant natural features, keeping you aware of your environment and changing conditions.
"Of course, there is a place for GPS," says Sack. On a 1,200 mile hike from Yellow Knife through Hudson Bay, her compass was useless because of its proximity to magnetic north. She knew it was time to break out the GPS when "the needle went catawampus, and we were leaving snow tracks in a giant S curve."
The Best Compass for Hiking: Silva Polaris (Hi-Vis)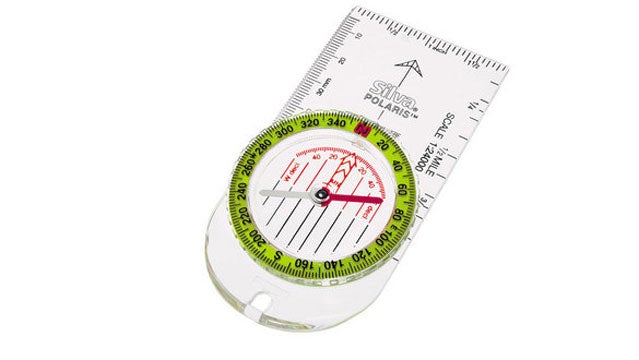 "I personally prefer Silva," says Outward Bound's Grignon. "They're cheap, and they tend to hold up well over time." This new model alters the classic design slightly by adding a high visibility dial. Basic features include the declination scale for quick adjustment, and the 1:24,000 scale which you can lay over many USGS topo maps to help calculate distance to the campsite.
Dimensions: 2.0 by 4.0 inches
Weight: 1.0 ounces
$16
The Best Compass for Hiking: Suunto MC-2 Global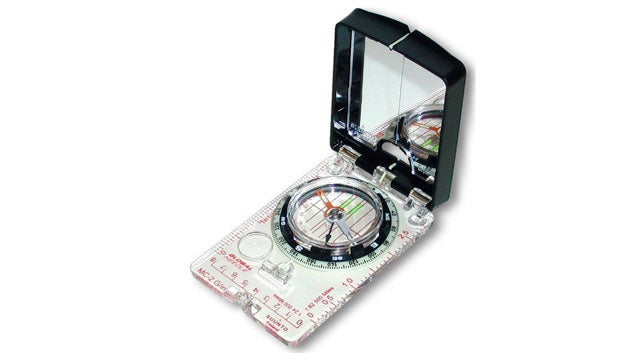 With the MC-2 Global, Suunto solves the hassle of buying a different compass if you're leaving North America. Its needle stays balanced no matter what latitude you travel to. Other upscale features include a jeweled bearing (like in a mechanical watch) to keep the needle turning smoothly, magnifying glass, and big mirror. "A mirror is helpful so that you can hold the compass straight in front while you walk, making sure you've still boxed the needle," says Grignon. "It can also be used a signal mirror, and most of all, it's super handy to check your look in the wilderness."
Dimensions: 3.9 x 2.5 inches
Weight: 2.6 ounces
$84
The Best Compass for Hiking: Brunton O.S.S. 70M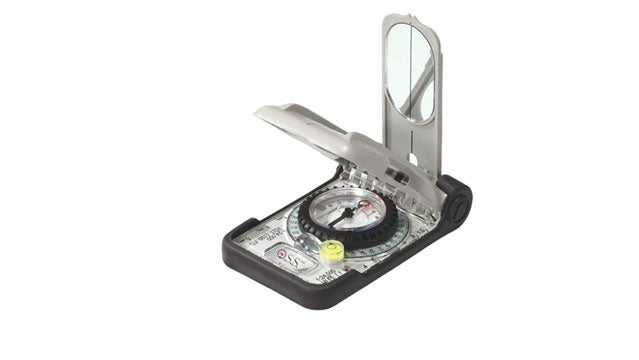 More for adventure racers and guides than casual hikers, the 70M includes three clinometers, a bubble level for accuracy, and an alignment system that uses a round circle at the end of the needle. Brunton claims that aligning the circles is easier visually and more efficient than with a straight needle. It's also made in the U.S.
Dimensions: 4.1 by 2.5 inches
Weight: 3.6 ounces
$90
Lead Photo: Rissy Story via Shutterstock